– –

The Series
[Rating:4/5]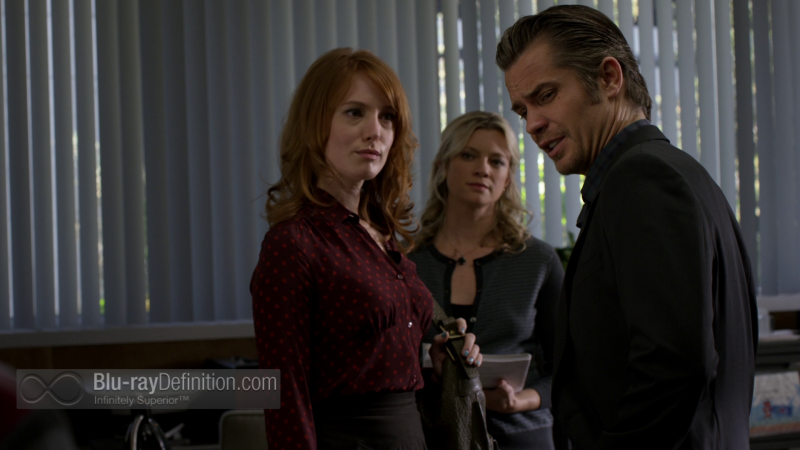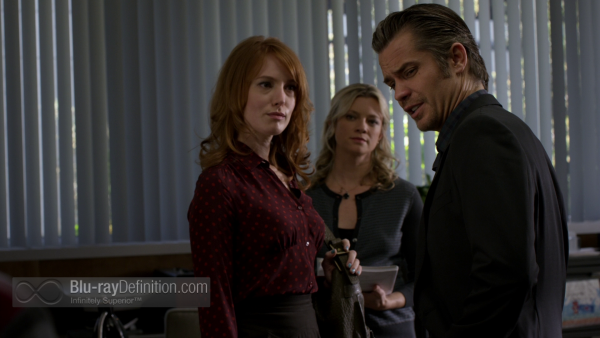 This penultimate season of Justified sadly saw the passing of executive producer Elmore Leonard (Rum Punch, 3:10 to Yuma) whose short stories and novels formed the basis of the series. But that did not keep the staff from staying true to Leonard's vision, sense of verbal acrobatics and unexpected twists, for what remained a gritty and entirely gripping series.
The show's primary character, U.S. Marshal Raylan Givens (Timothy Olyphant; TV's Deadwood) does mature slightly this season, thinking about his infant daughter and in on-again/off-again love interest who are now living in Miami, but of course his plans to visit and perhaps even move there are perennially interrupted by his single-minded determination to rope-in the big criminal in Kentucky, Boyd Crowder (Walton Goggins). Crowder, meanwhile, seems to be more off the rails than ever, since his beloved fiancée Ava Crowder (Joelle Carter) is in lockup facing a murder rap. Boyd gets himself tangled up in the heroin trade with a dangerous Mexican drug cartel while making maneuvers to clear Ava. Ava, on the other hand, finally learns to be independent of Boyd in her own way during her time in prison. But Raylan has his hands full with more than just Boyd, because the Crowe family head Daryl (Michael Rapaport) moves into town from Florida looking to put down roots, and he wants to take over the criminal enterprise from his own brother and from Boyd.
A lot of things happen in this season, but nothing feels rushed or out place, setting up what is sure to be a fantastic final season this coming January. Hopefully Justified won't drop the ball like so many series do in its series finale and give fans a proper ending, with closure and lots of action.
Video Quality
[Rating:4.5/5]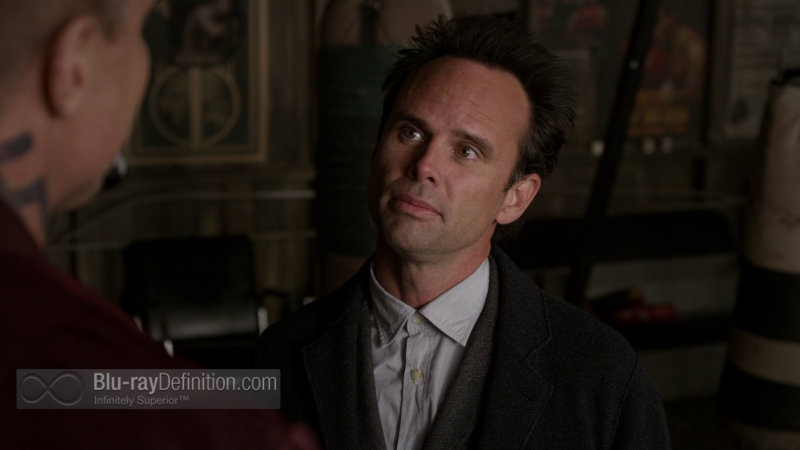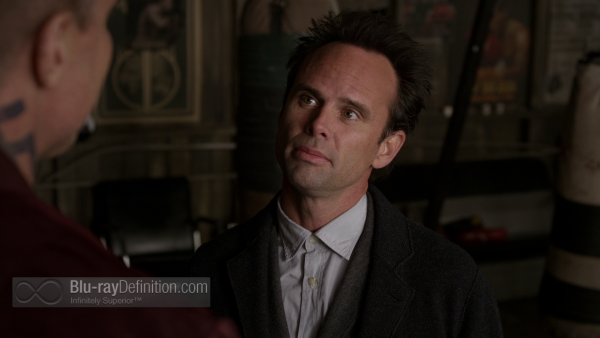 Season 5 of Justified was captured in HD using the Red Epic Dragon and it has a superlative image in this 1080p AVC transfer to Blu-ray from Sony. The production maintains that slightly gritty appearance it has had from the beginning, which isn't a bad thing. Even though it's an HD production, the picture looks organic and nearly film-like, with wonderful nuance, rich midtones, natural flesh tones and good contrast. The Blu-ray release also steps it greatly over broadcasts avoiding all the annoying macroblocking, posterization, and crush often associated with digital cable, satellite or fiber optic providers.
Audio Quality
[Rating:5/5]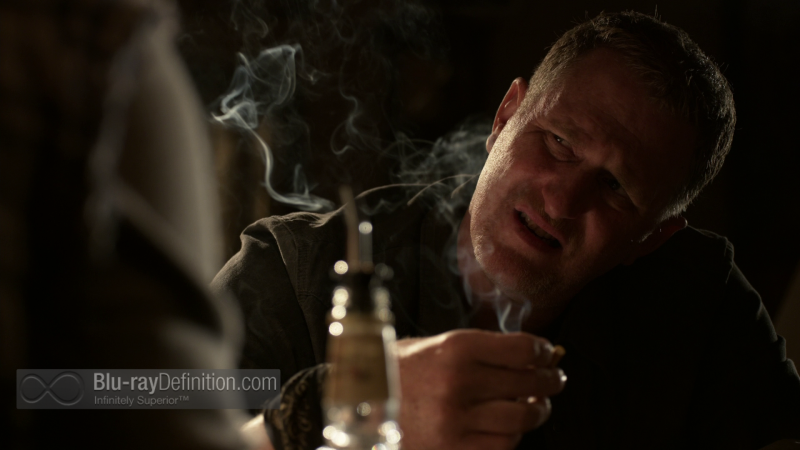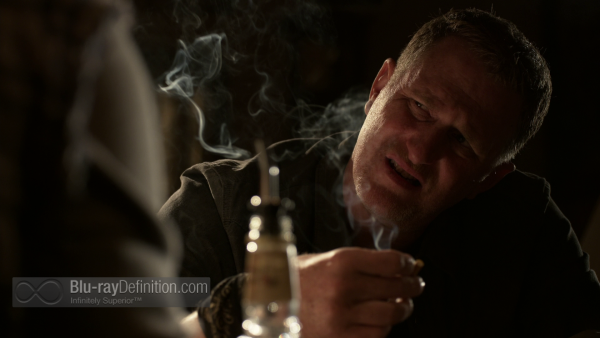 The English DTS-HD Master Audio 5.1 (48kHz/16-bit) soundtrack is full of ambience and solid sound effects in the surround channels plus full and clear dialogue and a good spread of stereo panning across the front. Gunshots ring true through the soundstage, punches have authoritative "thwacks" and car engines and tires rumble and screech with realism.
Supplemental Materials
[Rating:3/5]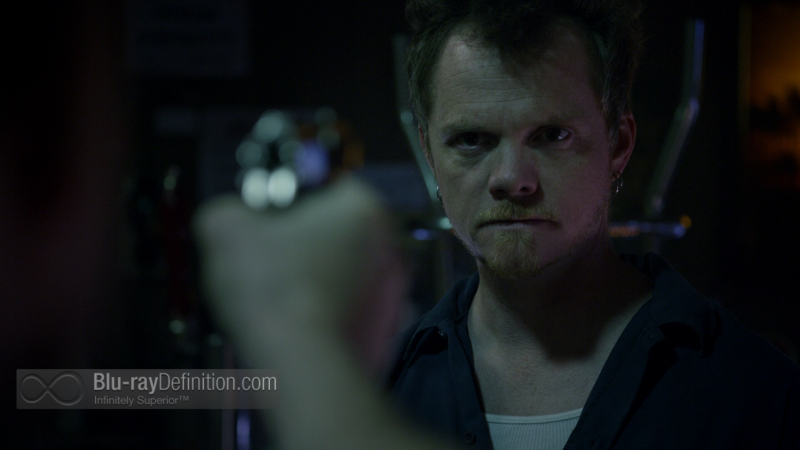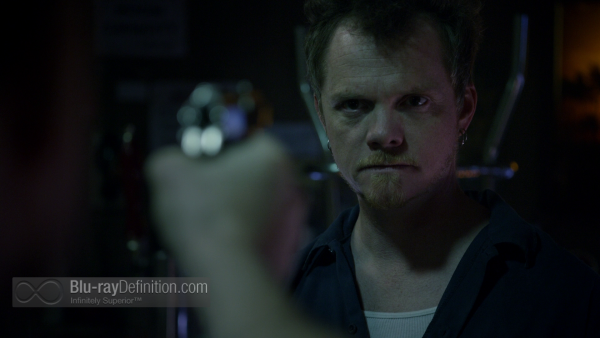 Digital HD UltraViolet
The Big House: Prison Set Tour (1.78:1; 1080p/24; 00:08:52) – A tour of the Lexington State Penitentiary.
The Onion Eulogizes Elmore Leonard (1.78:1; 1080p/24; 00:02:59)
Getting the Shot (1.78:1; 1080p/24; 00:07:00) – A look at Francis Kenni (cinematographer) and the look of Justified.
The Coolest Guy in the Room (1.78:1; 1080p/24; 00:36:12) – This brief documentary on the life and career of Elmore Leonard has castmembers reading his writing and offering their thoughts on his works.
Season of the Crowe: Making Season Five (1.78:1; 1080p/24; 00:21:42)
King Lear (1.78:1; 1080p/24; 00:04:11)
Raylan Givens: Two Roads Diverge (1.78:1; 1080p/24; 00:03:14)
Writer's Diary: A Week of Starvation (1.78:1; 1080p/24; 00:22:06) – Writer Chris Provenzano takes us behind the scenes of episode 5 "Starvation".
The Wall of Death: Season Five Body Count (1.78:1; 1080p/24; 00:02:42)
The Definitive Word
Overall:
[Rating:4/5]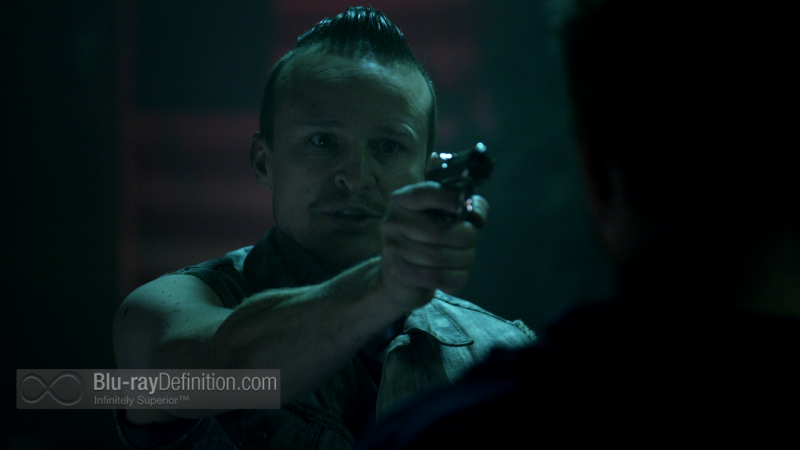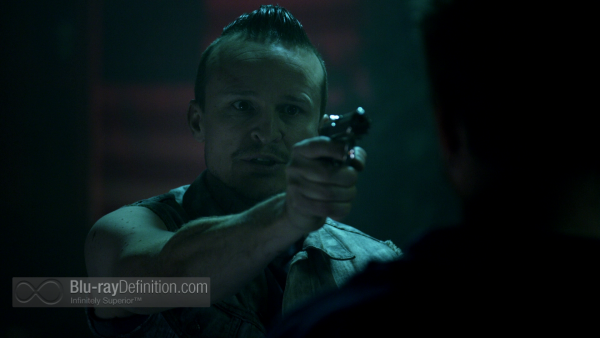 The addictive crime drama with the intelligent, if edgy, dialogue, stays the course to deliver a sublime fifth season that Elmore Leonard would be proud of. The entire cast is on top of their game for this season and it sets up what will hopefully be an eventful swan song come January.
Additional Screen Captures
[amazon-product]B00HT84ZWK[/amazon-product]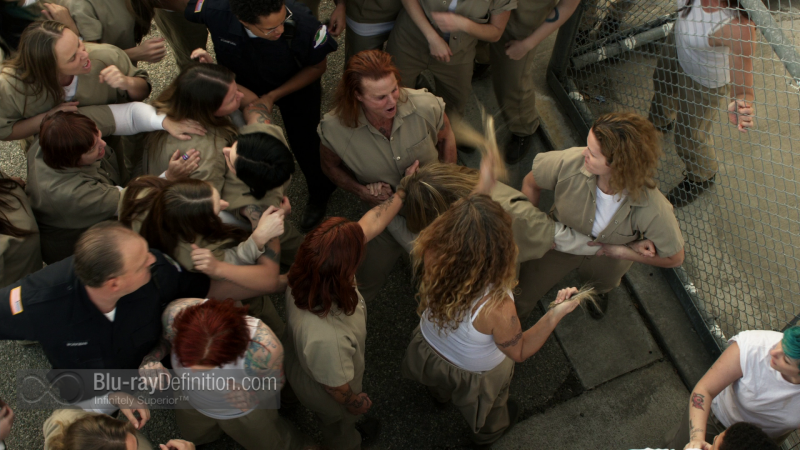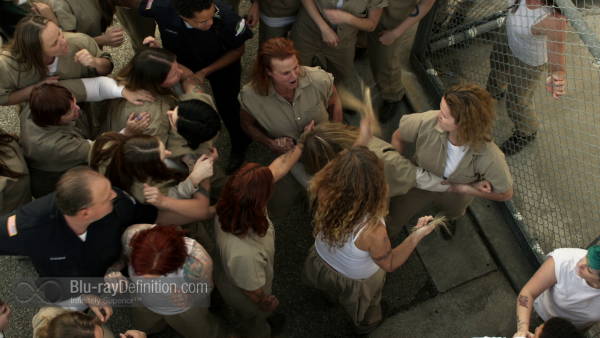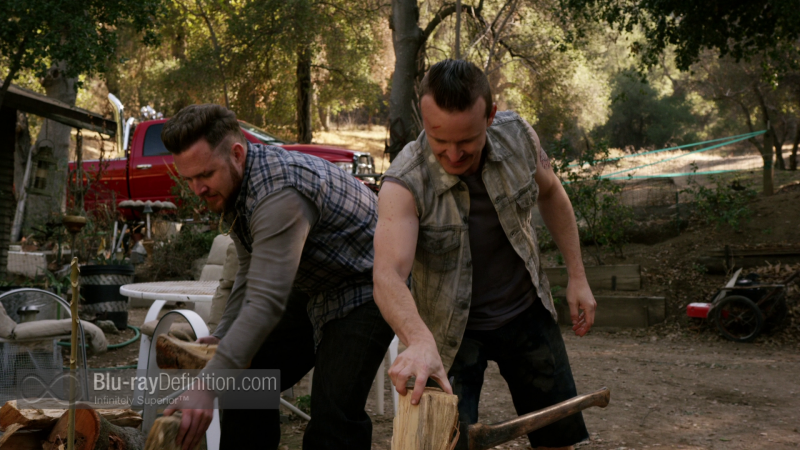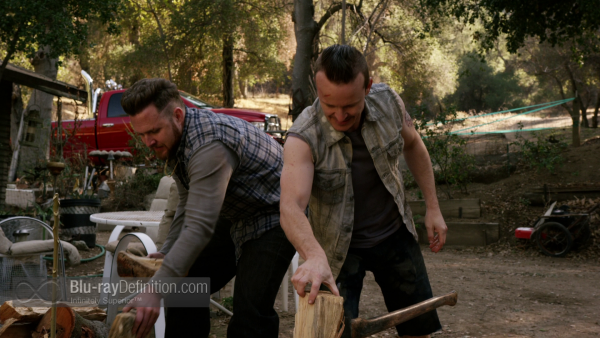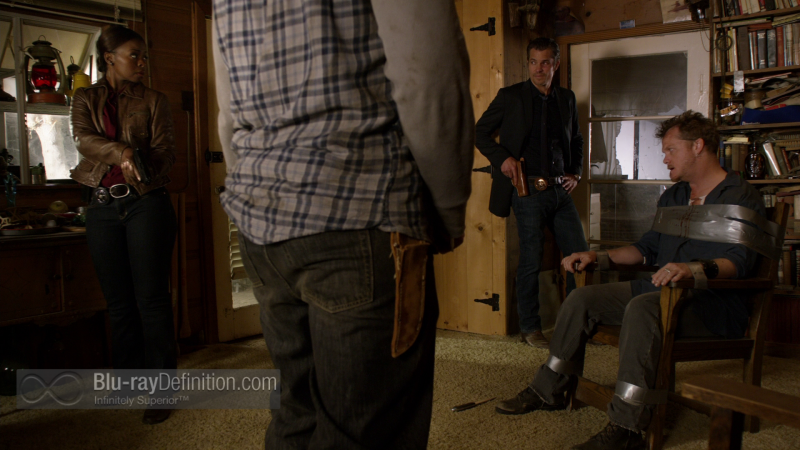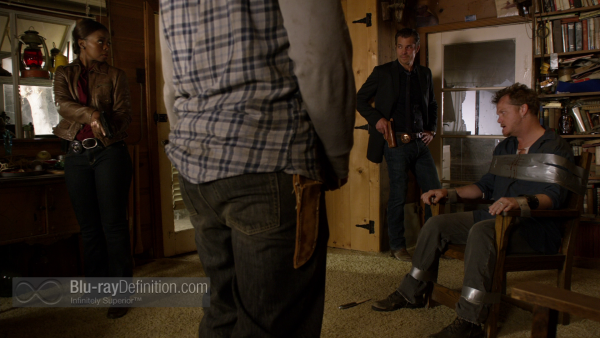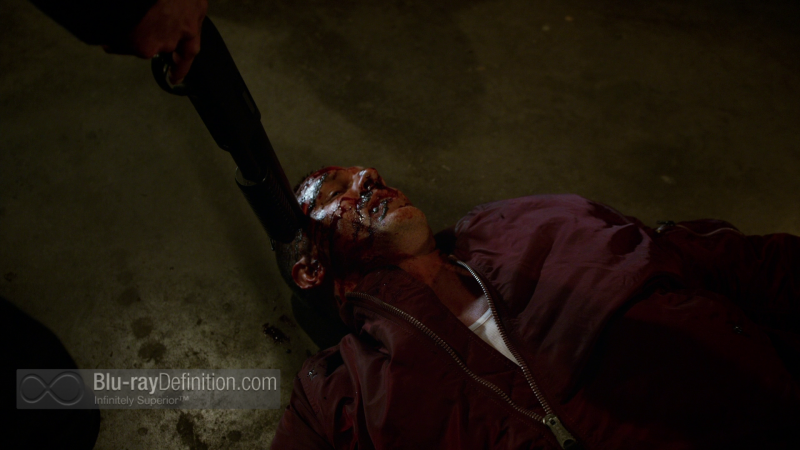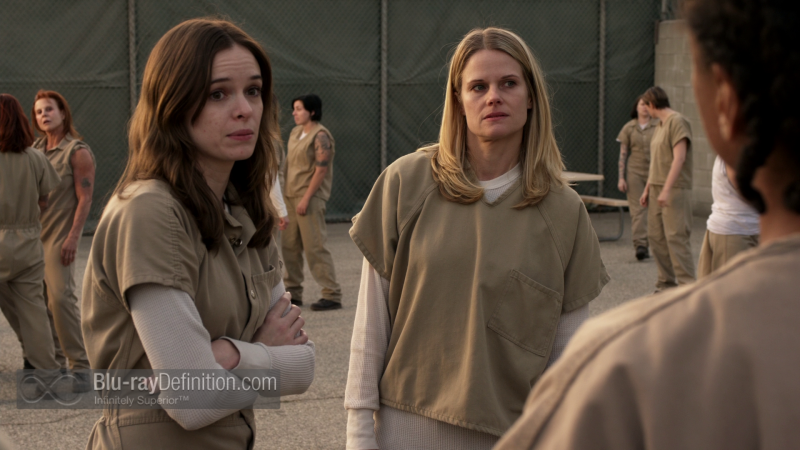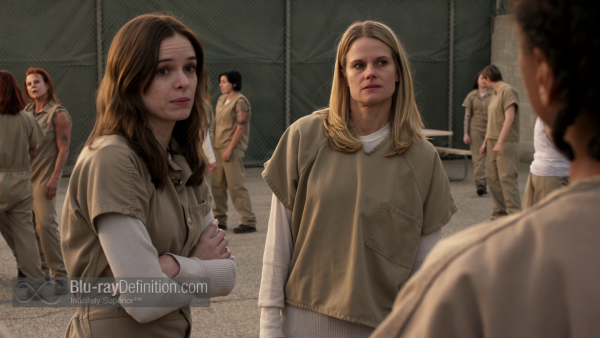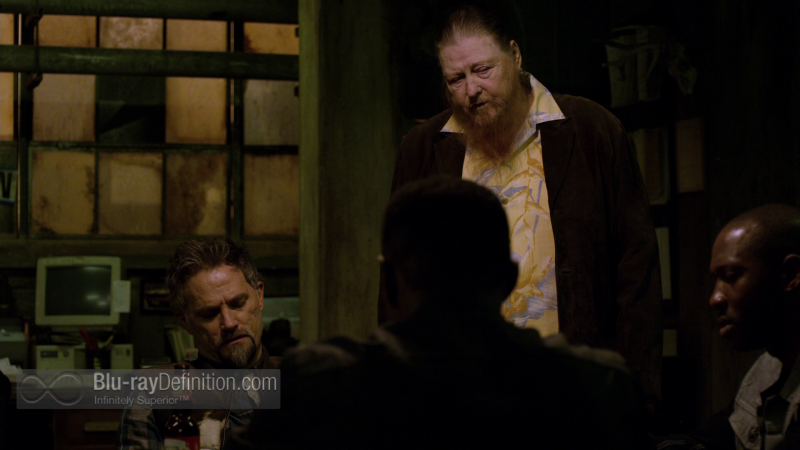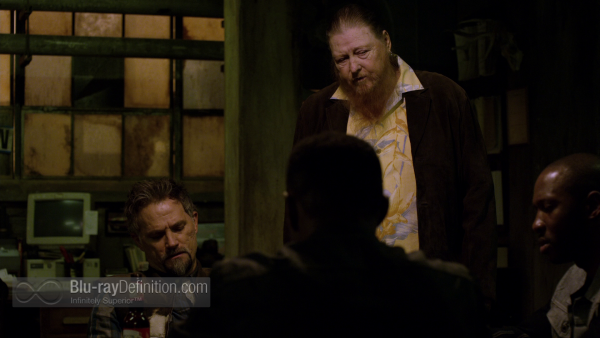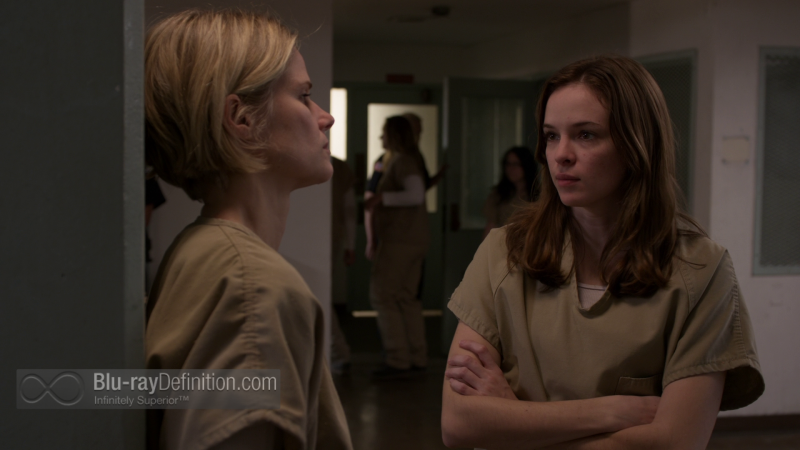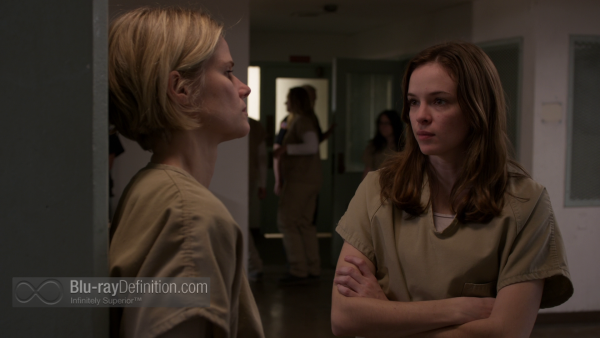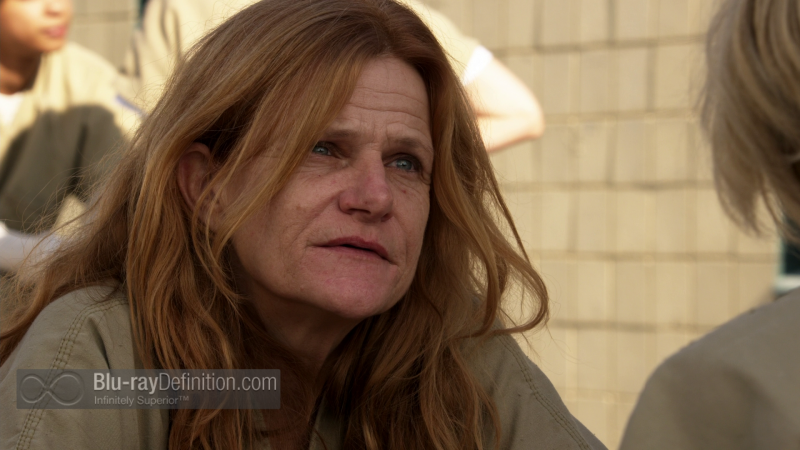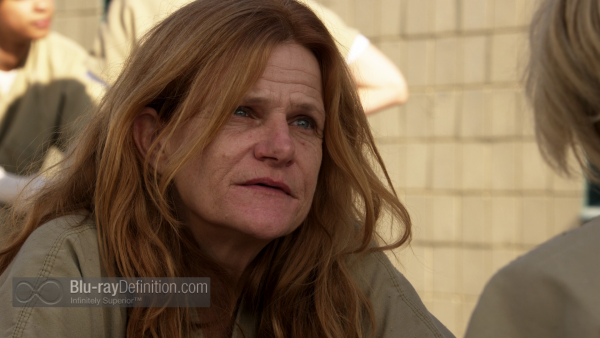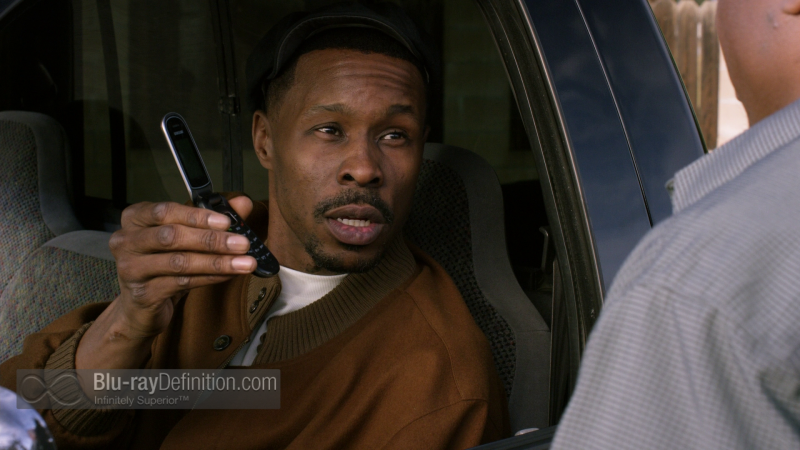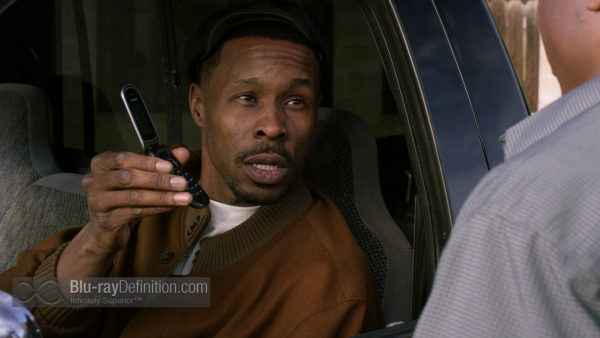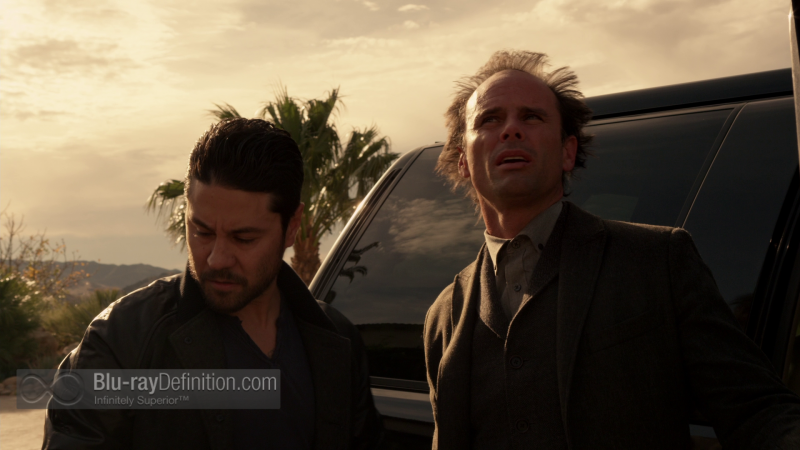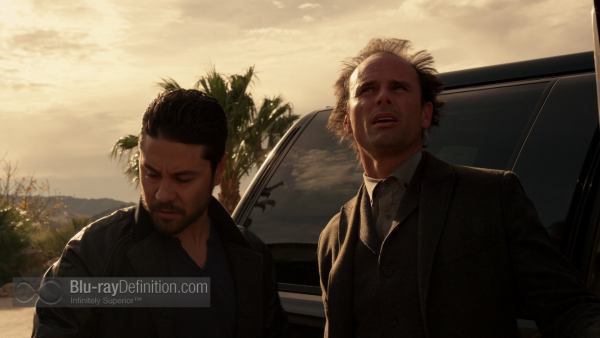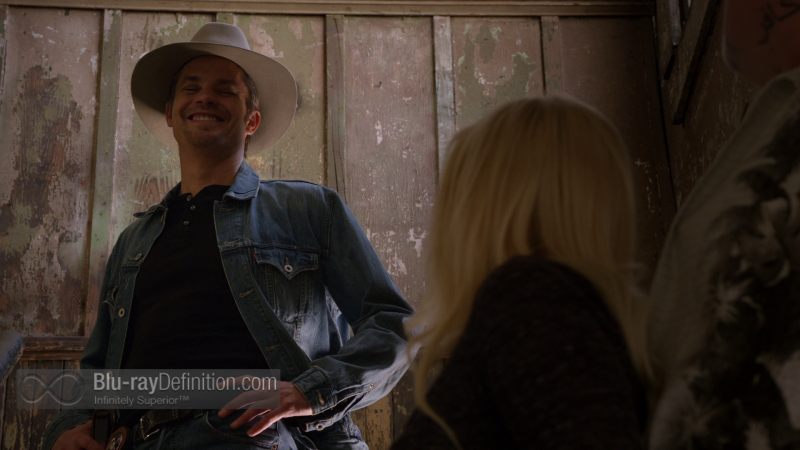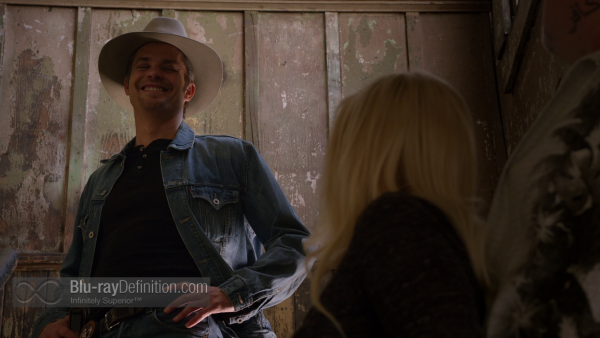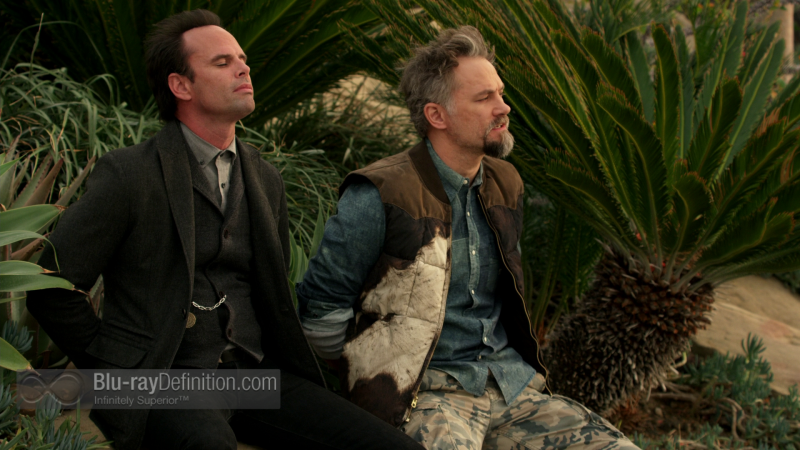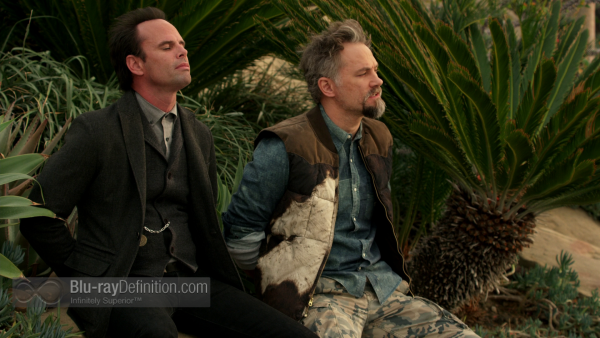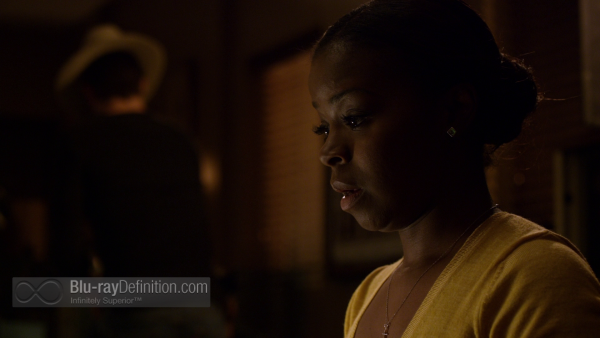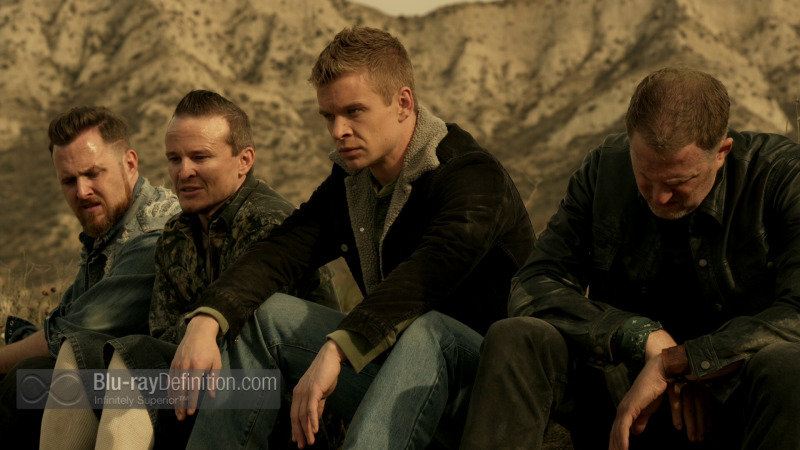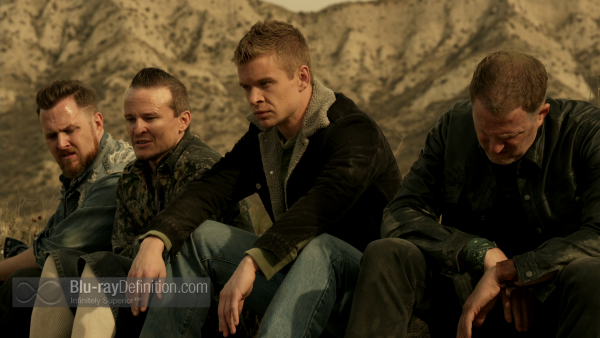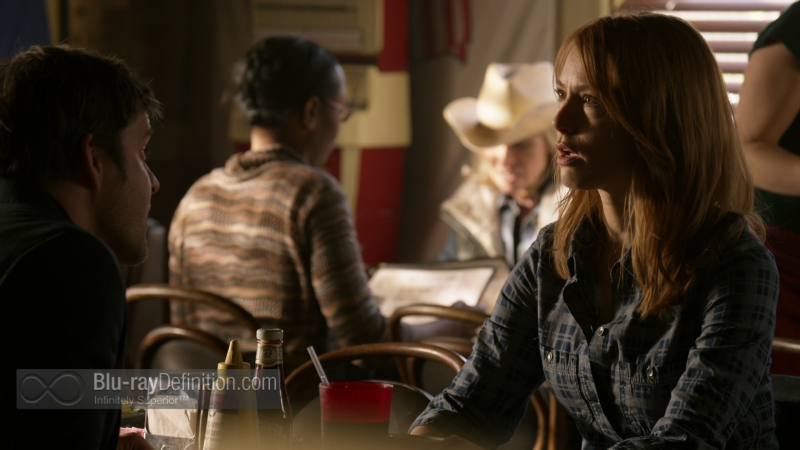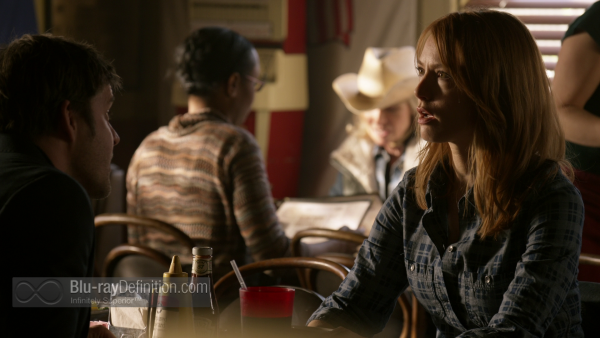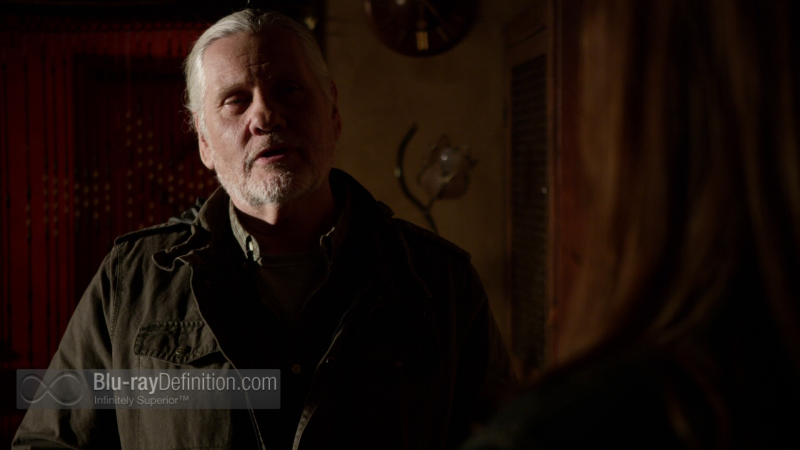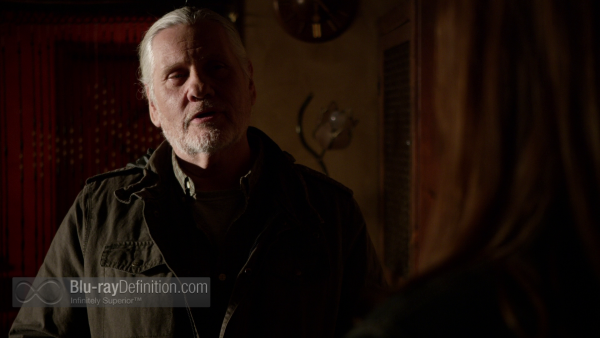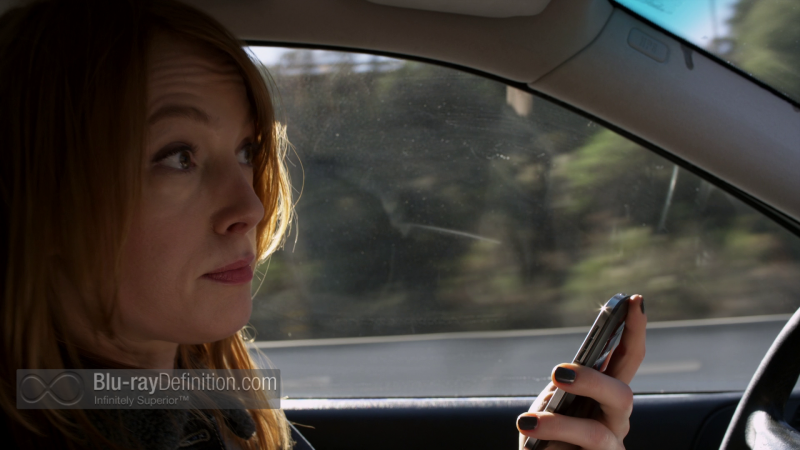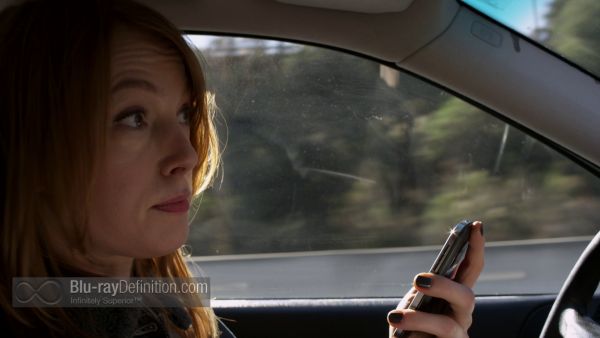 [amazon-product]B00HT84ZWK[/amazon-product]