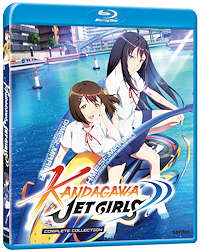 Kandagawa Jet Girls is a multimedia project created by Kadokawa, Marvelous, and Egg Firm that includes a racing game for the Playstation 4 and this anime series that originally aired by TNK from October 2019 to January 2020.
In the series Jet Racing is a popular sport where two-girl teams race, one being the "Jetter" who operates the usually highly modified jet ski, and the other being the "Shooter" who shoots a water gun at the competing team in the race. The story focuses on the girl Namiki Rin who leaves her home in the countryside to compete in Jet Racing like her mother at a school in Tokyo. There she meets Aoi Misa, a former champion school Jet Racer who his contemplating quitting the sport, and together they form a team. As they compete together against a series of competitors, their friendship grows.
Kandagawa Jet Girls is a fun little fan service series that has one of the best setups for such a show, watersports. Busty girls in bikinis who for some reason compete in sport where water guns blast their clothing off. If that's your thing, then this is for you. The depth of the characters is a little shallower than the waters of the Kanda River upon which most of the action in the series takes place, however. Rin remains sort of naïve and Misa begins with some mild tsundere characteristics but is quickly shifted into a friendly, sisterly role. It's all okay, though, no one really comes to this sort of series for a great story arc or character development. The character designs and artwork hit the mark just fine.
Kandagawa Jet Girls (TV) (Anime Series) (2019)
The Video
Kandagawa Jet Girls comes with a 1.78:1 AVC 1080p encodement on Blu-ray from Sentai Filmworks. Apart from the slightest bit of softness that seems to be present in nearly every anime TV series release, this is a gorgeous transfer that doesn't have too many problems on discs, is absent of banding and jaggies in the line art and will definitely be a big step up over DVD or streaming versions.
The Audio
The original Japanese-language audio mix and an English dub are included in lossless DTS-HD Master Audio 2.0 stereo. They are both very similar in timbre and tonality and their dynamics and stereo imaging are spot-on for this sort of series. Both the original voice cast, and the English cast are pretty good as well, so you'll be happy with either one.
The Supplements
There isn't much included outside of the OVA and the highlight reel. Everything else is the usual stuff like clean openings & closings and promos & trailers.
OVA – Now Presenting: The Tokyo Girls Promotion
Clean Opening & Closing Animations (1080p)
Episode 4.5: Highlight Reel (1080p; 00:24:42)
Japanese Promos (1080p; 00:04:31)
Sentai Trailers
The Final Assessment
Cute, fun, wet and wild fan service in the sun with some fast-paced action. This is just the sort of series to watch while heading into the warmer weather while (hopefully) finally seeing the backend of terrible pandemic.
---
If you found this article useful please consider clicking the button below and donating to help keep TheaterByte funded, which will allow us to continue posting great content.
---
Kandagawa Jet Girls: Complete Collection is out on Blu-ray March 23, 2021 from Sentai Filmworks
---
TV-Rating: TV-MA (DS)
Animation Studio: TNK
Distributor: Sentai Filmworks
Director: Kaneko Hiraku
Written By: Zappa Gō
Run Time: 325 Mins.
Street Date: 23 March 2021
Aspect Ratio: 1.78:1
Video Format: 1.78:1
Primary Audio: Japanese DTS-HD MA 2.0 Stereo
Secondary Audio: English DTS-HD MA 2.0 Stereo
Subtitles: English