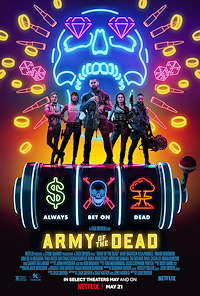 The current pandemic would seem like an ideal time to launch yet another zombie apocalypse film since this condition, like COVID-19, is transmitted from one infected person to another. Writer-director Zack Snyder gives his audience a diverting storyline that finds a team of irregulars, known as "Las Vengeance," recruited by ex-mercenary Scott Ward (Dave Bautista) to recover two hundred million dollars from the basement vault of Bly Tanaka's (Hiroyuki Sanada) casino. Tanaka has already been compensated for his "loss," so the funds in the vault will be untraceable profit. All Las Vengeance has to do is to get in and out of Sin City before a limited nuclear strike is launched on July 4th to wipe out the remaining zombie hordes.
The events leading up to the undead invasion of Las Vegas began when a U.S. military convoy gets into an auto accident. The convoy's undead cargo that will become zombie king Zeus escapes, infects two soldiers, and the three zombies takes dead aim at the city. Ward recruits former mercs Maria Cruz (Ana de la Reguera) and Vanderohe (Omari Hardwick), helicopter pilot Marianne Peters (Tig Notaro), safecracker Ludwig Dieter (Matthias Schweighofer), marksman Mikey Guzman (Raul Castillo) and his friend Chambers (Samantha Win). Kate, Ward's neglected daughter, (Ella Purnell) joins the team and helps link them up with the "Coyote" (Nora Amezeder) who knows all of Las Vegas's numerous nooks and crannies.  Tanaka inserts his assistant Martin (Garret Dillahunt) into the group to provide secure access to the vault chamber.
What lies ahead for Ward's forces are masses of high-functioning Alpha zombies led by their Queen (Athen Perample) and king Zeus (Richard Zetrone). As Las Vengeance proceeds onward to reap their rich rewards for recovering Tanaka's fortune, Martin lures the Queen out of her den and beheads her. This brutal deed launches a full-fledged Alpha zombie onslaught as Ward and what remains of his team discover that the US President has moved up the timetable for nuking Las Vegas, leaving them only one hour to complete their mission and get airlifted to safety.
Snyder has given lovers of undead cinema, a surfeit of guilty pleasures during Army of the Dead's two-and-a-half hour running time. In this case, the over-the-top opening credits scene of zombies overrunning Las Vegas to the strains of "Viva Las Vegas" is a highlights reel unto itself. Once the money-recovery mission begins, there is nearly nonstop action, as our group of mercenaries find deadly threats at nearly every turn and must rely on their wits and basic instincts to survive, which—spoiler alert—a number will not. Dave Bautista (Guardians of the Galaxy) puts in a solid performance as the decorated unit commander that he once was, and kudos are well-earned by his diverse group of hired hands. The only character that did not ring true for me was Ella Purnell's goody-goody WHO volunteer who suddenly morphs into a zombie-slayer. Zack Snyder also triples as cinematographer and is ably abetted by his hundred-strong visual effects team that creates a stunningly effective zombie tiger and a post-apocalyptic Vegas strip, teaming with the undead. Note: about halfway through the film there are intermittent "dead" pixels, most evident in the dark scenes. This was seen on both my Roku Ultra and Apple 4K TV devices so it is clearly a problem with the master source.* Fortunately, this anomaly eventually clears up during the final hour. Even if you, like me, are not a hardcore fan of this movie genre, there is no denying that this is very effective storytelling and, although longish, does not wear out its welcome. There is a surprise ending that leaves the door open for a sequel. Try it, you might like it.
*Editor's Note: There is some evidence that this dead pixel issue is wider spread and may actually be a bigger problem with Netflix itself.
---
If you found this article useful please consider clicking the button below and donating to help keep TheaterByte funded, which will allow us to continue posting great content.
---
---
Rating Certificate: R (for strong bloody violence, gore and language, some sexual content, brief nudity/graphic nudity)
Studios & Distributors: The Stone Quarry | Netflix
Country: USA
Language: English | Spanish | German | French
Run Time: 148 Mins.
Aspect Ratio: 1.78:1
Director: Zack Snyder
Written By: Zack Snyder (story by) | Shay Hatten (screenplay by) | Joby Harold (screenplay by)
Release Date: 21 May 2021