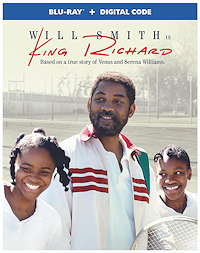 King Richard is the 2021 biopic about Richard Williams (Will Smith), father of the champion tennis playing sisters Venus and Serena, played here by Saniyya Sidney and Demi Singleton respectively.
The film traces Williams' 'plan' which he put together before the sisters were even born, to turn them into tennis champions. The unlikely journey of the low-income, black family from the poor, crime-ridden neighborhood of Compton, California, takes the Williams into exclusive, all-white country clubs seeking a coach to take his daughters, coach them and school them for free as he and wife Oracene coach them as much as they can. They eventually find coach Paul Cohen. Venus as a youngster then goes 63-0 without dropping a set on the juniors' circuit, but Richard Williams isn't happy with the pressure being put on his girls and he moves the girls out of juniors before moving on to a new coach, Rick Macci (Jon Bernthal) in Florida at his exclusive tennis coaching facility, getting Macci to agree to house them, coach Venus and Serena for free, and pay for their schooling and the schooling of his two other daughters. Richard Williams would always keep a tight grip over the influence of his daughters, keeping them off the juniors' tour and emphasizing family and education above all else, often bringing him into direct conflict with coach Macci, while his frank attitude with the press stirred plenty of controversy.
Above and beyond anything else, King Richard is a film about family, belief, and triumph over adversity. Making it even more of a powerful statement is the fact that this is a true story and much of what plays out in this film is factual. Richard Williams did have a plan for his two daughters and his family, he did predict Venus Williams would become the number one tennis player in the world, and yes, he even predicted Serena would surpass her to become arguably the greatest to ever play the game. All of these things did come to pass.
Will Smith puts on a brilliant performance, arguably the best of his career. As I write this, he has garnered a nod for Best Lead Actor at the 2022 Oscars for this performance and he has a good shot at winning it.
For a feel-good, inspirational film about contemporary figures, a classic sports film, and arguably one of the best tennis films ever made, King Richard is one to watch.
The Video
King Richard was shot digitally on various Arri and Panavision cameras in ARRIRAW 3.4K and Redcode RAW 8K. A 4K digital intermediate was used. The film is available on 4K Ultra HD Blu-ray and 4K UHD digital with Dolby Vision & HDR10, but this review is for the high-definition Blu-ray which comes in a 1080p AVC encodement framed at 2.39:1. The image on the Blu-ray has a pristine look and could probably use a little bit more if a filmic touch to make it a bit more organic looking, but that is personal preference. There is hardly anything to complain about in this transfer which has excellent depth of field as one can see in the later scenes that show the arena and crowd as Venus makes her big stage professional debut.
The Audio
The English Dolby Atmos (Dolby TrueHD 7.1 compatible) mix is subtle but engaging. There are moments of good height awareness such as the sound of an announcer of a loudspeaker system, a police siren off in the distance, or the resonance of racket hitting a ball that pings through the height and surround channels. The score is also balanced nicely into the channels and often we can hear it along with atmospheric effects through the surround channels. The low end is not very robust, but this is not the sort of film that requires it.
The Supplements
There are a few brief featurettes covering the film's production and inspiration that have interviews with Will Smith and the filmmakers plus some deleted and extended scenes.
Movies Anywhere Digital Code
Following the Plan: The Making of King Richard (1080p; 00:09:07)
Becoming Richard (1080p; 00:06:26)
Champions on Screen (1080p; 00:05:51)
Deleted Scenes (1080p; 00:03:03)
The Final Assessment
Wholesome and inspirational biopic with excellent performances from Will Smith and the young cast members gets a superb Blu-ray release from Warner Bros.
King Richard is out on Blu-ray+Digital & 4K Combo February 8, 2022 from Warner Bros.
---
Rating Certificate: PG-13 (for some violence, strong language, a sexual reference and brief drug references)
Studios & Distributors: Warner Bros. (presents) | Star Thrower Entertainment | Westbrook Studios | Keepin' It Reel | HBO Max | Warner Bros. Home Entertainment
Director: Reinaldo Marcus Green
Written By: Zach Baylin
Run Time: 144 Mins.
Street Date: 8 February 2022
Aspect Ratio: 2.39:1
Video Format: AVC 1080p
Primary Audio: English Dolby Atmos (Dolby TrueHD 7.1 Compatible)
Secondary Audio: English DD 5.1 | English Descriptive Audio (US) | English Descriptive Audio (UK) | French DD 5.1 | Spanish DD 5.1 | Portuguese DD 5.1
Subtitles: English SDH | French | Spanish | Portuguese | Danish | Suomi | Norwegian | Swedish