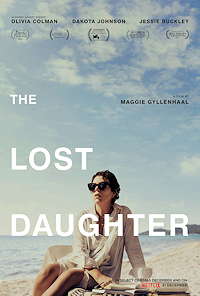 If you are into psychological dramas involving motherhood and how a woman might make selfish choices between caring for her children and her marriage or enjoying an affair with another man and pursuing an academic career, then The Lost Daughter might just be the kind of film for you. If not, you are in for a long two hours.
Writer-director Maggie Gyllenhaal has adapted Elena Ferrante's novel of the same name as a vehicle for Olivia Colman who portrays a successful Italian translator and academician Leda Caruso with Jessie Buckley assuming the role of the younger Leda.The film's opening scene showing the older Leda lying unconscious on the beach of a Greek island where she had been spending her holiday. By way of flashbacks, we see Leda catching the eye of Lyle (Ed Harris), the hotel's caretaker. On the following day, a noisy Italian American family invades the resort. Nina (Dakota Johnson), one of that family's younger members, loses her three-year-old daughter Elena (Athena Martin) on the beach, hence the film's title. Fortunately, Leda finds Elena and returns her to an obviously unhappy Nina but takes and keeps the little girl's beloved doll.
Young Leda (Buckley) is shown as a mother with young daughters Bianca (Robyn Elwell) and Martha (Ellie Blake). She is clearly overwhelmed by motherhood while trying to balance her fading relationship with husband Joe (Jack Farthing) and get her career going in the right direction. Older Leda eventually tells Nina that she abandoned her family for three years during which she had a torrid affair with Professor Hardy (Peter Sarsgaard) and got divorced. While Leda eventually reconnects with her daughters, in some respect, they are also "lost" to her. She later discovers that Nina is having an affair with Will (Paul Mescal) a resort worker, because she is unhappy with her husband Toni's (Oliver Jackson-Cohen) domineering attitude. Later, Will asks Leda to lend him her room so he and Nina can have sex. A crucial incident follows during which Leda returns Elena's doll to Nina and we are returned in the present time to the film's opening sequence.
The Lost Daughter is Maggie Gyllenhaal's debut as a feature-length film writer and director and there are awkward moments during which the dramatic thread and tension get sidetracked, like those involving the tossed-in roles of Ed Harris's Lyle and Paul Mescal's Will. If the theme of psychological damage is the main driver of the storyline, then why is there so little actual interaction between Nina and Toni and likewise between young Leda and Joe? It is also unclear why Leda took and kept the child's doll in the first place. Ferrante's novel on which the film is based goes far deeper into the origins of its heroine's adult problems and, in so doing, makes her emotional scars more understandable than is ever revealed here. We also get far too little of the later evolution of the relationship between Leda and her daughters which becomes important for understanding the film's uncertain finale. That said, both Colman and Buckley do their level best with the material that they are given. But this is simply not enough to keep us interested in what happens to their shared yet incompletely developed character of Leda at two different points in her life. The only bright spot in this otherwise depressing film is the lovely seaside scenery of Spetses Island, a favorite tourist destination, that is beautifully captured by Hélène Louvart's camera crew.
---
Rating Certificate: R (for sexual content/nudity and language)
Studios & Distributors: Endeavor Content | Samuel Marshall Productions | Pie Films | Fair House Productions | Netflix
Country: USA | Greece
Language: English | Italian | Greek
Run Time: 121 Mins.
Aspect Ratio: 1.66:1
Director: Maggie Gyllenhaal
Written By: Maggie Gyllenhaal
Release Date: 31 December 2021