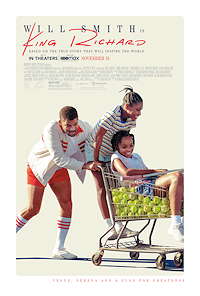 Whether or not you follow women's professional tennis closely, you should be aware of the Williams sisters—Venus and Serena—who appeared on the scene as teenagers in Compton, California and proceeded to take the tennis world by storm. What you might not have known is that the sisters' huge success in the highly competitive world of women's tennis did not just happen by chance but was propelled by the determination of their father Richard Williams—a security guard by night and tennis coach by day.
The usually well-groomed, youthful-appearing, and articulate Will Smith gained a noticeable amount of weight, sported a scruffy set of whisters, and mastered the less than grammatically correct English spoken by the real Richard Williams for his title role in King Richard. The story opens in Compton where Richard shares a modest home with his second wife, nurse Oracene "Brandy" Williams (Aunjanue Ellis). He has three older stepdaughters, and two daughters of his own, Venus (Saniyya Sidney) and Serena (Demi Singleton), all of who share the same bedroom Richard is the sisters' unconventional tennis coach who has a detailed game plan for turning them both into world champions. We watch Richard give Venus and Serena lessons on the poorly maintained Compton tennis courts while he continues searching for a well-known, successful tennis coach for the girls. He approaches big-name coaches like Vic Braden (Kevin Dunn) and finally convinces John McEnroe's coach Paul Cohen (Tony Goldwyn) to take on his daughters' tennis instruction.
The big breakthrough for Richard's career plans for his daughters occurs when he has them play for noted tennis coach Rick Macci (Jon Bernthal) who has a Florida-based tennis academy that produced female tennis stars like Jennifer Capriati (Jessica Wacnik). Macci arranges for the Williams family to move into a nice home in the tennis complex, to cover their living expenses and to continue the daughters' education. He prepares Venus for her professional debut at the age of fourteen—her first match in three years after leaving the junior tennis tournament circuit with a number one ranking as an undefeated eleven-year-old.  Venus nearly defeats the world's then number-one player, Arantxa Sanchez Vicario (Marcela Zacarias) whose very long bathroom break between sets unnerves the teenager who proceeds to lose the match. As a result of her impressive showing, Venus becomes a brand name for Reebok and receives a multimillion-dollar contract that now makes the Williams family able to support themselves. Richard's next agenda item is to develop Serena's professional career because he believes that, one day, she will surpass her older sister.
While the early story of the Williams sisters gets its due, this is really Will Smith's film from start to finish as he delivers a convincing portrait of an obsessive father determined that his daughters will overcome the barriers of race and lack of financial backing to become tennis world champions. You can feel his suffering as he is gets regularly attacked by a Compton youth gang and his disappointments when his overtures to potential sponsors and coaches get brushed aside. Smith truly inhabits a real character whose flaws like his recurring infidelity occasionally surface but who is also utterly devoted to his two daughters. A strong supporting cast is led by Ellis, Goldwyn, Bernthal but it is Singleton and Sidney as the two sisters who make the dramatic action as credible as is their volleying that continues to improve like the courts on which they play.  Zach Baylin makes a successful debut as a screenwriter and his script receives terrific pacing from Reinaldo Marcus Green also making his feature-length film directorial debut. King Richard begins and concludes at exactly the right places as there was really no need to continue with the many triumphs that both sisters since achieved in their distinguished professional tennis careers during the next two decades. Much as he did in the Ali film, Will Smith shows how well he can portray a proud three-dimensional human being who, in this case, lets his daughters' tennis rackets do much of the talking for him. I would not be surprised if King Richard brings another Oscar nomination for this talented actor. Highly recommended.
King Richard now available for viewing in theaters and will be streaming on HBO Max through December 19. 

---
Rating Certificate: PG-13 (for some violence, strong language, a sexual reference and brief drug references)
Studios & Distributors: Westbrook Studios | Star Thrower Entertainment | Keepin' It Real | Warner Bros. Pictures
Country: USA
Language: English
Run Time: 145 Mins.
Aspect Ratio: 2.39:1
Director: Reinaldo Marcus Green
Written By: Zach Baylin
Release Date: 18 November 2021