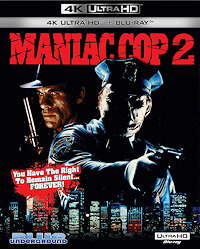 In Maniac Cop 2, the sequel to the 1988 original, Matt Cordell (Robert Z'Dar), the once hero police officer who was framed by superiors and brutally attacked and disfigured in prison and thought to be dead, returns to dish out his brand of brutal vengeance. This time around he teams up with the Times Square serial killer Turkel (Leo Rossi) who likes to murder strippers. Detective Sean McKinney (Robert Davi), only after finally coming around to pleas from officers Jack Forrest (Bruce Campbell) and Teresa Mallory (Laurene Landon) who insist that Cordell is still alive, pleas that initially fall on deaf ears until Jack is killed by Cordell.
The film, directed by William Lustig who also directed the first film, is a nonstop venture into action and slasher gore. The magnificently staged set pieces range from car chases through the streets of New York City to the seemingly unkillable Cordell's police station break-in slaughtering nineteen police officers. While this film is certainly not for everyone, that's not the point. These sorts of genre films rarely are. That Lustig manages to elevate the visuals of this film to the level they obtain to make a stylish-looking action horror that also has no lulls and pulls off most of its practical effects convincingly is what fans of these films are looking for.
The Video
A brand-new 4K restoration of the film in HEVC 2160p (4K UHD) with Dolby Vision HDR framed at 1.85:1 is provided by Blue Underground. In every frame you can see the care and reverence that Blue Underground holds for these cult horror films, which are often relegated to less than the highest standards. That's not the case here. We get beautiful, clean imagery with natural film grain, details that are preserved, and the wide color gamut provided by the Dolby Vision has spectacular color shadings. The Dolby Vision also provides dazzling specular highlights in the sheen of buttons on clothing, the flashing lights on police cars, and headlights and other things like that.
The Audio
Maniac Cop 2 comes with a brand-new Dolby Atmos mix in addition to a DTS-HD Master Audio 2.0 stereo mix. The Atmos mix is big and engulfing without being overly aggressive. The foley effects come from around you, rain falls from overhead, and there's good and deep extension into the low end. Dialogue sounds very clear.
The Supplements
The audio commentary with Lustig and Refn is an interesting and informative listen.
Audio commentary with director William Lustig and filmmaker Nicolas Winding Refn
Theatrical Trailers:

International Trailer
UK Teaser Trailer
French Trailer
German Trailer

Back On The Beat – The Making Of MANIAC COP 2
Cinefamily Q&A with Director William Lustig
Deleted Scene
Poster & Still Gallery
Compatible with D-BOX home theater systems
Limited Edition embossed slipcover (first pressing only)
The Final Assessment
Blue Underground continues to stake a claim at being at the top of providing the very best restorations of these genre films. Maniac Cop 2 has surely never looked or sounded better. Highly recommended.
Maniac Cop 2 is out on 4K Combo Pack November 16, 2021 from Blue Underground
---
Rating Certificate: R
Studios & Distributors: Medusa Pictures | The Movie House Sales Company | Fadd Enterprises | Overseas FilmGroup | Blue Underground
Director: William Lustig
Written By: Larry Cohen
Run Time: 90 mins.
Street Date: 16 November 2021
Aspect Ratio: 1.85:1
Video Format: HEVC 2160p (4K UHD)
HDR Format: Dolby Vision (HDR10 Compatible)
MaxLL: 1000 Nits
MaxFALL: 497 Nits
Primary Audio: English Dolby Atmos
Secondary Audio: English DTS-HD MA 2.0 Stereo | Isolated Score DTS-HD MA 2.0 Stereo
Subtitles: English SDH | French Canadian | Spanish Latin American | Brazilian Portuguese | Castilian Spanish | Parisian French | German | Italian | Mandarin (Traditional) | Mandarin (Simplified) | Korean | Japanese | Russian | Danish | Dutch | Finnish | Norwegian | Swedish