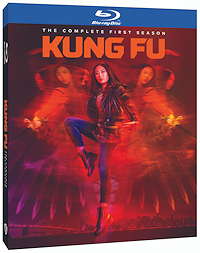 The classic TV series Kung Fu returns and this time it loses the offensive yellowface that had David Carradine in the lead role as a wandering martial arts master. Now, with an Asian cast and a rebooted story for a new generation, the series has been revitalized for contemporary audiences, and Gen Z and younger millennials.
Chinese American college student Nicky Shen (Olivia Liang) drops out of college and heads to an isolated monastery in Mainland China for three years where she learns the art of Shaolin from her powerful mentor. Upon her return to San Francisco, she finds her parents and all of Chinatown under the boot of powerful Triads and she resolves to help them, using her Shaolin skills to fight for justice. But there is more to her destiny. She has a powerful foe after her and an ancient artifact that she must obtain. With the help of her new boyfriend Henry Yan (Eddie Liu), her brother Ryan (Jon Prasida), and Althea (Shannon Deng), she searches for the powerful weapon while fighting against the powerful Zhilan (Yvonne Chapman), who is trying to gather a collection of the artifacts to gain the ultimate power.
It's great to see Kung Fu back on TV and cast appropriately, even if this version of the series does suffer from some of the same issues that plague most of The CW series, which is the inevitable stumble into awkward 'wokeness.' That said, this is a fun romp through some mainstream wuxia and Olivia Liang does a bang-up job in her role as the Shaolin warrior fighting for justice.

The Video
Kung Fu comes with a 2.00:1 framed AVC 1080p encodement on Blu-ray. Mostly this is a good-looking transfer with crisp details, spot-on flesh tones and excellent shadow detail. The only issue is some occasional color banding that shows up in skies or flat colors on walls in backgrounds.
The Audio
The sole audio mix is a serviceable English DTS-HD Master Audio 5.1 track.  This one light your home theater on fire, but there are some moments that are pretty good with some discrete effects moving into the surrounds. Low end is reasonable, but not bombastic.
The Supplements
Kung Fu comes with unaired scenes (1080p) for various episodes and the 'making of' featurette Kung Fu: Bond of Honor (1080p; 00:16:20). Additionally, there is a Digital Copy code included for the series.
The Final Assessment
A cool series that avoids miscasting and has a solid transfer on Blu-ray.
Kung Fu: The Complete First Season is out on Blu-ray November 2, 2021 from Warner Bros. Home Entertainment

---
Rating Certificate: TV-14
Studios & Distributors: Berlanti Productions | Quinn's House | Warner Bros. Television | TNT | The CW Network (The CW) | Warner Bros. Home Entertainment
Show Creator: Christina M. Kim
Run Time: 549 Mins.
Street Date: 2 November 2021
Aspect Ratio: 2.00:1
Video Format: AVC 1080p
Primary Audio: English DTS-HD MA 5.1
Subtitles: English SDH