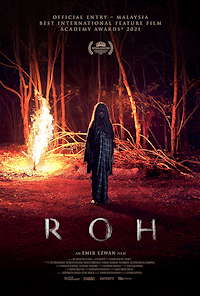 Set in the past, Roh (or Soul) follows the story of two children, Along (Mhia Farhana) and Angah (Harith Haziq,) who discover a dead deer hanging by its neck in the woods near their shed, where they live with their mother Mak (Farah Ahmad.) They soon run into a young girl, whom they take into their home with them naming her Adik, which means little sister. This is where the mother, Mak, tells the 3 children of a story about a cursed forest spirit that hunts animals and children, unless the victims hit two rocks together while chanting a mantra.
The next morning, Mak and her children awake to see Adik eating raw birds, shortly before informing the family they'll be dead by the next full moon, all before slitting her own throat.
Inspired by the 1964 Japanese film, Onibaba, Director Emir Ezwan sought to make his first feature length film, the type that would make audiences stop and think. Knowing that Malaysian audiences are becoming smarter, he viewed making Roh as kind of conducting an orchestra. This is clearly shown by not only the running time of the film (a scant 82 minutes,) but how quick some of the scenes are. We're given multiple intense moments, some of extreme horror, that, as cliché as it sounds, keeps us on the edge of our seats. We truly develop a desire to understand not only why spirit exists, but really which members of this family will ultimately survive.
Perhaps one of the better aspects of Roh is that Ezwan tends to stray away from the tired modern horror cliché where sudden objects appear in front of the camera. This newer method used results in not actual real tense horror (seen here and in classics like Halloween) but more a sudden jump due to the quick appearance of said object.
Considering this is Ezwan's first directorial film, I'll certainly add him to my list of directors I'll have to keep an eye on. Roh is well worth a look for not only horror films, but for those who just enjoy solid filmmaking.
ROH IS PREMIERING in the US VIA VIRTUAL CINEMA, VOD & DIGITAL ON OCTOBER 29, 2021 from Film Movement
---
Rating Certificate: NR
Studios & Distributors: Kuman Pictures | Film Movement
Country: Malaysia
Language: Maylay w/ English Subtitles
Run Time: 83 Mins.
Aspect Ratio: 1.85:1
Director: Emir Ezwan
Written By: Nazri M. Annuar (story) | Emir Ezwan (story) | Amir Hafizi (story)
Release Date: 29 October 2021 (US Digital/VOD)