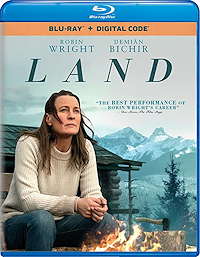 Robin Wright makes her feature film directorial debut with Land, a film about a woman trying to escape the tragic loss of her family by turning away from society and running away to isolation in a log cabin in Wyoming.
When Edee Holzer (Wright) loses her family, she leaves her life in the big city behind to escape the loss and runs away to an isolated cabin in the woods of Wyoming where she decides to live off the grid and away from people. Her attempt at self-sustenance doesn't go well at first and she ends up nearly freezing and starving to death until a local man, Miguel (Demián Bichir) rescues her. Miguel then begins to train Edee in how to survive out on her own, teaching her the basics of chopping wood, hunting, and trapping and the two strike up an unexpected friendship over the course of a year until Miguel suddenly leaves, leaving Edee with his dog, and doesn't return. Now Edee must decide if she really does want to be alone or if a connection with Miguel means something to her, enough to get her off her mountain to go find out where he could be.
As a first outing for Wright, Land is a good film. She has an eye for nature. The camera work captures the awesome surroundings of Alberta, Canada, which doubles here for Wyoming, with a delicate sensibility.  Yet her handling of the screenplay leaves a bit to be desired. The film is a little too quiet. There is a little too much left out, too much left up to the viewer to fill in. At times it feels like we are supposed to just sit back and be awed by the serenity of the surroundings and poignancy of Edee Holzer's situation, rather than having the character sculpted for us in a meaningful way. Still, the chemistry between Wright and Bichir definitely works and there is a down-home sort of atmosphere that permeates Land that is palpable. It will be interesting to see what, if anything, Wright directs next.

The Video
Land comes with a 1.66:1 AVC 1080p encodement on Blu-ray. This is a beautiful film with gorgeous cinematography of the outdoors having Alberta, Canada, doubling for Wyoming, and it is captured on this Blu-ray in an almost flawless way. There are two basic palettes in the film: a cooler, bluish palette for outdoor darker scenes and warmer palettes for bright outdoor scenes and indoors. I saw just a hint of color banding in the sky as it shifted from bright to dark in one scene, otherwise the image was clean and absent of issues like that and showed tremendous amounts of depth and detail. The shadows are very nuanced even as black levels are slightly elevated avoiding the inkiest of blacks, tilting a little towards charcoal grey. This is more in-camera than the encodement, which is overall extremely satisfying and one of the best Blu-rays I have seen recently.
The Audio
Land comes to Blu-ray with an English DTS-HD Master Audio 5.1 audio mix. This is a quiet film with very subtle sounds and even limited dialogue, but it is masterfully handled from a sound design perspective. The sound of winds whipping up flood through the surround channels or delicate breezes rustling through the trees surround you from off in the distance. The folksy AAA music sounds warm, full, and punchy when it kicks in as well, and the dialogue is also full and clear. The sound design is perfect for this film.
The Supplements
There isn't much in the way of extras included outside of some very brief featurettes covering the making of the film that have interviews with Robin Wright and others.
Movies Anywhere Digital Code
Crafting Land (1080p; 00:05:07)
Robin Wright: Feature Film Directorial Debut (1080p; 00:03:50)
After the Trauma (1080p; 00:03:19)
The Final Assessment
Land is a quiet, visually gripping film about a woman trying to come to terms with grief and it arrives on a beautiful Blu-ray transfer from Universal.
---
If you found this article useful please consider clicking the button below and donating to help keep TheaterByte funded, which will allow us to continue posting great content.
---
Land is out on Blu-ray+Digital May 11, 2021 from Universal Pictures Home Entertainment
---
Rating Certificate: PG-13 (for thematic content, brief strong language, and partial nudity)
Studios & Distributors: Big Beach Films | Cinetic Media | Nomadic Pictures | Universal Pictures Home Entertainment
Director: Robin Wright
Written By: Jesse Chatham | Erin Dignam
Run Time: 89 Mins.
Street Date: 11 May 2021
Aspect Ratio: 1.66:1
Video Format: AVC 1080p
Primary Audio: English DTS-HD MA 5.1
Secondary Audio: French DTS 5.1 | Spanish DTS 5.1 | DVS
Subtitles: English SDH | French | Spanish