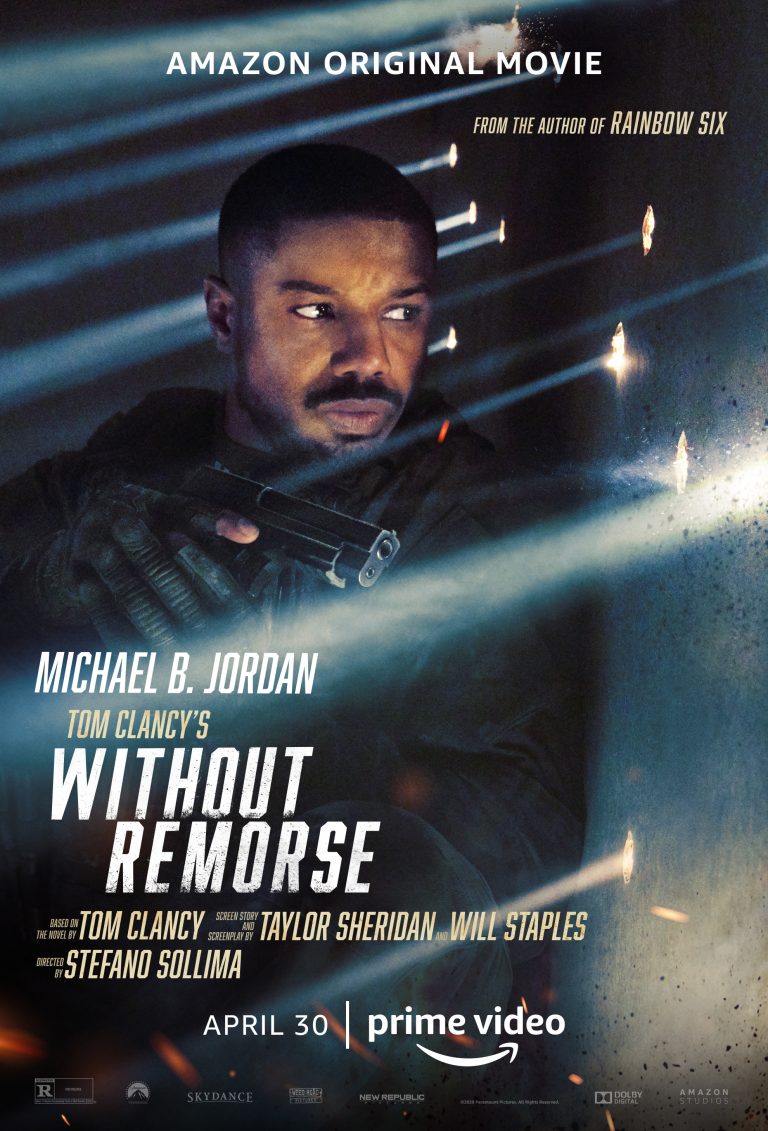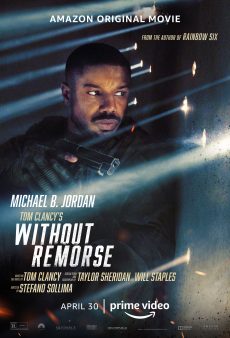 Pandemic notwithstanding, Michael B. Jordan has become one of the busier actors in Hollywood and now takes on the role of Navy SEAL John Kelly in this adaptation of a Tom Clancy novel, Without Remorse. This book had been waiting patiently in the wings for nearly three decades for its first film adaptation but Clancy Ryanverse fans should be aware that Jack Ryan is nowhere to be found and those that have read this book will find little resemblance to the storyline in the new screenplay authored by Taylor Sheridan and Will Staples.
The film opens in Aleppo, Syria, as Kelly leads his SEALs team on mission to rescue a CIA operative who has been held captive by what turns out to be a group of Russian soldiers. Their rescue operation succeeds but a few months later, Russian operatives appear to be bumping off the SEALs in Kelly's team. When the Russians break into Kelly's house, they kill Kelly's pregnant wife Pam (Lauren London) and seriously wound Kelly who manages to take down all but one member of the assassination squad. In Washington, D.C, Lt. Commander Karen Greer (Jodie Turner-Smith), a SEAL and good friend of Kelly tries to find out how the identities of the dead SEALs were leaked to the Russians.  CIA officer Robert Ritter (Jamie Bell) and Secretary of Defense Thomas Clay (Guy Pearce) refuse to investigate the murders. Greer gives the convalescent Kelly the name of a Russian diplomat Andre Vaseliev (Merab Ninidze) who gave passports to the hit men.
After Kelly recovers from his wounds, he goes on a one-man mission to avenge his wife's murder.  He begins with forcing Vaseliev to give up the name of the operative still at large, Viktor Rykov (Brett Gelman) before killing the diplomat. Through a deal brokered by Clay, Kelly who was jailed for Vaseliev's murder is allowed to get out of prison temporarily and pursue Rykov. Kelly joins up with Greer and a team of CIA black ops, as the group undertakes a highly dangerous mission that will find them illegally entering Russian soil to find and eliminate the assassin.

Tom Clancy's Without Remorse (2021)
This being a Tom Clancy film, at least in name, viewers can expect to get a rapid-fire sequence of twists and turns that puts Kelly's life in continual danger and turns up some uncomfortable revelations about the behind-the-scenes operations of the CIA and the US State Department before the final curtain is lowered.
As a long-standing Tom Clancy fan and hardcore Ryanophile, I was hoping to get some of that same vibe in Without Remorse since John Kelly who later becomes John Clark will be seen in some of the original Jack Ryan films. Unfortunately, the script given a reasonably strong cast has little of what made the Ryan films so memorable. Rather, this is more of a paint-by-numbers Cold War storyline with characters that, except for John Kelly, are just not very interesting. There is also a lack of suspense since the plot twists can be seen coming at you from miles away. Amazon Studios which also owns the Jack Ryan series —a third season of which is said to be in the offing—has announced a possible sequel to Without Remorse also starring Michael B. Jordan. If that film with the working title of Rainbow materializes, I hope that the screenwriters will consider sticking a good bit closer to what Tom Clancy penned in Rainbow Six rather than doing a complete rewrite as was done for the present film.
Without Remorse is available now for streaming on Amazon Prime Video
---
Rating Certificate: R (for violence)
Studios & Distributors: Paramount Pictures | Skydance Media | Weed Road Pictures | Outlier Society | New Republic Pictures | Midnight Radio Productions | Amazon Studios
Country: USA
Language: English
Run Time: 109 Mins.
Aspect Ratio: 2.39:1
Director: Stefano Soulima
Written By: Taylor Sheridan | Will Staples
Release Date: 30 April 2021