–
Click thumbnails for high-resolution 1920X1080p screen captures
More screen captures (21 Total)

(Screen captures are lightly compressed with lossy JPEG and thus are meant as a general representation of the content and do not fully reveal the capabilities of the Blu-ray format)
The Film
[Rating:5/5]
So much has been said about Alain Resnais' 1962 film Last Year at Marienbad that it isn't really necessary for me to pontificate on it again myself, particularly given that I only just reviewed the Criterion release not too long ago for another site. Yes, it is one of the leading films of the French New Wave and arguably the definitive Art House film.
Resnais, working with writer Alain Robbe-Grillet, crafted in Marienbad the ultimate film for film's sake, a true work of art that refuses categorization and defies all attempts at linearity. In a château at a non-disclosed location, a gentleman, X (Georgio Albertazzi) meets the married Y (Delphine Seyrig) and tries to convince her that the two of them met the previous year at Marienbad and had an affair. His running dialogue to her is poetic and disjointed and scenes are played so that it is impossible to tell if they are flashbacks, glimpses of current events, or pure vignettes of fantasy. Actors are used like statues, and Resnais' camera glides through the lush location like it is a museum and the people merely works of art to be hung in front of the lens.
It is a surrealist journey set in stark black and white climaxing in a terrifying bleached out scene in which X seemingly attacks Y. Is it a rape? Is it the present, the past, or the future? Does it actually happen at all? The scene has been discussed many times over, and its significance may be given far too much weight in the overall scheme of this enigmatic film. One must stand back from Marienbad like a painting and examine it as a whole. Taken apart and allowed to stand alone in its separate pieces it begins to collapse.  As a whole, it is still one of the greatest technical avant-garde achievements the screen has ever seen.
Video Quality
[Rating:4/5]
I very recently reviewed the US Criterion Blu-ray release of Marienbad for my friends and colleagues over at Big Picture Big Sound, so coming into this review I had a very clear point of reference. Although this AVC/MPEG-4 transfer from Optimum Releasing looks very strong on its own, with a film-like grain structure and no evidence of compression or post-processing artifacts, in comparison to the Criterion it does not fair as well. To my eyes at least, the release from Criterion looks just a little bit sharper, a little bit cleaner, and the Optimum Releasing's blacks tend to crush a bit more.
Having said that, this is still a very good transfer, one of the best ones from this first set of Studio Canal Collection releases and those in Region B territories (although the disc is Region A and B compatible) need not worry that they are getting a vastly inferior release.
Audio Quality
[Rating:3.5/5]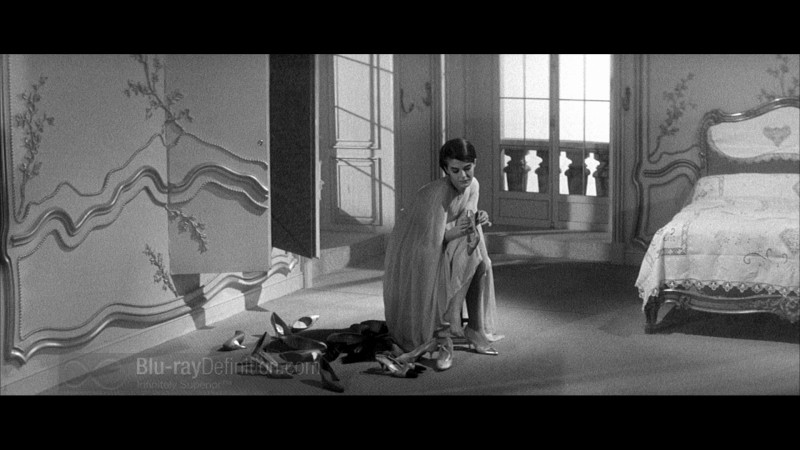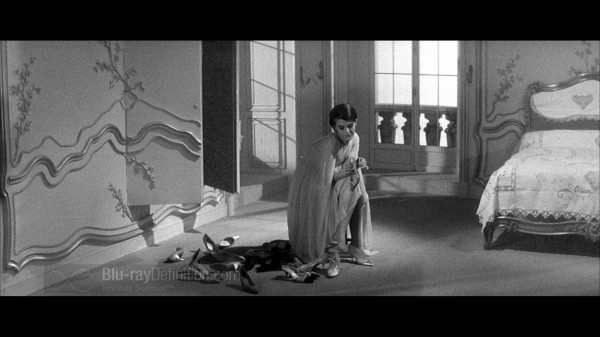 The disc has been provided with the original French Mono soundtrack in a DTS-HD Master Audio 2.0 configuration.  The sound is at time a little sibilant, but overall dialogue is intelligent and there is not much in the way of crackle or clipping. There is also a German dub provided in DTS-HD MA 2.0.
Supplemental Materials
[Rating:4/5]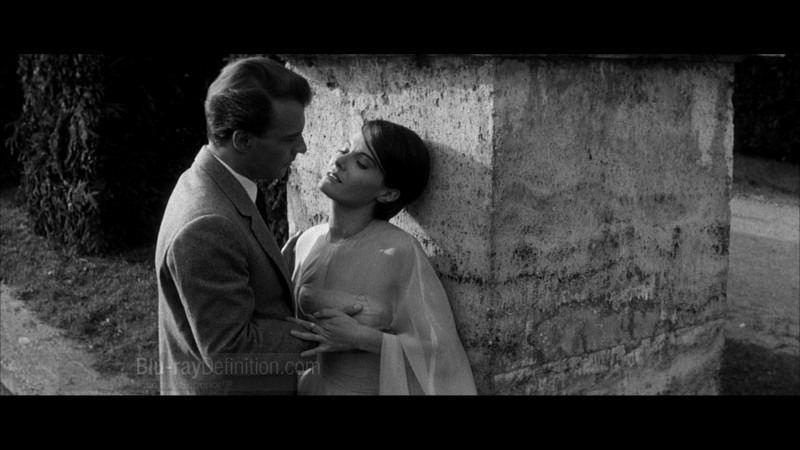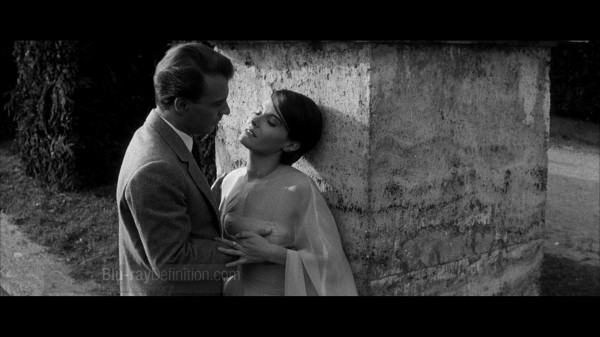 Some of the supplements on this release also appear on the Criterion release, and those include the introduction from Ginette Vincendeau and the two short films. All the rest do not appear on the US release.
The supplements provided on this release are:
Booklet: Introduction to the movie by Jean-Louis Letrat (Paris La Sorbonne)
Filmographies
Introduction By Ginette Vincendeau (1.78:1; SD; 0:18:36) — French film scholar Ginette Vincendeau offers her take on Last Year at Marienbad's importance and it's place in the history of cinema.
Short Film 1 — Le Chant du Styrene (2.35:1, 1080p/24) — A vibrantly colorful  documentary short by Alain Resnais on the inner working of a styrene factory predating Last Year at Marienbad.
Short Film 2 — Toute La Mémoire du Monde (1.33:1; 1080p/24) — Another short film by Resnais, which predates Marienbad yet looks forward to the former in its use of style and technique.
Alain Robbe-Grillet (1.33:1; SD; 0:48.31) — A brief documentary on Last Year at Marienbad's screenwriter, the writer Alain Robbe-Grillet.
In the Labrynth of Marienbad (1.78:1; SD; 0:33.25) — This brief film dissects Marienbad's meaning and its place in cinematic and literary history.
Trailer (2.35:1; SD)
BD-Live
The Definitive Word
Overall:
[Rating:4/5]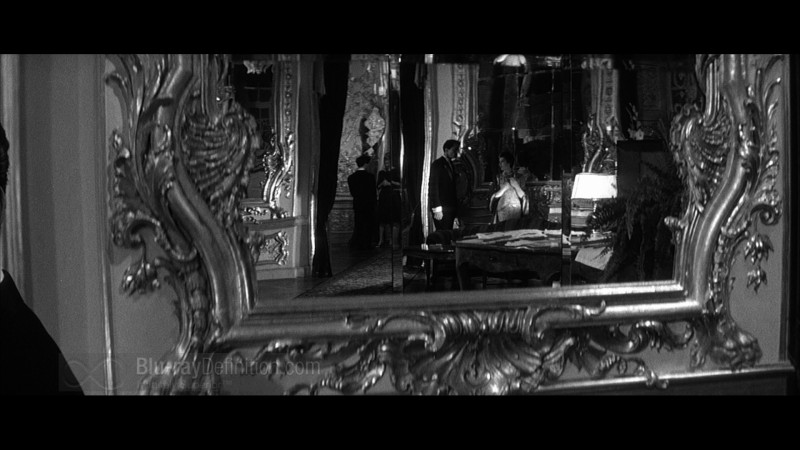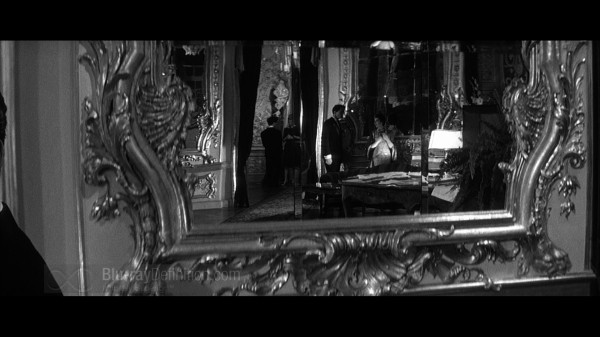 This just may be the true beginning of the so-called "art house" film. Last Year at Marienbad is definitive filmmaking; definitive French New Wave; definitive avant-garde; definitive art over commercialism in film. Optimum Releasing's Blu-ray release is a solid one indeed and it does this fine film justice. Any student or lover of film should have an edition of this in their collection.
[amazon-product region="uk" tracking_id="bluraydefinit-21″]B002BC9YZM[/amazon-product]
Shop With Us for More Blu-ray Titles at Amazon.co.uk
Shop with Us for More Blu-ray Titles at Amazon.com