Video Codec: AVC/MPEG-4
Resolution: 1080p/24
Audio Codec: English Mono LPCM 2.0 (48kHz/24-bit)
Subtitles: English SDH

Region: ABC (Region-Free)

Discs: 2
Classification: 18

Studio: BFI

Blu-ray Disc Release Date: July 27, 2009
List Price: £27.99

 

[amazon-product align="center" region="uk" tracking_id="bluraydefinit-21"]B0029XMXBK[/amazon-product]



Shop With Us for More Blu-ray Titles at Amazon.co.uk

Shop with Us for More Blu-ray Titles at Amazon.com

Overall

The Film

Video Quality

Audio Quality

Supplemental Materials


Click thumbnails for high-resolution 1920X1080p screen captures
More screen captures (26 Total)

(Screen captures are lightly compressed with lossy JPEG and thus are meant as a general representation of the content and do not fully reveal the capabilities of the Blu-ray format)
The Film

It is no secret that Scottish filmmaker Bill Douglas was long a champion of the poor and working class. An illegitimate orphan child raised by his grandmother in a poor mining town, Douglas had the benefit of being educated beyond his class, rather unusually for the time, and he chronicled his childhood in his famous childhood trilogy of films. So, when he decided in 1986 to do a film about the Tolpuddle Martyrs, it was not surprising at all. The story of these early-19th century agricultural workers who were arrested under an obscure 18th century English law making it illegal for men to swear oaths to each other and sentenced to seven years transportation (being sent away for hard labour in Australia) all because they'd formed a union to protest the constant lowering of their wages was something very fitting with Douglas' political leanings.
The fact that the ban on unions had already been lifted by the time this group of men from Tolpuddle had been arrested was a fact that seemed lost on the nobility at the time, but then again, that was always the issue with the deep class divisions in British society. Comrades chronicles the men's story through the eyes of a lanternist (a traveling entertainer performing shows with projection lanterns), sort of. Actually, the actor playing the lanternist, Alex Norton, appears throughout the film in several different roles, so it's as if he is in on the action from every perspective.
Comrades mixes realism and fiction; it is part documentary and part heart wrenching drama that opens a window on the toils of the working class in the 1800's. More refined even than Douglas' childhood trilogy, but no less personal and heartfelt, it is almost Dickensian in its drama, but far less melodramatic. In the disenfranchised scenes of the working class folk of Tolpuddle and the upper class who look down on them, Douglas captures the tiniest of moments, like scornful glances down at dirty shoes or the focus on the despair on the faces of the wretched.
Using other means to subversively put across the message of the deep division of the classes, Douglas went as far as to use unknown actors at the time in all the roles of the working class and well known actors for the nobility.  Ironically, Douglas wanted to use amateurs to play the working class parts, but union regulations would not permit it; a sign at how far things had come.
The film begins, naturally, in the urban and rural settings of Tolpuddle and then shifts to the torturous setting of Australia after the men have been transported. There, the story becomes a little less clear, because what actually happened to the men in Australia is not really as well documented, but even the Australian sequences, filmed on location, are marvelous and powerful. Aborigines being made to dance like monkeys, a young boy transported made to be a servant in black face — the underlying racism parallels the class divisions as one of the Toldpuddle Martyrs tries to organize the natives to rise up against their oppressors.
Comrades is powerful stuff; the film should seen by everyone. Despite its 3-hour length, it's easy to get through due to its moving content and superb visual aesthetic.
Video Quality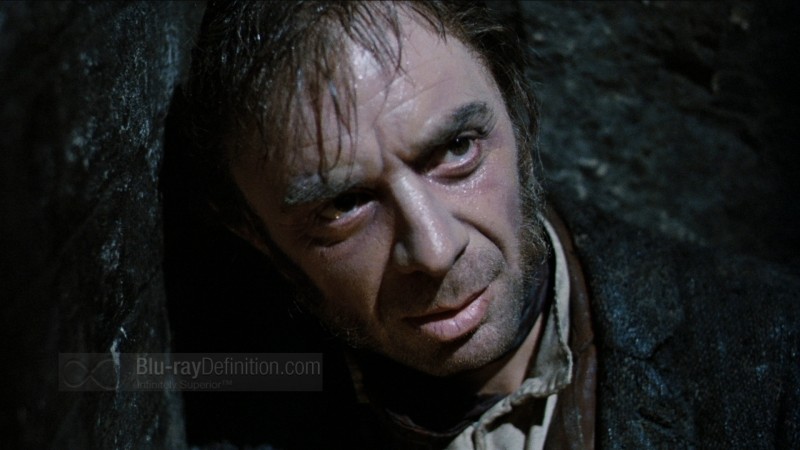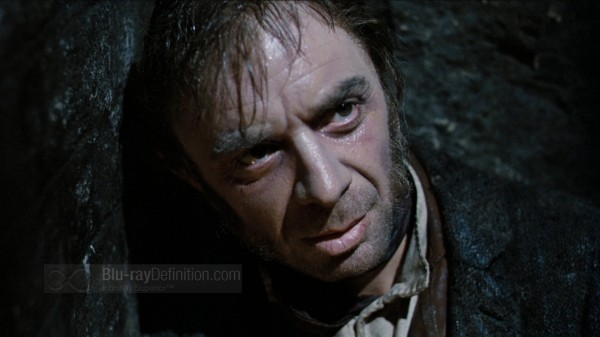 Comrades was transferred in high definition from the 35mm original interpositive preserved by the BFI National Archive. MTI and HD-DVNR picture restoration tools were used to minimize dirt, debris, sparkle and scratches.
The AVC/MPEG-4 encoding of Comrades' 1.78:1 original aspect ratio joins the ever-growing list of excellent transfers to Blu-ray from the BFI. Film grain is well preserved, detail is sharp and extended, black levels are deep and consistent with strong shadow delineation and there are no compression artifacts. Flesh tones are natural and contrast doesn't clip. Comrades has an overall natural, film-like quality that is very pleasing to the eyes.
Audio Quality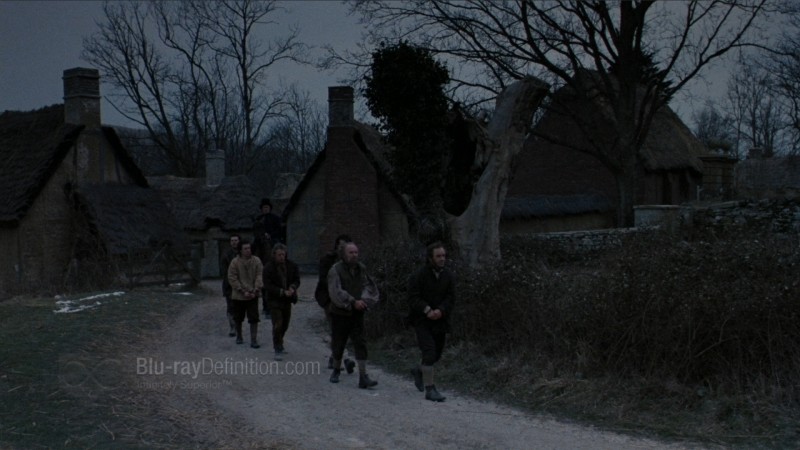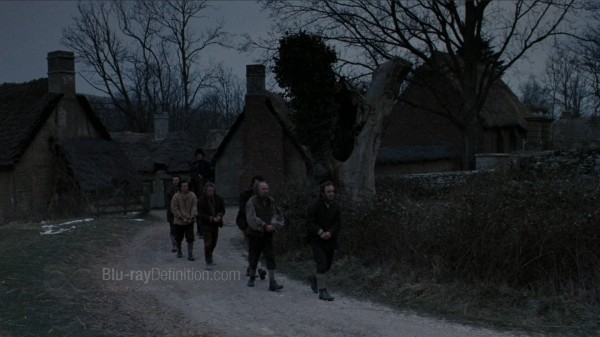 The audio was transferred from the original mag reels and restoration was used to minimize audio bumps, clicks, and surface noise. The soundtrack is provided with the original stereo configuration in a LPCM 2.0 (48kHz/24-bit) format. Dialogue is clean and intelligible with only some very slight sibilant distortions noticeable on occasion.  Sound effects are sometimes a bit harsh, but the sound has a good dynamic range and is relatively full for this type of film from this era.
Supplemental Materials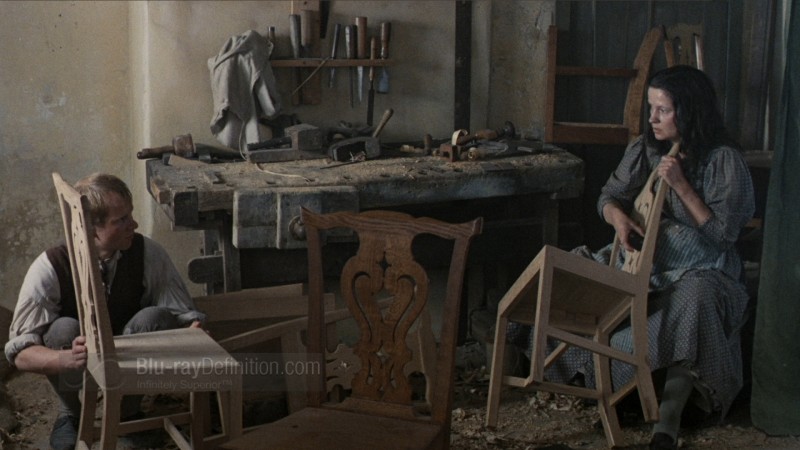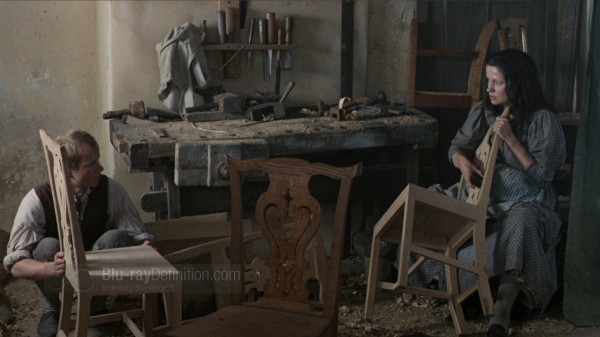 The booklet for Comrades contains a thorough essay on the film by Grahame Smith, Professor (Emeritus) at the University of Stirling, a bio on Bill Douglas (1934 – 1991) by Louise S. Milne, cultural historian and lecturer at Edinburgh Napier University and the Centre for the Visual Arts and Cultural Studies, Edinburgh  College of Art, in addition to extensive film credits, photos, and a Q&A session transcription with Bill Douglas from 1987.
All video extras are included on a second disc and they are plentiful. They are very informative and worthy of watching. A bonus is that they are all provided in high definition.
The supplements provided on this release are:
Disc 2:
Lanterna Magicka — Bill Douglas & the Secret History of Cinema (1.78:1; 1080p/24; 1:03.14) — Peter Jewell and other friends and actors discuss Douglas' film, Comrades.
Visions of Comrades (1.78:1; 1080p/24; 0:15.22) — The actors reminisce on their work in Comrades.
Bill Douglas Interview (1.33:1; 1080p/24; 0:19.18) — A 1978 interview with Bill Douglas.
Bill Douglas: reflections on his Trilogy (1.33:1; 1080p/24; 0:12.17)
Home and Away (1.33:1; 1080p/24; 0:31.10) — A short film about a young Scottish boy away at boarding school coming to grips with the breakdown of his parents' marriage.
Comrades trailer (1.78:1; 1080p/24)
On-set report (1.33:1; 1080p/24; 0:02.17) — A brief archival behind-the-scenes look at the filming of Comrades.
The Definitive Word
Overall: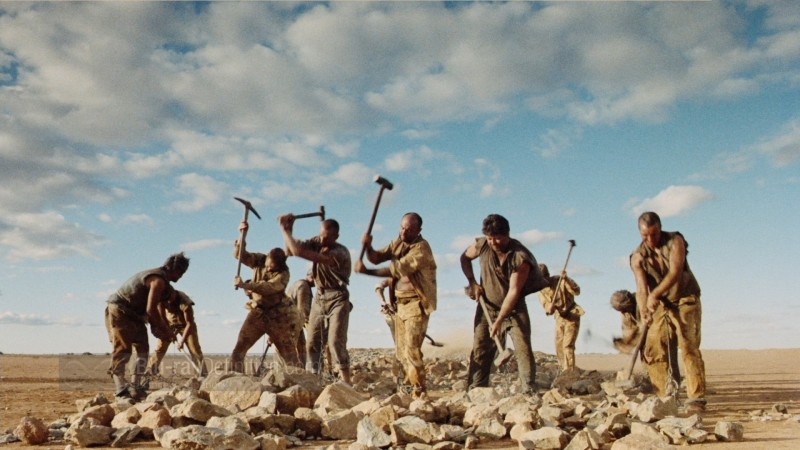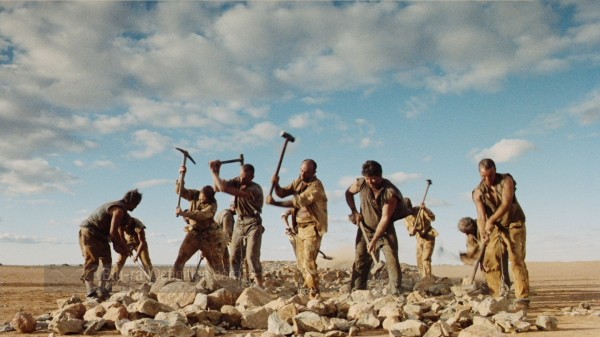 The BFI have done another wonderful job in bringing this working class history to Blu-ray. It is a powerful and sad story, brilliantly filmed and acted, full of faces that will now be familiar to many and it appears in a reference quality transfer on Blu-ray that should not be missed.

Shop With Us for More Blu-ray Titles at Amazon.co.uk

Shop with Us for More Blu-ray Titles at Amazon.com