–
Legend is mediocre because in the way the story is told. It is narrated by Frances Shea, the dead wife of Reginald 'Reggie' Kray. She committed suicide at the age of 24, too young to die, but it's a plot device that doesn't quite work as she's telling the story from beyond the grave.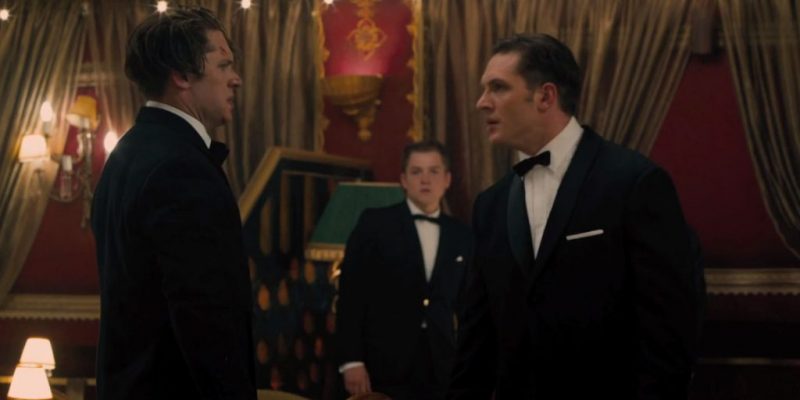 Tom Hardy does indeed play both Kray Brothers. He's Reggie, confident, goodlooking, extreme extrovert, who always gets the girl. He's also Ronald 'Ronnie' Kray, the not-so-goodlooking, introvert, schizophrenic brother, who was also gay. It's Reggie who seems to hold all the cards and makes most of the most decisions for the brothers, and Hardy goes all out in playing both of these characters. When tough, he's Reggie, when a bit soft, he's Ronnie, and when he's playing either one he's excellent.
Legend is based on the book The Profession of Violence: The Rise and Fall of the Kray Twins by John Pearson. The brothers sure did rise, ruling over East London during the 1960s, ordering killings during the day and then going over to mum's house for dinner the same evening. They also ran clubs and protection rackets.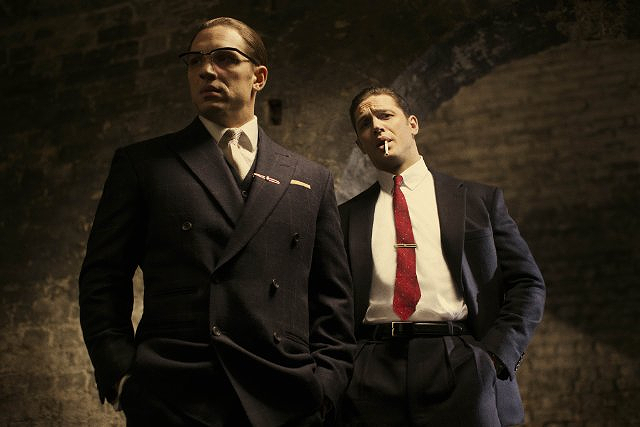 Legend is a slick retelling of the brothers' story. Written by Brian Helgeland (L.A. Confidential and Mystic River), the film primarily focuses on Reggie Kray's relationship with Shea (played a bit melodramatically by Emily Browning), yet downplays any real relationship that Ronnie was involved in. Sure, he had male hangers-on who were presumably with him for his money and power (definitely not for his looks), but it's all about Reggie and Shea. Their relationship was true love, and while Shea was very young when she started dating Reggie, at age 16, and then they got married when she was 22, and as played by Browning, not everything was right with her mind. Hardy is excellent as both brothers (Hardy has yet to give a bad performance, just this past year he was in Mad Max: Fury Road and Child 44 and last year was his best performance to date, as the only character in the film Locke, — it's a must see). But it's also a bit distracting watching him play both roles, especially when in scenes together. I kept on looking for irregularities, yet it was a bit obvious that doubles were used, especially in the fight scenes. Anyway, the brothers were imprisoned in 1969 for their long laundry list of murders, which is when their reign of terror ended. Legend was supposed to have been released on October 2 but the film studio felt that that weekend was 'bulked up' with too many guy pics; 20th Century Fox's The Martian and Sony's IMAX-fueled The Walk. So Legend is now playing at your local cinema.
Our Movie Rating:
[Rating:3/5]