Chock full of Blu-ray and streaming goodness
LG Electronics has really stepped up to the plate in the past few years as a brand recognized by its stylish mobile devices and affordable consumer electronics.  Although I typically associate them with display devices, they did make a name for themselves about three years ago introducing the first Blu-ray/HD-DVD combo player and PC drives.  We all know how that "combo" thing turned out, but it is apparent to me that LG decided to concentrate their Blu-ray efforts rather wisely, delivering the new BD570 Blu-ray player for 2010.  This model replaces the feature-rich (if pricey) BD390.


The Basics
This player really touts its streaming features, and rightly so!  The BD570 aggregates its streaming services under the moniker NetCast Entertainment Access.  The player provides access to Netflix Watch Instantly, Vudu, Roxio CinemaNow, Youtube, Pandora, Picasa Web Albums, and AccuWeather. The BD570 is also a DNLA Certified digital media player, perfect for streaming audio/video if you have a DNLA media server within your home.  LG does include a disc copy of Nero MediaHome 4 Essentials to install as a DNLA home server.  We'll get into specifics regarding all of these streaming services a bit further down below.  Lest we forget, the Blu-ray video playback is also fully featured, supporting BonusView Profile 1.1 and BD-LIVE Profile 2.0 (external USB storage needed for download content, unfortunately).  The one major video buzzword left out of all of this, is of course "3D".  Seeing as though compatible displays and associated players/glasses/content are literally weeks old, I will not fault 3D omission from this product.  I would venture that all but a tiny fraction of a percent of consumers are perplexed about the 3D standards, content, glasses, etc.  Let's revisit in 6-12 months, shall we?


The Look
The BD570 surprised me somewhat upon first examination with a rather shallow, slim appearance. Dimensions are listed as 16.9″W x 1.7″H x 8.0″D, weight 4.4lbs.  Although I haven't closely examined some of the recent entry-level BD players for physical heft, I believe the LG to be quite comparable in dimensions to other first-tier brands.  The shallow depth and (lack of) weight might catch you off guard, especially if you're more used to first or second-gen BD players from 2-3 years ago.  The player does have a metal top, and glossy drop-down front panel that runs the entire width of the unit.  Behind this panel is the tray, display, transport controls and a USB port.  Eject and power are on the top front of the unit, but their placement allows for another component to be placed on top of the unit.  I wouldn't necessarily recommend this, and the 8″ depth means this player will typically fit on a shelf by itself or resting upon another component.  The very slim tray is on the left side of the player.  I found the tray to be very thin, and somewhat flimsy.  Although I didn't experience any operational issues with the tray, it didn't exactly inspire confidence in the overall build quality.


The Ins and Outs
The rear panel provides for HDMI, component video, composite video (no S-video), optical and coax digital outputs.  Analog audio is handled via stereo L/R, there is no 5.1 or 7.1 analog connections. There is also an Ethernet connection.  The BD570 has internal 802.11b/g/n, which I found extremely useful and robust. I normally prefer wired Ethernet connections, but the convenience of wireless was just too tempting, especially since I had installed a new wireless-N access point in my home just a few days earlier. There is a USB port available via the front panel. The drop down door must be lowered to access it, but I didn't find it to be a tremendous compromise considering the overall convenience. I would have preferred full navigation controls on the front panel, for those times where the remote is not handy and you're ready to get the playback started right away.  An SD card slot would have been a nice feature as well.  The remote control is a new design for this player, and I liked it.  It has a glossy finish, with a welcome variety of button sizes and styles.  It fits comfortably in your hand, with the playback and transport controls within reach of your thumb. You can tell real thought went into the design.  The remote can also control basic TV functions via an internal code database.


Get Your Setup On
Setting up this player was a breeze.  The included instructions do give adequate direction for connections options.  In my case, I simply plugged in the power cord and attached an HDMI cable hooked up to my Denon AVP-A1HDCI processor which switches video to my 60″ Pioneer Elite PRO-151FD plasma.  I disabled video processing in the Denon so I could see what was really going on with the player sending its native signal.  Upon startup, there is a 480p LG welcome screen.  After that loads, you are presented with a main menu of sorts, that appears to be six selections of floating ice cubes (yes!) that you select.  Your choices are Movie, Photo, Music, Home Link, NetCast and Setup.  I went right over to Setup where I found rather basic options for Display, Language, Audio, Lock, Network and Other.  Under Display, I selected the important options for 16:9, 1080p, 24Hz mode, and YCbCr.  Absent were any more advance picture controls for HDMI, de-interlacing method or a Source Direct feature for either Blu-ray or DVD.  Audio configuration was straightforward, with options for HDMI bit-streaming (call Primary Pass-Thru here), PCM conversion (PCM Multi-Ch), as well as PCM Stereo and DTS Re-Encode.  Those available options are adequate considering there is no 7.1 analog outputs or SACD/DVD-A support.  Network setup was easy to navigate, with options for Wired/Wireless setup, BD-LIVE, and Netflix/Vudu activation.  There is also an option to update the software (firmware), which I took advantage of, upgrading from Main Version BD.8.31.151.C to BD.8.31.186.C.  There were no change log notes, but the process was quick and easy over 802.11N.  With those basics out of the way, I was off to feed the player some discs.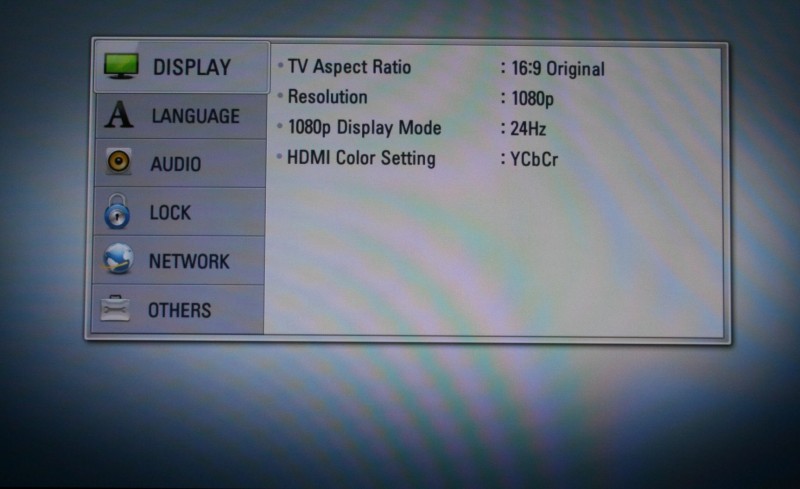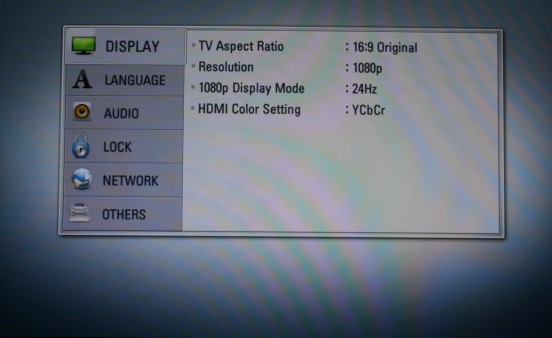 Fast As You Can
With every successive player generation, enthusiasts are always eager to know about disc load and navigation times.  Early adopters love to grumble about how older BD players took anywhere from 2-5 minutes to get a movie going.  With recent advances, many new players offer almost-DVD-like load times for most Blu-ray releases.  I'm happy to report the LG BD570 is one of the quicker players I've used.  I have three other BD players in the house, and I decided to use Transformers: Revenge of the Fallen to test speed from disc insertion/tray close, play through of Paramount splash to main menu load.  The BD570 clocked in at 58 seconds, compared to 55 seconds on a 40GB PS3 (not Slim), versus 51 seconds on both the OPPO BDP-83SE and BDP-80.  Yes, the LG came in last, but not by any amount you'd notice unless you had a stopwatch.  I found disc menu navigation to be snappy and responsive, very close to the OPPOs, and maybe faster than the PS3 based on subjective use.
Enjoying The Films and Streaming Services
I watched several Blu-rays and DVDs to get an initial impression before I measured for raw performance.  Picture quality was very good, with no distractions or obvious faults.  I found color saturation, black level, and detail to all be satisfactory.  I tried a Region 0 PAL disc, which the BD570 loaded and played back as NTSC.  I was soon tempted by the streaming options, so I engaged the DNLA feature under the Home Link main menu icon.  The player found several of my home network devices, including my NAS, desktop and laptop.  While trying to access files, I found viewing stored JPEGs quick and to have good quality. The BD570 played MP3 music files, but would not access FLAC or WAV.  I do have some DVDs that I have backed up on my desktop PC as MPEGs.  The BD570 did find and play those, with full 5.1 Dolby Digital.  One limitation was the inability to FF/RW through these video files, something my two OPPO players can do up to certain speeds.
Moving to the NetCast icon via the player's Home menu, I explored Netflix, Vudu, YouTube, and Pandora.  I watched several movies via my Netflix Instant Queue, including 1080p/24 versions of The Office.  The HD quality was good, with no objectionable lag or buffering.  The picture quality often surprised me, as I found it to be better that my AT&T U-verse, with less motion artifacts and blocking.  This is really surprising considering the Netflix stream is under 5Mbps, and delivered via Wi-Fi.  Standard-def Netflix offerings were of varying quality.  You'll probably only enjoy this via smaller (< 40″) TVs, as it barely reached DVD quality. I spent just a short time with the Vudu service, but the 1080p "HDX" free trailers produced very good picture quality with no artifiacting and plenty of detail.  I only got Dolby Digital 2.0 from Vudu, so more investigation will be necessary if you plan on renting movies and are looking to experience them in 5.1. Pandora, YouTube and Picasa all worked as expected.  I do use all three outside of this player, so their inclusion was definitely appreciated.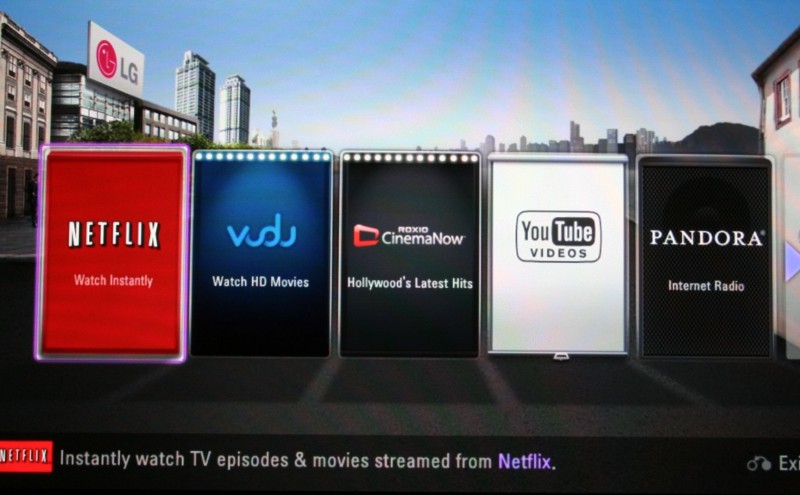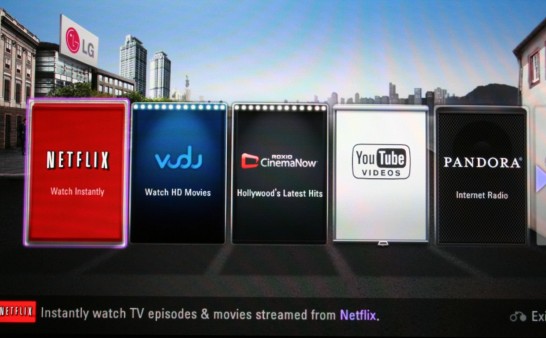 Totally Connected
In addition to the streaming services described above, the BD570 offers automatic connection to the online Gracenote database for CD/DVD/Blu-ray information details.  Inserting and playing standard CDs will automatically display album art and track title information.  I think this is a great feature that should be included on all players.  I had a hard time finding discs that the Gracenote database didn't recognize. Even some obscure jazz titles I tried came up with full album art and title info. Impressive!  While watching DVDs/Blu-rays, you can use the Info/Display button on the remote to access cast/synopsis/buying info, although I never managed to figure out how to 'buy' something I already had in the player.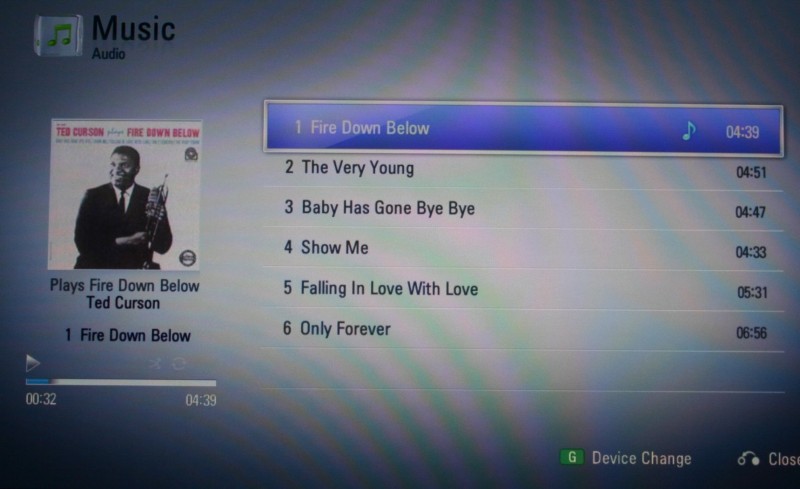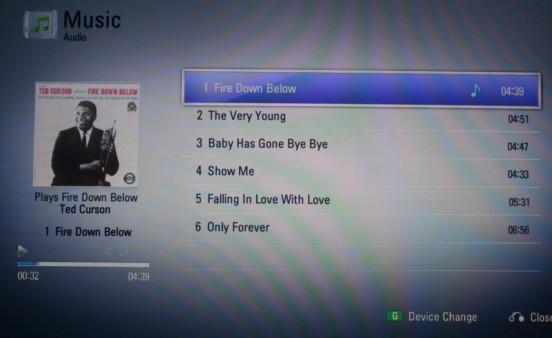 Testing Blu-ray

Using a variety of test Blu-rays and DVDs, I measure some of the BD570s core video performance.  With the Spears and Munsil High Definition BD disc, I was able to confirm the player passes white up to 255IRE, as well as below-black.  Deinterlacing performance for 1080i  Blu-rays to 1080p was also satisfactory, with full pass of the rotating diagonal line with no break-up or jaggies.  Mixed cadence performance for Blu-rays was slightly worse, with the player having troubling locking onto 3:2 patterns with high detail.  I really don't consider this slip to have any meaningful negative impact for real-world disc playback.  Any 1080i Blu-ray on the market is going to be sourced from 30 or 60 interlaced field video, so there would be no reason to reconstruct 3:2 cadence from a film source.  This performance would be more concerning if it was in a television, as 1080i from HD cable/satellite/OTA is often sourced from 24 frames/sec film material.  I found passing performance on sharpness tests (no visible ringing), overscan (doesn't clip any pixels) and no Chroma Upsampling Errors.  I also tested the Noise Reduction feature, which has a range of -3/+3.  I was not able to see any noticeable effectiveness from either the HQV Benchmark 2.0 disc or standard movies.
Testing DVDs
My review unit stopped playing standard DVDs shortly after arrival.  Strangely, it would attempt to load a DVD, but after the transport thrashed around for a bit, it was eject as "Disc Error."  LG sent a replacement that resolved the problem, and loaded every subsequent disc I threw in it.  Standard DVD performance has taken somewhat of a backseat in importance since the floodgates have opened with Blu-ray releases.  Of course we all have tons of regular SD DVD material, but thousands of titles have vastly improved picture quality via their Blu-ray counterparts.  With that in mind, I won't criticize the BD570 too harshly for its mediocre SD DVD performance.  Using the HQV Benchmark 2.0, the player did pass 3:2 Film Resolution cadence tests.  Although, the BD570 did fail virtually all of the mixed cadence material, including video text overlays on film.  The player does have average motion-adaptive deinterlacing for video sources, but nothing in the realm of the top offerings from Denon or OPPO.  The good news is that there was no Chroma Upsampling Error, or Interlaced Chroma Problem with SD DVD.  There were also no pixels cropped from the image, but I did see minor ringing via test patterns from the internal upsampling.  This will probably not be noticed on program material.  The player does support pillar-boxing (black bars) of 4:3 material.  There is a menu setting for this, but I found the auto-detection of material to be inconsistent, it will be better to choose this on the fly via the Info function on the remote.  Finally, I was disappointed to find no option for 'source direct' which would allow for native 480i from SD DVD or 1080i from some Blu-rays to be sent to your display or receiver equipped with a more advanced video processor than what is found in the BD570.  There is an Auto resolution setting, but this simply relies on the display's EDID information to determine what resolution to send out.  Using Auto, or 1080p output to my display, the player was sending 1080p YCbCr 4:4:4 at 12 bits per color channel.  This will satisfy most users of the BD570, but those who adamantly wish to use their TV/video processor/receiver for processing capabilities may wish to look elsewhere.
The Good
Impressive suite of streaming services
DNLA and Gracenote support
Good Blu-ray performance
Simple interface
WiFi 802.11b/g/n
Good remote design
The Bad
No 7.1 analog outputs
No support for SA-CD/DVD-A
No option for Source Direct
The Scorecard:
The Design:
[Rating:3.5/5]
Performance:
[Rating:4/5]
Value:
[Rating:4/5]
Overall:
[Rating:4/5]
The Definitive Word
The BD570 offers a host of streaming features that definitely leaves me wanting the same from the other players in my home.  The video performance will satisfy all but the most critical of videophiles.  If your main focus is ease of use, decent video quality for mainstream titles, and you are eager to try the streaming services, you really cannot go wrong with the LG BD570.
More Information:
LG BD570 WiFi Network Blu-ray Disc Player (SRP $300.00)
Join the Discussion on Our Forum
Enter to Win a Squeezebox Radio Courtesy of Logitech and TheaterByte!