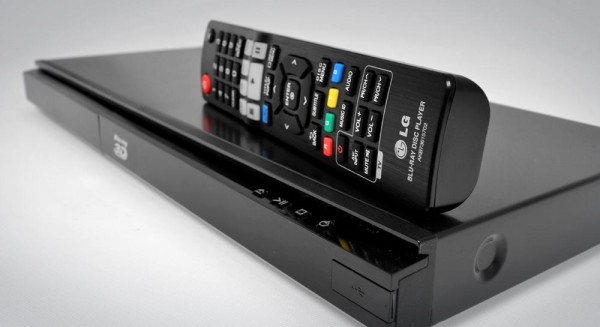 LG BP620 3D Blu-ray Disc Player
Late adopters of new technology may be the wisest consumers since they will often get the latest generation of electronic devices with mature features and low prices.  The Korean LG Electronics company (formerly GoldStar) has been on the scene for more than 50 years. Its subsidiary, LG Display, is the largest plasma panel manufacturer in the world. While LG's entry into the BD player market is more recent, they have made a their mark with small, no-nonsense units that promise high performance. The BP620 player is their current top-of-the-line model.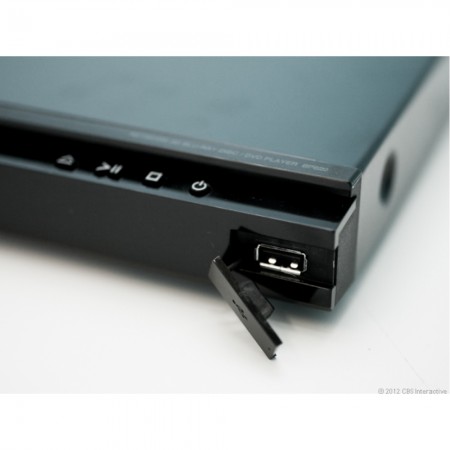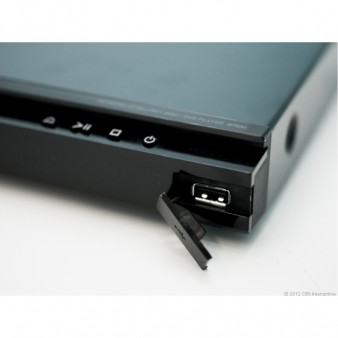 Set up and go
When I thought that BD players could not get any lighter or smaller, here comes LG to set a new standard.  Its net weight of 3.5 pounds, and small dimensions, 16.9″x 1.6″ x 7.8," (W x H x D), put it in the same weight division as the recently reviewed Toshiba BDX 5300.
As the current trend in front panels goes, the BP620 is a poster child for the plain Jane approach.  There is a concealed, drop drawer loading tray, a gold logo, a track/time display, and a concealed USB port.  The function buttons are very small and on top of the front panel making remote operation nearly mandatory. The rear panel is simplicity itself: an attached power cord, a composite video and analog audio output, optical digital and an HDMI outputs, and an Ethernet port. Both wired and wireless networking is possible (and both worked just fine in my system although my router is literally inches from the BD player).  The remote unit is also pretty Spartan with buttons for power button, open/close, alphanumeric chapter keys, standard playback controls, a row for home and menu functions, a function circle, more menu buttons, and separate controls for an associated TV.
The BP620 will play all current video and audio discs except for SACD and DVD-A.   MP3, AAC and WMA files are playable but  AIFF or FLAC files are not.
Conventional video settings can be adjusted through the graphical user interface or GUI (more about that later) and the BP 620 supports video adjustments possible: brightness, hue, contrast, saturation, and sharpness. From the optical output, either bitstream, PCM or re-encoding can be selected. The latest BD lossless formats are recognized, including Dolby TrueHD and dts Master Audio.
Here's even better news.  There is a free LG Smart Remote app for smart phones that replicates the main functions on the standard remote. It is well-laid out and worked flawlessly with the review player.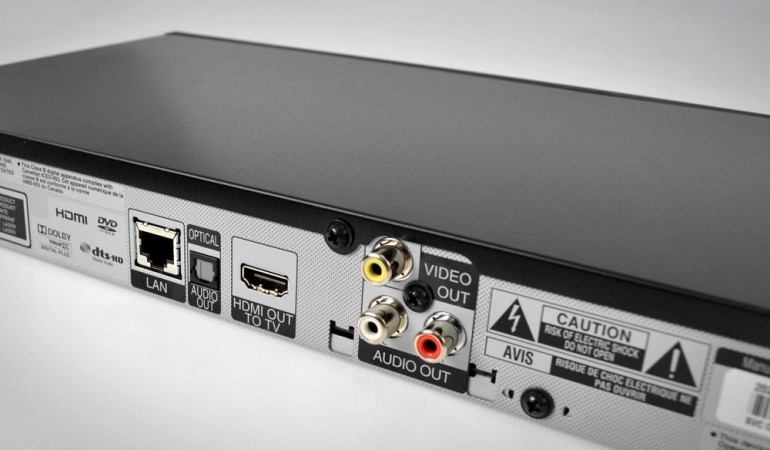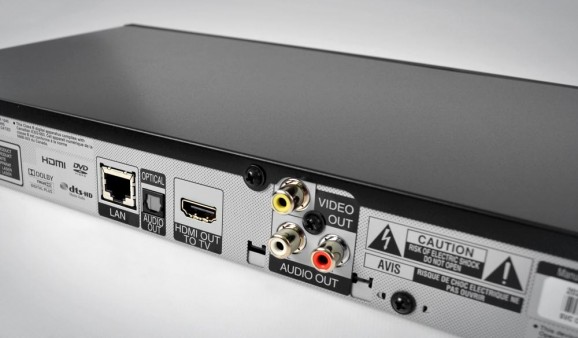 Living the Good Life
Even if you have never installed a BD player in your life, LG really makes your life good with the BP620.  Here is the literal blow by blow account of set up.  1. Open the box and take out the unit. 2.Put it on the equipment rack. 3. Plug it in, connect the HDMI and Ethernet cables.4. Push "power." 5. Go to the Set Up menu, make the network connections, 6. Check out default audio and video settings,put in a disc and punch "play." It literally took just as long to complete the set up as it did to write this paragraph. Simple is as simple does. A brief comment is order about the GUI. While it is colorful and clearly laid out, it shifts more gradually than others that I have used, particularly when it comes to opening the apps.  This is where I miss something like the "Home" menu on the Oppo BDP-95 which directs the user right to the desired app or function.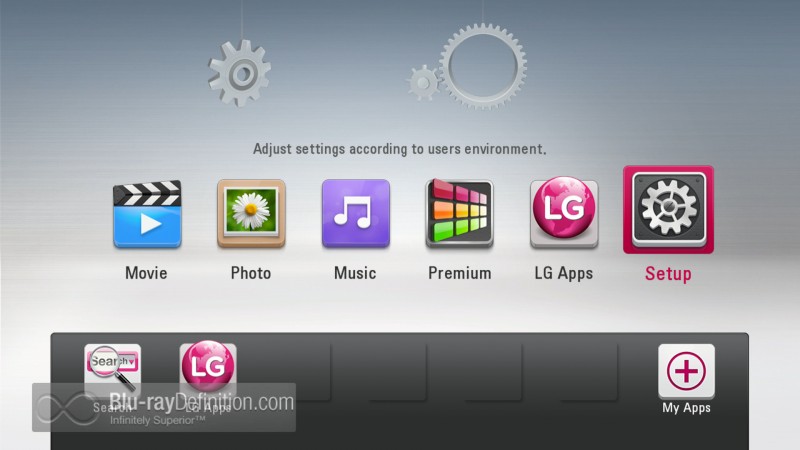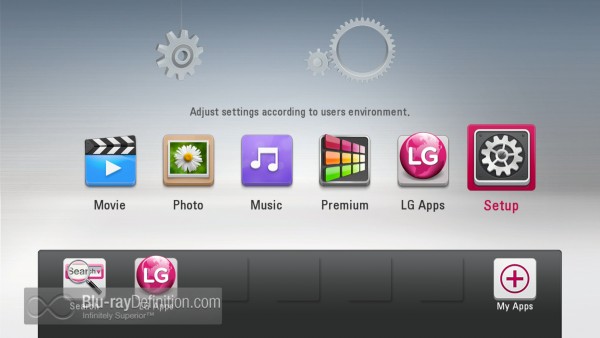 I am now accustomed to this new generation of small smart players that give buyers pretty great performance at a bargain price.  The BP620 was no exception. This player met the grade with the HQV 2.0 BD test disc as well as any of the players I have recently evaluated. No major deficiencies here.  Load times were brisk, certainly as good as my reference player, the Oppo BDP-95.
Since I am still living in the 2-D generation, all critical viewing used BDs and DVDs.  With an ample collection of great BDs, I went to some of the usual suspects, including Indiana Jones and the Crystal Skull, Legends of Jazz, and the Planet Earth series.  Every disc that I popped in, came out crisp and fresh with great colors to boot.  DVD playback was also more than adequate as attested by Norah Jones, Live in New Orleans, the remastered MIB I, and a recent 2011 PBS offering of Rock, Pop and Doo Wop.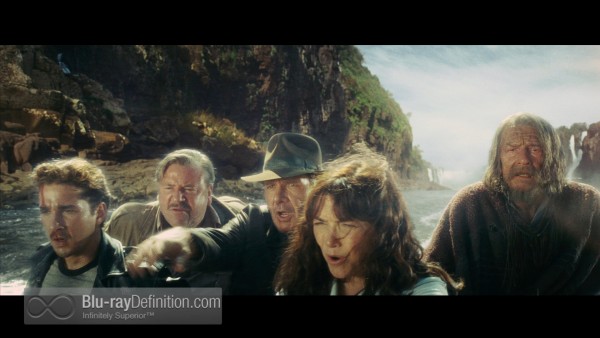 Although you have to go to the main menu to get the bonus or "premium" online content sites, I am happy to report that LG gives you most of the good ones, including Netflix, VUDU, Hulu, Pandora, vTuner, Picassa, and others. Picture and sound quality from these apps were easily as good as from my Oppo and Boxee Box.  You can expect similar performance if your internet speed is up to snuff (you will need at least 6 Mbps for HD video content, and the higher the streaming rate, the better).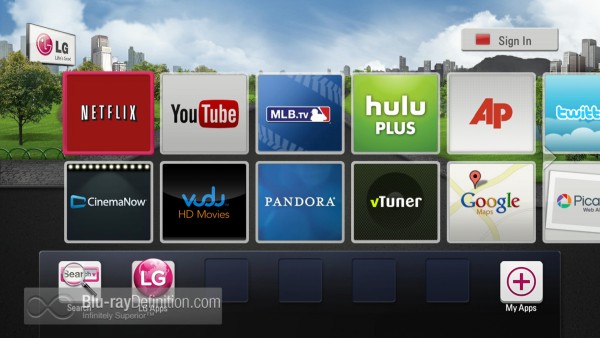 OK, it doesn't play all the audio on the planet
While you usually buy BD players for their video rather than audio performance, budget-conscious home theater fans will want to know if this one could also be the hub of their digital audio system.  The verdict for the BP620 is the proverbial split decision. CDs, mp3s, AACs, and WMAs, yes. Higher res stuff, SACDs, DVD-As, FLAC and WAV files, no. The onboard DAC has 192 KHz/24-bit capability, but the best audio-only performance will be achieved with an outboard unit (although optical connections are usually limited to 96 kHz/24-bit). That said, most listeners will be quite satisfied with the basic audio performance of this player.
The Good
Easy no fuss set up
Good video and audio performance
Access to streaming video
Good smartphone app
Wired and wireless options
The Bad
Does not support many of the higher resolution audio formats
Panel controls difficult to access
Does not offer some popular streaming apps
LG proprietary apps are child-friendly but will interest few adults
GUI moves slowly
The Scorecard:
Design/Ergonomics:
[Rating:3.5/5]
Performance:
[Rating:4/5]
Value:
[Rating:4/5]
Overall:
[Rating:4/5]
The Definitive Word
As is becoming increasingly obvious, the cost of admission to BD playback has continued to fall each year. What do you get for $149.00 (or less than $100.00 on some internet sites)? You get a nearly invisible low-profile unit, not a tank like the recently reviewed McIntosh MVP890 (of course, you will shell out over five large ones for that privilege). But the BP 620 gives you nearly all of the functionality that you need for the foreseeable future, minus the playback of the highest resolution audio files and discs.  From a sound and picture standpoint, it is without reproach, so the question that potential buyers should begin to pose is: why pay more?
–
Specifications :
DISC PLAYBACK CAPABILITY
BD-Rom,BD-R,BD-RE,DVD (NTSC),DVD (PAL),  DVD-R,DVD-RW, DVD+R, VD+RW, Audio CD, DTS-CD, CD-R/CD-RW
VIDEO FORMAT
MPEG2, MPEG4 AVC (H.264), MKV, AVC Rec, AVCHD, M4V, WMV, 3GP
FLV, VOB
VIDEO FEATURES
Deep Color (HDMI 1.4)
xvYCC
Last Scene Memory
Video Enhancement
AUDIO FORMAT
LPCM, Dolby Digital, Dolby Digital Plus,Dolby True HD, DTS, DTS-HD MA, MPEG 1/2 L2, MP3, WMA, AAC
AUDIO FEATURES
Audio DAC   192 kHz/24-bit
DD 2ch Down Mix
Digital Audio Output
Re-Encoder (DTS Only)
LPCM Conversion (DTS HD/Dolby TrueHD)
Dynamic Range Control On/Off
Down Sampling: 48kHz/16bit
SMART TV FEATURES
Premium Content Providers
LG App Store
Home Menu
CONNECTIVITY
Wi-Fi®
Wired
Smart Share
DMP (DLNA)
SIMPLINK
DMR (DLNA Mobile to TV Streaming)
APPLICATION
BD Profile
USB Direct Recording
External HDD Playback via USB
Smart Phone Remote App
AV INPUTS/OUTPUTS
Composite Video Out
HDMI™ Out
Audio L/R Out
Digital Audio Out (Optical)
USB 2.0
LAN
SUPPLIED ACCESSORIES
Remote Control
Remote Control Batteries
AV Cable (RCA Type)
DLNA Bundle Disc
Operating Manual Disc
POWER
Power Supply (Voltage, Hz): AC 120V/60Hz
Power Consumption: 17 W
Power Off Consumption: Under 0.5 W
DIMENSIONS / WEIGHT
Unit Dimensions (W x H x D) : 16.9″ x 1.6″ x 7.8″
Unit Dimensions with Battery (W x H x D): 18.5″ x 3.3″ x 10.5″
Unit Weight : 4.0 lbs
Shipping Weight: 5.8 lb
More Information:
LG BP620 Network Blu-Ray/DVD Player (SRP $149)
–
[amazon-product align="center"]B00793MIGK[/amazon-product]
Purchase the LG BP620 at One Call