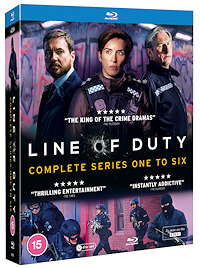 If you want to see a cop show done right, then the British crime drama Line of Duty is the series for you. These six interconnected series deal with the police corruption crime unit AC-12 as they deal with "bent coppers". Each series brings in a powerhouse set of actors in the lead as the prime cop being investigated for anything from murder to an undercover cop gone rogue. How it all ties together is that AC-12 believe there is a kingpin at the head of the police force running a shadow organization of corrupt officers perpetrating crimes and each series unpeels another layer of the onion potentially leading to the mysterious leader named "H".
The actors who pass through the six series include Craig Parkinson, Neil Morrissey, Maya Sondhi, Nigel Boyle, Ana Maxwell Martin, Polly Walker, Shalom Brune-Franklin, and Thandiwe Newton. This is bingeable, hang on every scene, edge of the seat television with completely believable and unforeseen twists in the narrative at every turn.

Line of Duty (TV) (2012-2021)
The Video
Each series is presented in 1.78:1 AVC 1080i/50 on Blu-ray Disc. I had to play this series through on my Pioneer ELITE LX500 so I could utilize the source direct mode into my LG CX OLED panel, which my Panasonic UB9000 player does not have. The upscaling to 4K on the Panasonic resulted in terrible jaggies and motion artifacts that were not present on the Pioneer, but I still did see some slight artifacts around lines of faces or eyeglasses and things like that from time to time. Otherwise, this digitally sourced image is reasonable, with natural flesh tones, good shadows and limited amounts of noise.
The Audio
The Audio is disappointing on this release. There are no lossless tracks and only DTS 2.0 stereo is available on the first series. The DTS 5.1 that is eventually offered has a decent amount of atmospherics but is hindered by the lossy codec and a diffuse soundstage and a low end that is not so well defined. Dialogue is fine however, even if the sound does require being turned up a bit more than usual.
The Supplements
This set comes with five behind the scenes featurettes (PAL) and deleted scenes (PAL) (series two only). There's nothing too revelatory about them, but they do provide interviews with the cast and crew.
The Final Assessment
The A/V quality of this set leaves a lot to be desired but there is no arguing against the quality of the series, which is A+ drama with fantastic performances and writing all around.
Line of Duty: Complete Series One to Six is out on Blu-ray in the UK 12 July 2021 from Acorn Media
---
Rating Certificate: UK:15
Studios & Distributors: BBC Drama Productions | World Productions | Acorn Media
Run Time: 2220 Mins.
Street Date: 12 July 2021
Aspect Ratio: 1.78:1
Video Format: AVC 1080i/50
Primary Audio: English DTS 2.0 Stereo | DTS 5.1
Subtitles: English HOH