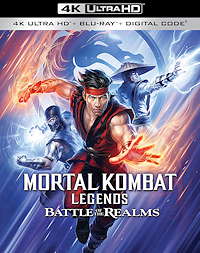 In Mortal Kombat Legends: Battle of the Realms, the heroes have to travel to the Outworld to do one final battle against Shao Kahn and his evil forces to protect Earthrealm in this visceral, bombastic, and gory sequel from Warner. Raiden's elite group of fighters, Johnny Cage, Liu Kang, and Sonya Blade are joined by some newcomers to throwdown some badass beatings in the Netherworld, but a nefarious plot is underfoot that could tip the balance against them.
If you're looking for balls and ovaries to the wall action, lots of almost anime-style guts and gore, exciting visuals and fantastic character design and artwork, then this film may be one of the best from Warner Bros. Animation DTV yet. The film features the voices of Jennifer Carpenter, Joel McHale, Ike Amadi, Jordan Rodrigues and others.

The Video
Mortal Kombat Legends Battle of the Realms comes on 4K Ultra HD Blu-ray in a 1.78:1 HEVC 2160p (4K UHD) HDR10 encodement. Though it isn't exceptionally bright, there is definitely more dynamic range and 'pop' in the colors on the 4K disc versus the included Blu-ray, and unlike some of these Warner/DCAU 4K releases in the past, I wasn't able to discern much color banding. This is definitely one of the finer looking presentations for these films on 4K.
The Audio
We are given a bombastic English DTS-HD Master Audio 5.1 audio mix for this release that packs a wallop almost as good and, in many cases, better than some of the big budget blockbuster releases that make their way onto 4K. There are lots of solid sound effects in the surrounds, there's plenty of low-end oomph, and clarity in the dialogue.
The Supplements
There are only two featurettes and a gag reel included plus an audio commentary. The commentary is the best bet for this one as the featurettes are so brief.
The God and the Dragon: Battling for Earthrealm (1080p; 00:07:04)
Voices of Kombat (1080p; 00:08:34)
Kombat Gags: Gag Reel (1080p; 00:04:56)
Audio Commentary
The Final Assessment
This is a fantastic, action-packed adventure that may admittedly be a little light on exposition, but a film like this is about visual style, the audio design, and wow factor. This packs a punch on all of those and has cross appeal to fans of anime and Western animation. Recommended.
Mortal Kombat Legends: Battle of the Realms is out on 4K Ultra HD Combo August 31, 2021 from Warner Bros. Home Entertainment
---
Rating Certificate: R (for strong bloody violence throughout and some language)
Studios & Distributors: DC Entertainment | Midway Games | Warner Bros. Animation | Warner Bros. Home Entertainment
Director: Ethan Spaulding
Written By: Jeremy Adams | Ed Boon (based on the videogame created by) | John Tobias (based on the videogame created by)
Run Time: 80 Mins.
Street Date: 31 August 2021
Aspect Ratio: 1.78:1
Video Format: HEVC 2160p (4K UHD)
HDR Format: HDR10
Primary Format: English DTS-HD MA 5.1
Secondary Audio: French DD 5.1 | German DD 5.1 | Spanish DD 5.1
Subtitles: English SDH | French | German SDH | Dutch | Spanish