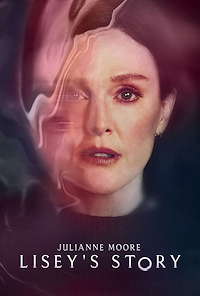 Based on a 2006 Stephen King novel of the same name, Lisey's Story becomes the 27th television series inspired by this legendary writer's horror fiction. The first of the series' eight episodes opens on an autumn day as Lisa "Lisey" Landon (Juliette Moore) relives the day two years ago that her late husband Scott (Clive Owen), a best-selling author, was shot during a ground-breaking ceremony for a new library. Later, Lisey is approached by Professor Roger Dashmiel (Ron Cephas Jones) to donate Scott's papers that have been stored in the Landon barn to the Shipman Library. She blows him off after getting a frantic phone call from her older sister Amanda Debusher (Joan Allen) who has inflicted multiple cuts on her arms. Lisey rushes off to her sister's house where she meets younger sister Darla Debusher (Jennifer Jason Leigh) to see to their sister's wellbeing.
The storyline involves a "bool hunt" and the first of Scott's "bool" clues leads Lisey to Dr. Hugh Alberness (Omar Metwally) at Greenlawn Rehab who agrees to help the nearly catatonic Amanda. Dashmiel enlists the help of Jim Dooley (Dane DeHaan), an unhinged Landon fan, to "apply pressure" to Lisey for the unpublished papers. After he threatens her and leaves a dead bird in her mailbox, Lisey gets police surveillance for her property.
Of the many flashbacks that will emerge during this series, we get those that involve Scott's first successful book sale and his cutting himself during a "blood bool" to let out "the bad things." Flashbacks also show the strained relationships between the three Debusher sisters and how Lisey's parents were not keen on her marrying a struggling writer. Glimpses are also provided of Scott's troubled childhood with his drug-addicted father Andrew who taught him and his brother Paul about bool games and bloodletting.
The first three episodes have already aired and hint at the existence of another world, one of King's favorite plot devices, known here as Booya Moon. We also know that Scott has crossed over to this world on occasion where he received visions that inspired his best-selling books.  Amanda has occasionally entered Booya Moon where she stares out to sea while sitting on the steps of an ancient outdoor theater, surrounded by veiled characters who may be some of Landon's many readers that have also crossed over to this strange world.
King wrote this novel which he considers his favorite while he was recovering from a severe bout of pneumonia. He had premonitions of what would happen to his collected works once he passed away and this becomes the basis of the opening scenes in Landon's barn.  Led by Julianne Moore's strong performances, supported by a nearly unrecognizable Joan Allen and the always artful Clive Owen as the late—or is he—Scott Landon, once this series takes you on its bool hunt, you will be hooked. We can anticipate a complex storyline, numerous fantastical situations, and an ending that may well surprise and shock us. To get to that point, viewers will have to soldier through an extremely slow pace and meandering storyline. Having read the novel, it will be interesting to see how closely this series follows the original storyline, as new episodes arrive each week. Not one of Stephen King's best efforts but still better than much of what is currently being streamed every week.
---
If you found this article useful please consider clicking the button below and donating to help keep TheaterByte funded, which will allow us to continue posting great content.
---
Lisey's Story  is streaming now on Apple TV+
---
Rating Certificate: TV-MA
Show Creator: Stephen King
Original Release Date: 4 June 2021
Streaming Service: Apple TV+
Ep. Run Time: 50-52 Mins.
No. Eps.: 8
Studios & Distributors: 60/40 Productions | Bad Robot Productions | Warner Bros. Television | Apple TV+