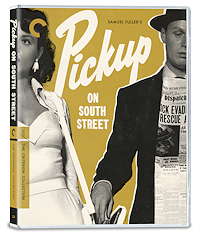 In the 1953 film-noir Pickup on South Street from writer/director Samuel Fuller, the petty thieves, low level gangsters, and wayward women come to the fore in a gorgeously shot thriller playing out on the seedy city streets, the shadowy piers, and manicured urban apartments.
Recently out of prison, loner, and rebellious pickpocket Skip McCoy (Richard Widmark) lifts the contents of a woman's purse on the subway. His beautiful and seductive mark, Candy (Jean Peters), turns out to be an unknowing courier for a communist underground organization passing a microfilm with stolen government secrets meant to make its way to Moscow. Candy is caught between the FBI and her violent boyfriend's employers as both groups want her to recover the stolen microfilm from McCoy, using seduction, money, or both. Little does either party know that Candy and Skip are really falling into a twisted love affair of their own and both of their loyalties may be shifting, Candy's away from her boyfriend or the law and Skip away from his own self-interest, especially as he sees Candy in a life-threatening situation.
Fuller's film is pure, hardboiled film noir that revels in the world of the bad guys and he uses the lens, the shadow and light, of the cinematography from Joseph MacDonald ingeniously, whether it be shadows of chopsticks draped across Jean Peters' face looking almost like prison bars or the blown out white light on a utility pole in front of the shed at the pier where Candy first meets up with Skip, there's beautiful chiaroscuro that sets the moodiness of this film throughout.
And surprisingly for modern viewers, or perhaps not, given how much misogyny has played a leading role in popular culture, Fuller doesn't hold back with the domestic violence. Candy takes a walloping at every turn in this film from her lovers, so much it's almost like she is a human punching bag. But don't get it twisted, she remains the strongest character in this story of unlikeable people, and Jean Peters is magnificent in the prototypical role of the femme fatale here.
As a classic post-World War II film noir goes, this must one that's at the top of the lists, going toe-to-toe with many heavyweights of the genre. It's satisfying, edgy, and gorgeous to watch with a motley crew of interesting characters from beginning to end.
Pickup on South Street (1953)
The Video
The new digital transfer of Pickup on South Street was created in 4K resolution on an Oxberry film scanner from a 35mm negative at Cineric in New York. It has been thoroughly cleaned up using MTI's DRS and Digital Vision's Phoenix. While the image is clean, it hasn't been scrubbed so much that there's no film grain in sight. There's a good layer of grain still present, but not so much that it overwhelms the image or makes the imagery look noisy. The stark black and white noir cinematography is presented with high contrast that show deep inky blacks and where needed, those bright, blown out whites, but other times the film settles into a comfortable grey. Detail is very sharp other than where artistic choice places a soft filter over the image.
The Audio
Pickup on South Street comes with its monaural audio mix in English LPCM 1.0. It was remastered from the 35mm optical soundtrack negative by Audio Mechanics in Burbank, California. It presents the sound is clear as possible given the age and recording techniques. There's no audible clipping or hiss and the sound overall is satisfying.
The Supplements
Criterion collects both excellent archival interviews with Fuller, an interview with always on point, well informed Imogen Sara Smith, and the essays in the booklet. Nothing included here should be skipped.
Samuel Fuller (upscaled 1080i; 00:19:06) – This interview with Samuel Fuller, in which the writer-director recounts his experience of making Pickup on South Street and working with Twentieth Century-Fox and producer Darryl F. Zannuck, was conducted by film critic Richard Schickel in Paris in 1989.
Imogen Sara Smith (1080p; 00:35:48) – In this 2021 interview, film critic Imogen Sara Smith talks about the performances of Richard Widmark, Thelma Ritter, and jean Peters in Pickup on South Street, as well as the making of the film.
Cinéma Cinémas: Fuller (upscaled 1080i; 00:11:05) – This short film by André S. Labarthe and Dominque Rabourdin originally aired on December 1, 1982, as part of the French television series Cinéma cinémas. In it, director Samuel Fuller discusses the opening scenes of Pickup on South Street. Subtitled in French.
Hollywood Radio Theater (1080p; 00:52:20) – A radio adaptation of Pickup on South Street that aired on June 21, 1954, on Hollywood Radio Theater (the Armed Forces Radio Service version of Lux Radio Theatre). The broadcast features Thelma Ritter reprising her role as Moe, as well as Terry Moore as Candy and Stephen McNally as Skip McCoy.
Trailers – Trailers for films written and/or directed by Samuel Fuller:

Fixed Bayonets! (1951)
Park Row (1952)
Pickup on South Street (1953)
Hell and High Water (1954)
House of Bamboo (1955)
China Gate (1957)
Run of the Arrow (1957)
Forty Guns (1957)
Verboten! (1959)
The Crimson Kimono (1959)
Underworld U.S.A. (1961)
Merril's Marauders (1962)
Shock Corridor (1963)
The Naked Kiss (1964)
The Big Red One (1980)
White Dog (1982)

Booklet: Essays by author and film critic Luc Sante and filmmaker Martin Scorsese, and a chapter from Fuller's posthumously published 2002 autobiography, A Third Face: My Tale of Writing, Fighting, and Filmmaking.
The Final Assessment
A beautiful restoration of a classic hard boiled film noir on Blu-ray from the Criterion Collection. Highly Recommended.
---
If you found this article useful please consider clicking the button below and donating to help keep TheaterByte funded, which will allow us to continue posting great content.
---
Pickup on South Street is out on Blu-ray & DVD June 29, 2021 from the Criterion Collection
Purchase Pickup on South Street (Criterion Collection) on Amazon.com
---
Studios & Distributors: Twentieth Century Fox | The Criterion Collection
Director: Samuel Fuller
Written By: Samuel Fuller (screenplay) | Dwight Taylor (story)
Run Time: 80 Mins.
Street Date: 29th June 2021
Aspect Ratio: 1.33:1
Video Format: AVC 1080p
Primary Audio: English LPCM 1.0
Subtitles: English SDH