Aspect Ratio: 2.55:1

Video Codec: AVC/MPEG-4

Resolution: 1080p/24
Audio Codec: DTS-HD Master Audio 3.0

Subtitles:  English

Region: A

Rating: Not Rated

Discs: 1
Studio: Criterion

Blu-ray Release Date: February 16, 2010
List Price: $39.95[amazon-product align="right"]B002XUL6QW[/amazon-product]
Purchase Lola Montès on Blu-ray at CD Universe
Shop for more Blu-ray titles at Amazon.com
Overall
[Rating:4/5]
The Film
[Rating:4.5/5]
Video Quality
[Rating:4/5]
Audio Quality
[Rating:4/5]
Supplemental Materials
[Rating:3.5/5]
Click thumbnails for high-resolution 1920X1080p screen captures
(Screen captures are lightly compressed with lossy JPEG  thus are meant as a general representation of the content and do not fully reveal the capabilities of the Blu-ray format)
The Film
[Rating:4.5/5]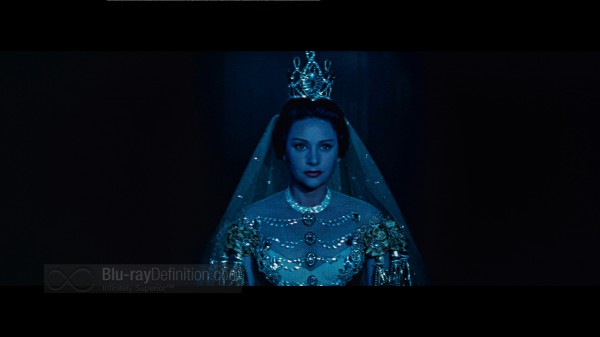 The film critic Andrew Sarris once declared Lola Montès "the greatest film ever made." I don't know that I can concur with Sarris' assessment having never seen Max Ophüls' film in its original form, non-reconstructed form. This Criterion release restores the film to Ophüls' original 114-minute premiere length. The film, having opened to terrible critical and audience response in 1955 was subsequently butchered — there's no other way to put it — by the studio in an effort to recoup their investment. The multilingual sequences were removed, whole scenes were excised and the length was shortened. There would eventually be no less than three versions of Lola floating around. There would be a 110-minute version that removed certain sequences, a 91-minute version that rearranged the film into chronological order, and a reconstructed version from producer Pierre Braunberger, released in 1969, who attempted to restore the film to Ophüls' original vision. This 1969 reconstruction was of the best intentions, but it still did not restore the original colors, soundtrack, or format.
Great or not, what Lola Montès is, is a fascinating kaleidoscope of colors and a nearly dizzying study of motion. It has the distinction of being Ophüls' last film, his first in color, and his first in CinemaScope. His subject, the real-life Irish-born Spanish dancer, actress and courtesan Elizabeth Rosanna Gilbert, known as Lola Montez, lived a rather fascinating life. Ophüls does not concern himself with the reality of Montez' life, but rather the myth of the woman.
The film maintains quite a bit of relevance in today's world of tabloid scandals, reality television where people are famous just for being famous, and sex sells any and everything. Lola Montès, famous for her affairs with everyone from Franz Liszt to King Ludwig I of Bavaria, was never known to be a great dancer or actress. Her scandals followed her everywhere, and her reputation was built more on her beauty and myth than talent. Coincidentally, the way art always has an uncanny way of imitating life, Martine Carol's life rather resembled that of the very woman she was portraying, making Lola Montès all that more intriguing as a film on so many more layers.  Carol was one of the leading sex symbols of her time, but, like her character, she was not known to be a great actress. In fact, her stiff acting in Lola is often cited as one of the film's weaknesses. Carol had many lovers, married and divorced several times, was even kidnapped briefly at one point by the gangster Pierre Loutrel (aka Pierout le fou) and, like Lola, Carol had an untimely death.
But Lola Montès is really a fictionalized account of the woman's life, more legend than fact. Orphüls uses the vehicle of a circus and a ringmaster (Peter Ustinov) to recount the stories, or "sins" of Lola's past, in a non-chronological order. Putting Lola on display, in front of a crowd, like she is merely a circus act, her life no more than an afternoon amusement. It is a telling treatise on the vicarious and salacious nature of fame that was so shocking in 1955, yet is still pertinent today. His dazzling use of colors, motion, and the non-linear storytelling make Lola an uncommon film for its era, including the changes in aspect ratio that Orphüls employed.  It may not be a perfect film, and I do not know that I can call it the greatest film ever, but it is certainly a spectacle worth beholding and a worthy entry into the canon of filmmaking.
Video Quality
[Rating:4/5]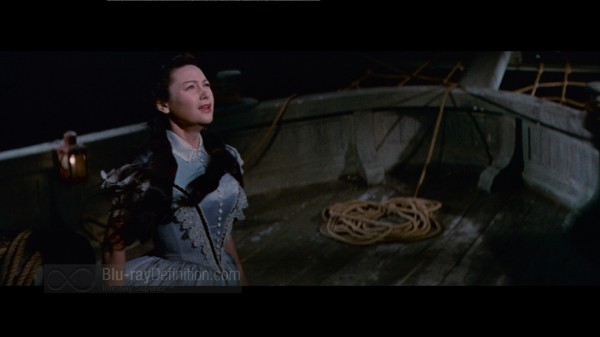 Presented in its original 2.55:1 aspect ratio, Lola Montès was digitized from the original incomplete negative, a rough cut, original YCM black-and-white color separations, and a very fragile, faded, and incomplete exhibition print. From these sources, the film was then restored to its 1955 premiere length. Thousands of instances of scratches, tears, dirt, debris poor slicing, warps, jitter, and flicker were digitally removed frame by frame using MTI Correct, Digital Vision's DVO Phoenix, and DaVinci's Revival. Missing, torn, and severely damaged frames were processed on Adobe After Effects and Apple Shake Platforms.
Max Ophüls' own detailed notes were followed for color restoration and one print was struck from the original negative to serve as a guide. The director's son, Marcel Orphül, viewed the final color-timed print to confirm that it matched the original prints that he saw. This resulting digital file was exported to the Rec. 709 HD format for use as the Blu-ray master.
The result is a release that is colorful, film-like, and obviously not without its flaws, but a miraculous achievement nevertheless. It appears on this Blu-ray release in an AVC/MPEG-4 1080p/24 encoding. There are some obvious scratches that still appear down frames and moments where one can discern the differing source materials used in the transfer, but given the circumstances, this release of Lola Montès is quite an achievement. Grain structure is relatively consistent throughout the transfer, and the black levels are inky deep, just as Ophüls intended them. The colors shimmer from the screen; in particular the greens look quite verdant. It's a reference restoration of this once butchered film.
Audio Quality
[Rating:4/5]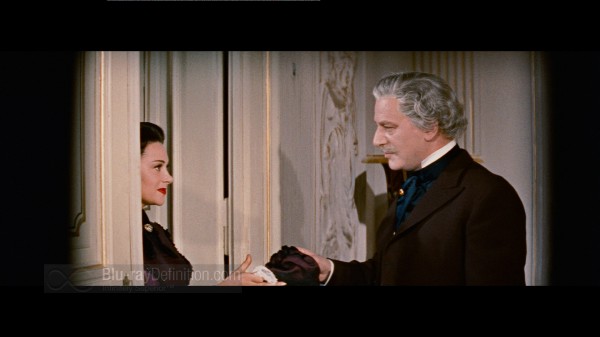 The original 3-track stereo soundtrack was remastered at 24-bit and taken from the original 4-track magnetic tracks of two surviving CinemaScope prints and one later mono soundtrack print used to fill one small portion of the track. Clicks, thumps, hiss, and hum were manually removed using Pro Tools HD. Crackle was also attenuated using Audio Cube's integrated audio workstation, while additional restoration was done with the CEDAR Audio restoration system.
The soundtrack appears on this Blu-ray release in a DTS-HD Master Audio 3.0 stereo mix. Anyone familiar with the Living Stereo series of SACD (Super Audio CD) releases will be familiar with the 3-channel stereo format, which is originally how stereophonic sound was intended. With the center there to anchor the sound, rather than a phantom center, the sound for Lola Montès seems more substantial somehow, even though it is only in stereo. It is given more depth, and it feels weightier. The stereo imaging for the mix is quite wide, with the film's score artificially panned hard left and hard right, but there is good movement across the soundstage to follow the action. Dialogue is surprisingly clean and crackle is at a minimum.
Supplemental Materials
[Rating:3.5/5]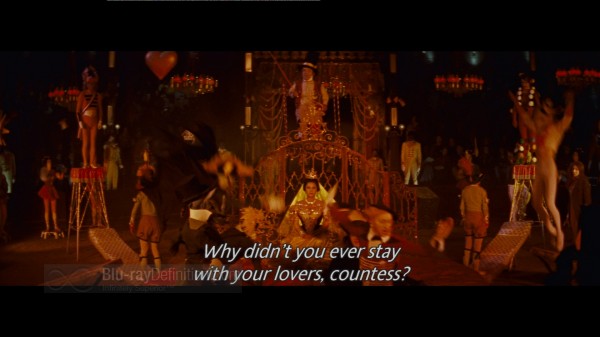 Criterion releases rarely disappoint with their supplements, and Lola Montès is no exception. The release comes with a substantial amount of supplemental materials exploring the film and its director.
The supplements provided on this release are:
A booklet featuring an essay by critic Gary Giddins, in depth technical information on the transfer, and production stills. — The essay by Giddins is a must read if you want a better understanding of the film and its director.
Commentary — Recorded in 2008, this commentary features film scholar Susan White, author of The Cinema of Max Ophüls.
Cinéastes de Notre Temps (1.33:1; 1080i/60; 0:53.11) — In this installment of the French television series Cinéastes de notre temps, many of Max Ophuls' collaboratora discuss working on Lola Montès. Actors and crew from earlier Ophuls films, including Danielle Darrieux and Simone Simon, also make appearances, The episode originally aired on October 26, 1965, and was directed by Michel Mitrani.
Max by Marcel (1.78:1; 1080i/60; 0:32.56) — In the 2009 short film, Max Ophuls' son, Marcel — the award-winning director of the documentary The Sorrow and the Pity — pats tribute to his father and discusses his role as an assistant director on Lola Montès. Also included are excerpts from new and archival interviews with many of Max Ophüls' key collaborators.
Martine Carol Hair Tests (1.33:1; 1080i/60; 0:01.04) — This silent footage shows actress Martine Carol briefly demonstrating the glamorous hairstyles worn in Lola Montès. It was first presented on French television on August 3, 1958.
Re-release Trailer (2.35:1; 1080p/24)
The Definitive Word
Overall:
[Rating:4/5]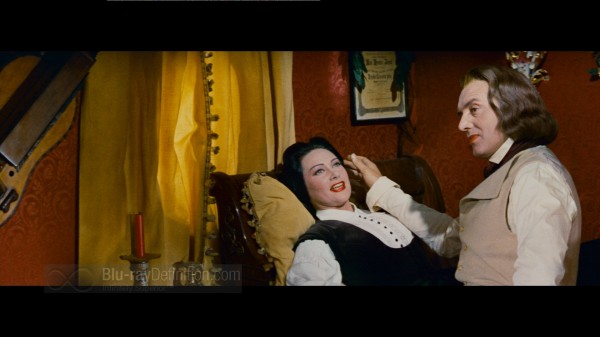 Lola Montés' original premiere length is finally restored in it proper order with full color and it looks and sounds as good as it can get in this wonderful Blu-ray release from Criterion. You owe it to yourself to see this classic film in all its intended glory.
Additional Screen Captures: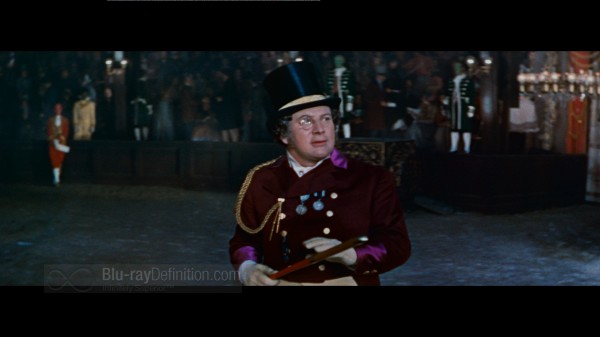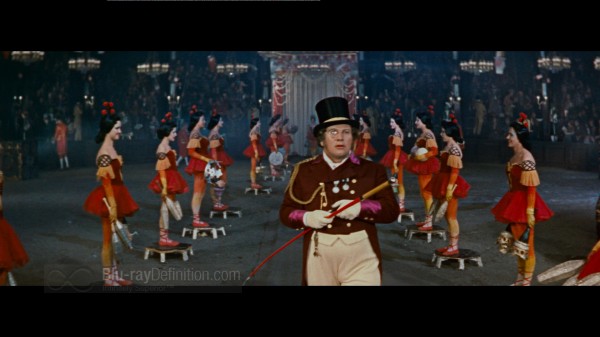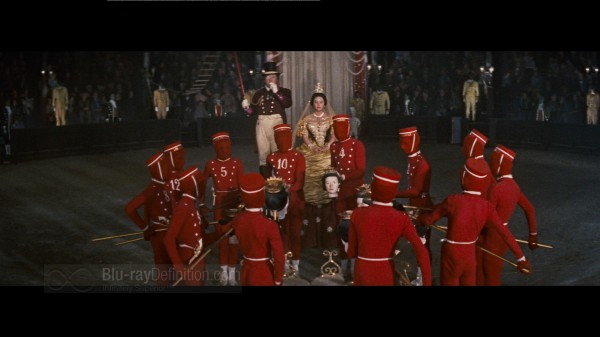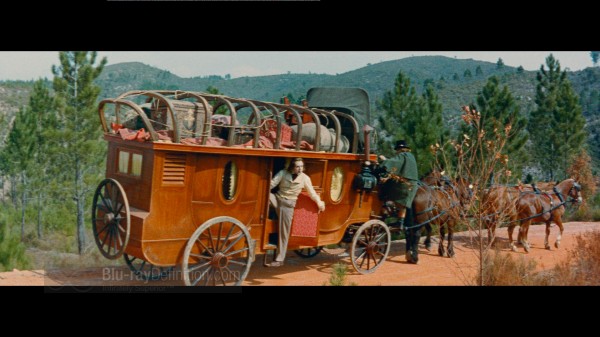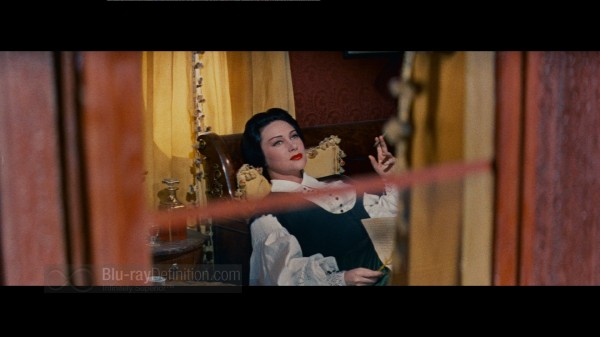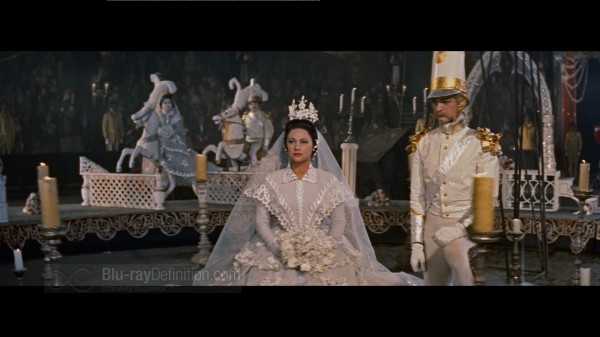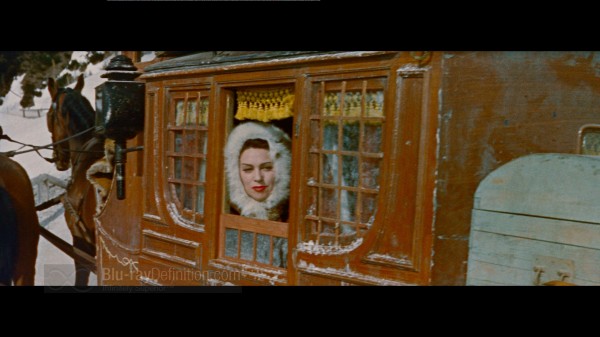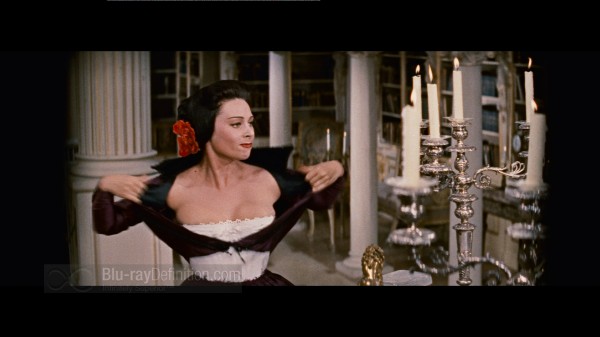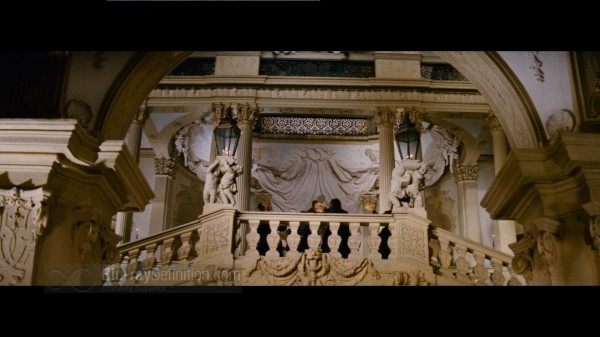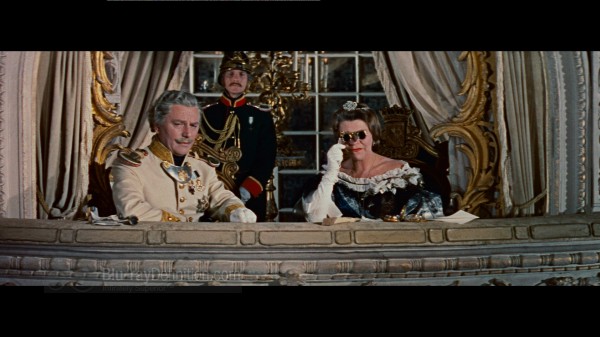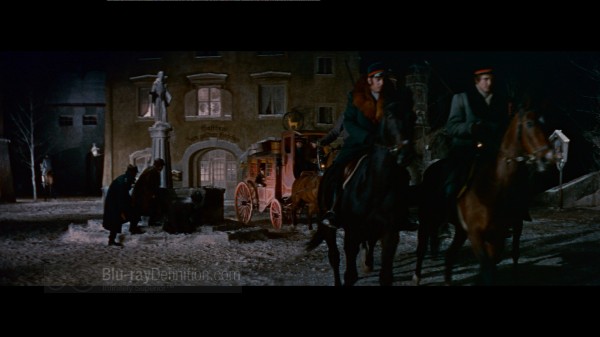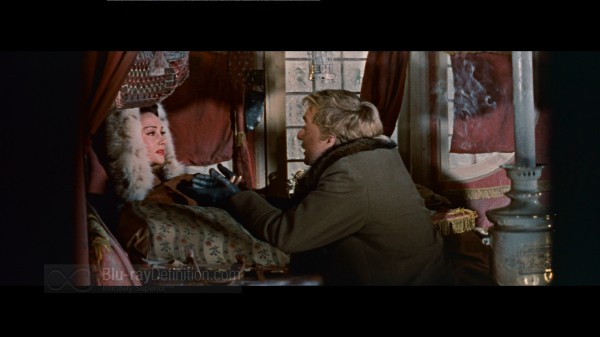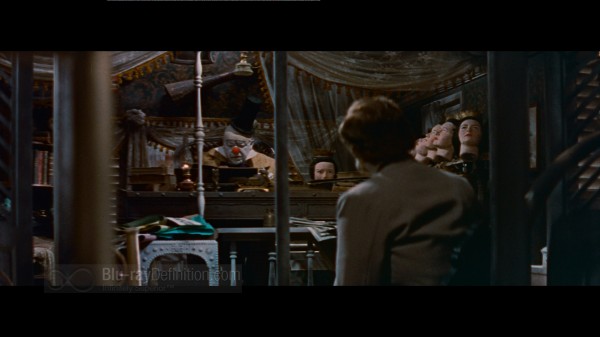 Purchase Lola Montès on Blu-ray at CD Universe
Shop for more Blu-ray titles at Amazon.com