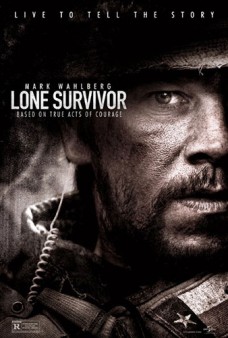 – –
June 27, 2005. Four members of the Navy Seals Team 10 are sent into the Afghanistan mountains to capture a Taliban leader in a mission called Operation Reg Wings. Only one of them survives — Lone Survivor is the new film that tells this story.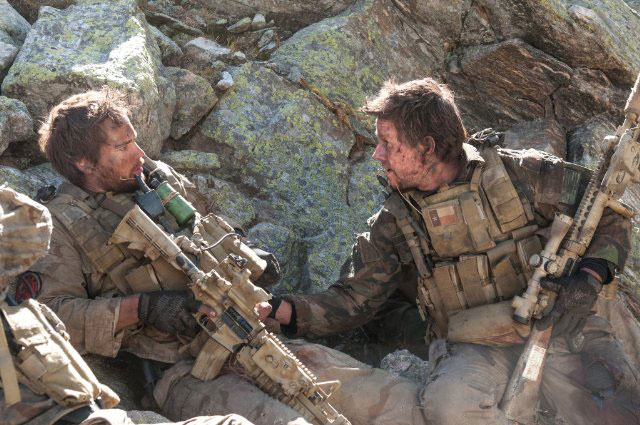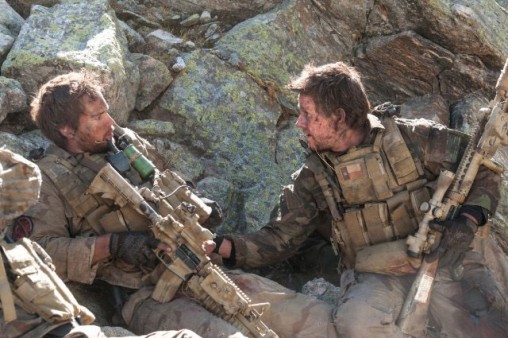 Lone Survivor is based on the 2007 book by Marcus Luttrell (and Patrick Robinson) called Lone Survivor: The Eyewitness Account of Operation Red Wing and the Lost Heroes of SEAL Team 10. Luttrell is the titular lone survivor of the four man team who were sent into practically unknown territory only to be ambushed during a covert mission that could be described as harrowing and nightmarish. Mark Wahlberg plays Luttrell in the movie that is not only excellent and one of the best of the year, but is also one that will make you feel for these soldiers and what they go through, their acts of heroism, and courage.
Lone Survivor opens with a Blackhawk chopper landing down on Bagram Air Base. A team of doctors and nurses attend to the injured soldier who is being wheeled out of the chopper. We don't know who this soldier is at this point, but we hear his voice:
"We wanted that fight at the highest volume. The loud fight. The loudest, coldest, hottest, most unpleasant of the unpleasant fights."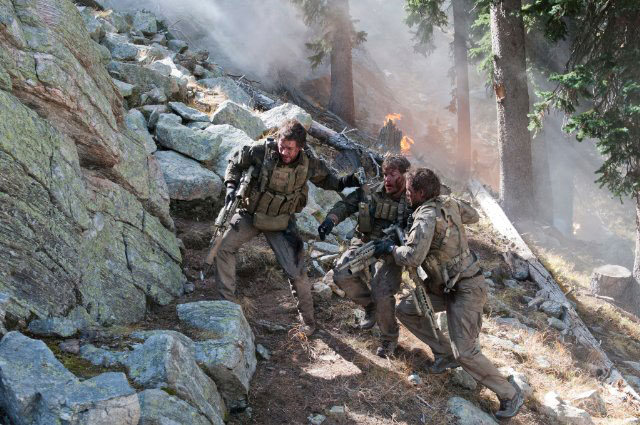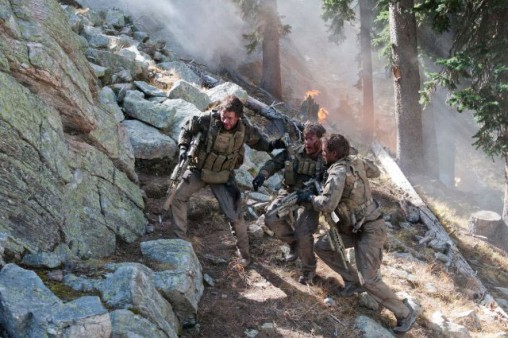 These first few minutes are tense, quick, emotional. Then the movie takes us back to five days earlier. Back to Bagram Air Base, where the soldiers are just beginning to wake up. Wahlberg as Luttrell, Taylor Kitsch as Michael Murphy, Emile Hirsch as Danny Dietz, and Ben Foster as Matt "Axe Axelson. Later on in the film these are the four men who would be sent into the Afghan mountains to find and capture the Taliban warlord. It is important to mention the actors names because when seeing this film you don't recognize them as the famous men that they are, they truly become their characters in scenes that are tense, unthinkable but unfortunately very real. Their orders (by their commanding officer Erik Kristensen – played by Eric Bana) are their orders, there is no turning back.
It was on that day on June 27th, 2005 that the four-man reconnaissance and surveillance team boarded a helicopter to be dropped into a remote mountainous area in the Kunar province, Afghanistan, near the Pakistan border. They were to identify Ahmad Shah, a Taliban leader who was believed to be hiding in those mountains and who the previous week was responsible for the murder of 20 marines. Unfortunately for the men, they are discovered hiding in the mountains by three goatherders and their goats and a dog. Instead of killing them, the men let them go (Rules of Engagement won't allow them to kill them), even though they realized that the goatherders would more than likely alert anyone in the village below that they were in the mountains. They attempt to use their radio but it doesn't work. So immediately they realize that they are compromised and that they need to move position, and fast. They then use their satellite phone to reach Kristensen, but the line is very poor. Back at the base, Kristensen has a gut feeling that his men are in trouble, so he sends two Blackhawks to rescue them. Meanwhile the four men are in a rush to move position, and in their rush Axe hurts himself. Soon, the men are ambushed from all sides. Gunfire falls on them like rain. They are outnumbered, and are driven deeper into unknown and treacherous terrain. What happens in the rest of the film is heartstopping. One by one each man gets more hurt, and terrifyingly one of the Blackhawks that is sent to rescue them gets shot down by the Taliban in the mountains, with 16 men on board, all losing their lives, including Kristensen. It is this point that you have to remind yourself that this is a true story, all of this happened in real life.
With nowhere to go, the men continue to run, to run away from what must be dozens and dozens of Taliban men looking out to kill them. And each man get more and more injured, from getting shot at by the Taliban, as well as by falling off cliffs and landing very hard, crushing bones and giving themselves concussions. As they continue to try and use their radio in an attempt to contact anyone anywhere to help them, they start realizing that they are completely outnumbered and face only one prospect, death. The bullets and the blood and the men, who at this point are struggling just to survive, gets even more tense when Murphy, in a situation he knows he won't come out alive, runs up a hill to get a connection on his SAT phone which would advise the Operations team back at the base of their position. But of the four men, only Luttrell survives, first by burrowing into a ditch, and then by being picked up by an Afghan who was not loyal to the Taliban. And of course we know that Luttrell survives to write the book on which this movie is based on.
Lone Survivor is a movie so tense, so dramatic, so unreal that it is hard to believe that it is a true story. Thanks to Luttrell and the book he wrote, he was able to tell this story of survival against the face of the enemy. As Luttrell, Wahlberg is a revelation. Having proven himself as an actor in his previous films including Boogie Nights and most recently The Fighter, Wahlberg is fantastic as Luttrell, so good that it is hard to imagine anyone else playing him. Kitsch, Foster and Hirsch are all also very excellent as Luttrell's fellow Navy Seals. The sequences where the men get shot (and eventually killed) are so real, so frightful. Director Peter Berg, known for mostly doing television work (Chicago Hope and Prime Suspect) really cuts his teeth here with this very serious subject matter. Berg also wrote the script, after having been given the book by his production partner. Berg has said that the reason he decided to make this was because "Marcus wrote a book that, as much as it's about 19 people being killed on a tragic day in Afghanistan, is about brotherhood, sacrifice and team commitment."
Fittingly, Second Class Petty Officer Matthew "Axe" Axelson and Gunner's Mate Second Class Danny Dietz were awarded the Navy Cross, Lieutenant Michael Murphy would be awarded the U.S. military's highest decoration, the Medal of Honor, while Lieutenant Commander Erik Kristensen was awarded the Bronze Star and the Purple Heart. All men received their awards posthumously. Leading Petty Officer Luttrell would also go on to receive the Navy Cross. All deservedly so.
Movie Rating:
[Rating:4.5/5]