– –

The Series
[Rating:4.5/5]
This 1995 television mini-series of Jane Austen's classic romance drama of early-19th century English manners changed the landscape for period dramas on television and the big screen. While the production stuck to the basics of the tried and true costume drama format, dazzling viewers with its lavish sets and meticulous outfits, it also managed to keep from being stodgy and out of place. This newish take on the genre appealed to modern audiences and also set up the '90s and beyond as the decade of Jane Austen in Hollywood; several adaptations of her works, including another Pride and Prejudice would be indulged, setting her up to rival Shakespeare.
Colin Firth (The King's Speech) and Jennifer Ehle lead a cast of brilliant actors in this story of class divisions and the titular "pride" and "prejudice" that complicate their attempts at courtship. The center of the story is the Bennet family's five sisters, Jane (Susannah Harker), Elizabeth (Ehle), Mary (Lucy Briers), Lydia (Julia Sawalha) and Kitty (Polly Maberly) whose fortune is tied up in their relatively modest country estate. Unfortunately for them and their parents, since there is no male heir, the estate is set to pass on to a distant cousin, the reverend Mr. Collins (David Bamber) once Mr. Bennet (Benjamin Whitrow) passes. So it is in all of their best interests that they marry into money. Their mother (Alison Steadman) takes this task most seriously, especially when one dashing young and wealthy Mr. Bingley (Crispin Bonham-Carter) sets up in a nearby estate. A dance offers the opportunity for Bingley to meet and be enamored by Jane, the eldest and thought to be the prettiest of the Bennet sisters. But Bingley's disapproving sisters and his arrogant and also disaproving best friend, Mr. Darcy (Colin Firth), stand in the way of the match. They look down on the Bennets' uncouth country manners and their lack of great wealth and connections. The real surprise comes when Mr. Darcy begins to have feelings, despite his better judgement, for the second oldest and also quite fetching sister Elizabeth "Lizzy" Bennet. The opinionated Lizzy doesn't take to Darcy and leaves no doubt as to her disdain toward him, especially when she hears rumors about how he treated a certain young soldier, Mr. Wickham (Adrian Lukis) with whom he grew up. But all is not as it appears, and a shift in both Darcy and Lizzy's attitudes slowly, but quite surely, occurs and love blossoms amidst great controversy and scandal for both families when it is least expected.
The mini-series boils down Austen's work to its most likable essence, leaving the comedic, the sexual, and the undoubted strife between classes. While there is high romance, it doesn't turn saccharine. Perhaps this is indicative of the era portrayed and of Austen's writing, but it can also be attributed to the excellent adaptation by Andrew Davies.
The series is also visually pleasing, with gorgeous looks at the English countryside, beautifully furnished interiors, and pretty costumes. The musical score plays a big part in conveying the mood as well and the score from Carl Davis, highlighting the period Pianoforte, splendidly fits into the late-Classical/early-Romantic musical style of the time.
Video Quality
[Rating:4/5]
An original mid-1990s British production from the BBC, Pride and Prejudice was originally filmed on Super 16, 16mm film stock. As such, it isn't the greatest, most reference quality material to bring to high definition, but this AVC/MPEG-4 1080p transfer from Lionsgate looks about as good as it can be. There is some grittiness, a little bit of blown out white levels in places and the appearance of source damage, but conversely there are times where the image looks almost as good as 35mm, especially in close-ups in brighter scenes. There is good textural information and less softness than one might think would be present.
Audio Quality
[Rating:3.5/5]
A simple English LPCM 2.0 stereo (48kHz/16-bit) track is all that is included. It works, offering a good spread of sound with clean dialogue and a reasonable amount of dynamic range. It would have been nice to hear some of the atmospheric sounds of the English countryside in a 5.1 mix, but this will do nicely.
Supplemental Materials
[Rating:3/5]
We are given a good overview of the series and the time period it is set in with these mostly HD video supplements.
The Definitive Pride and Prejudice (1.78:1; 1080p/24; 00:21:25)
Love or Money? Courtship and Marriage in Pride and Prejudice (1.78:1; 00:10:01)
The Music of Pride and Prejudice (1.78:1; 1080p/24; 00:09:57)
Lifestyles of the Wealthy in Early 19th Century England (1.78:1; 1080p/24; 00:08:38)
Pride and Prejudice: A Turning Point for Period Drama (1.78:1; SD; 00:31:12)
Featurette: Technical Restoration (1.78:1; 1080p/24; 00:05:30)
Featurette: Lasting Impressions (1.78:1; SD; 00:59:36)
An Impromptu Walkabout with Adrian Lukis and Lucy Briers (1.78:1; SD; 00:09:46)
Lionsgate Trailers
The Definitive Word
Overall:
[Rating:4/5]
Pride and Prejudice is an immensely enjoyable journey through the world of early-19th century England and the literary prowess of Jane Austen. A romance and a comedy of manners, the acting from the castmembers helps it along for what is one of the most enjoyable adaptations of Austen's work for the screen.
Additional Screen Captures
[amazon-product]B00G6HO3OA[/amazon-product]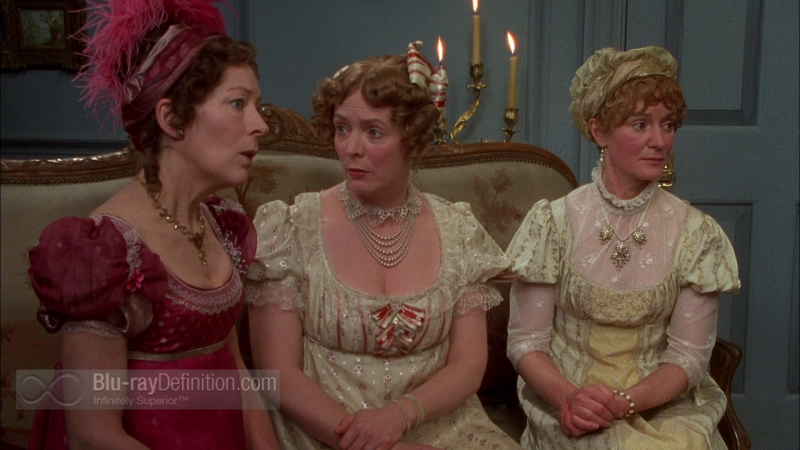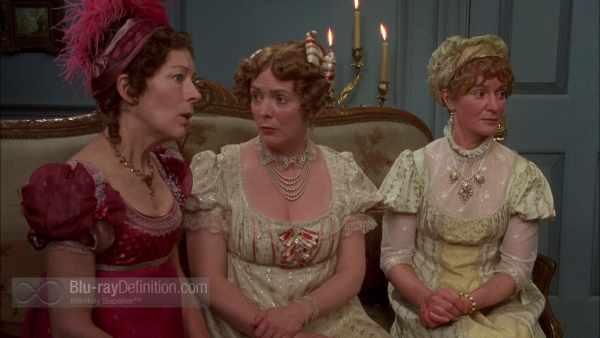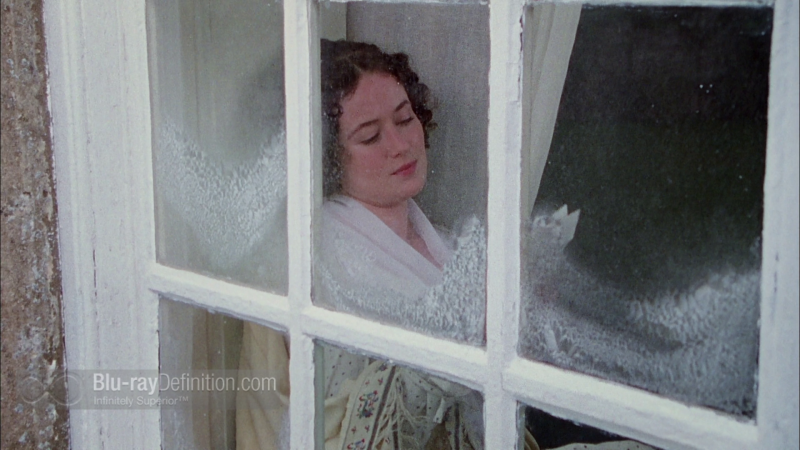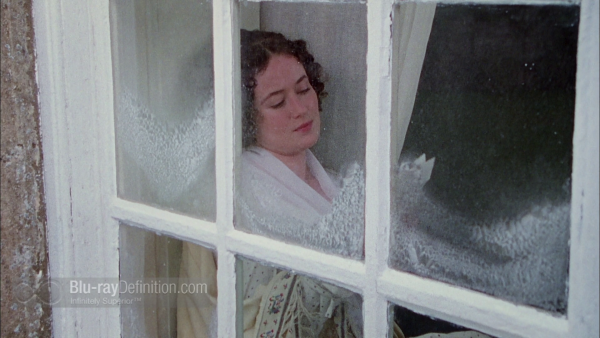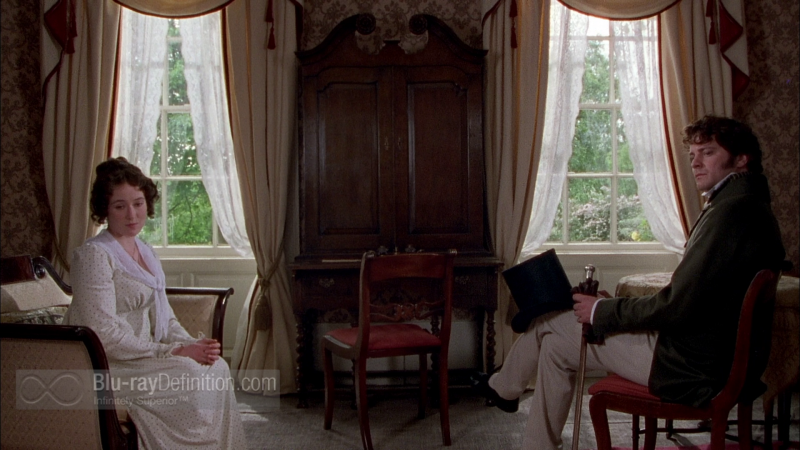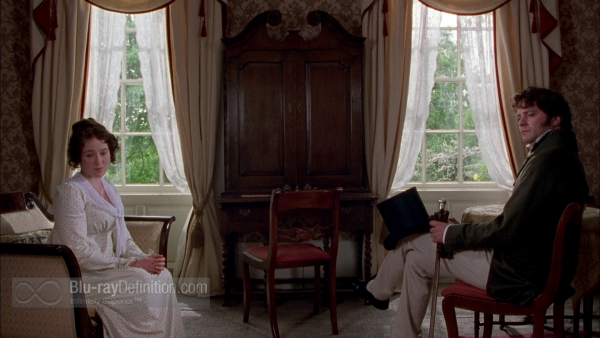 [amazon-product]B00G6HO3OA[/amazon-product]