– –
The Collection
[Rating:4/5]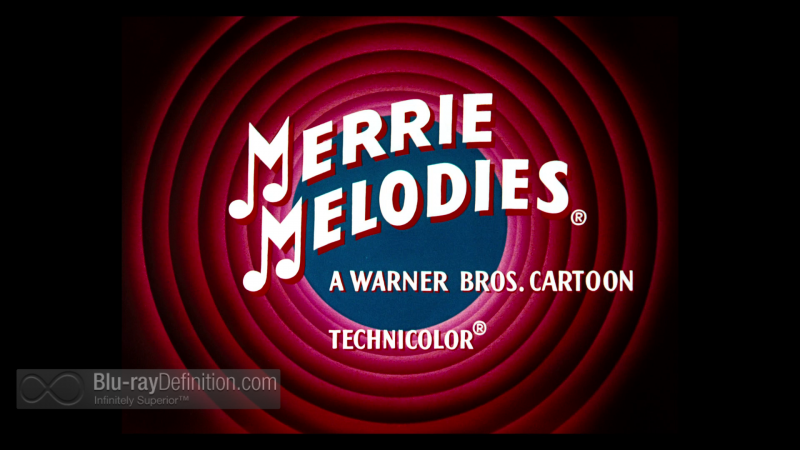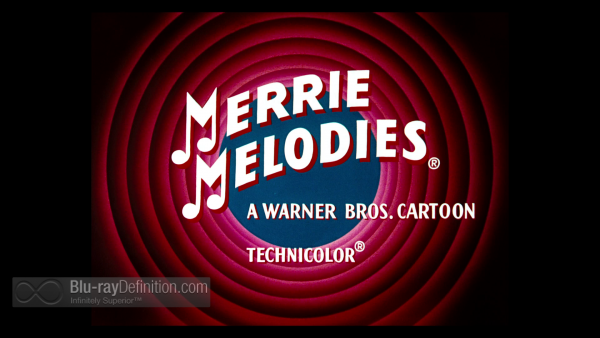 Warner brings together another classic set of beloved Looney Tunes theatrical shorts with the Looney Tunes Platinum Collection: Volume Three. This collection showcases some of the wildest and wackiest theatrical shorts from the 1930s, '40s, '50s and '60s, that many of us grew up watching on Saturday mornings in front of TVs that weighed about the same as elephants whilst eating sugary cereals. These works from renowned directors of animation Chuck Jones, Friz Freleng, Bob Clampett, Robert McKimson and others only get better the older one gets, however. The sarcasm, frenzied pacing, and allusions to literature, Hollywood icons, and classical masterpieces may fly over the heads of youngsters, but, like all great works of art, the more you stay with them, the more they reveal themselves. These shorts only get funnier as you grow as an individual and are able to pick up on the nuance. Of course, the slapstick humour and endearingly impossible violence is still a laugh riot. The featured mix is a cornucopia of fan favorites, with Disc1 being more heavily dominated by Bugs Bunny, and Disc 2 by the likes of Daffy Duck, but also along for the ride are Porky Pig, Tweety & Sylvester, Wile E. Coyote, Foghorn Leghorn and lots of other characters from the Looney Tunes universe.
Shorts Listing:
| | |
| --- | --- |
| DISC 1 | DISC 2 |
| Hiawatha's Rabbit Hunt | Porky's Pig's Feat |
| A Corny Concerto | Scrap Happy Daffy |
| Falling Hare | Plane Daffy |
| Little Red Riding Rabbit | The Stupid Cupid |
| Hair-Raising Hare | Draftee Daffy |
| Acrobatty Bunny | Nasty Quacks |
| The Big Snooze | The Stupor Salesman |
| A Hare Grows in Manhattan | Wholly Smoke |
| Easter Yeggs | Swooner Crooner |
| Slick Hare | Life with Feathers |
| Gorilla My Dreams | Canary Row |
| High Diving Hare | Tree for Two |
| Hillbilly Hare | Sandy Claws |
| Bunny Hugged | Dog Pounded |
| Operation: Rabbit | Satan's Waitin' |
| Bully for Bugs | Birds Anonymous |
| Bugs and Thugs | Mouse and Garden |
| Knighty Knight Bugs | The Pied Piper of Guadalupe |
| Honey's Money | A Gruesome Twosome |
| The Hep Cat | Guided Muscle |
| Pigs in a Polka | Beep Prepared |
| A Ham in a Role | Walky Talky Hawky |
| Dog Gone South | Rhapsody in Rivets |
| A Bear for Punishment | High Note |
| Steal Wool | Nelly's Folly |
| Featurettes | Featurettes |
Video Quality
[Rating:4/5]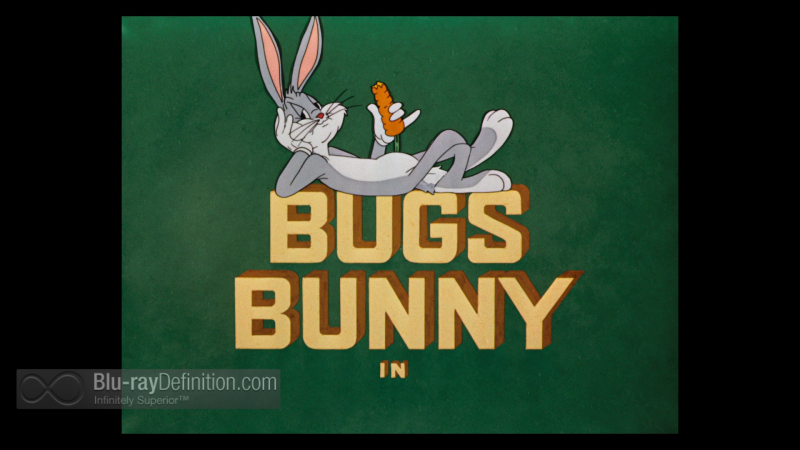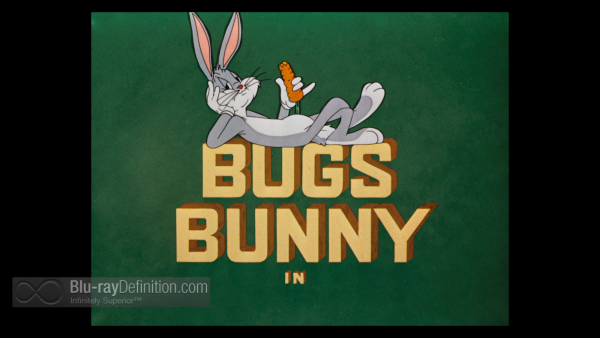 While these Looney Tunes shorts from Warner don't look pristine like much of the reissued animated works from Disney on Blu-ray, they certainly look renewed, fresh, vibrantly saturated, and film-like, with lots of sharp grain and, for the most part, free from major source damage. They are brought to Blu-ray in an AVC/MPEG-4 1080p transfer.
Audio Quality
[Rating:2.5/5]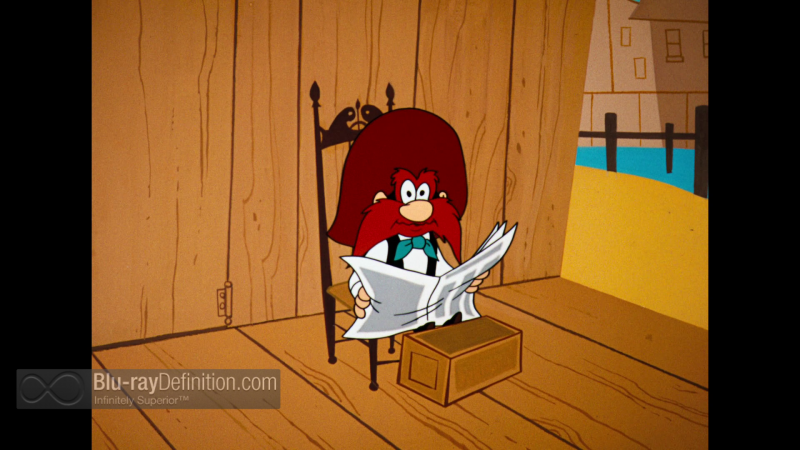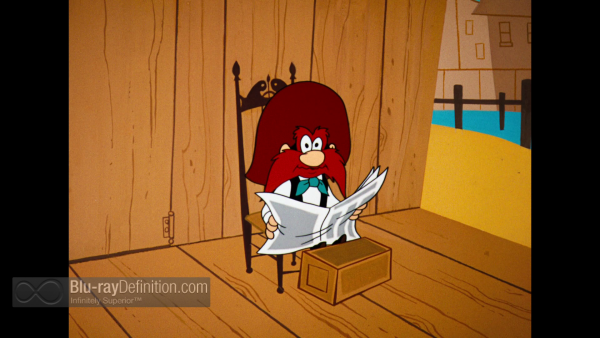 Unfortunately, we only get lossy English Dolby Digital 1.0 of the original soundtracks and they sound a little muffled and claustrophobic. A selection of the shorts also feature Spanish, German, and French dubs in Dolby Digital 1.0.
Supplemental Materials
[Rating:4/5]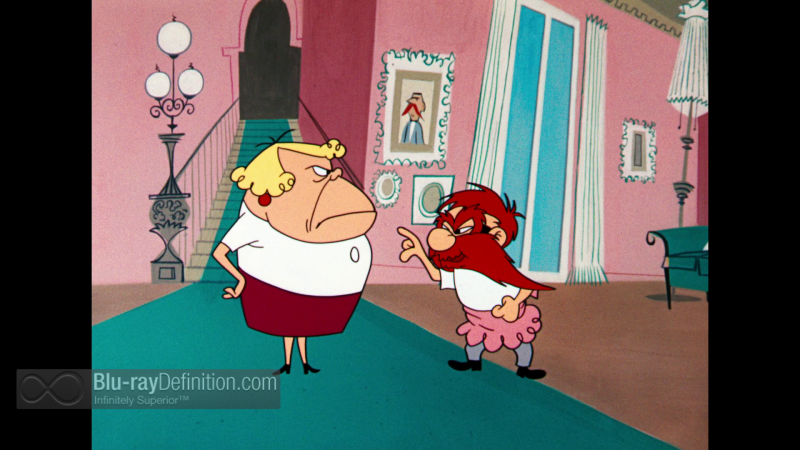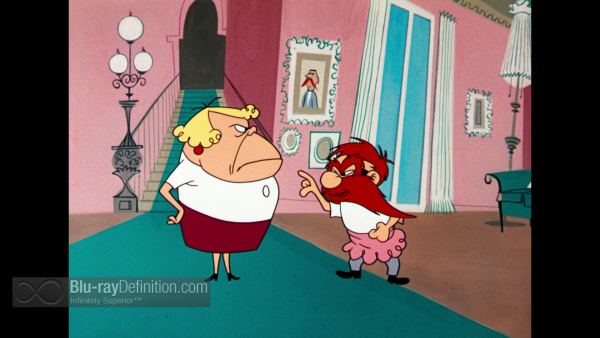 12-page booklet featuring shorts guide by historian Jerry beck rare images.
Disc 1:
Commentaries:

A Corny Concerto commentary by historian Michael Barrier with director Bob Clampett
Falling Hare commentary by contemporary animator John Kricfalusi and animator Bill Melendez
Hair-Raising Hare commentary by Michael Barrier and filmmaker Greg Ford
The Big Snooze commentary by Bill Melendez
Sick Hare commentary by Michael Barrier with background artist Paul Julian
Gorilla My Dreams commentary by historian Jerry Beck
High Diving Hare commentary by Greg Ford
Hillbilly Hare commentary by Michael Barrier
Operation: Rabbit commentary by writer Paul Dini
Bully for Bugs commentary by Michael Barrier
Honey's Money commentary by Jerry beck and actor June Foray
Pigs in a Polka commentary by historian Daniel Goldmark
A Bear for Punishment commentary by Michael Barrier

Alternate Audio Programs:

Hillbilly Hare Music and Effects Track
Bunny Hugged Music and Effects Track
Operation: Rabbit Music and Effects Track
A Bear for Punishment Music and Effects Track

Behind the Tunes (1.33:1; SD; 01:02:54):

Bugs Bunny: Ain't He a Stinker? — An affectionate look back at the history of the world's most famous wise-guy carrot chewer. This feature reviews the complete career of Bugs Bunny, his friends, his foes, his work during the war, his musical talents, and his most famous scenes. It also provides an overview of Bugs' creators – the directors and voice (Mel Blanc) who brought him to life – with Chuck Jones and Friz Freleng offering comments in rare interview footage.
The Art of the Gag — The science of comedy writing for Looney Tunes is explored in this tribute to the men who conceived the zany plots, wacky premises and silly storyboards. Michael Maltese, Tedd Pierce, Warren Foster and John Dunn are put in the spotlight via clips and comments from contemporary cartoon creators Paul Dini, Mark Kausler, Eddie Fitzgerald and Eric Goldberg, as well as veterans Chuck Jones, Friz Freleng, Art Leonardi, Corny Cole, Pete Alvarado, Robert Givens and David DePatie.
Drawn to Life: The Art of Robert McKimson — An appreciation of master director, animator and character designer Robert McKimson. This featurette contains examples of his greatest animation, his funniest cartoons and the world famous characters he created – which include Foghorn Leghorn, the Tasmanian Devil, Hippety Hopper and Speedy Gonzales. Historians Michael Barrier, Mark Kausler, Jerry Beck, Keith Scott, Paul Dini, Mark Evanier – along with McKimson's son, Robert Jr. – examine the career and contributions that Robert – and his brothers Tom and Charles – made to Looney Tunes cartoons.
Wild Lines: The Art if Voice Acting — The craft of voice artistry and vocal characterization is explored in this featurette. Warner Bros. cartoon actors Mel Blanc, Stan Freberg, Arthur Q. Bryan, Daws Butler, June Foray, Bernice Hansell, Bea Benaderet and Robert C. Bruce are among those celebrated by fellow voice actors Hank Azaria, Billy West, Keith Scott, Nancy Cartwright, and Tom Kenny. Chuck Jones, Noel Blanc, Stan Freberg, and June Foray also explain the craft from their unique perspectives.

Documentary: That's All Folks! Tales from Termite Terrace (1.33:1; SD; 00:32:32) — Meet the creators of the Looney Tunes, animation's zaniest and most beloved characters! Join Chuck Jones, Friz Freleng and Mel Blanc as they share rare and personal memories about Bugs Bunny and Daffy Duck, and some of the wildest stories behind your favorite cartoons!
Documentary: Irreverent Imagination: The Golden Age of Looney Tunes (1.33:1; SD; 00:50:44) — Narrated by Stan Freberg, this documentary traces the history of Looney Tunes from its earliest days, to its famous Termite Terrace years, creating Daffy Duck, Bugs Bunny, Tweety and Sylvester.  Warner cartoon veteran artists Friz Freleng, Chuck Jones, Pete Alvarado, Bill Melendez, Corny Cole, Willie Ito, Noel Blanc, and Martha Sigall reminisce about how it all came to be. Present day filmmakers and historians Frank Darabont, Joe Dante, Eric Goldberg, Don Hahn, Joe Alaskey, Leonard Maltin and Jerry Beck talk about the studio's enduring influence.
Documentary: Drawn for Glory: Animation's Triumph at the Oscars (1.78:1; SD; 00:59:32) — Narrated by Bonnie Hunt, this is the story of how the animated cartoon went from being a common theatrical short subject to a cherished part of the complete movie program. From Disney's expansion of the art form in the early days to the triumph of Looney Tunes and the later success of independent films and foreign animation – how the cartoons grew to become worthy of Oscar® consideration. Filmmakers and historians, including Michael Sporn, Tom Sito, Eric Goldberg, Jerry Beck, Charles Solomon, Howard Beckerman, Bill Plympton, Jimmy Picker, Adam Snyder – along with archival interviews of Bill Hanna, Joe Barbera, Chuck Jones and Friz Freleng – tell the complete story.
Featurette: Hair-Raising Hare Storyboard Reel (1.33:1; SD; 00:07:49) — Using actual story sketches and production art synced to the soundtrack, this shows how the classic Bugs Bunny cartoon looked in the early storyboard stage. A rare glimpse into how the animators saw it before beginning production.
Disc 2:
Commentaries:

Porky Pig's Feat commentary by director Joe Dante
Scrap Happy Daffy commentary by filmmaker Greg Ford
Plane Daffy commentary by Greg Ford
The Stupid Cupid commentary by contemporary animator Eddie Fitzgerald
Draftee Daffy commentary by contemporary animators Eddie Fitzgerald and John Kricfalusi
Wholly Smoke commentary by historian Daniel Goldmark
Swooner Crooner commentary by Daniel Goldmark
Canary Row commentary by historian Jerry Beck
Birds Anonymous commentary by Jerry Beck and animator Art Leonardi
A Gruesome Twosome commentary by John Kricfalusi
A Gruesome Twosome commentary by animator Milton Gray
Walky Talky Hawky commentary by historian Michael Barrier
Walky Talky Hawky commentary by Jerry Beck

Alternate Audio Programs:

Satan's Waitin' Music and Effects Track
Birds Anonymous Music Only Track
Guided Muscle Music Only Track
Nelly's Folly Music Only Track

Behind the Tunes (1.33:1; SD; 01:09:08):

Daffy Duck: Ridicule is the Burden of Genius –A duck-lovers feast! A compilation of Daffy's greatest moments, with running commentary by animation historian Keith Scott, tracing the fowl's full-length filmography, as well as background information on his crazy creators, his despicable foes and his long lasting influence in Hollywood! Woo-hoo-hoo-hoo!
Unsung Maestros: A Director's Tribute – You've all heard of Chuck Jones and Tex Avery – but what about Jack King and Norman McCabe? This documentary examines the work of the Warner Bros. other Looney leaders – men such as Art Davis, Ben "Bugs" Hardway, Hugh Harman, Rudolph Ising and Ub Iwerks – who all left their distinctive mark on the Looney Tunes legacy. Leonard Maltin, Michael Barrier, Eric Goldberg, Jerry Beck, Mark Kausler and Paul Dini recall their films and discuss their cartoon highlights.
Tish Tash: The Animated World of Frank Tashlin – Who was Frank Tashlin? He's best known for his live-action comedy features with Bob Hope, Jerry Lewis, Doris Day and Tony Randall. But way before that, Tashlin was a cartoonist and animator, working his way up to director at Warner Bros. on some of the best Porky Pig and Daffy Duck cartoons – innovating the fast-cutting fast-paced style the studio became known for. Eric Goldberg, John Kricfalusi, Eddie Fitzgerald, Bill Melendez, Mark Kausler, Joe Dante, Martha Sigall, Leonard Maltin, Charles Solomon and Frank's own son, Chris Tashlin, discuss the career of this legendary filmmaker.
Strictly for the Birds: Tweety & Sylvester's Award-Winning Teamup – A heartfelt tribute to the stand out Oscar®-winning Tweety and Sylvester short, Birds Anonymous. Friz Freleng, Art Leonardi, David DePatie and Stan Freberg recall the making of the film. Sybil Freleng and Noel Blanc talk about what it meant to their fathers. Animators Eric Goldberg and Mark Kausler, and historians Leonard Maltin and Jerry Beck provide insight about its importance.

Documentary: Mel Blanc: The Man of a Thousand Voices (1.33:1; SD; 01:09:32) – This is a feature length documentary about the life and times of voice man extraordinaire Mel Blanc – the man who originated the vocal characterizations for the majority of the Looney Tunes characters. Noel Blanc and Mel Blanc himself (in archive interviews) recall how many of the famous voices were concocted. His work with Capitol Records, on The Jack Benny Program and later voicing Hanna-Barbera characters are all showcased. Admirers and historians Kirk Douglas, Terry Gilliam, Bob Kurtz, Will Friedwald, and Martha Sigall join voice actors June Foray, Stan Freberg, Janet Waldo, Billy West, Gary Owens, Tom Kenny, Hank Azaria, Bob Bergen, and Keith Scott in paying tribute to this legendary performer.
Documentary: The Boys from Termite Terrace (1.33:1; SD; 00:56:53) – [1975 Camera Three Documentary] Hosted by Oscar®-winning animator John Canemaker, and originally produced for CBS Camera Three in 1975, this two-part documentary tells the story of "Termite Terrace" – the ram shackled bungalow on the Warner Bros. movie lot that was home base for the Looney Tunes crew. This is the first of such animation documentaries but still one of the best – with then fresh interviews and insights from key players Chuck Jones, Friz Freleng, Bob Clampett and Mel Blanc. Compare the faded unrestored clips from the cartoons contained within – the standard in 1975 – with the same cartoons on Blu-ray today. Huge difference!
Frank Tashlin's Storybooks (1.33:1; SD: 00:14:20):

Little Chic's Wonderful Mother
Tony and Clarence
The Definitive Word
Overall:
[Rating:4/5]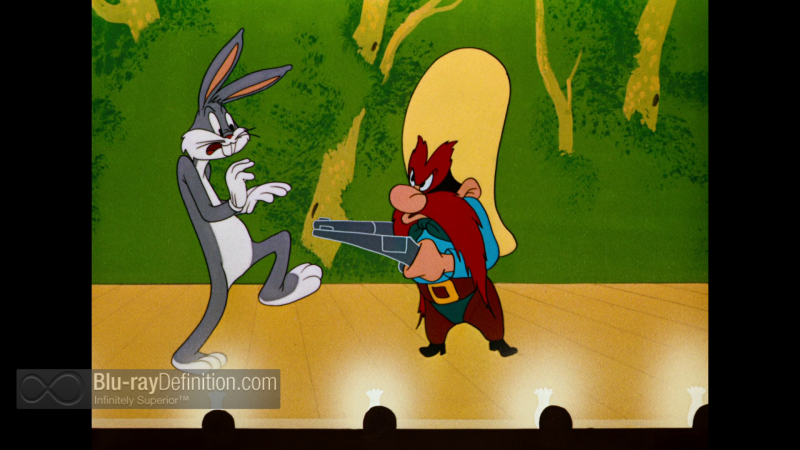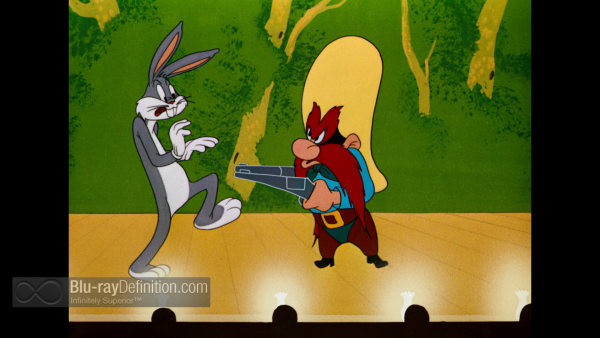 The Looney Tunes Platinum Collection: Volume Three is a must-own collection of classic animated shorts for anyone who grew up viewing these classic characters or for any fan of animation. These cherished works will bring hours of entertainment for years to comes.
Additional Screen Captures
[amazon-product]B00ITV5SRC[/amazon-product]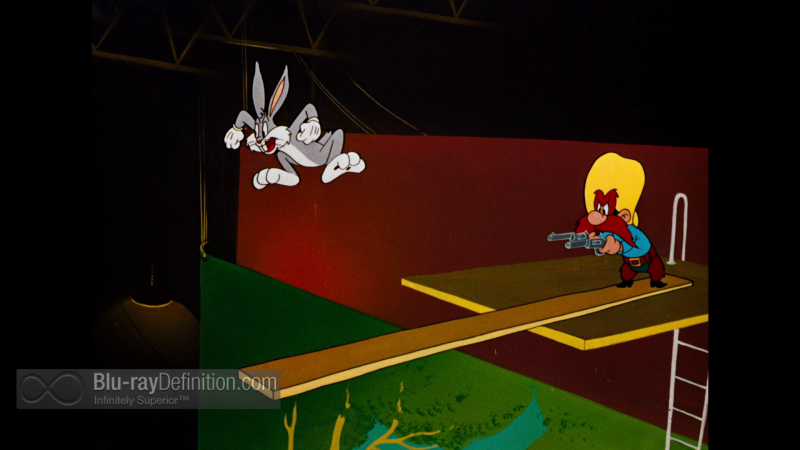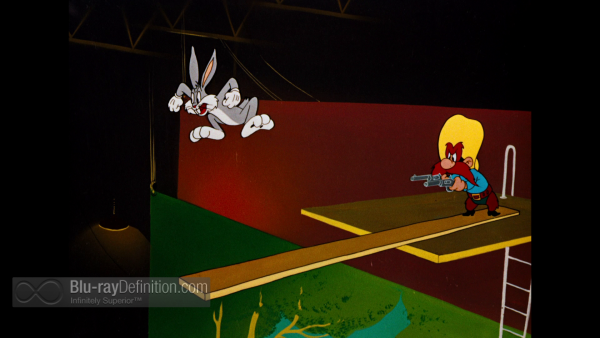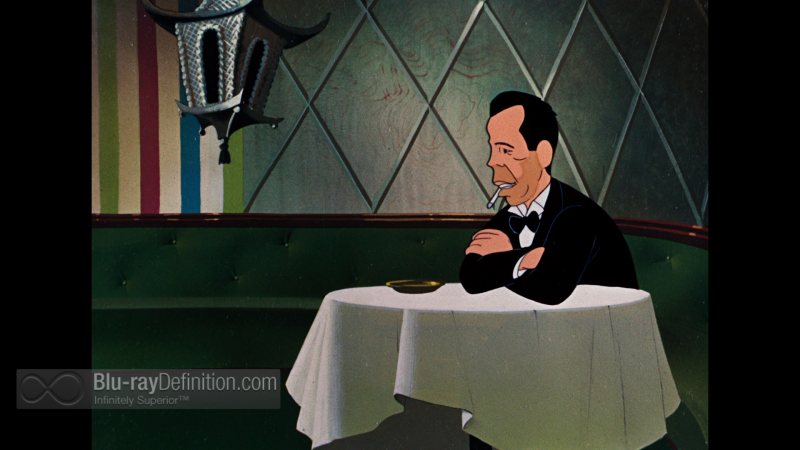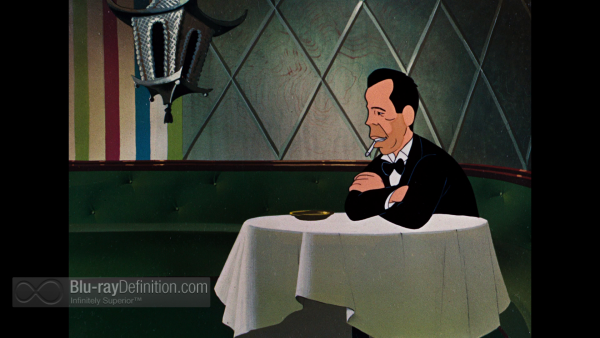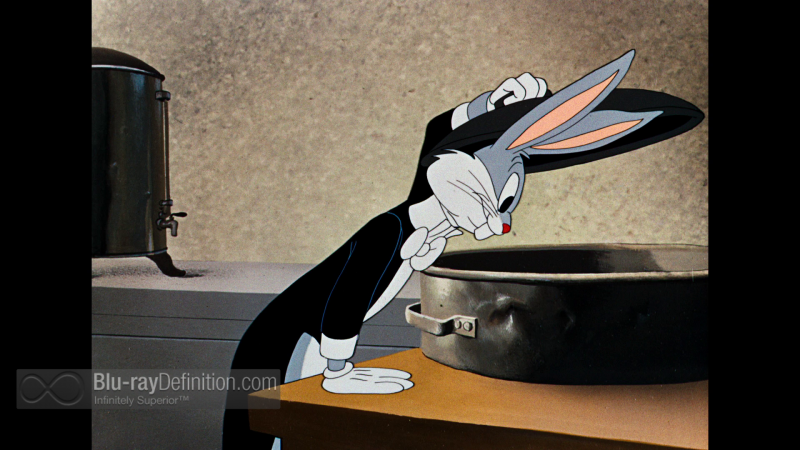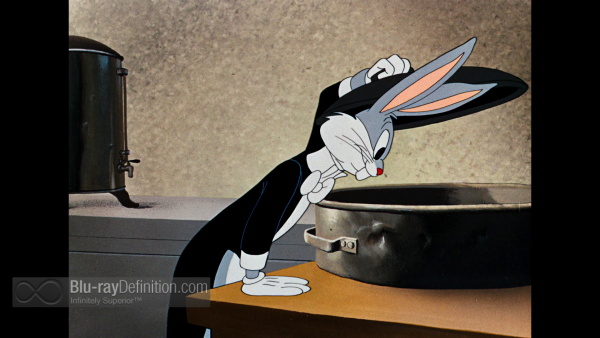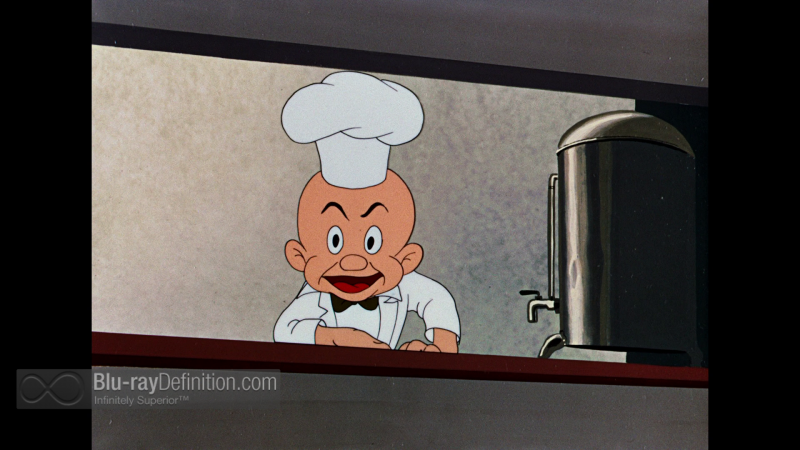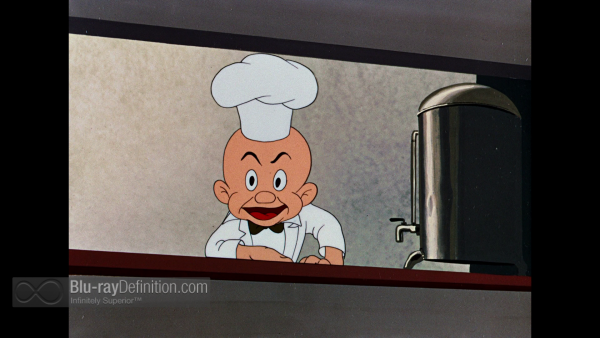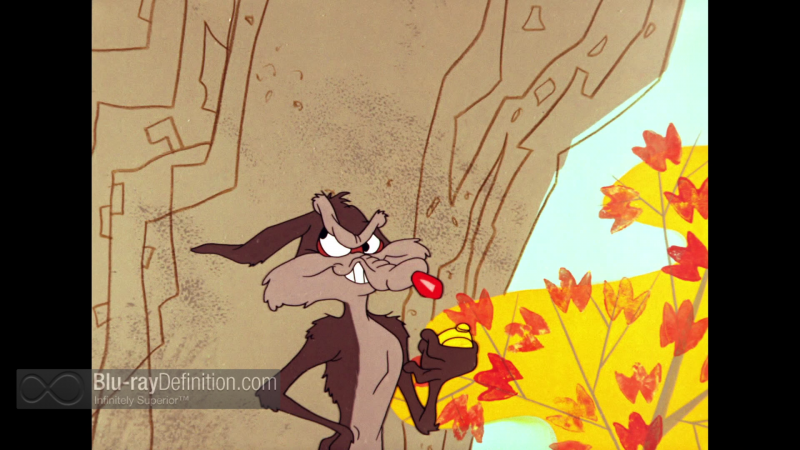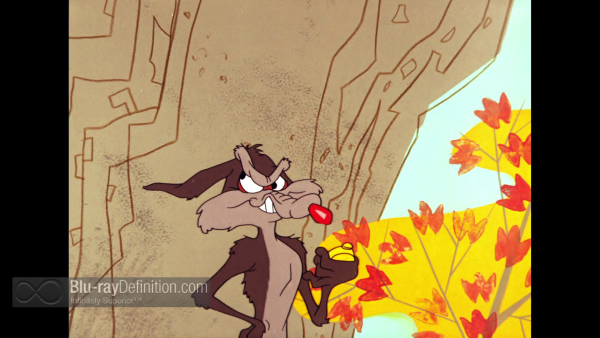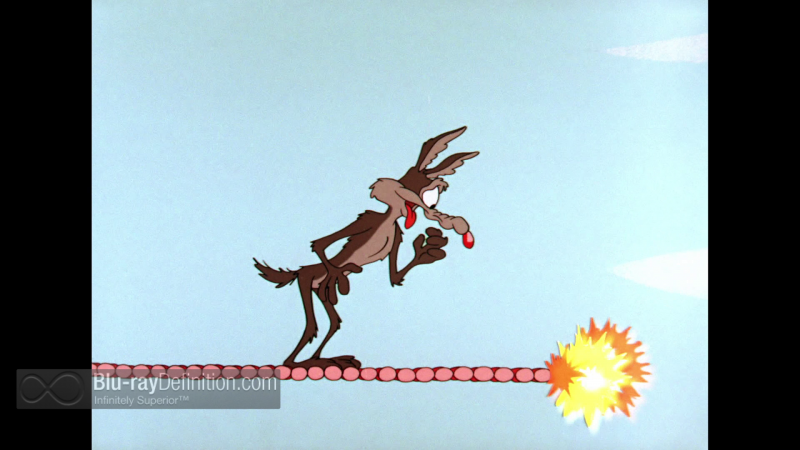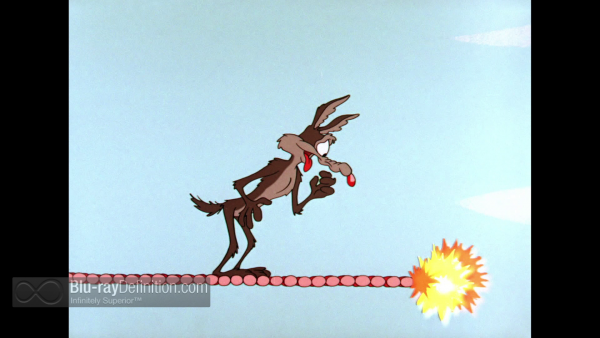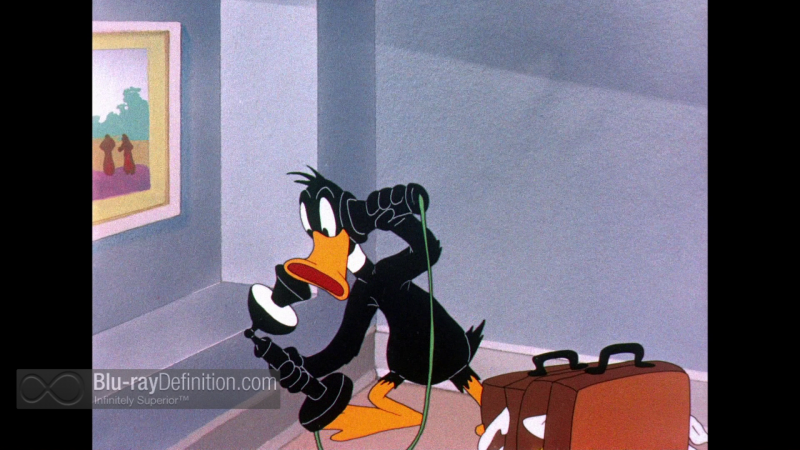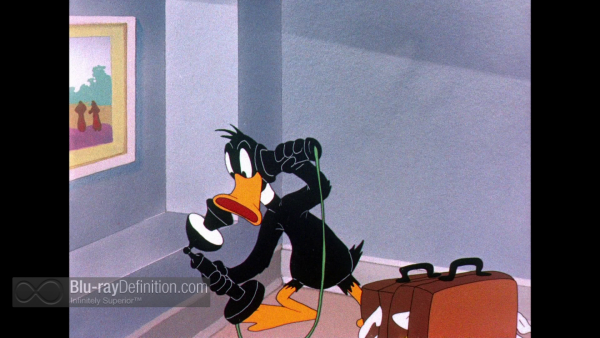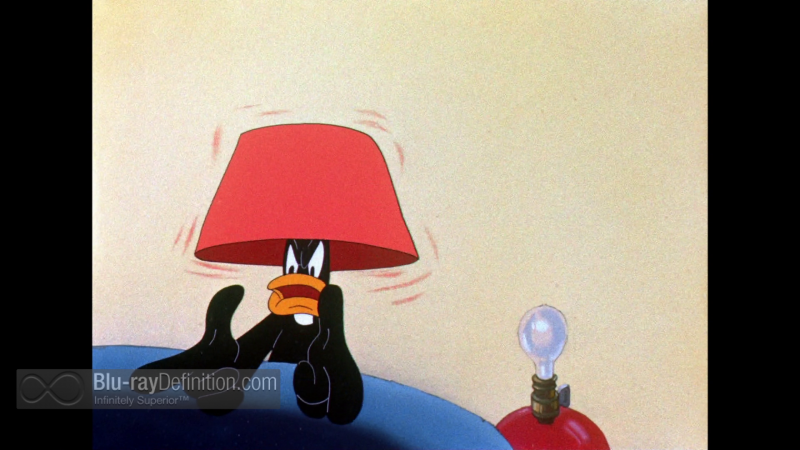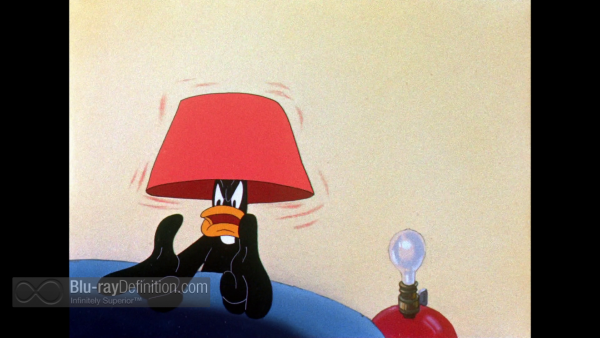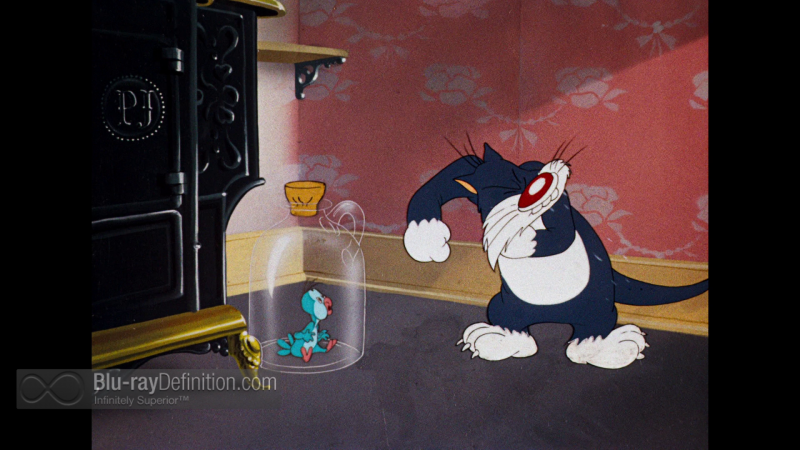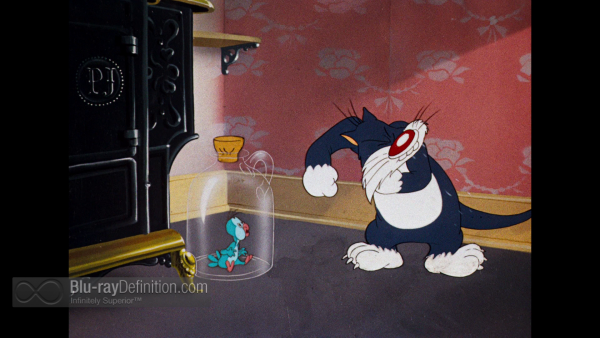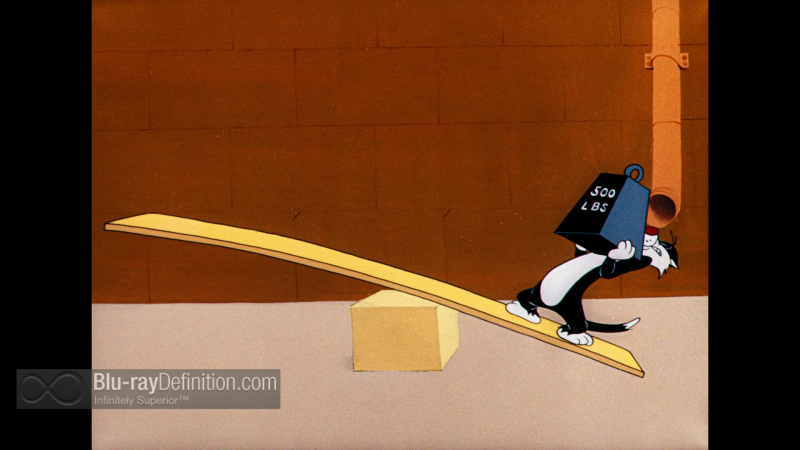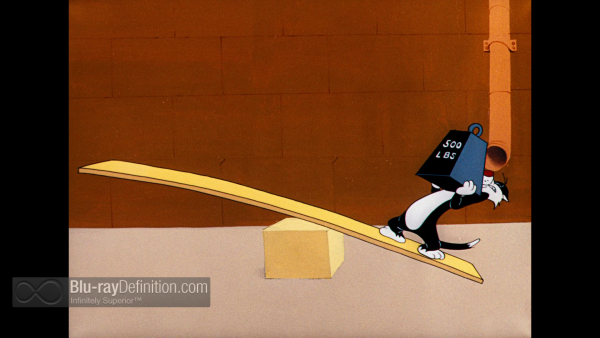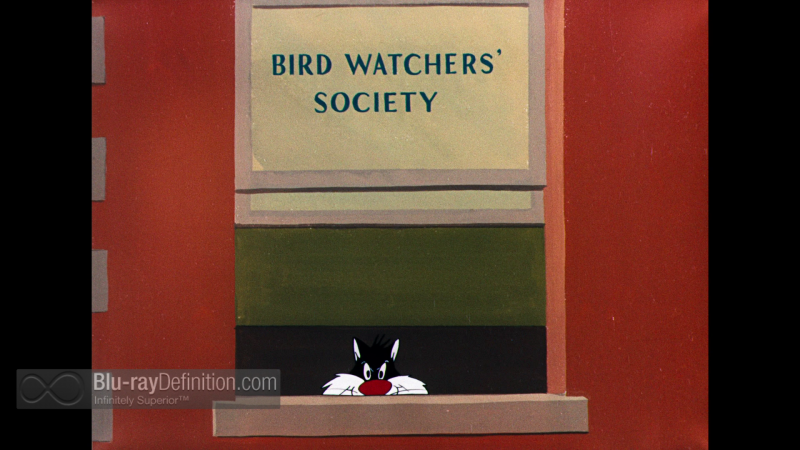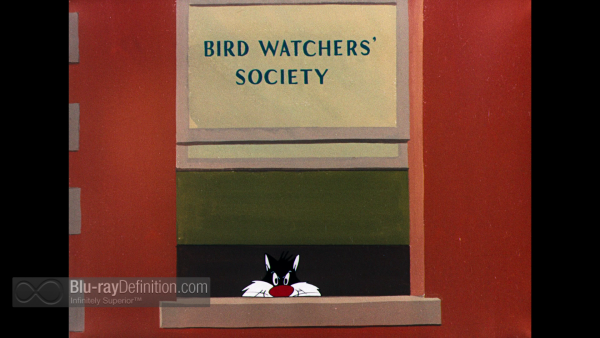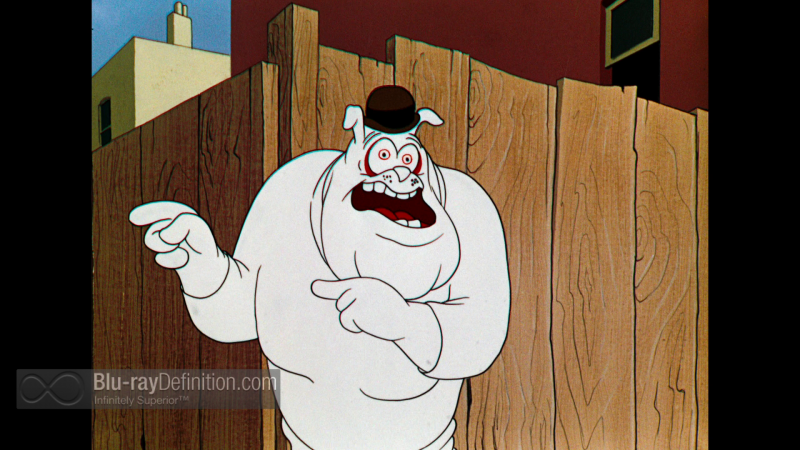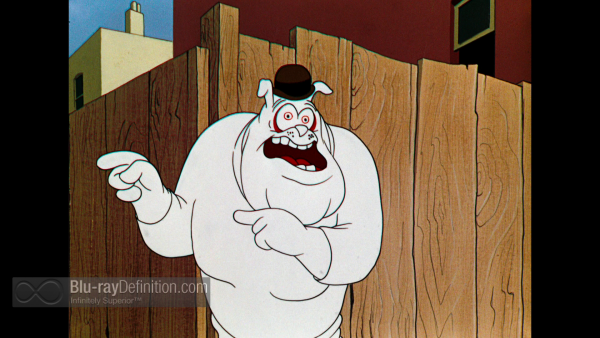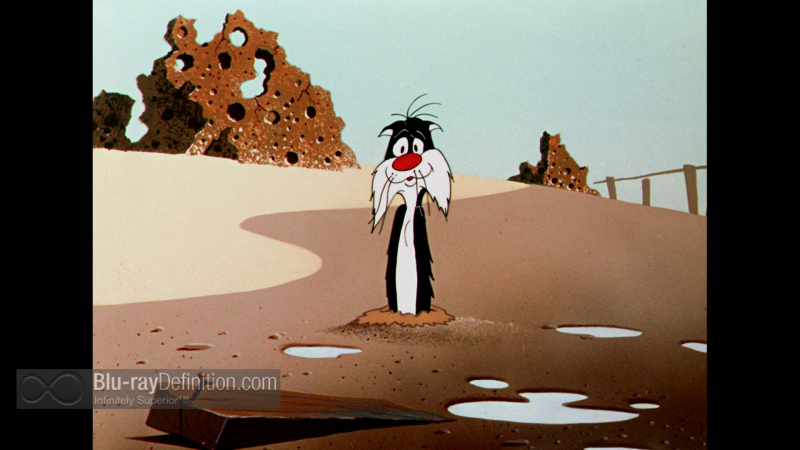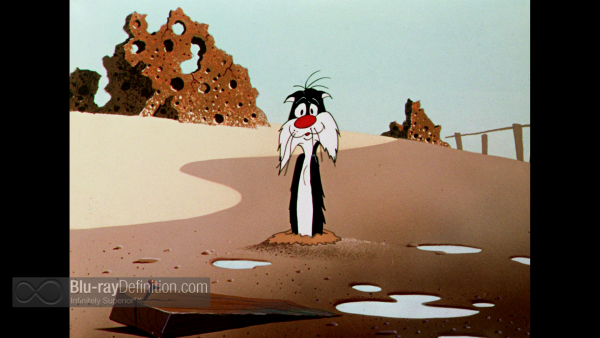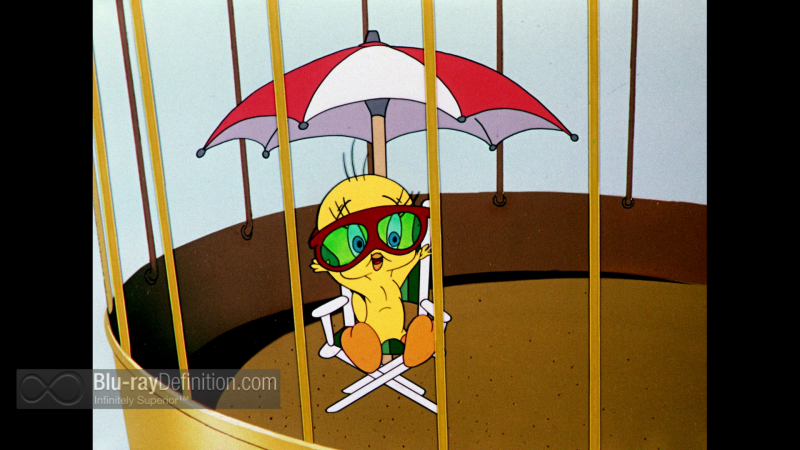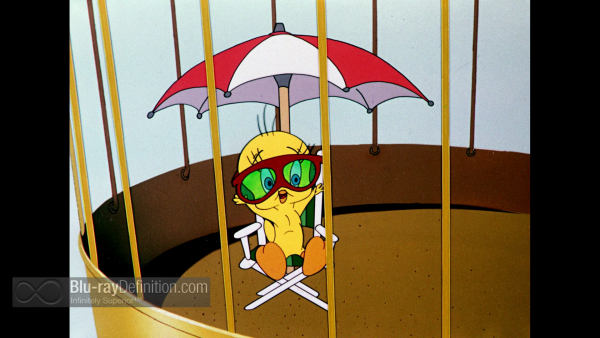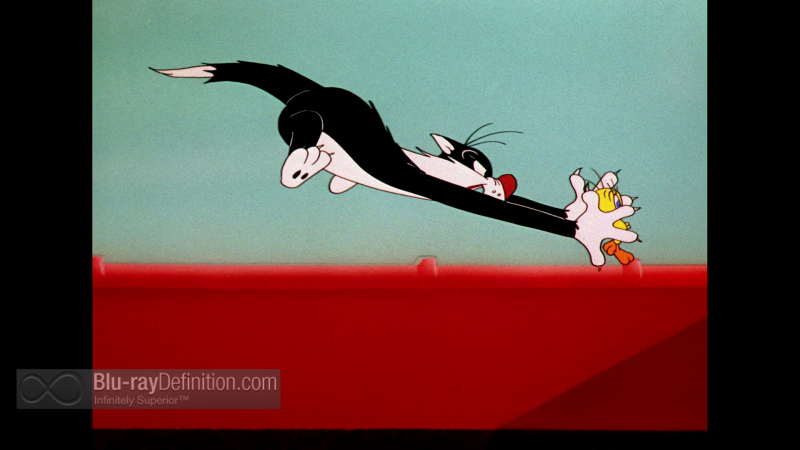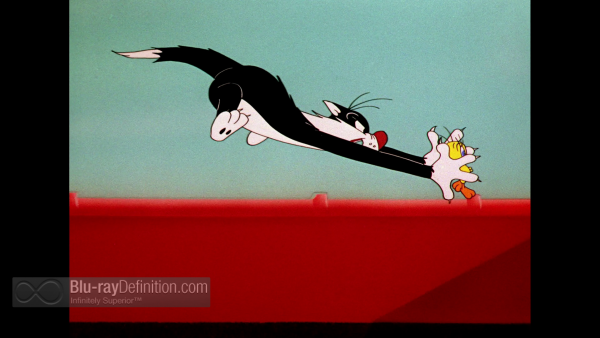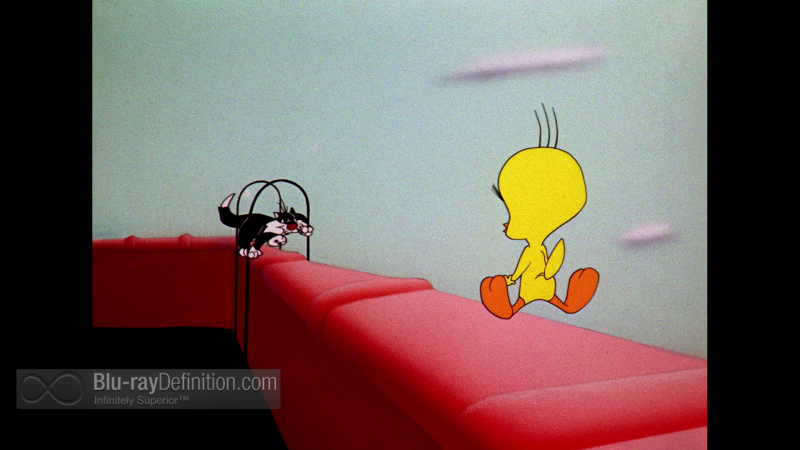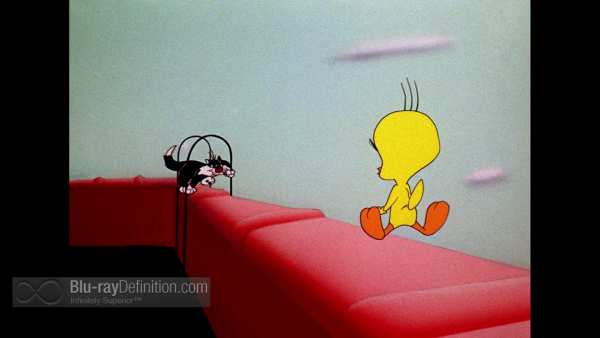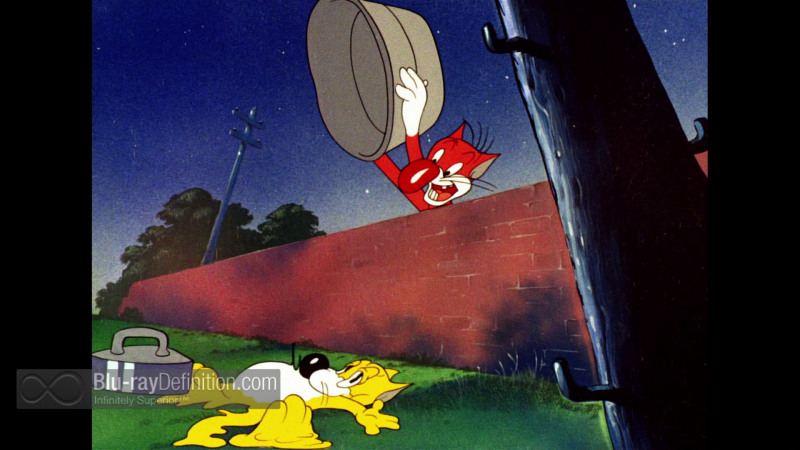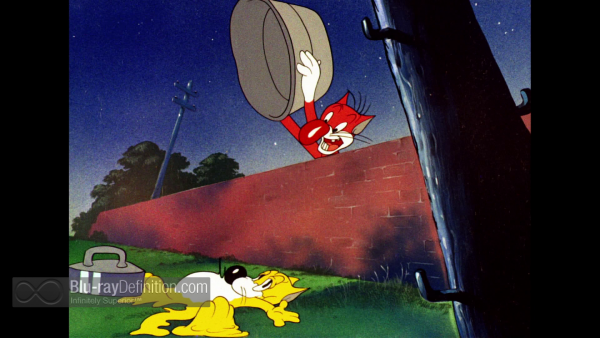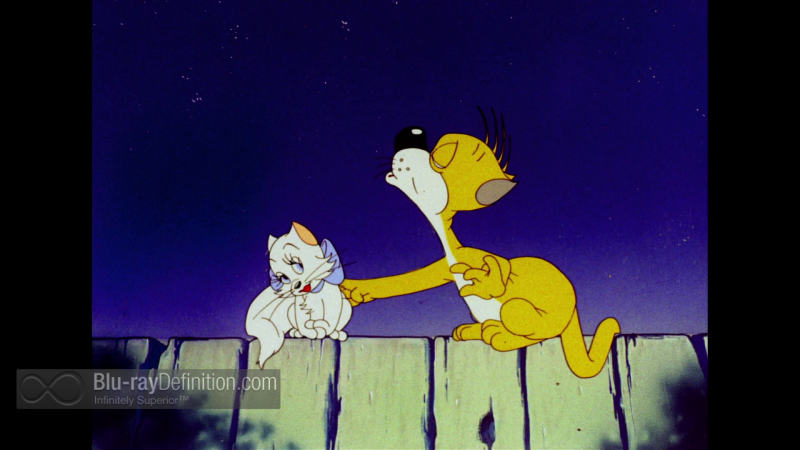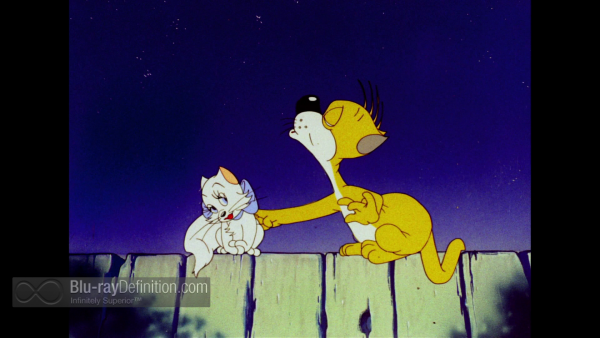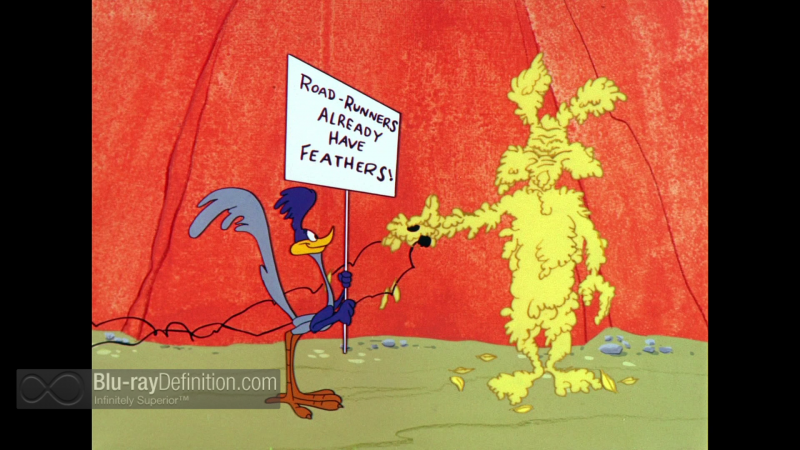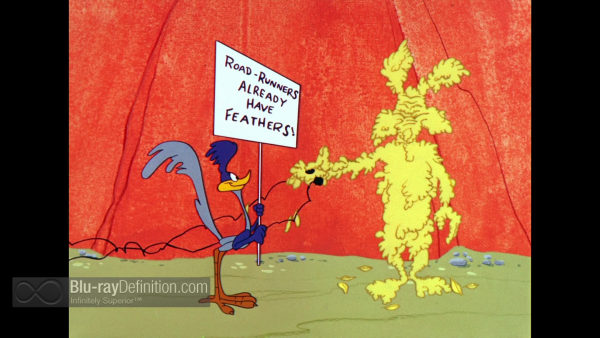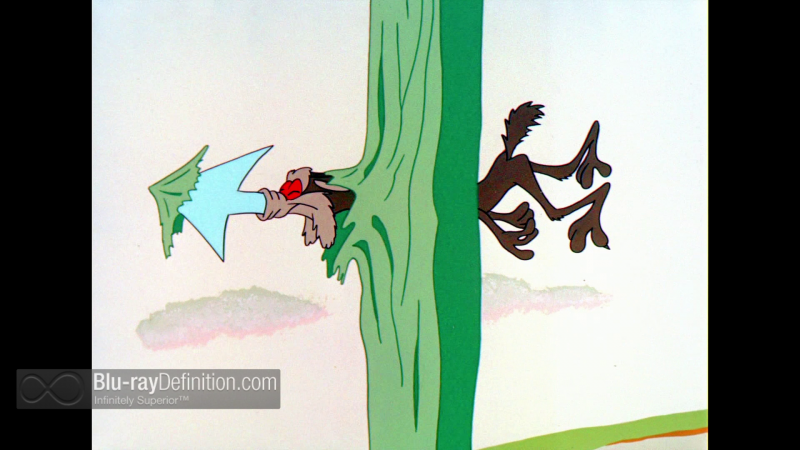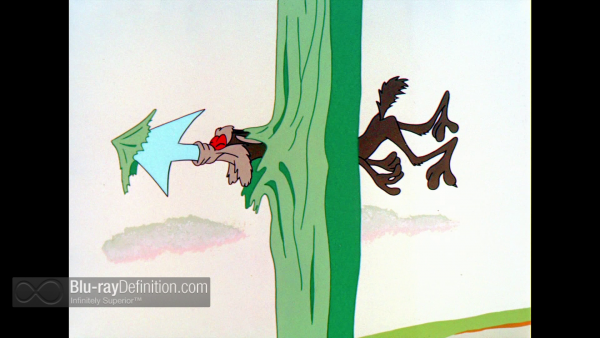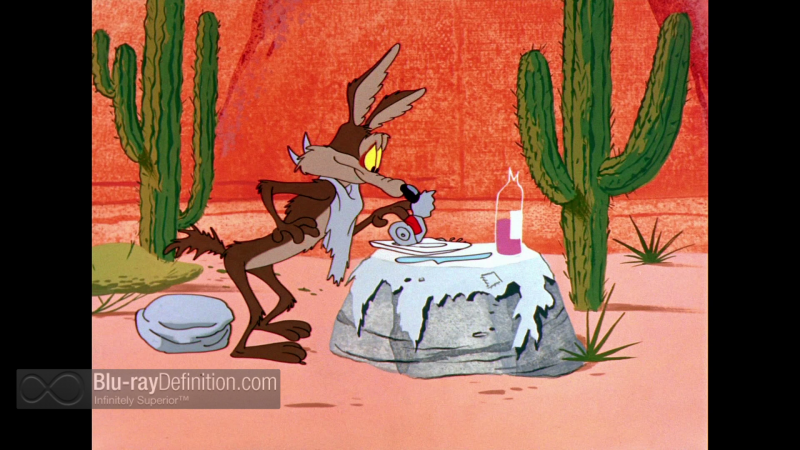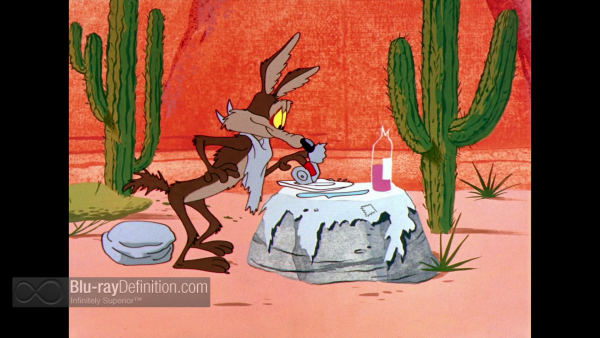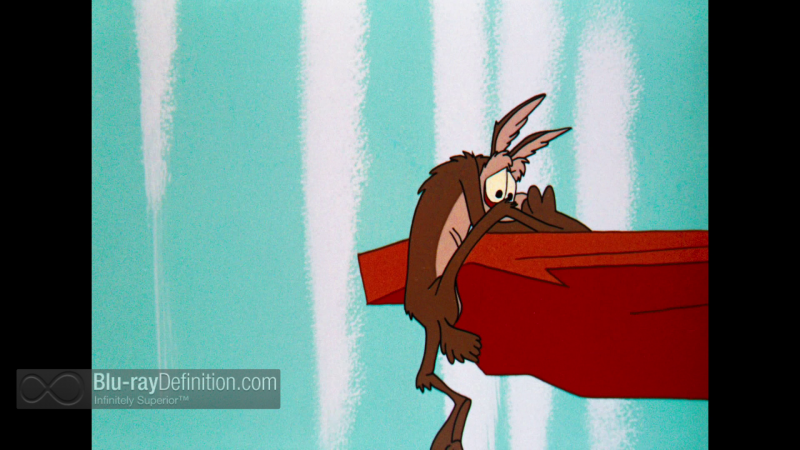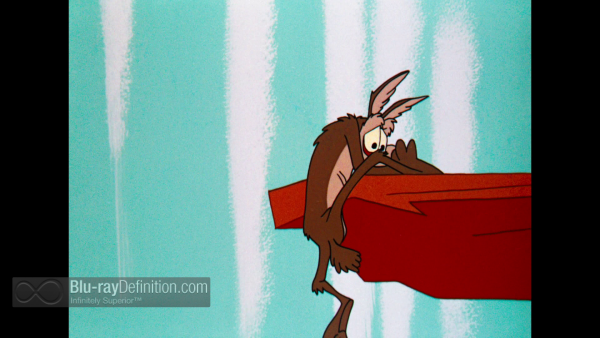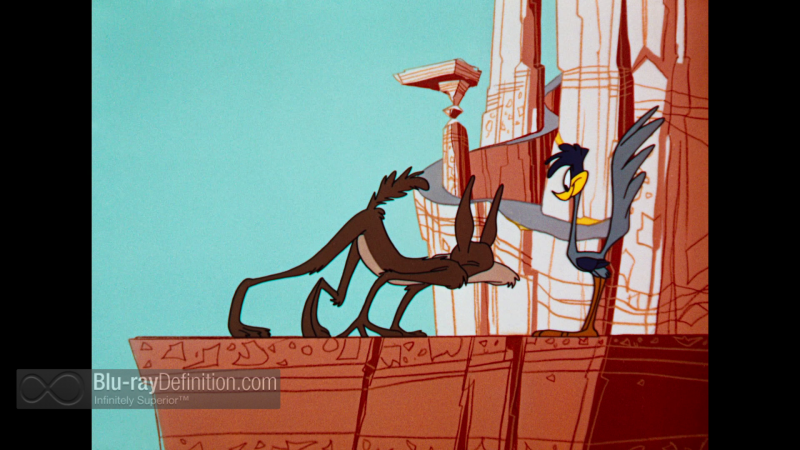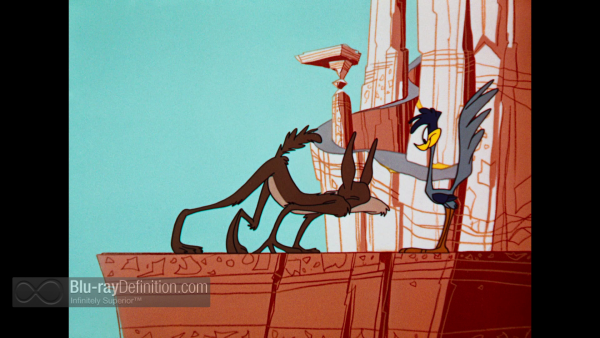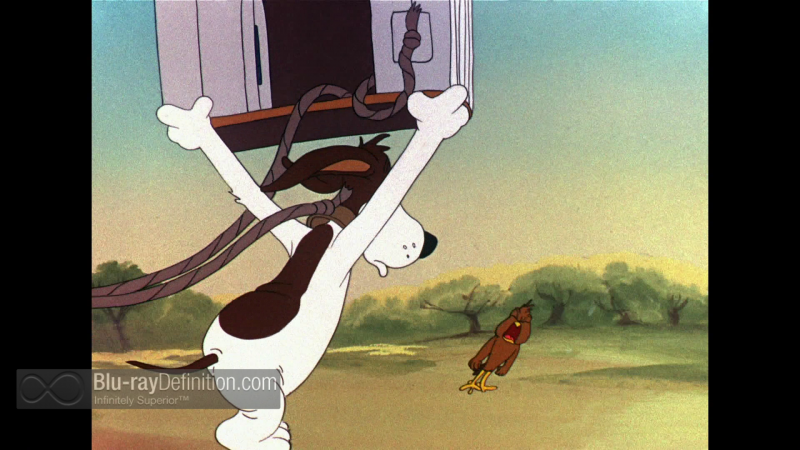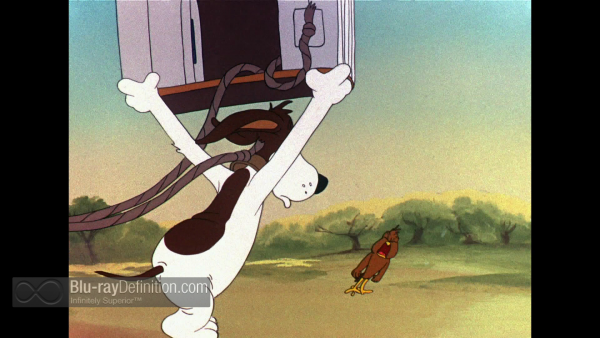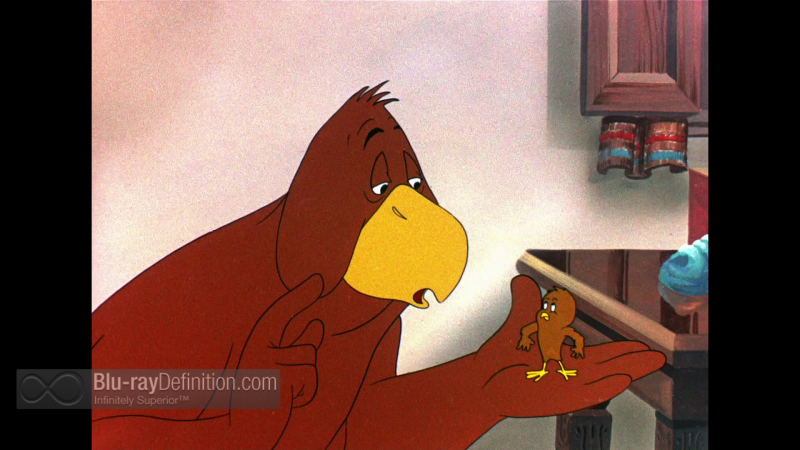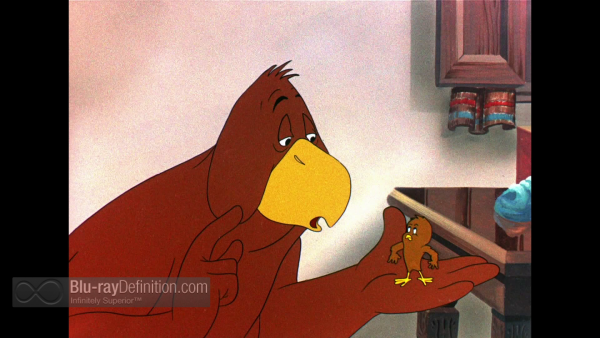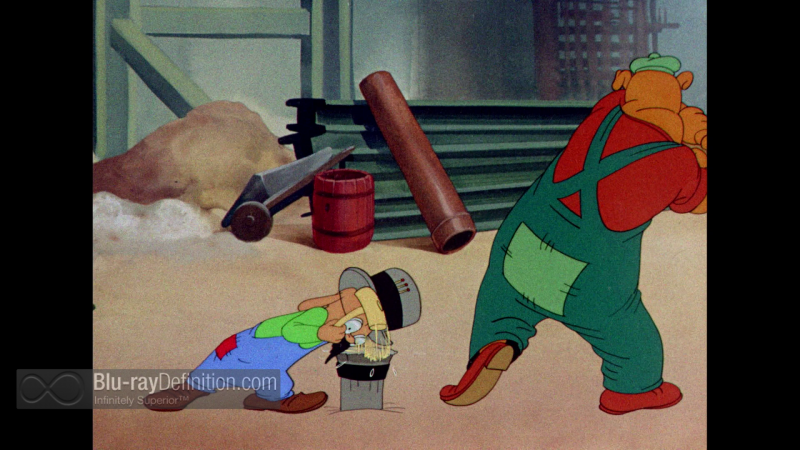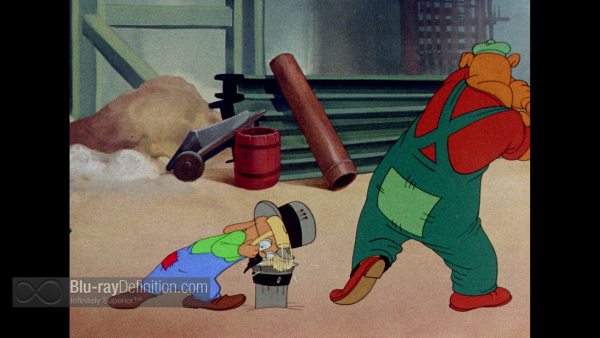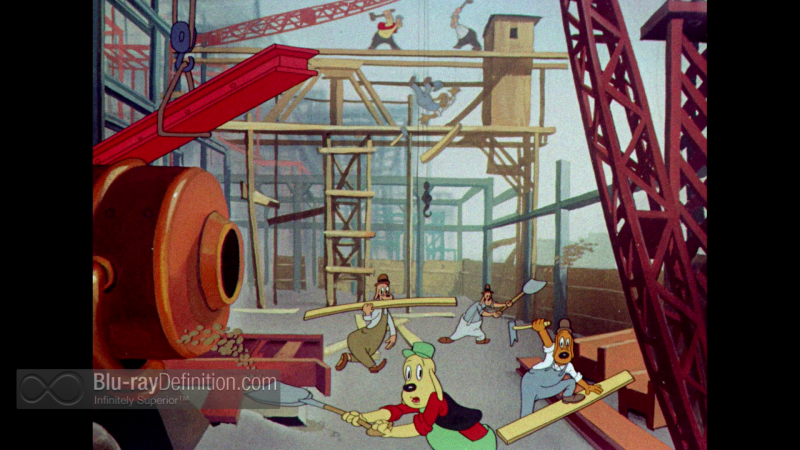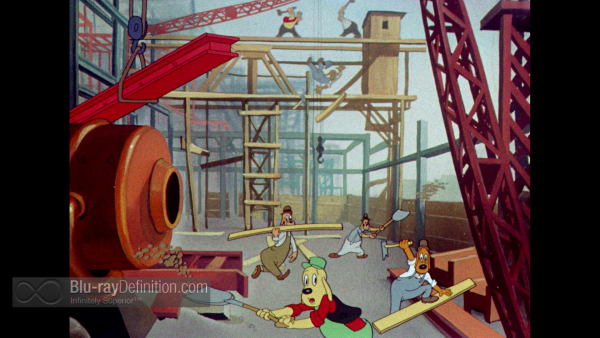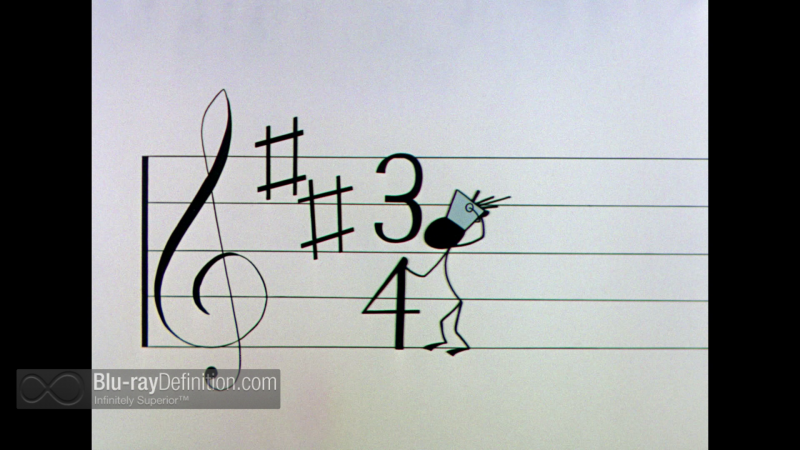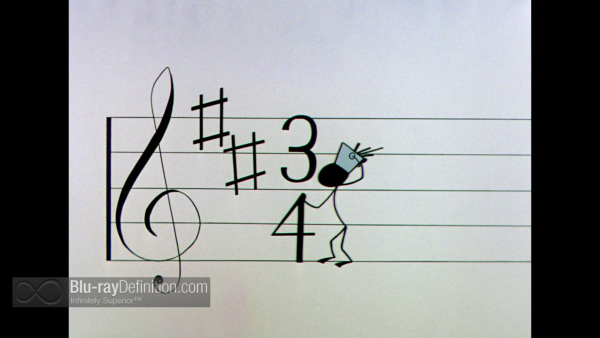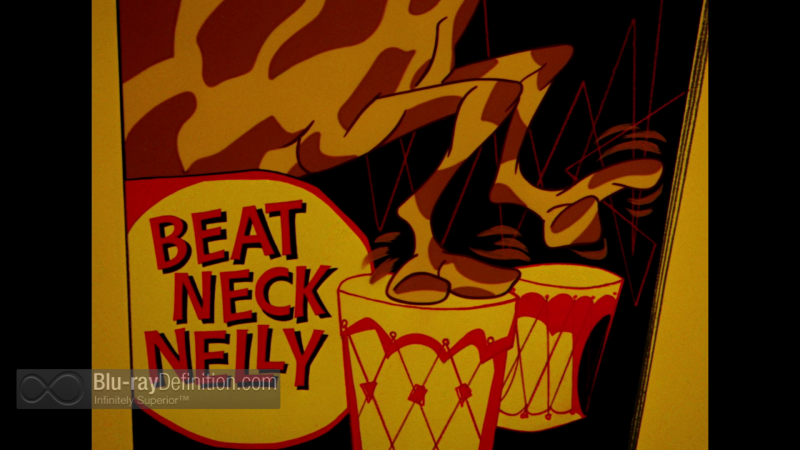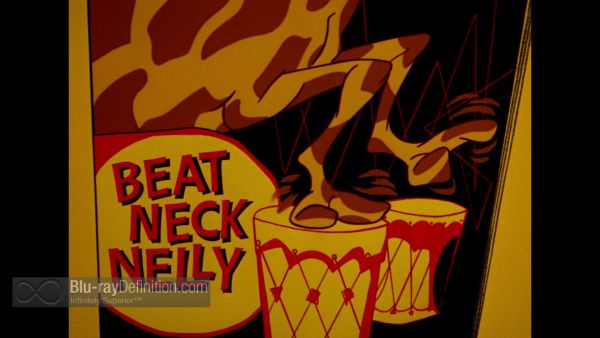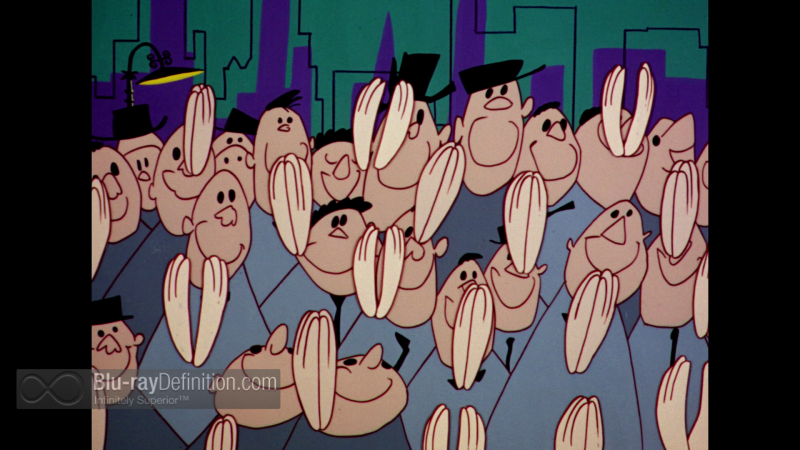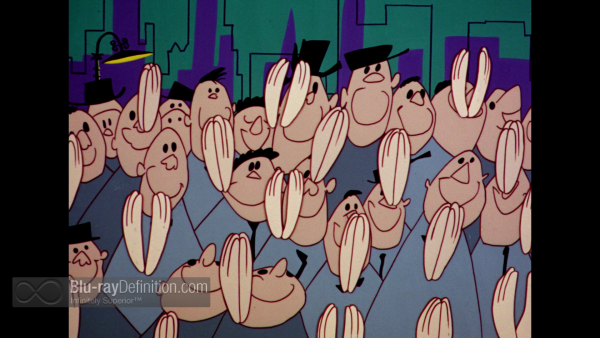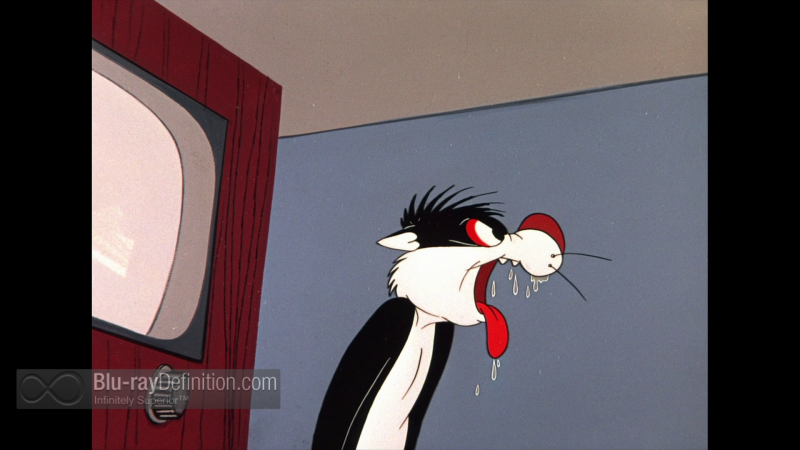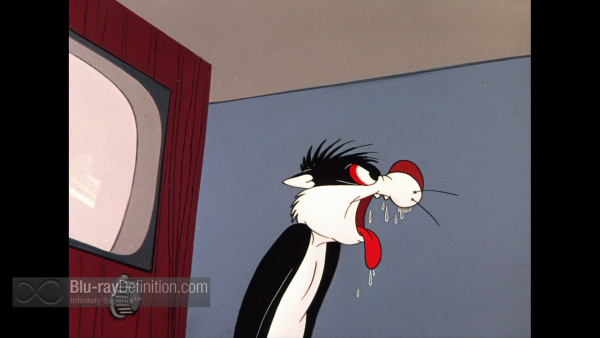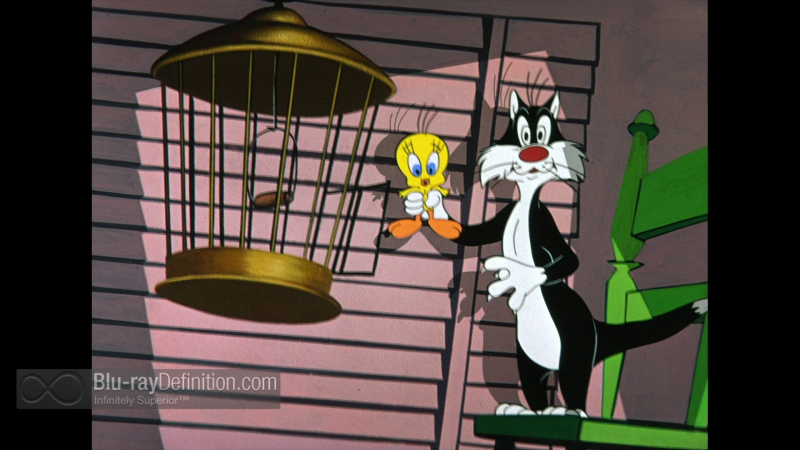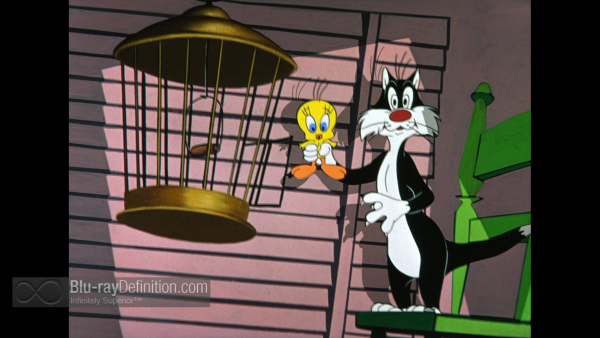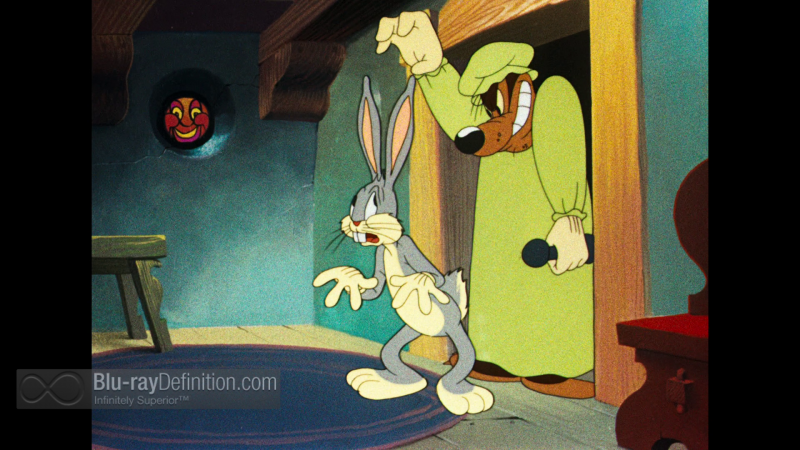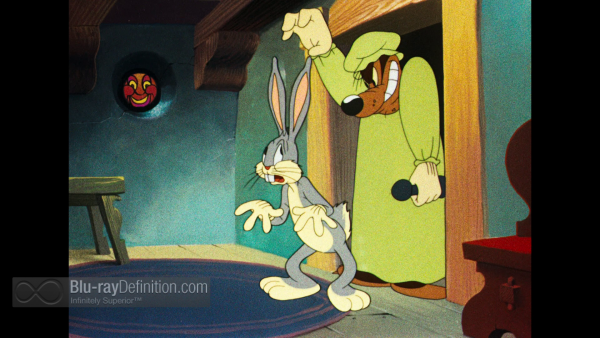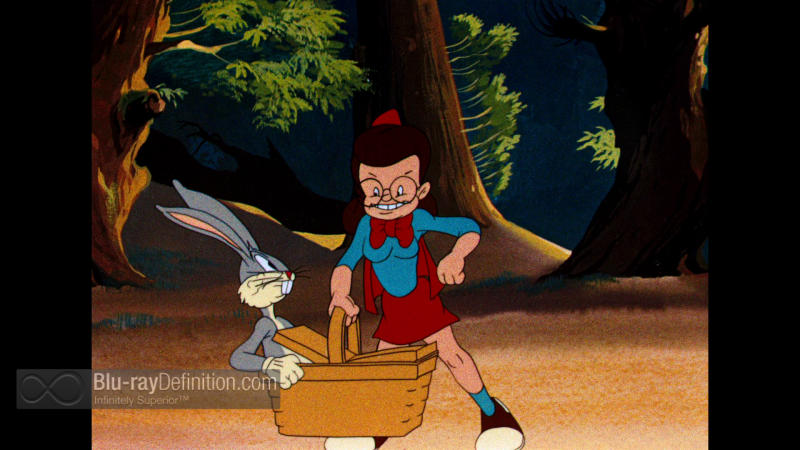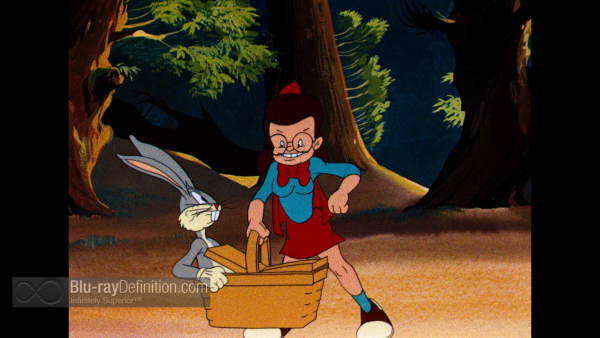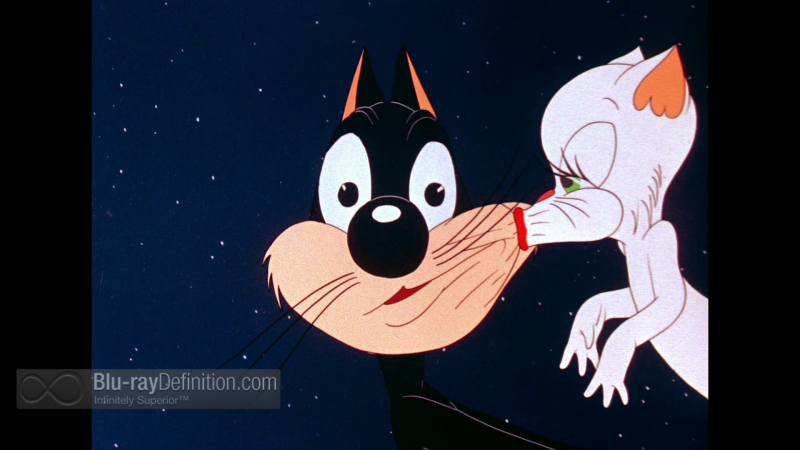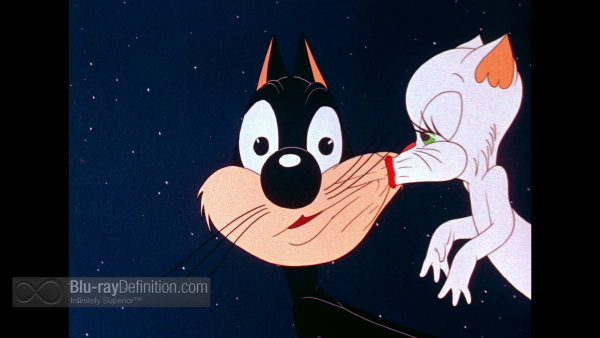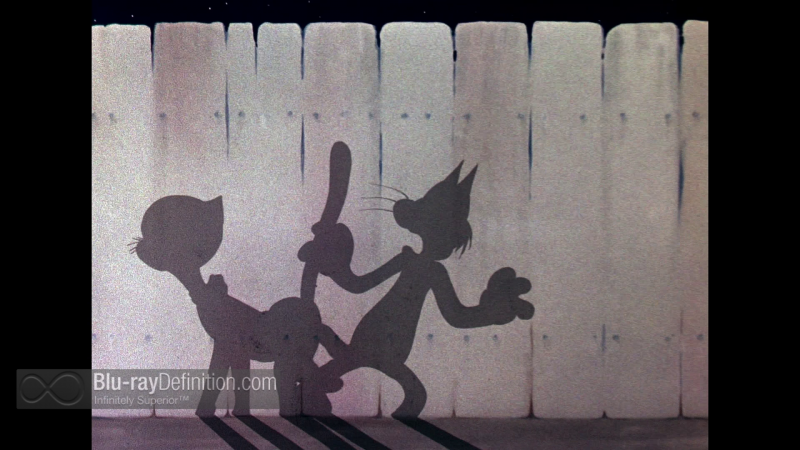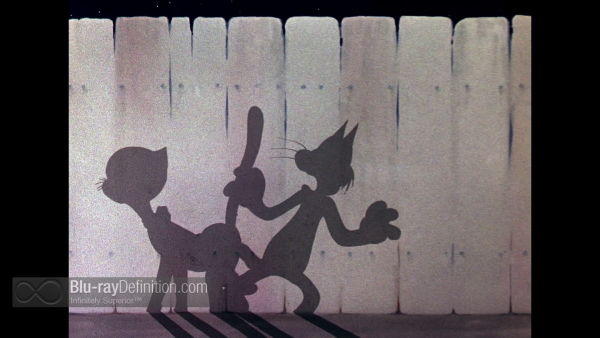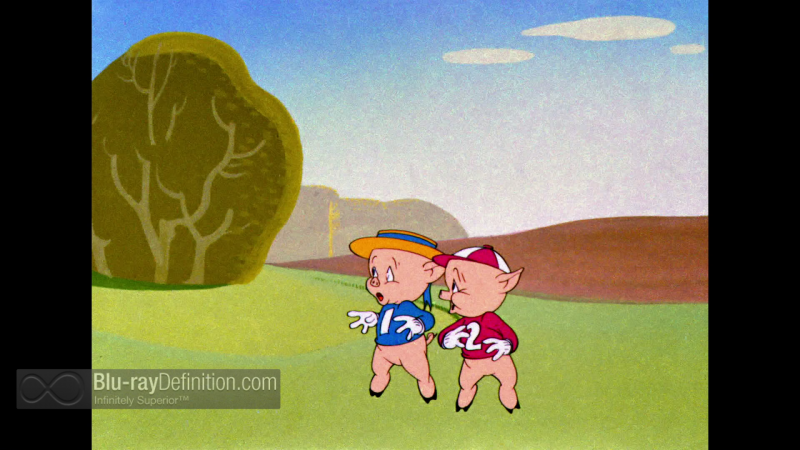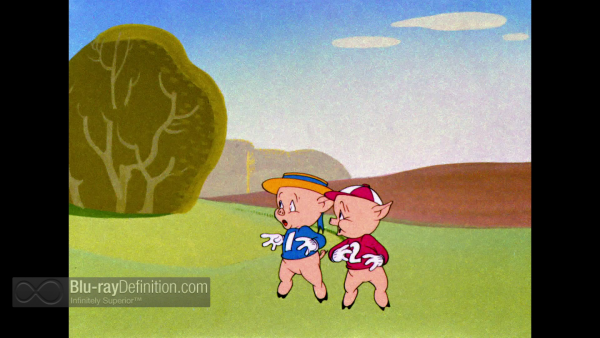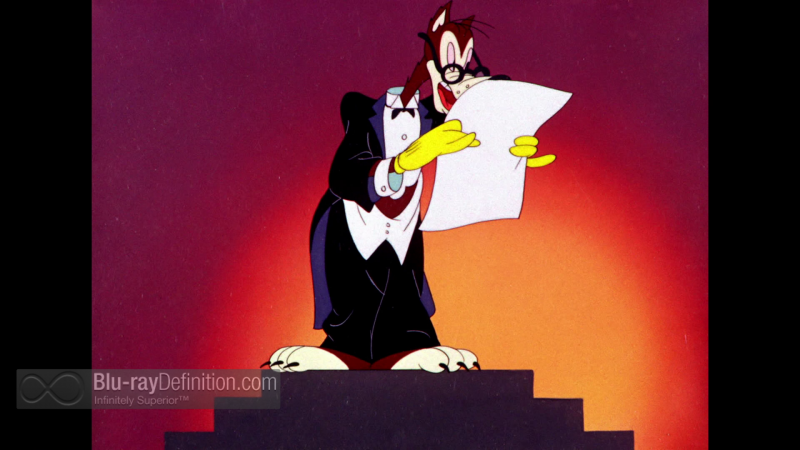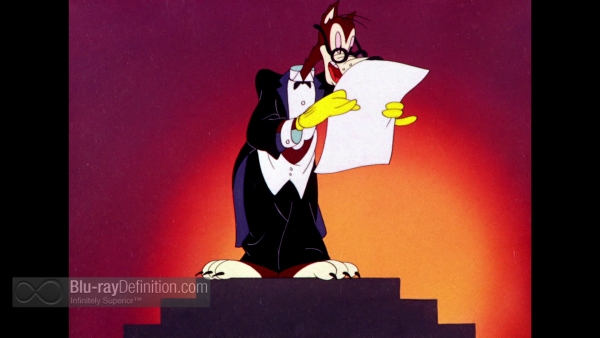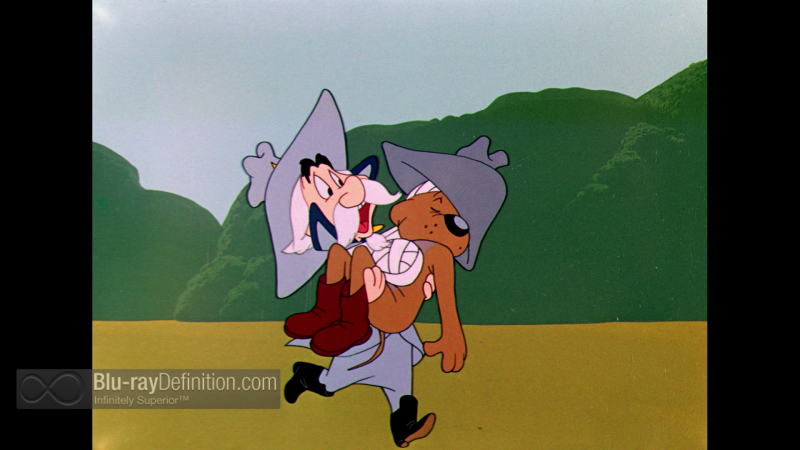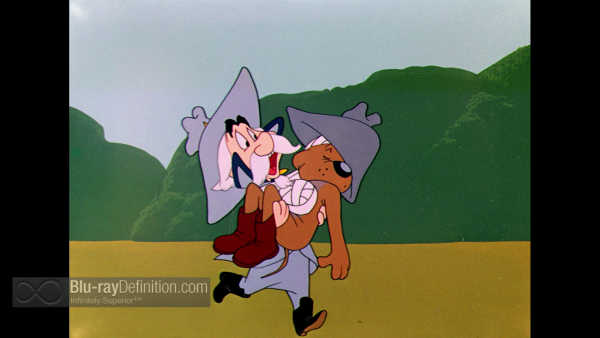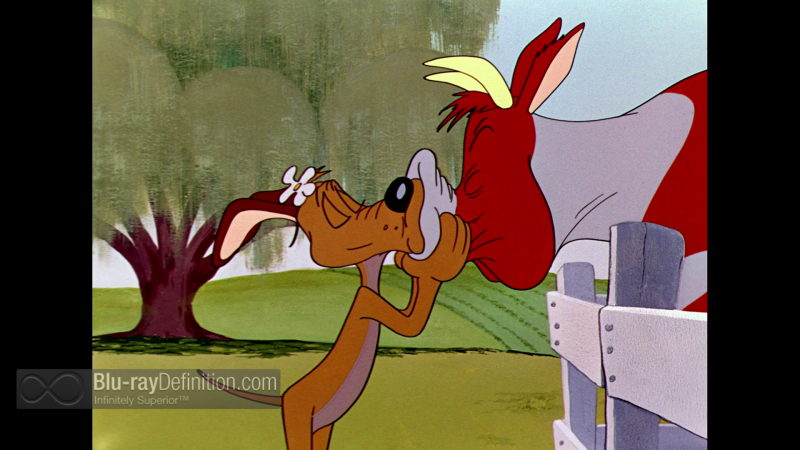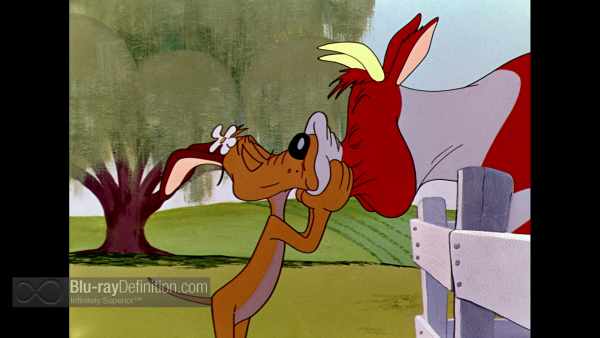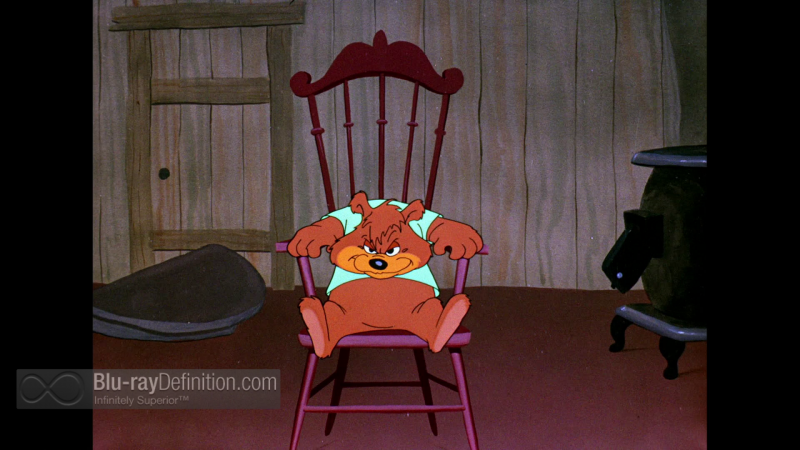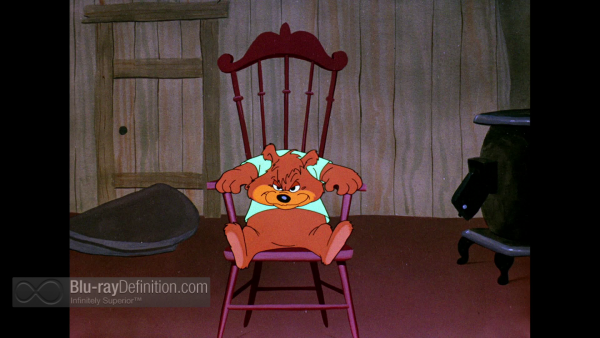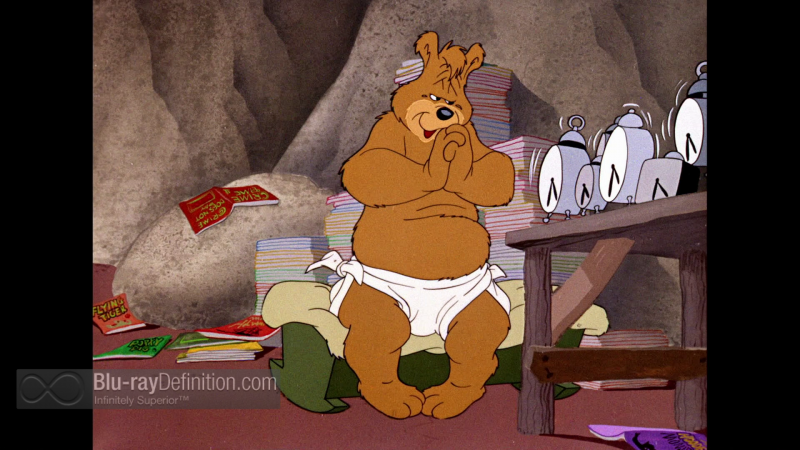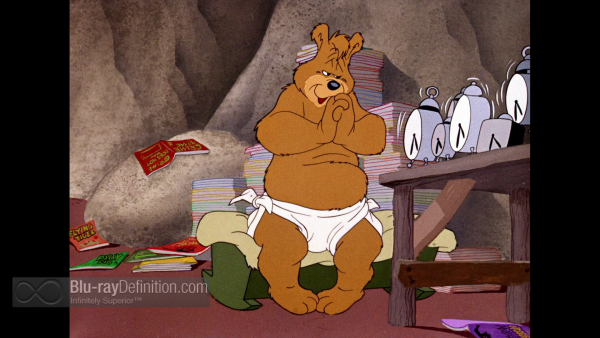 [amazon-product]B00ITV5SRC[/amazon-product]