–
(The below TheaterByte screen captures were taken directly from the Blu-ray Disc and losslessly compressed in the PNG format. There should be no loss of picture quality with this format. All screen captures should be regarded only as an approximation of the full capabilities of the Blu-ray format.)
The Film
[Rating:3.5/5]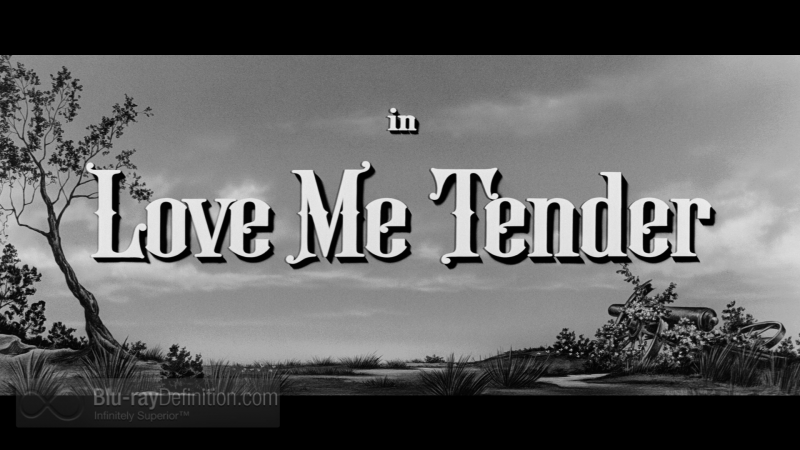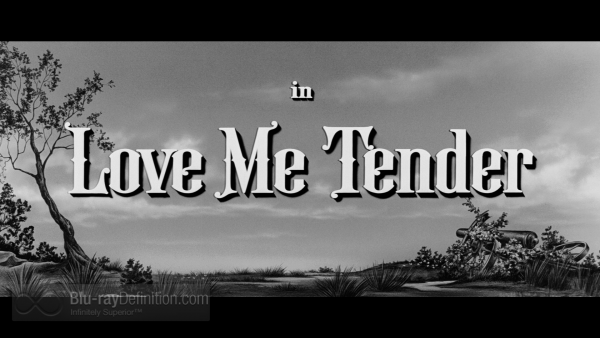 Trivia question: what was Elvis Presley's first film?  If you answered Love Me Tender, you get the prize. 1956, the year that this picture premiered, was also Presley's breakout year as his recording contract with RCA Victor shot his star to the top of the charts. There are countless pop singers who crashed and burned on the big screen, but Elvis eventually found the right combination of script and playlist that led to a very successful movie career.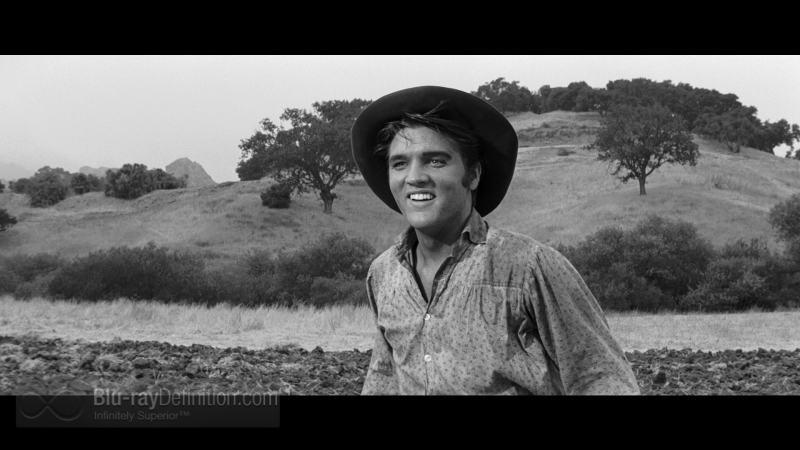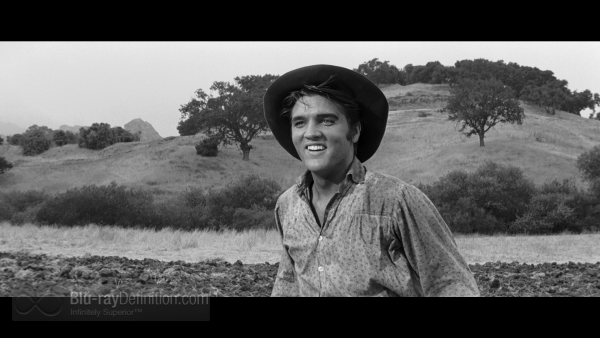 Love Me Tender is set during the final days of the Civil War. The Reno family had sent three brothers off to war, Vance (Richard Egan), Brett (William Campbell), and Ray (James Drury). The remaining Renos, baby brother Clint (Elvis Presley) and Mother Reno (Mildred Dunnock) are devastated by the news that Vance has been killed in combat. In reality, Vance and his troops have defeated a bunch of Union soldiers and stolen their payroll.  When the Renos find out that Lee has surrendered to Grant, and there is no longer a war to wage, they return home. In the interim, Vance's girl friend, Cathy (Debra Paget), has married Clint.  In spite of efforts to reconcile this turn of events, a divide starts between the brothers that will not go quietly away. Vance decides to set out for California but Federal officers arrest the brothers for stealing the payroll. Other members of the original Confederate unit, visit the farm and enlist Clint to help free his brothers. A daring train rescue is carried out and now the freed brothers and their comrades must decide how to make restitution for the stolen money. The group fails to reach an agreement, pitting Vance against Clint, with tragic consequences.
Video Quality
[Rating:3.5/5]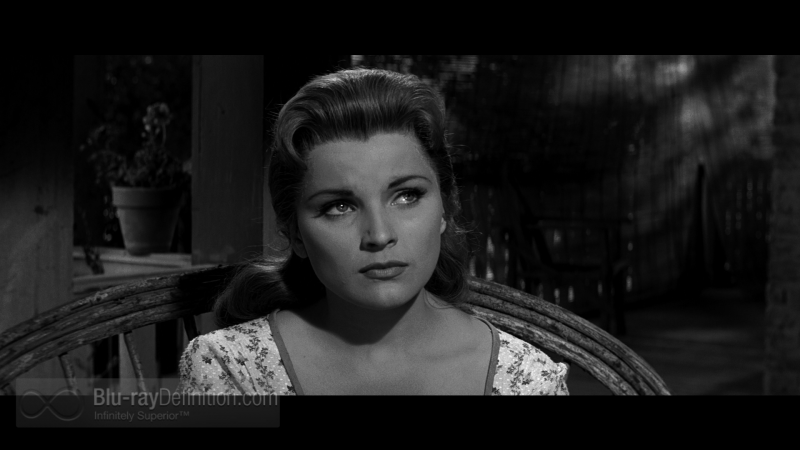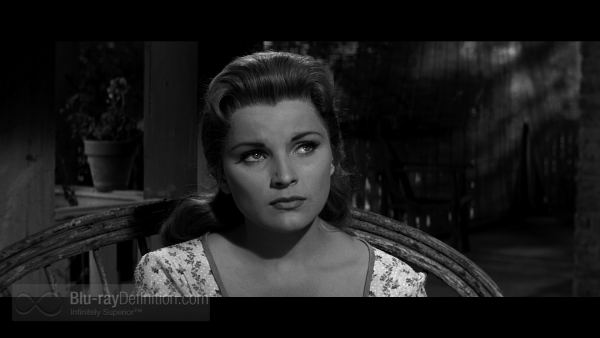 This film has a 2.35:1 aspect ratio that is unusual for this format. It is quite well restored with crisp images and terrific close ups. The modest amount of grain is to be expected for a film of this vintage. Contrast is quite good with excellent blacks.
Audio Quality
[Rating:2.5/5]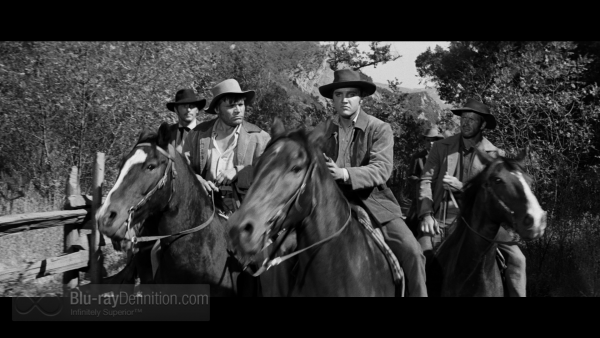 The DTS-HD Master Audio 5.1 soundtrack is extremely boxy with noticeable distortion at climactic passages with the other versions being no better. Dialogue is clear and the four Presley vocals sound as they probably would have in that era.
Supplemental Materials
[Rating:3/5]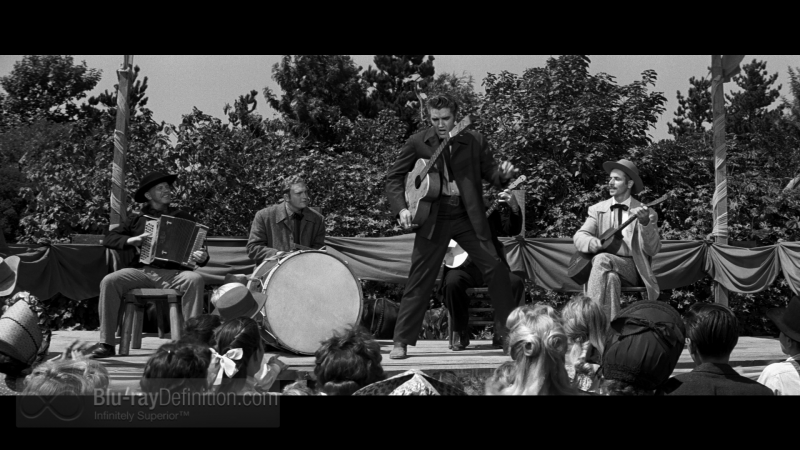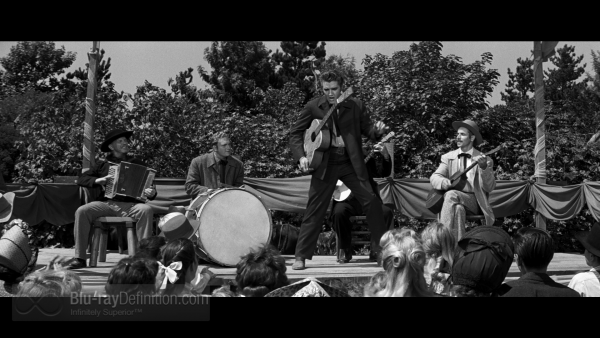 There is audio commentary by film historian Jerry Schilling as well as the following featurettes:
Elvis Hits Hollywood: 12:43  (English Dolby Digital Stereo; 48 kHz/16bit): A short subject that introduces Elvis to Hollywood and the making of this is his first film.
The Colonel & The King: (11:03)  A short subject on Elvis's manager and the development of the Parker-Presley relationship.
Love Me Tender: The Birth & Boom of the Elvis Hit (8:06) (English Dolby Digital Stereo; 48 kHz/16bit):  A look into the making of the title song and the close relationship of what become a huge hit and its impact on the success of the film.
Love Me Tender: The Soundtrack: (7:32) (English Dolby Digital Stereo: 48 kHz/16bit). Another look at the music in the film.
Rounding out the extras are two theatrical trailers, the original and the Spanish-language version.
The Definitive Word
Overall:
[Rating:3.5/5]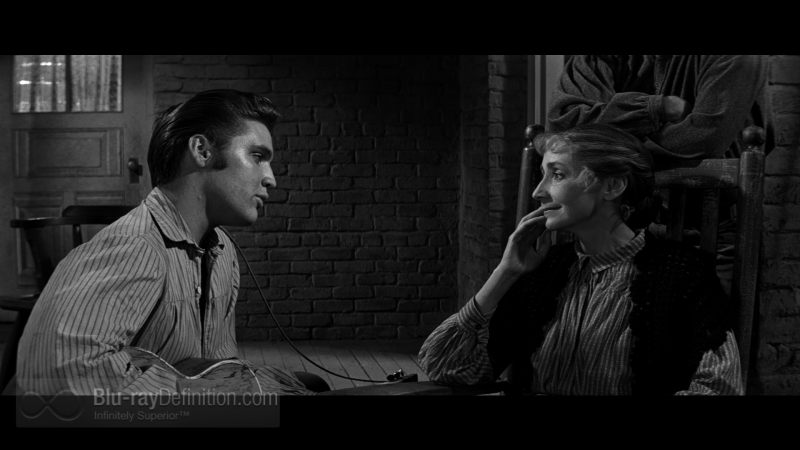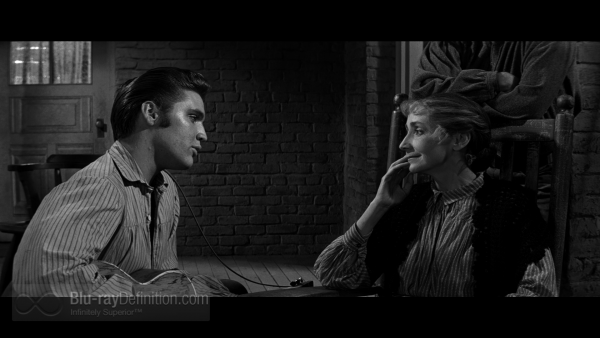 For the many Elvis-worshippers still out there, thirty-six years after the King's passing, any Elvis movie will be self-recommending. The fan highlights, of course, will be the hipshaking numbers with screaming girls in the audience. While not Reconstruction-era appropriate, this is what Elvis admirers expected anytime he was on stage.  What was era-appropriate was the title number, actually based on "Aura Lee," an old Civil War song. Love Me Tender opened the door for subsequent (and better) Elvis screen efforts, thanks to his manager Colonel Tom Parker's knack for negotiating extensive contracts for his star.  At this point in his film career, Elvis was a much better singer than actor. This becomes particularly obvious when his performance is offset by those of some real screen actors like Richard Egan, James Drury, Mildred Dunnock or Debra Paget.  Yet there is something in the naivete of Elvis's Clint that remains appealing more than 50 years later. A modest yet still enjoyable"B" movie given a nice restoration effort by 20th Century Fox, it opened the floodgates for 30 more Elvis films. Whether or not you have seen Love Me Tender (and I did see its original theatrical release), this film is worth revisiting or experiencing for the first time.
Additional Screen Captures

[amazon-product]B00CLFS7SE[/amazon-product]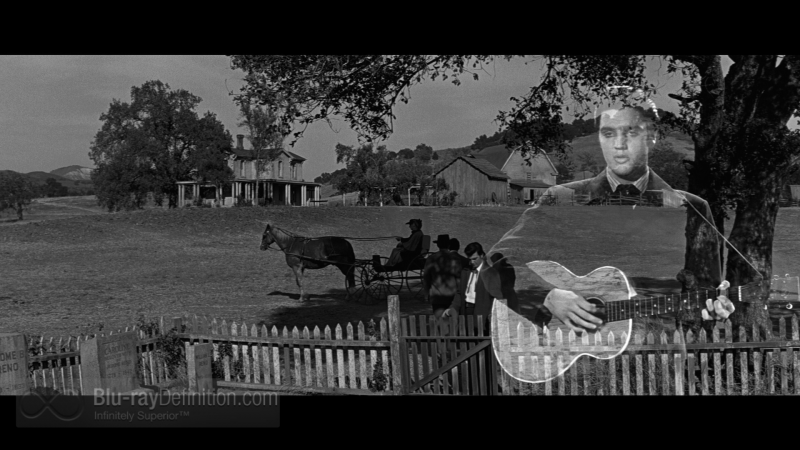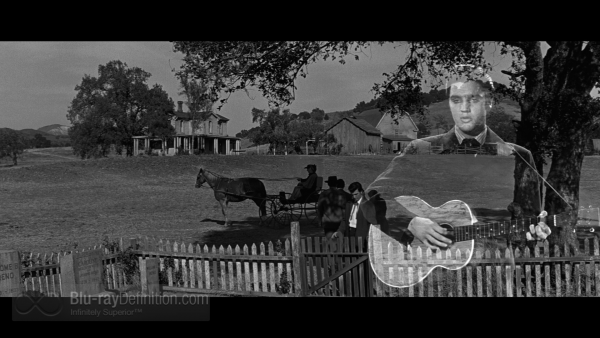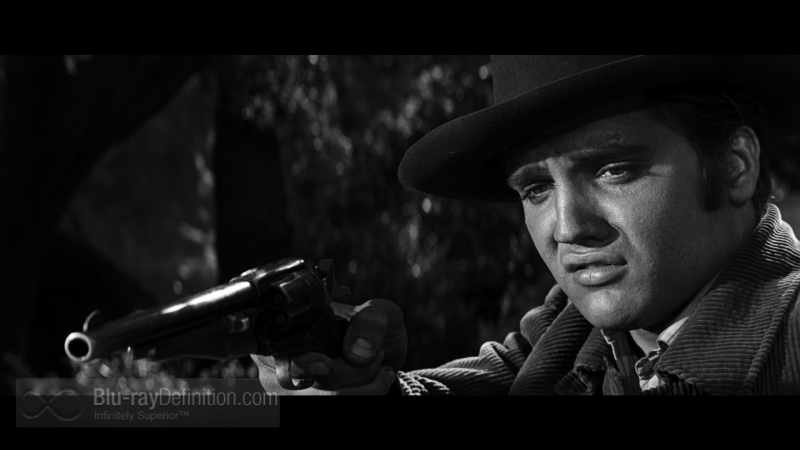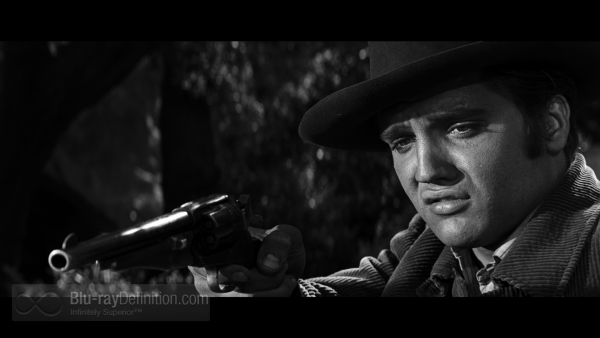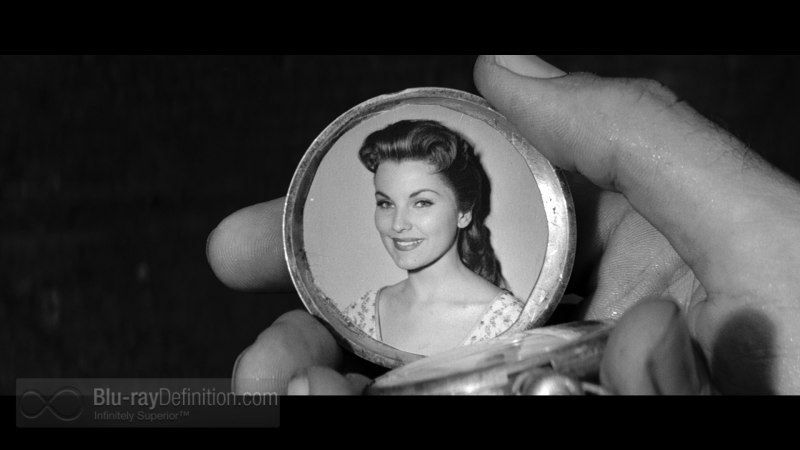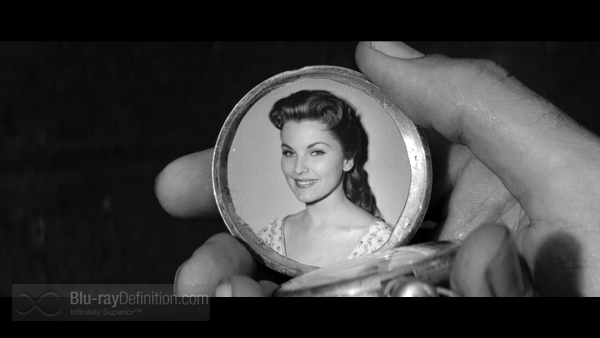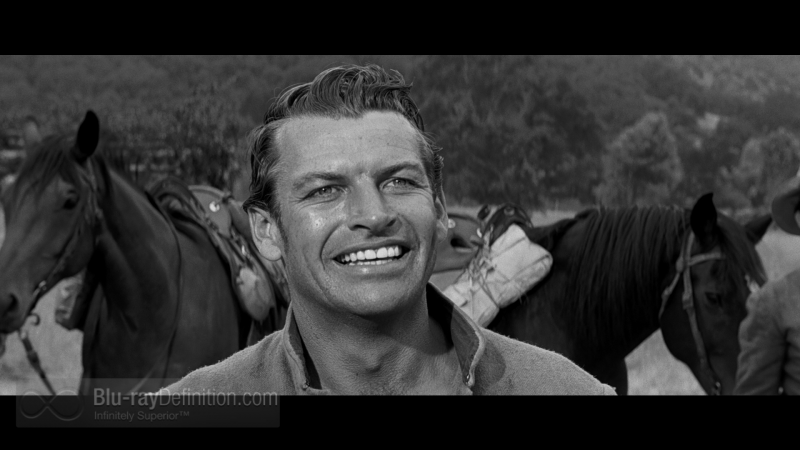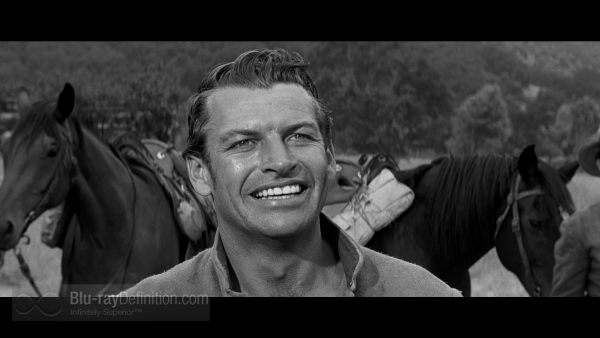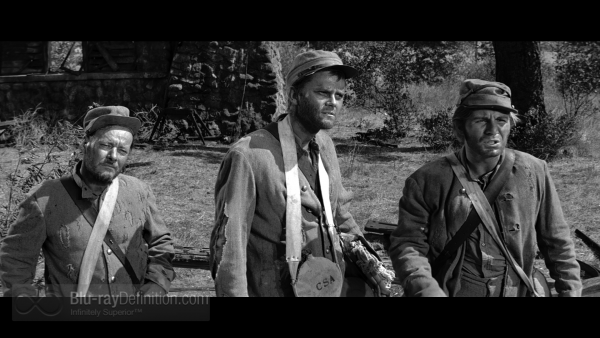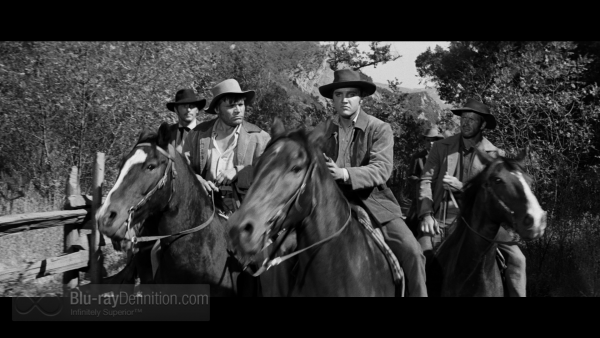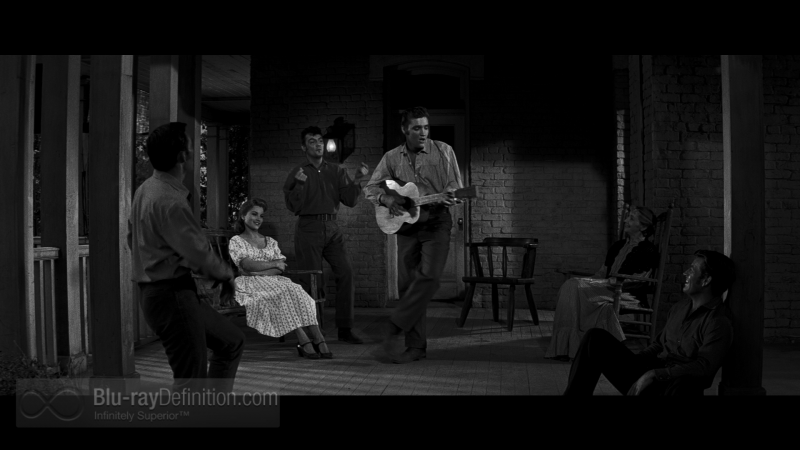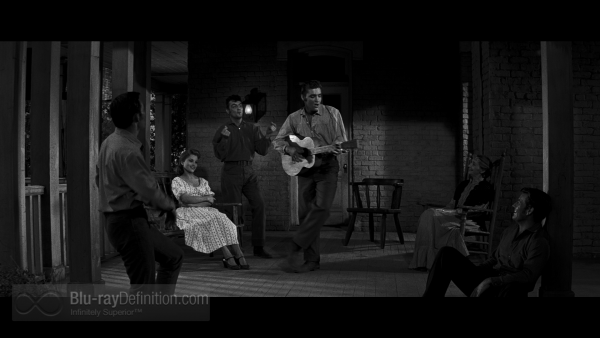 [amazon-product]B00CLFS7SE[/amazon-product]