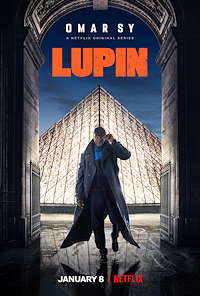 To set the record straight, Arsène Lupin, the legendary gentleman-burglar and master of disguises created by early 20th-century French writer Maurice Leblanc never appears in the first five episodes of this new Netflix series Lupin. As suggested by the show's subtitle, Senegalese immigrant Assane Diop (Omar Sy) is simply operating "in the shadow of Lupin" who he seeks to emulate by slipping in and out of different identities at the literal drop of a hat, while carrying out his capers.
As the series opens, Assane is planning to steal Marie Antoinette's diamond necklace that had recently been recovered by wealthy entrepreneur Hubert Pellegrini (Hervé Pierre) after being missing for nearly a quarter of a century. Pellegrini's beautiful daughter Juliette (Clotilde Hesme) will auction the necklace off at the Louvre museum to raise money for the Pellegrini Foundation.
There is a complex backstory between Assane and the Pelligrini family that goes back 25 years.  His father, Babakar (Fargass Assande), the family's chauffeur, insists that young Assane (Mamadou Haidara) become well-educated and introduces his son to the Lupin novels to stoke a lifelong interest in reading. Young Juliette (Lea Bonneau) also has her eye on Assane and develops a life-long obsession about him.
Lupin (TV Series) (2021- )
When the necklace suddenly disappears, Babakar becomes the prime suspect.  He signs a confession for Inspector Gabriel Dumont (Johann Dionnet) with the understanding that he would get a light sentence and Assane's education would be taken care of.  Things go awry and Babakar is later found hanging in his cell.  Assane grows up thinking that his father is a criminal and he eventually marries his pregnant sweetheart Claire (Ludivine Sagnier) who bears him a son, Raoul (Elan Simon). The couple has separated due to Assane's unreliable behavior, but he has maintained a close relationship with Raoul.
Assane gets inside a Paris prison to find the dying crook Etienne Comet (Francois Creton). Comet leads him to find clues left in a Lupin book by the late Babakar that will prove his innocence. Assane now goes on a mission to take down Hubert who staged the fake theft of the necklace to get the insurance money. He enlists the help of former schoolmate and jeweler extraordinaire Benjamin Ferel (Antoine Gouy) who confirms Assane's belief that the necklace theft was phony and investigative journalist Fabienne Beriot (Anne Benoit) who has her personal axe to grind against Hubert. Meanwhile, the Paris police led by Captain Romaine Laugier (Vincent Londez) are trying to connect the dots that will prove Assane was the man behind the necklace caper at the Louvre.
What elevates Lupin above most of the recent televised fare is its deft balance between drama —Hubert's hitman Leonard's (Adama Niane) continued efforts to take out the elusive Assane—and comedy—the gaggle of orange-clad food delivery cyclists confounding the police and allowing the similarly clad Assane to escape. The blatant incompetence of the Paris police is brutally exposed as they overlook their IT expert Youssef Guedira's (Soufiane Guerrab) reconstruction of the wanted fugitive (who looks exactly like Assane). The French prison system and its venality also receive a figurative cuff on the wrist. The stand-out performance is delivered by Omar Sy who previously caught my attention in Les Intouchables. Writers George Kay and Francois Uzan have given the cast a terrific script and the pacing, never rushed, keeps a firm grip on the dramatic tension. There is a dangling finale, so I will be anxiously awaiting the five additional episodes that Netflix has already announced. By the way, the dubbed-in English (it is a French show) is perfect.  Shows this clever and well-executed have been few and far between during the pandemic.  Highly recommended.
---
If you found this review useful please consider clicking the button below and donating to help keep TheaterByte funded and to allow us to continue posting great content.
---
Lupin is streaming now on Netflix
---
Show Creator: George Kay | Francois Uzan
Original Release Date: 8 January 2021
Streaming Service: Netflix
Ep. Run Time: 45-50 Mins.
Studios & Distributors: Gaumont Television | Netflix
Rating Certificate: TV-MA