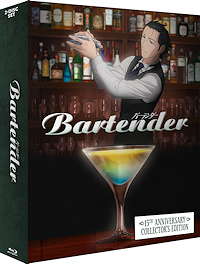 Bartender is the 2006 Japanese anime anthology TV series. Set mostly in the bar named Eden hall, it centers around the mixologist Sasakura Ryu, a genius at his job who is able to listen, observe, and remember, serving his clientele perfectly, prompting them to come seeking what they call the 'Glass of God' – the perfect drink that helps them remember a certain time in their life, or resolve an issue they are dealing with. The series is an episodic, 11-episode drama that is not unlike another Japanese series and manga, Tokyo Diner. In each episode a different person or people come into the bar with a problem and the episode focuses on a specific drink. In Tokyo Diner, it's a specific ingredient or recipe. Issues in Bartender can range from relationship problems, problems between a father and son, or work-related issue.  It's a very different anime series that stands out from the crowded field of high school series, ecchi, and mecha series to name just a few. There should be more dramas entered into the anime canon like this one. There is also a 2011 live-action TV drama based on the same manga from TV Asahi.
The Video
Bartender arrives on Blu-ray framed at 1.78:1 encoded in AVC 1080p. Dating back to 2006, this series is not one of the better-looking anime productions on Blu-ray, especially given the visual artistic choice of applying a rather heavy layer of artificial grain over the image. So overall, this looks a bit soft, a little grainy and muted, but it still looks serviceable.
The Audio
Bartender comes with its original Japanese-language stereo mix in LPCM 2.0. While it offers up clear dialogue, the mix is basically a dialogue-heavy mix and has a somewhat narrow stereo image and narrow dynamic range. The included subtitles are UK English.
The Supplements
There aren't really any on-disc bonus features to speak of, but Shout! does include a set of collectibles to make this set worthwhile including a collection of cocktail recipe cards and 4 pub mats.
Clean Opening Credits (1080p)
Clean Closing Credits (1080p)
Bumpers (1080p; 00:01:51)
9 Double-Sided Cocktail Recipe Cards w/recipes, bar stories, character descriptions, and artwork
4 pub mats/coasters
Collectible high quality chipboard slipcover packaging
The Final Assessment
A compelling anime anthology drama set in a bar that somehow avoids glorifying alcohol or making it the answer to everyone's problems. Fans of this kind of anime, which is certainly a limited genre, should really appreciate this collection.
---
If you found this review useful please consider clicking the button below and donating to help keep TheaterByte funded and to allow us to continue posting great content.
---
Bartender (15th Anniversary Collector's Edition) is out January 19, 2021 on Blu-ray from Shout! Factory
---
Animation Studio: Palm Studio
Distributor: Anime Limited | Shout! Factory
Director: Watanabe Masaki
Written By: Imagawa Yasuhiro
Run Time: 275 Mins.
Street Date: 19 January 2021
Aspect Ratio: 1.78:1
Video Format: AVC 1080p
Primary Audio: Japanese LPCM 2.0 Stereo
Subtitles: UK English