–
The Film
[Rating:4.5/5]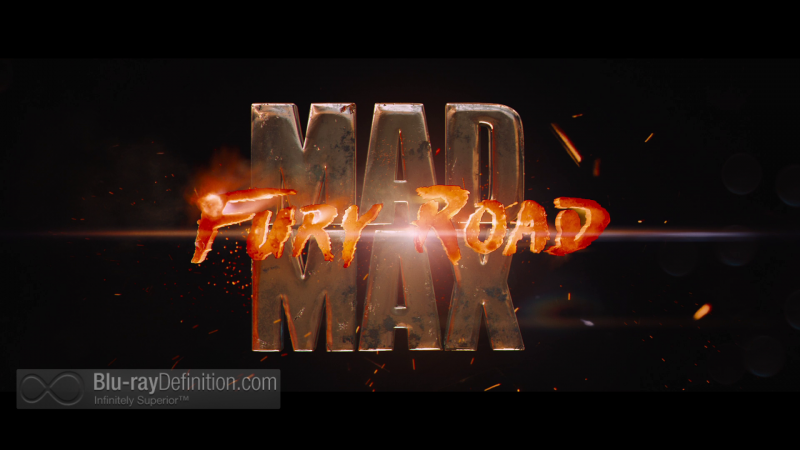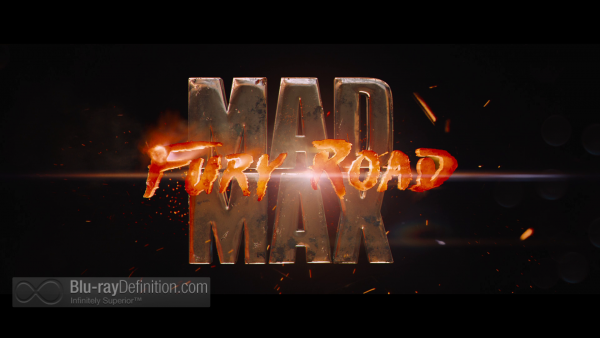 It took writer/director George Miller a decade to finally get this reboot of the post-apocalyptic action franchise Mad Max onto the big the screen, and it was more than worth waiting for.
The fourth in the series, Mad Max: Fury Road is a kinetic amusement park ride that does away with much of the exposition in favor of constant motion and wild action. After a brief prologue with Max (Tom Hardy, Locke, The Dark Night Rises) explaining how the world was devastated by a Nuclear disaster and become a vast desert wasteland, with warring factions at odds in the fight over water, fuels, and food, we are quickly taken into the action. Max is captured by a group of albino mutants known as War Boys, servants of the despotic King Immortan Joe (Hugh Keays-Byrne). Taken back to Immortan Joe's camp, The Citadel, Max is labelled a universal blood donor and hooked up as a "blood bag" for a half-dying War Boy named Nux (Nicholas Hoult). Meanwhile, the hardened war machine driver Imperator Furiosa (Charlize Theron, A Million Ways to Die in the West, Prometheus), one of Immortan's trusted lieutenants, is being sent on a mission to a nearby town for much-needed fuel and food.
Unbeknownst to Immortan, however, Furiosa has smuggled out his five young wives and plans to leave the Citadel with them for good. The five wives, Toast the Knowing (Zoë Kravitz), The Splendid Angharad (Rosie Huntington-Whiteley), Capable (Riley Keough), The Dag (Abbey Lee), and Cheedo the Fragile (Courtney Eaton) – who had been held by Immortan as sex slaves, kept away from the outside world, but also treated to the best food, water, and shelter in is hope of having a disease-free male heir – have no desire to return to the Citadel, and also want Immortan dead. If any of them return, they will be raped and killed for betraying him. A chase ensues, and once he gets free from Nux, Max joins Furiosa and the five wives in their daring race across the wastelands to get away from Immortan.
Again, the plot does take a backseat to the chaotic action and almost lunacy that is this film, but there is so much to take in here, it doesn't quite matter. Miller's world is extremely detailed and vast. There's also definite undercurrent of feminism running throughout the film, such as the emphasis on the importance of "mother's milk," the search for independence of the five wives, and the "many mothers" of Furiosa's place of birth. But also, the very fact that, although this is nominally a Mad Max film, it is Charlize Theron as the wholly independent, badass Furiosa that steals the whole film from the somewhat reserved Tom Hardy.
These things, and the insanity of the production designs, things out of place like a rock guitarist leading the charge of the War Boys or aerial acrobatics like a post-apocalyptic Cirque du Soleil during the chase sequences that just get your blood pumping make this a spectacle like no other.

Video Quality
2D HD: [Rating:5/5]
3D Effect: [Rating:3/5]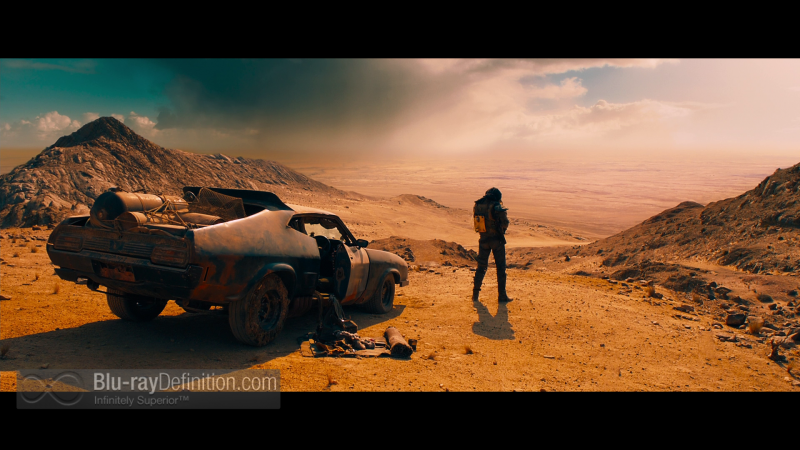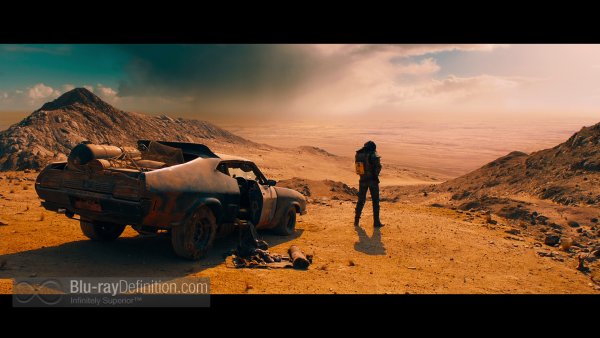 Wow! Mad Max: Fury Road is what high definition is supposed to look like. Shot on the Arri Alexa M and Arri Alexa Plus with Panavision Primo lenses, and also utilizing the Blackmagic Cinema Camera, Canon EOS 5D Mark II, and Olympus P5 cameras for certain shots, this all digital production arrives on Blu-ray (and Blu-ray 3D) in an AVC/MPEG-4 1080p transfer (MVC for 3D) that looks absolutely stunning. The highly stylized production has a surprisingly wide color palette given it takes place in a desert wasteland, and those colors – cerulean skies, golden sands, and carmine horizons – pop with beautiful saturation from the screen. The picture is clear and crisp, detailed, and there is great depth of field, even in the 2D version. The 3D is a a conversion, sadly. This movie would have been spectacular in a native 3D production, but, that said, the 3D conversion is one of the better ones, but still does not reach the same level of naturalness and pop-out of the best of the native 3D films like Avatar, Gravity, or the Resident Evil franchise, as an example. It adds some depth and a slight bit of pop-out, but nothing that really leaves the screen in a natural way.

Audio Quality
[Rating:5/5]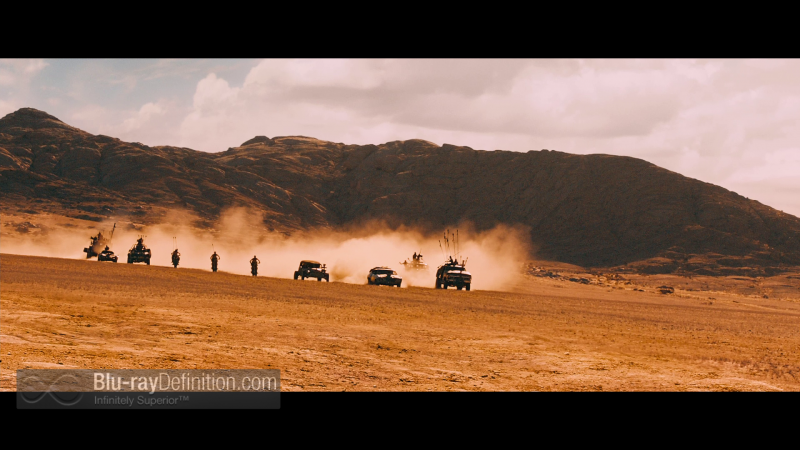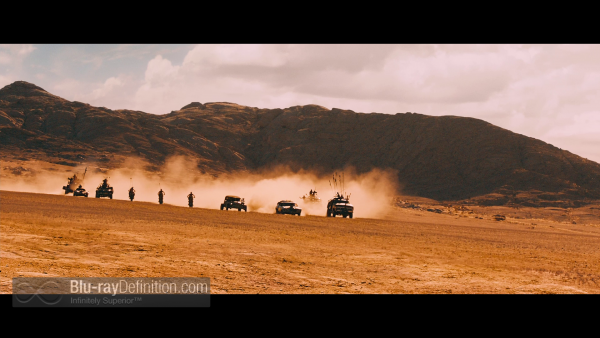 Mad Max: Fury Road comes with a Dolby Atmos/Dolby TrueHD 7.1 soundtrack (for those who are still Atmos unequipped). Since I am still waiting for native DTS:X capability to take the plunge, my review is based on the TrueHD 7.1 soundtrack, which is stellar in its own right. Played back on my 9.1 setup, this mix surrounds you with the amusement park chaos that is Fury Road and does not let up. Still, it is balanced enough to not become too fatiguing and the high end is scaled back enough to not cause ear bleeds. The dialogue remains intelligible and doesn't drop below the sound effects, the score often swells gorgeously through the soundscape, or the electric, heavy metal guitars shred in the channels, pinging back and forth, even in the surrounds. Even the back channels get some discrete action here and, trust me, the LFE gets a solid workout as well.

Supplemental Materials
[Rating:3.5/5]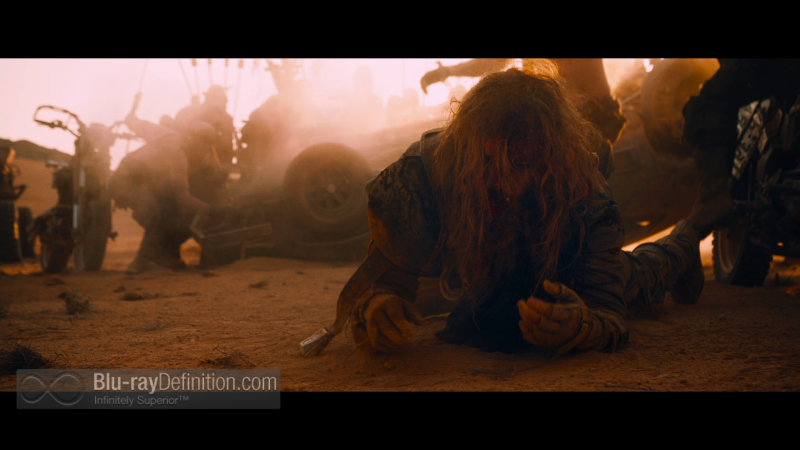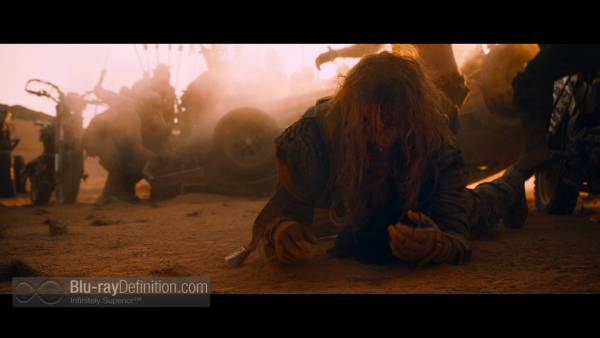 We get several EPK-type featurettes that cover the making of the film in various aspects that include interviews with the cast and crew. They are all quite interesting, actually, better than expected. There are also a couple of deleted scenes that don't bring much to the table.
Blu-ray and Blu-ray 3D included
DVD of the film included
Digital HD UltraViolet included
Maximum Fury: Filming Fury Road (1080p/24; 00:28:38)
Mad Max: Fury on Four Wheels (1080p/24; 00:22:37)
The Road Warriors: Max and Furiosa (1080p/24; 00:11:18)
The Tools of the Wasteland (1080p/24; 00:14:26)
The Five Wives: So Shiny, So Chrome (1080p/24; 00:11:11)
Fury Road: Crash & Smash (00:04:02)
Deleted Scenes:

I Am a Milker (2.35:1; 1080p/24; 00:00:32)
Turn Every Grain of Sand! (2.35:1; 1080p/24; 00:01:49)
Let's Do It (2.35:1; 1080p/24; 00:00:59)

The Definitive Word
Overall:
[Rating:4.5/5]
Mad Max: Fury Road is a fantastic entry in this classic franchise. This is one reboot that was worth waiting for and that hasn't disappointed one bit. Making things even better, the Blu-ray releases, in 2D and 3D, is every bit as spectacular as one would hope for with this sort of film.

Additional Screen Captures