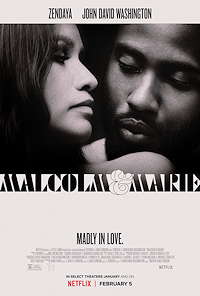 As this two-character film, shot in black-and-white, begins, writer-director Malcolm Elliott (John David Washington,Tenet) and his girlfriend Marie Jones (Zendaya, Spider-Man: Homecoming) are returning to their temporary digs, the spacious Caterpillar House, courtesy of his film's production company. Malcolm's new film has just premiered, and he is riding high because he believes that it will get rave reviews.  Marie seems unhappy and Malcolm presses her to tell him the reason why. It seems that during his speech before his film screened, Malcolm failed to thank her for her help even though the film's story was inspired by Marie's recovery from drug addiction. But, as will be revealed later, she was really unhappy because he did not cast her in the lead role. What follows is ninety minutes of continued verbal sparring between the two characters.
Just when Malcolm thinks that he has smoothed over all the rough spots, Marie goes out for a walk. When she returns, their argument resumes, as Malcolm rehashes Marie's so-called life and how he continued to help her become sober. Marie responds that Malcolm's main interest was to study her character and, otherwise, he could not have made a film about shame and guilt appear so real. While Marie is soaking in the tub, Malcolm continues to give her his brief run down of other women who have been in his life and how his experiences with them were incorporated into his film.
The Los Angeles Times review of his film that Malcolm reads on his cell phone causes him to launch into a tirade. Although the Times' critic praised this "masterwork," he feels that because she was white, she missed the very essential points that, as a Black director, he was trying to make regarding race and mistreatment of women. The dramatic crux of M&M comes very near the film's finish when Marie gives Malcolm the line-by-line "thank-you" speech that he should have given her. Will this couple survive their obvious differences? An ambiguous ending leaves this entirely up to the viewer's imagination.
Shot during the COVID-19 pandemic with protective measures in place, writer-director Sam Levinson brings in some of his HBO Euphoria series cast and crew members like Zendaya and cinematographer Marcell Rév, as the series had already suspended its filming. Two-character films present significant challenges to their actors and directors—in this case, think of Marriage Story only without the marriage or much of a story. Levinson's lethargic script, frequently punctuated with f-bombs, gives few real insights into either of his characters both of whom happen to be quite articulate and don't need so much gratuitous obscenity to get their points, such as they are, across. Zendaya's Marie is more sympathetic than Washington's Malcolm but that is by default rather than by any obvious design of the screenplay. Rév is the film's unsung hero as his cameras capture emotion-filled close-up views of the actors' faces that score Malcolm & Marie's only points of real dramatic interest. The cameras also do a nice job of watching Marie quietly strip herself of makeup, false eyelashes, and slinky dress to reveal how small and vulnerable she really is. Perhaps more visuals and less talk would have made this a better film. Malcolm & Marie got a limited theatrical release last month to make it Oscar-eligible but unless the Academy's voters saw a different cut than the one that I saw on Netflix, it is not likely that many if any nominations will be coming this film's way.
---
If you found this review useful please consider clicking the button below and donating to help keep TheaterByte funded and to allow us to continue posting great content.
---
Malcolm & Marie is streaming now on Netflix
---
Rating Certificate: R (pervasive language and sexual content)
Studios & Distributors: Little Lamb | The Reasonable Bunch | Netflix
Country: USA
Language: English
Run Time: 106 Mins.
Aspect Ratio: 1.85:1
Director: Sam Levinson
Written By: Sam Levinson
Release Date: 5 February 2021