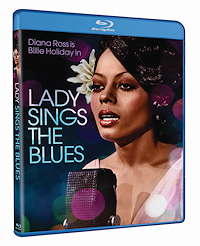 In 1972 as Diana Ross was leaving the group that made her a global superstar, The Supremes (shout out to recently deceased Mary Wilson), she was also looking for a challenge and something to help define her post-Supremes career. Along came Lady Sings the Blues (executive produced by Berry Gordy) and the rest, as they say, is history. No one was really convinced that Ross had the chops to play the legendary and tragic Billie Holiday, but her performance in the film, if nothing else, proved she could hold her own with dramatic material.
The film tells the story of Holiday's beginnings as a young girl working as a cleaning girl in a bordello and raped by a drunken patron. Later she is must move to Harlem where she works in another bordello, first as a cleaning girl and later as she gets a bit older as a prostitute until she decides to try her luck auditioning to be a dancer for a local, seedy nightclub. Her audition goes badly, but the nightclub's "piano man" (Richard Pryor) convinces her to try out as a singer. She nails the audition and gets a job singing there nightly, and her career begins to take off. It's there she meets her future husband, Louis McKay (Billy Dee Williams), purportedly a man with gangster ties, and the all-white jazz band that will give her, her first break as a singer touring the country, but will also lead to her facing major stresses she can't handle without turning to drugs.
Billie Holiday died at 44-years-old officially of pulmonary edema and heart failure caused by cirrhosis of the live, but really it was from years of abusing narcotics and alcohol. Her life was not easy, facing rape, racism, sex work, abusive relationships, and constant targeting by law enforcement. All of that makes the end result of Lady Sings the Blues and its rather banal, cookie cutter story of the rise and fall of a great artist who went astray due to drug abuse all so disappointing. Billie Holiday could be replaced with any character from real life or one completely made up in this film. That's not to say that Diana Ross didn't do a great job acting. She actually nails most the most harrowing scenes of holiday strung out, but doesn't ever capture Holiday's essence, if one is familiar with Ms. Holiday through clips and other entries in the historical record.
We could also mention the musical performances and how Ms. Ross doesn't even attempt to imitate Holiday's style, but that may be asking too much of anyone. Besides, Ms. Ross is a legend in her own right, of course. She nails the performances in her own style, which in the end, is more authentic and passionate than any Lady Day imitation could ever be.
Other glaring issues with Lady Sings the Blues are issues that plague many biopics, such as chronological issues with where songs are placed or the meaning of songs. The glossing over of Louis McKay's physical abuse, only vaguely hinted at here and there, but they make McKay seem more like a white knight than the abusive presence that he was. Why? Why try so hard to tell the fairy tale version of the tragic life of Billie Holiday when there was such a colorful life of truths to be told?
All of that said, Lady Sings the Blues was still nominated for five Academy Awards® including Best Actress in a Leading Role for Ross and won the Golden Globe® for Ross ironically as the Most Promising Newcomer – Female.


Lady Sings the Blues (1972)
The Video
Lady Sings the Blues is an anamorphic 35mm film production from 1972 that arrives on Blu-ray for the first time from Paramount framed at 2.39:1 in an AVC 1080p encodement. This film has been available in HD digitally for a while and this does not seem to be a brand-new restoration. In fact, the image, while it looks organic, does show some film softness and there are quite a few frames where hints of source damage like faint dirt and scratches or faded tramlines can be seen. One of the worst visual issues is in chapter 16 starting at the 01:47:58 mark as Billy Dee Williams is visiting Diana Ross in the padded room in the women's prison as she is going through bad withdrawal symptoms. Watch as the camera lowly pans in and suddenly some very terrible shredding/jaggies appear around the edges of both of their faces, hair, and so forth. Eventually it settles back to normal. While this transfer is watchable, offers some good grain, even if it is on the coarse side, and far from the worst I have seen, it is not in the top tier of catalogue releases on Blu-ray.
The Audio
Lady Sings the Blues hits Blu-ray from Paramount with a lossless Dolby TrueHD 5.1 audio mix. The film originally ran with a monaural mix and that original mono is nowhere to be found on this release. Never worry, however, this may be nominally a "5.1" mix, but there is very little soundfield spread. It almost sounds like a mono mix, with extremely subtle stereo imaging, barely-there atmospherics in the surround channels, little extension into the low frequency range, and a narrow dynamic range. That said, the musical performances come across well enough and dialogue sounds clear.
The Supplements
There are no new bonus features, but the audio commentary with executive producer Berry Gordy, director Sidney Furie, and artist manager Shelly Burger, who literally delight in seeing the film again for the first time in years.
Commentary by executive producer Berry Gordy, director Sidney Furie, and artist manager Shelly Berger
Behind the Blues: Lady Sings the Blues (SD; 00:23:06)
Deleted Scenes (SD; 00:21:03):

Billie's Party
Billie and Louis Come Home
Billie and Harry
Louis Threatens Harry
'Just Get Some Sleep'
Billie Visits Mama
Billie Goes to Jail
The Final Assessment
Despite its flaws, this film still has plenty to keep people entertained, including Diana Ross' acting performance and musicals performances. For fans of Billie Holiday, hearing a re-interpretation of her music may prove interesting. If you have seen this film before, this first ever Blu-ray release won't knock your socks off, but it will still be a major upgrade over what you have now.
---
If you found this review useful please consider clicking the button below and donating to help keep TheaterByte funded and to allow us to continue posting great content.
---
Lady Sings the Blues is out on Blu-ray February 23, 2021 from Paramount
---
Rating Certificate: R
Studios & Distributors: Jobete Productions | Motown Productions | Paramount Pictures | Sidney J. Furie Productions | Weston Productions | Paramount Home Media Distribution
Director: Sidney J. Furie
Written By: Chris Clark | Suzanne De Passe | William Dufty (book) | Billie Holiday (book) | Terence McCloy
Run Time: 143 Mins.
Street Date: 23 February 2021
Aspect Ratio: 2.39:1
Video Format: AVC 1080p
Primary Audio: English Dolby TrueHD 5.1
Subtitles: English | English SDH | French | English Commentary | French Commentary