Unless you have been living under a rock, you must be aware that major audio brands are now delivering dozens of digital network players. The motivation is obvious: make a single box that is easy to use and can play music on computers, USB drives, iPods, subscription services, and internet radio. Given the present status quo and the foreseeable future, potential buyers should seriously consider these new kids on the block as they will be the sources that most of us use for our music.
Marantz has a long history of making outstanding analog equipment and now launches its first digital network audio player, the NA-7004. I have enjoyed listening to Marantz equipment over the years and, as a rule, found these components to be well designed, well built, and, most importantly, great sounding. Would the NA-7004 be up to Marantz's time-honored standard of excellence?

Networking my way to good music
The NA-7004 sports a simple façade with a central alphanumeric function display. Sharing the stage is a power button, USB port, input selector, playback buttons, a display adjustment, headphone jack, M-DAX button (more on that later), headphone volume control, and a command wheel. The rear panel provides analog and digital outputs, M-X port (for optional Bluetooth wireless receiver RX101), coaxial and optical digital inputs, Type B USB port, remote control in/out connectors, flasher in connection, RS-232C terminal, Ethernet port and AC inlet. The supplied remote has numerous function buttons in addition to those on the main chassis. These include specific source selectors, playback buttons, control buttons for Marantz amplifiers, and an alphanumeric keyboard. Access for 50 "Favorites" is granted by a dedicated button that recalls stored radio stations or music files. Kudos also go to Marantz for providing a very well illustrated and clearly worded user manual.
Like most of the music servers that I have reviewed recently, the display panel is pretty much unreadable from my comfy seat 9 feet away. Although the owner's manual does not make this apparent, there is an i-device app, aptly called the "wizz" which duplicates critical functions of the remote for selecting source and source elements. The "search by character" routine did not seem to work on my version but, in the spirit of déjà vu, this app looked a lot like the one used by Denon for their DNP-720 which had the same glitch.
If it is on your network, the NA-7004 will find it, be it computer or dedicated server. Marantz has contracted with the popular subscription services, Pandora, Rhapsody, and Napster* and the internet radio colossus, vTuner.   This latter service, one of the deepest for music genres and sheer number of stations, has become the internet radio darling of many other digital manufacturers.
An iPod (only newer versions of the Touch, Classic, and Nano are supported) and an iPhone can be directly connected the NA-7004, propped up on a supplied small stand.  A standard USB thumb drive also works with this port. The Type B USB port on the rear panel allows direct connection to a PC or Mac. Bluetooth sources may be played through an optional receiver (RX101).
iTunes fans may rejoice since Marantz has joined the AirPlay universe. A firmware upgrade allows these libraries to be streamed to the NA-7004. I did not have this function on my review unit, since it requires purchase and registration.* However, the Marantz website gives detailed instructions for obtaining and installing the AirPlay app. Last but not least, the notorious "Party" mode allows content to be shared with other AirPlay capable devices on the network.
*Editor's Note: Marantz now offers the AirPlay firmware upgrade free via their website. The Napster service no longer exists and all users have been either switched to Rhapsody or been allowed to cancel their subscriptions.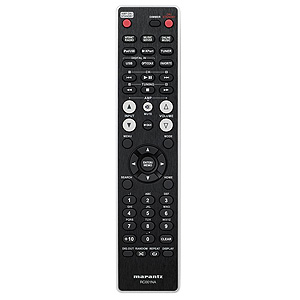 The Player comes to Life
Network set up for this device shattered my all-time speed record for getting off the ground. The NA-7004 recognized my home network almost immediately, good news for Ethernet neophytes. Establishing the music services was the proverbial piece of cake. I simply logged in to Rhapsody and Pandora (I don't do Napster yet) using the alphanumeric keys on the remote and my libraries and playlists were instantly recognized. Getting on the network does require a hardwired connection, so your router will need to be nearby. For evaluating the NA-7004's internal DAC, which went directly from its analog outputs to a Pass INT-30A integrated amplifier, I had a Logitech Squeezebox Touch going to a PS Audio PerfectWave DAC to analog inputs on my Pass INT-30A. Speakers for the listening sessions were Totem Mani-2 Signatures. Nordost Valhalla and Tyr cables made up all of the connections.   Since the NA-7004 can play mp3, WMA, WAV, and FLAC files with resolutions up to 96 kHz/24-bit, I made sure that it got a fair chance with each of these sources.
There is also a new playback wrinkle that Marantz calls M-DAX (Marantz Dynamic Audio eXpander). This is an adjustable processing function for lower resolution material, such as mp3 or AAC files, that,  according to the product literature,  "makes up for lost audio content…from lossy compression during playback."  The holy grail for internet radio? Not quite. There are four M-DAX options (off, low, mid, high). Each progressively adds a smidge more air and brilliance to the music. However, those who listen to lower res files a good bit should not get their hopes too high.  As we used to say in the Army, you can't polish poop, or words to that effect.
Listening to higher resolution files on my thumb drives really got the party going.  The NA-7004 did a nice job of rendering the 96/24 files that I fed it.  I also used these sessions to compare the onboard Cirrus Logic CS 4398 DAC to my PS Audio PW reference DAC. The Cirrus Logic DAC has a 120 db dynamic range and can handle sampling rates from  32 kHz to 200 kHz and word lengths up to 24 bits.  I fed it a steady stream of challenging material such as Malcolm Arnold's Overtures (Reference Recordings), Ana Caram's Blue Bossa (Chesky), Steely Dan's Gaucho (Chesky), and Matthew Best playing Bach's Goldberg Variations (Harmonia Mundi). These and the other 96/24 sources came through with good dynamics, air, and spatial definition, using the NA-7004's own DAC.  The PerfectWave DAC, recently updated to Version II, gave a better account with respect to the sonic qualities evaluated but, please note, we're talking about a product that is four times more expensive.
I am already quite familiar with AirPlay, having evaluated it with other AP-enabled products. This has become a de rigueur feature in music streaming, given the ubiquity of iTunes.  As noted earlier, my unit was not equipped with this app so I cannot comment on its performance. However, having used it with other digital players and seeing how easy it would be to set up on the NA-7004, I am confident that, once installed, it would satisfy the needs of those with big iTunes libraries.
The Good
Simple to set up and operate
Plays high-resolution music files
Excellent DAC
Access to internet radio and subscription services
Stable network connectivity
Easy to use i-device app
AirPlay feature for iTunes and i-device libraries
The Bad
Screen has limited legibility at distances beyond 8 to 9 feet
Searching subscription services often requires laborious remote key stroke entry
No Slacker, Last.fm, Spotify, SiriusXM
Wizz app has limited functionality
The Scorecard:

Design/Ergonomics:
[Rating:4/5]
Performance:
[Rating:4.5/5]
Value:
[Rating:3.5/5]
Overall:
[Rating:4/5]
The Definitive Word
Having recently reviewed the Denon DNP-720, another network digital player, retailing for $499  and sharing many features with the NA-7004, I posed a simple question: Is the NA-7004 worth the additional $300? In the world of high performance audio, simple questions are never really quite that simple.  Besides the M-DAX function (which added slight but noticeable improvements to the playback of lower bit-rate files) it has a truly first-rate internal DAC making it more like the Logitech Transporter (which I also own). This DAC enables the NA-7004 to function as a be-all digital center of a system that could include a CD transport if the owner were seized by the desire to play the little silver discs. Although  my PS Audio PerfectWave DAC bested the Marantz DAC, the sonic differences might not be so obvious when listening through more moderately priced amplifiers and loudspeakers.   Continuing the comparisons, I thought that the Marantz player sounded as good as the Transporter through its RCA analog outputs (since the NA-7004 does not have a balanced option) and it offers a USB input (which the Transporter does not). Flipping the page, the NA-7004 does not have a radio tuner like the Denon DNP 720 (no great loss in my opinion), but more important for some potential owners, it must have access to a wired network connection (which the Denon does not need).
A decision to go with the NA-7004 will largely depend on what's already in your system. Lacking a master volume control, unless mated with a Marantz amplifier, it would not readily drive a system without a receiver, preamplifier or integrated amplifier.  If you already have a decent outboard DAC, the advantage of having another good one, like that onboard the NA-7004, may not be so important. If you are a novice digitophile and want a system centered around one box with the option of plugging in other digital devices, the plot definitely thickens. Further, if you have Bluetooth devices with music files that you must hear, and I state this with some reservation since current BT music sources are sonically less than stellar, this player will also do that.  Finally, if you have extensive iTunes libraries, the AirPlay function deserves your attention.
So there you have it. Marantz enters a field of digital network players that is becoming more crowded everyday. The NA-7004 delivers nearly all of the goods with some reservations as previously noted.  Since I have seen this component advertised online for nearly $200.00 less than the retail tab, some of the cost versus performance issues are narrowed. No doubt, you get a top-notch DAC, better than those offered by many of the current modestly priced players. You also get good build quality and, thank God, a remote that does not resemble a small button-ridden rat maze. Finally, you have the assurance that the Marantz name gives in terms of product support, upgrades and troubleshooting.  Happy comparison shopping!
–
Specifications :
Compatible file types: MP3, WMA, AAC, WAV, FLAC
Control: Web/iPhone App/iTouch APP
DAC operation mode: USB B type, Coax, Optical
DLNA certified: v1.5
Internet radio
Streaming Audio from PC
USB Audio: works for iPod and iPhone
Music Services: vTuner, Napster, Rhapsody, Pandora
Analog Out: RCA (1 pair)
Digital In:  Coaxial, Optical
Digital Out: Coaxial, Optical
Ethernet Port
Marantz remote bus
M-XPort for RX101
RS232
Sample Rate: S/PDIF In: 192 kHz/24-bit
Sample Rate USB IN: 96 kHz/24-bit
D/A Conversion: Multi-bit Delta-Sigma
DAC IC: Cirrhus CS 4398
Analog outputs:
Channels: 2
Frequency range: 2 Hz- 50kHz (-3dB)
S/N: 110 dB
Dynamic Range: 110 dB
Harmonic Distortion: 0.001% (1 kHz0
Output Level: Unbalanced: 2.35 V RMS (Stereo)
Headphone Output: 18 mW/32 Ohms (variable maximum)
Dimensions (W x D x H) (inches): 17.3 x 13.9 x 4.2
Power Consumption (Watts): 30  (Standby: 0.4)
Weight (lbs) : 14.3
More Information:
Marantz NA-7004 network audio player  (SRP $799)
–
[amazon-product]B003R7KMU6[/amazon-product]
Purchase the Marantz NA7004 at One Call
–
Related Articles: