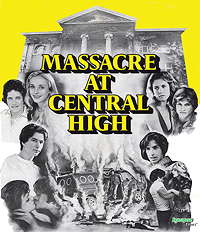 Dutch cult director Rene Daalder's second feature was this 1976 revenge slasher set in an American high school. Derrel Maury stars as David, a new transfer student at Central High School who is stunned and uncomfortable at the amount authoritarian control a small group of students has over the rest of the student body. David is initially protected from the group's harshest behavior since his friend Mark (Andrew Stevens) is in the clique, but the head of the band of controlling students has his doubts about David. Those doubts only grow more when David begins befriending the school's outcasts and misfits, trying to defend them from the ruling class. The worst of it comes when David intervenes in an attempted gang rape by these thugs against two of Mark's girlfriend Theresa's (Kimberly Beck) friends. When they retaliate against David for the beatdown he gives them, crippling his leg by dropping a car on him as he is repairing it, David rises to get his revenge. First, he rallies the underclass students to revolt against the students oppressing them and then all three of those students turn up dead under unusual circumstances.
There are obvious nods to socio-political statements in Massacre at Central High, the lower class taking on the ruling class, and so forth. This is something that would have gone over well in 1976 during the bicentennial and coming off the Watergate scandal. Even as the film tends to lose its focus a bit by wedging in some gratuitous sex and nudity in the form of scenes with the gorgeous Kimberly Beck, the film is nonetheless put together more intelligently than most films in the so-called exploitation genre.
Massacre at Central High (1976)
The Video
Massacre at Central High comes as a high definition 1080p remaster scanned, transferred and supervised by director Renee Daalder. It arrives in a 1.78:1 AVC 1080p encodement on Blu-ray from Synapse Films and it looks ten times better than one would expect a low budget horror film from this era to look. Colors look natural and in line with what one would expect to see in a film of this sort from 1976. Flesh tones have a natural rosy hue and primary colors have good vibrancy. There's a natural layer of grain and generally crisp detail throughout the presentation.
The Audio
The original monaural audio mix for Massacre at Central High is provided in a DTS-HD Master Audio 2.0 encodement. It is more than acceptable for a low-budget indie horror flick from the mid 1970s, providing clean dialogue and a reasonable amount of heft in the sound effects.
The Supplements
Synapse includes a strong set of bonus features with this new release of Massacre at Central High on Blu-ray, including two separate audio interviews with cast and crew that play alongside the feature and a brand new "making of" documentary.
"The Projection Booth" Podcast Interviews with Cast Members (Audio)
Interview with Director Renee Daalder, Conducted by Michael Gingold (Audio)
Hell in the Hallways – All-New "Making of" Documentary (1080p; 00:42:27)
Original Theatrical Trailer (1080p)
TV Spot (1080p)
Radio Spot (1080p)
Still Gallery (1080p; 00:03:14)
The Final Assessment
An often-overlooked slasher from the mid-1970s that is on the surface a simple exploitation film but has a deeper socio-political underpinning. Synapse Films does this cult film great justice with this new remaster and transfer to Blu-ray, having it look better than ever for genre fans and newcomers, ripe for rediscovery.
Massacre at Central High is out on Blu-ray September 13, 2022 from Synapse Films

---
Rating Certificate: R
Studios & Distributors: Evan | Synapse Films
Director: Rene Daalder
Written By: Rene Daalder
Run Time: 88 Mins.
Street Date: 13 September 2022
Aspect Ratio: 1.78:1
Video Format: AVC 1080p
Primary Audio: English DTS-HD MA 2.0 Mono
Subtitles: English SDH