Hot on the heels of Paramount's announcement that they will finally be bringing Michael Bay's The Island onto to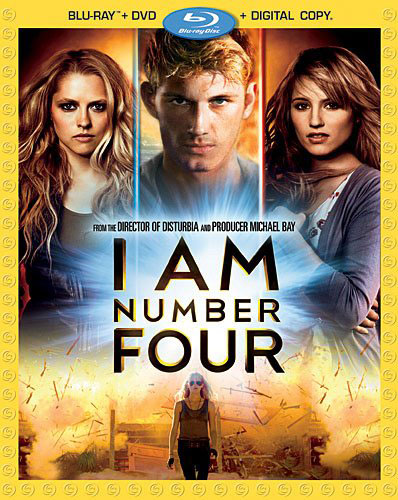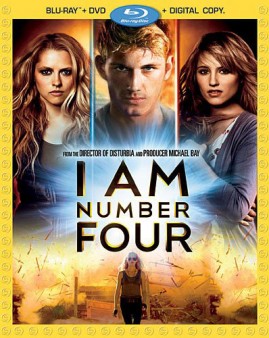 Blu-ray in the U.S. we get this confirmation from DreamWorks of the filmmaker's latest sci-fi spectacle I Am Number Four coming home to Blu-ray Combo Pack, DVD, Digital Download, and On Demand on May 24th, 2011. The movie will be released to disc in a 3-disc Combo Pack Super Set (Blu-ray +DVD + Digital Copy) for a suggested retail price of $44.99 US/$51.99 Canada, 1-disc Blu-ray for $39.99 US/$44.99 Canada, and 1-disc DVD for $29.99 US/$35.99 Canada.
The Blu-ray will feature a 1.85:1 high definition transfer with English DTS-HD Master Audio 5.1 lossless, French and Spanish Dolby Digital 5.1 soundtracks and English, French, and Spanish subtitles.
See press release below for further details.
Press release
"Astounding action and effects… jaw-dropping action scenes."
– Jarett Wieselman, NY Post
FROM THE DIRECTOR OF DISTURBIA AND
PRODUCER MICHAEL BAY
I Am Number Four
On Blu-ray™ Combo Pack, DVD, Movie Download
And On-Demand May 24th
Disc Extras Include Never-Before-Seen Bonus Features, Six Jaw-Dropping Deleted Scenes, Special Featurette on "Becoming Number 6", Bloopers And More!
Burbank, Calif., April 4, 2011 – Just in time for summer break comes the ultimate action-packed, thriller I AM NUMBER FOUR, on Blu-ray, DVD, Movie Download and On-Demand May 24th. Starring sensation Dianna Agron (TV's "Glee") and heartthrobs Alex Pettyfer (Beastly) and Timothy Olyphant (TV's "Justified"), I AM NUMBER FOUR will be available to own as either a 3-Disc Blu-ray Combo Pack (Blu-ray + DVD + Digital Copy), a 1-Disc Blu-ray, and/or 1-Disc DVD that comes packaged complete with never-before-seen bonus features, including deleted scenes, a special featurette, bloopers and more.
From mega-producer Michael Bay (Transformers franchise) and the director of Disturbia, D.J. Caruso, I AM NUMBER FOUR takes viewers on a suspense-filled ride that keeps them on the edge of their seat as they follow the extraordinary story of a young man who is hiding his true identity to evade a deadly enemy that seeks to destroy him.
Bonus Features:
DVD:
"Becoming Number 6" Featurette
Bloopers
Blu-ray:
Everything on the DVD plus…
6 Deleted Scenes with Introductions by Director D.J. Caruso

"Strangers in Paradise" (Extended)
"Sam's Mom"
"Worth Mentioning"
"Power Prank"
"Trying to Connect"
"Extended Warsaw Basement"
Movie Download:
Everything on the DVD plus…
1 Deleted Scene: "Power Prank"
–
[amazon-product]B004SBQAL0[/amazon-product]
[amazon-product]B004SBQALA[/amazon-product]