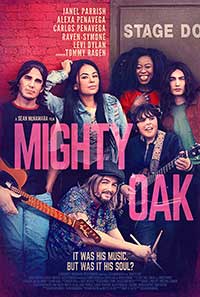 Mighty Oak is a music dramedy inspired by the music of its young, real-life musical prodigy Tommy Ragen. Directed by Sean McNamara who is best known as a TV movie director and for his 2011 theatrical biopic Soul Surfer, the film has the sort of feel-good earnestness of a Lifetime movie.
The film tells the story of Gina (Janel Parrish, Pretty Little Liars, To All The Boys I've Loved Before), the band manager for popular Southern California grunge band Army of Love, whose life goes into a tailspin when her brother Vaughn (Levi Dylan), frontman and main songwriter for the band dies in a freak automobile accident while they are all traveling to a big gig. Jumping forward ten years, young musical prodigy Oak (Ragen) comes into Gina's life and his eerie similarity to Vaughn, plus his skills on the guitar have Gina convinced that he may be the reincarnation of her beloved brother whose death she has never come to terms with. Gina brings the band back together. Her ex-boyfriend and Army of Love's rhythm guitarist and secondary songwriter Pedro (Carlos PenaVega) is concerned that Gina may be getting too attached to the 10-year-old and reverting to some of the old habits that caused her to develop a gambling addiction and mental illness after her brother's death. Still, Pedro takes Oak under his wing and tutors him to help him develop his skills even further. Army of Love with their new frontman, the young 10-year-old, become a success, but cracks begin to appear as Oak's domestic situation with his unreliable mother and Gina's obsession with him being a reincarnated Vaughn threaten to bring everything to an end.
[envira-album id="123810″]
Mighty Oak is a film filled with a lot of good points and encouraging moral values. While the idea of reincarnation may be a stretch for some to accept, the underlying values of friendship, camaraderie, "it takes a village" ideology, and the tried and true "practice makes perfect" ethos makes this film one that actually feels uplifting to watch. Despite the razor-thin character development and often shoehorned backstories that feel more like afterthoughts, Sean McNamara's film — from a Matt Allen screenplay – keeps one's interest with its breezy tempo and most of all its grunge-inspired AAA soundtrack. Keeping the focus on the young Tommy Ragen as Oak, for the most part, is a wise idea as the young wunderkind is impressive even with his as yet to change vocal cords, he has an obvious mastery of his instrument and does a good job with the acting for this relatively light material.
Mighty Oak will not be winning any awards for high drama any time soon, but as an introduction for those older viewers unfamiliar with its young prodigy and for the young viewers already familiar with him from social media, it is an interesting, heartwarming, and engaging effort that a family can watch together.
MIGHTY OAK AVAILABLE ON DIGITAL PLATFORMS July 7, 2020
(Apple TV, Vudu, Amazon Prime Video, Google Play, Microsoft Movies & TV, Sony PlayStation Video, FandangoNOW, and more.)
---
The Film: 3.0/5
Studios & Distributors: Brookwell-McNamara Entertainment | Paramount Pictures
Rating Certificate: PG-13 (for thematic content involving substance abuse, language, some accident images and brief suggestive comments)
Country: USA
Language: English
Run Time: 102 Mins.
Aspect Ratio: 2.35:1
Director: Sean McNamara
Writer: Matt R. Allen
Release Date: 5 June 2020 (USA)