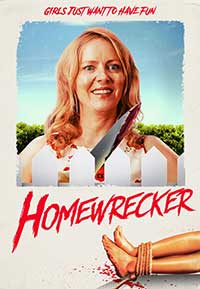 Director Zach Gayne's helms this weird dark comedy, Homewrecker, that Alex Essoe (Doctor Sleep) and Precious Chong (L.A Confidential), who also co-wrote the screenplay. With a sort of hyper-realistic atmosphere and darkly cynical sitcom mood, the film takes a look at modern isolationism and loneliness – but don't get the wrong impression, this is no downer or contemplative film. It's pretty much unsettling hilarity from the jump.
Michelle (Essoe) is an interior designer and newlywed to Robert and the couple have been unsuccessfully trying to get pregnant. Linda (Chong), who is slightly older, lives alone and is single. She spends her time painting and going to exercise classes, a couple of which happen to be with Michelle. Linda, lonely and looking for a friend, meets Michelle in a local café, and quickly strikes up a conversation despite Michelle's obvious unease and reservations. It's obvious from the beginning that something is off about Linda, she seems a little obsessed with Michelle, but despite this, she manages to coerce Michelle into visiting her home for a consultation on interior design. When the two women arrive there, it begins to become clear that Linda has a lot more in mind than simple friendship and redesign.
[envira-album id="123834″]
Homewrecker is only hindered by its limited budget, but that doesn't stop it from being a completely engaging and at times shocking spiral into the cynical, hilarious, and even unhinged. The two leads, Essoe and Chong, carry this film delightfully, with Chong's unhinged middle-aged Linda flitting through emotions and characters like swiping through screens on a smartphone while Essoe's Michelle is a solid foil – timid, unsure, annoyed, yet intelligent, strong and eventually empowered. Zach Gayne's direction keeps us interested with seemingly minimal effort.
HOMEWRECKER IN SELECT DRIVE-IN THEATERS JULY 3, DVD/DIGITAL/ON DEMAND JULY 7
---
The Film: 3.0/5
Studios & Distributors: An Underground Jamboree | Industry Standard Films | Dark Star Pictures | Uncork'd Entertainment
Country: Canada
Language: English
Run Time: 76 Mins.
Aspect Ratio: 2.35:1
Director: Zach Gayne
Writers: Precious Chong | Alex Essoe
Release Date: 3 July 2020 (USA)