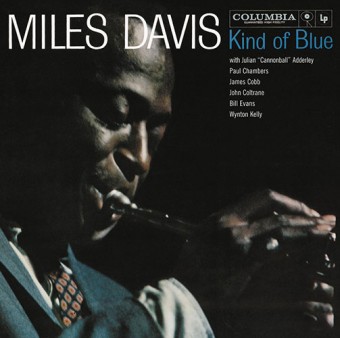 – –

The Album
[Rating:5/5]
March 2, 1959 and April 22, 1959 turn out to be two of the most famous recording dates in the history of jazz during which Miles Davis and select group of sidemen laid down the tracks for Kind of Blue, one of the most influential jazz albums of all time. The creative process is summed up by piano great Bill Evans in his liner notes that accompany this high resolution download. "There is a Japanese visual art in which the artist is forced to be spontaneous….The resulting pictures lack the complex composition and textures of ordinary painting, but it is said that those who see well find something captured that escapes explanation. This conviction that direct deed is the most meaningful reflection, I believe, has prompted the evolution of the extremely severe and unique disciplines of the jazz or improvising musician….Group improvisation is a further challenge… This most difficult problem, I think, is beautifully met and solved on this recording"
With that in mind, trumpeter sans pareil, Davis arrived at the studio with ideas for five pieces that were only hours old and got his colleagues, Evans,  Julius "Cannonball" Adderly (alto sax), John Coltrane (tenor sax), Paul Chambers (bass), James Cobb (drums), and pianist Wyn Kelly (only on Freddy Freeloader) to buy into his concepts, and did they ever!  While there may never be a perfect jazz recording, Kind of Blue comes closer than any that I (and countless others) have ever heard.  The five tracks listed below have each become so well known that they need little if any commentary:
Track Listing
So What: 9:08
Freddy Freeloader: 9:48
Blue In Green: 5:36
All Blues: 11:33
Flamenco Sketches: 9:27
This playlist is deceptively brief as each piece creates a mini-universe of invention, call and response, and individual virtuosity. Kind of Blue comes in both original mono and stereo versions and as a 96kHz/24bit or 192kHz/24bit (the versions in this review) download on www.HDtracks.com.
Audio Quality
[Rating:4/5]
Recording engineer Fred Plaut, as was the custom in those days, used two analog tape recorders and, those like myself who bought the original LP, got the three tracks on Side 1 pitched higher than the two tracks on Side 2.  Fortunately, the remastering crew rectified this situation and these  now give us the sound as the studio musicians heard it more than half a century ago.
The mono version, while possessing an obviously more narrow soundstage has incredible depth, so much so, that the solo instruments are presented in a nearly 3-D hologram. Details of the horn, string bass, piano soundboard, and the breathy saxophones, make the players come to life in your room.
The stereo version spreads things out much more and brings more of the instruments to the foreground. The bass is more authoritative with a more evident walking bass line. However, the tradeoff is that the spread (it was recorded on a three track tape as was true of many early recordings of the stereo era) may be a little too much for some listeners.
Supplemental Materials
[Rating:2.5/5]
Original cover art, recording details,track and personnel listings and the great liner notes by Bill Evans are all here.
The Definitive Word
Overall:
[Rating:5/5]
All music lovers whether or not they are jazz aficionados must have at least two jazz albums in their libraries, Dave Brubeck's  Time Out, and Miles Davis's Kind of Blue.  Great music performed by the best musicians is timeless and crosses all boundaries. Whether you go for the mono or stereo versions is more a matter of taste than anything else since both have excellent sonics. In either case you must own at least one.  I have owned just about every incarnation of this album, vinyl, CD, originals and reissues. I have not heard this album sound any better than what we now get in these digital downloads.  Which did I prefer? I thought that the mono version gave me more of the sound picture that I might have gotten in an intimate jazz club where the musicians are placed much closer together than they might be in the studio. Other listeners might prefer the old-fashioned stereo image with greater instrumental presence. Either way, this one gets my highest possible recommendation.