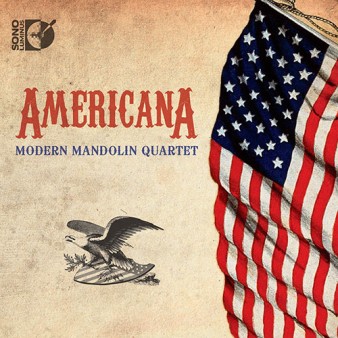 The Performance
[Rating:4/5]
The Modern Mandolin Quartet was founded more than three decades ago. Two of its original members, Dana Rath and Paul Binkley (mandolins and mandola), are joined by newcomers, Matt Flinner (mandolin) and Adam Roszkiewicz (mandocello) in a varied program of American music, aptly named Americana.  The playlist includes the following:
Hoe-Down (Aaron Copland)
String Quartet, No. 12  (Anton Dvorak)
Cool [from "West Side Story"](Leonard Bernstein)
Shenandoah (traditional)
Three Piano Preludes (George Gershwin)
Bill Monroe Medley: Roanoke, Louisiana Moonlight Waltz, Wheel Hoss, Cheyenne,Rawhide
String Quartet No. 3  (Philip Glass)
Irish Roots Medley
The mandolins give each piece a very different character with a tonal range somewhat analogous to that of a traditional string quartet but with the mandolin's distinctive colors. This is virtuoso playing of instruments that are usually associated with the bluegrass repertory, making good if not perfect arguments for the adaptations in this recording.
Audio Quality
[Rating:4.5/5]
The clarity of each instrument is exemplary in the dts HD MA 24/192kHz versions and the soundstage yields a little (but not that much) in the two-channel version.  [The 7.1 option was not evaluated since the reviewer's system is limited to 5.1 sound]
Supplemental Materials
[Rating:4/5]
A standard resolution audio CD is included and, in spite of the much lower sampling frequency and bit-rate, this disc offers very decent sound. The program booklet is very thorough, covering each selection and the performers.
The Definitive Word
Overall
[Rating:4/5]
Can four mandolins be too much of a good thing? I would certainly recommend taking some breaks with this one, as I did, to avoid sensory overload from all of those mandolins. I would also recommend starting with the Bill Monroe medley (more traditional bluegrass mandolin music), segueing to the Copland Hoe-Down and then digging into the remaining pieces. The choices made for this recital exploit the distinctive mandolin sound and nearly all work quite well (well, perhaps the Gershwin preludes really do sound better on the piano). This is another Sono Luminus treat for the ears.
[amazon-product]B008DWG17I[/amazon-product]
Overall
[Rating:4/5]
The Performance
[Rating:4/5]
Audio Quality
[Rating:4.5/5]
Supplemental Materials
[Rating:4/5]