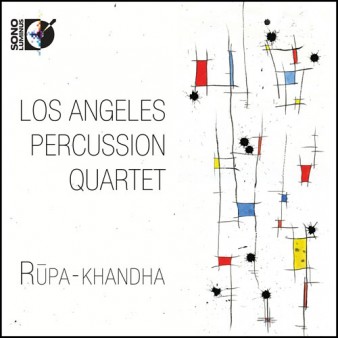 The Performance
[Rating:4/5]
The Los Angeles Percussion Quartet (LAPQ) is a relatively new ensemble consisting of Matthew Cook, Justin DeHart, Eric Guinivan and Nick Terry who have already made a big splash on the contemporary music scene. The present release, Rupa-Khandha, on the Sono Luminus label received a Grammy nomination for best chamber ensemble last year.
The recital opens with five Ritual Dances composed by band member Guinivan and featuring some exotic Eastern rhythms and tonalities. Sean Heim's Rupa-Khandha or form/materiality is titled after the first of the Five Aggregates in Buddhism that categorize all natural phenomena. Its eight continuous sections include all of the elements of life, shrouded in a pervasive aura of mystery. Repoussé, written by Joseph Pereira, refers to the process of hammering metal to create relief images, and the four movements are very metal-driven. The program concludes with Occasus, written for the LAPQ by Jeffrey Holmes, a piece that has a contemplative, almost elegiac quality.
Audio Quality
[Rating:4.5/5]
A cautionary note to the listener is in order. These selections feature substantial dynamic extremes so do not start out with your processor level near the maximum. The Blu-ray DTS-HD Master Audio 5.1 version (with 24/192kHz resolution) sounded just fabulous with the 2.0 LPCM soundtrack not far behind. I was not able to check out the 7.1 channel version (notably with a lower sampling frequency of 96kHz).  The recording team captured the overtones and persistence of these beaten and hammered objects as they would have sounded in live performance.
Supplemental Materials
[Rating:4/5]
A bonus CD with this program is included. While good sounding, it is no match for the Blu-ray disc. Seeing as this group and its repertoire will be new to the majority of listeners, the SL team has outdone itself with a highly detailed program booklet.
The Definitive Word
Overall:
[Rating:4/5]
As a former Latin percussionist and rhythm junkie, I have been a sucker for modern percussion music since I got acquainted with Mickey Hart's drum projects (including DAFOS and Planet Drum) back in the 1970s. There is no question about the expertise of the performers here or the inventiveness of the composers of these selections. I had no trouble taking the program in at a single sitting but I would recommend that most newcomers to this genre sample it in smaller bites. This Sono Luminus disc maintains the high standards that this label has set for its productions and I am looking forward to more of their releases in the future.
[amazon-product]B006ZV6VVA[/amazon-product]
Overall
[Rating:4.5/5]
The Performance
[Rating:4.5/5]
Audio Quality
[Rating:4.5/5]
Supplemental Materials
[Rating:4/5]