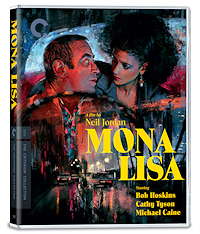 In the 1986 neo-noir crime drama Mona Lisa, Bob Hoskins plays George, a mob land underling recently released from prison after doing a stint for taking the fall for his boss (Michael Caine). George likes to play the tough guy but is generally goodhearted as we learn early on in his relationship with his estranged teenage daughter. Out of prison and out of work, George agrees to take a job as chauffeur for high priced call girl Simone (Cathy Tyson). At first the two don't like each other and barely get along, George almost leaves Simone stranded on the street in the middle of traffic after one of their arguments. Soon, however, George begins to take a liking to Simone and starts to feel protective over her. She engages him to help her find her only true friend, a prostitute named Cathy (Kate Hardie). The search will take George on a journey through the seediest part of London's underworld and sex business and in the end a revelation about the true nature of the relationship between Cathy and Simone will cause George to finally lose the nice patina and refuse to be used anymore.
Director Neill Jordan makes this story work marvelously, taking the underworld and fish-out-of-water tropes and elevating them to a finer art. George and Simone are characters we have seen before – the prostitute and the thug who falls in love with her – but in Mona Lisa, the handling of the story avoids the cliches and opts for realism. The clumsy truths of life. The real-world shock of George as he drives through the seedy "meat market" of Kings Cross, the rapid-fire dialogue as Simone and George butt heads in their arguments and bare their truths, or at least the truths they are willing to reveal.
Jordan uses the camera and lighting to great effect as well, sketching a wonderful mid-eighties neo-noir, with angles that hint at the devilish Michael Caine crime boos or the right amount of murkiness in peep shows. There's a scene in an elevator as George and Simone are being attacked that could be out of a Hitchcock film. Hoskins would go on to win Best Actor at the 1986 Cannes Film Festival for his brilliant and raw performance.

The Video
This transfer of Mona Lisa is taken from the 2K restoration done by Arrow Films from the original 35mm camera negatives.  While it does have some areas where the grain is heightened and can look just a little bit noisy, this is ultimately a very pleasing and natural transfer of this neo-noir film. The color balance, shadows, and flesh tones hit just right and there are no issues with edge enhancement, banding, or compression noise.
The Audio
The original monaural soundtrack was remastered from a 35mm magnetic track and is presented on Blu-ray in LPCM 1.0. It sounds full, clean, and dynamic, especially the songs, in particular the title track from Nat King Cole.
The Supplements
This Criterion Collection release is one of the lighter ones on bonus features and only has one new feature from 2021. The rest are port overs and archival bonus features.
Audio commentary by writer-director Neil Jordan and actor Bob Hoskins recorded for the Criterion Collection in 1996
Jordan, Tyson, and Gilbey, 2021 (1080p; 00:29:14) – This conversation with writer-director Neil Jordan and actor Cathy Tyson was moderated by critic Ryan Gilbey and conducted by the Criterion Collection via Zoom in spring 2021
Writer David Leland, 2015 (1080p; 00:19:01) – An interview with David Leland
Producer Stephen Woolley, 2015 (1080p; 00:13:38) – An interview with Stephen Woolley
Jordan and Hoskins at Cannes, 1986 (1080p; 00:10:47) – These interviews with writer-director Neil Jordan and actor Bob Hoskins took place at the 1986 Cannes Film Festival on the eve of the premiere of Mona Lisa.
An essay by Gilbey
The Final Assessment
A film that is a classic of neo-noir and one that any cinephile should see and own. If you don't have the Arrow release then definitely pick this Criterion Collection release up, or pick it up even if you do.
Mona Lisa is out on Blu-ray September 14, 2021 from the Criterion Collection

---
Rating Certificate: R
Studios & Distributors: HandMade Films | Palace Production | The Criterion Collection
Director: Neil Jordan
Written By: Neil Jordan (screenplay) | David Leland (screenplay)
Run Time: 104 Mins.
Street Date: 14 September 2021
Aspect Ratio: 1.85:1
Video Format: AVC 1080p
Primary Audio: English LPCM 1.0
Subtitles: English SDH