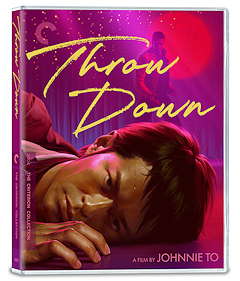 Throw Down, the 2004 drama from Johnnie To (PTU) is a personal and thrilling drama that is bursting at the seams with cinematic references and visual art. Drenched in neon, the story follows Sze-To (Louis Koo, a former judo champion who lost faith in his abilities and is now an alcoholic nightclub owner barely making ends meet. He spends his time gambling away a massive amount of money he stole from a rival and gangster and drinking. Now he must find a way to repay his debt with the help of Mona (Cherrie Ying) is an aspiring singer trying to her overly controlling father and make to Tokyo one day. Another challenge also presents itself in the form of highly skilled judo enthusiast Tony (Aaron Kwok), who has been making the rounds challenging many of the judo masters. Having heard of Sze-To's skills in the ring, Tony issues a challenge to him and encourages him to get himself back once again into shape for a match between the pair.
For those familiar with Johnnie To's works, Throw Down may seem an unusual film. There are no guns or prototypical gangsters in this film, but many of those elements remain. This film is like a love letter to judo, to masculine friendship, and to the gangster films that To is so adept at making.
The fights are bare knuckle brawls that turn into competitions of judo skills, no bullets fly. They mostly play out against a luscious backdrop of candy-colored neon lights in the streets and clubs of an almost surreal Hong Kong. Gone is the almost menacing atmosphere of a work like To's PTU and in its place is a story of three people trying to find their way and building an unlikely friendship in a story awash in comedic overtones and a rejection of nihilism. This is a story of the downtrodden who manage to find a way out of the dregs.
Does Throw Down ultimately work? Yes and no. The substitution of judo for the more ultra-violent set pieces To is known for is a little weird, but it somehow fits into this strange, off-kilter world. The relationship between Mona and Sze-To is a little ill defined – not quite a romance and not quite a friendship or hard alliance, but it forms a core of the film. Still, Throw Down is a film to luxuriate in given its beautiful, neo-noir stylings or one might even label it as neon-noir, and the characters are wonderfully portrayed. This is bold filmmaking.
The Video
Throw Down is a new 4K digital restoration by Fortune Star taken from the original 35mm camera negative. It comes to Blu-ray in an AVC 1080p encodement framed at 2.35:1. The transfer here looks breathtaking. The colors, especially the neon lights in the numerous night scenes, are bright and vivid, but they don't bloom or clip. The film grain looks natural and crisp without being noisy and there is lots of detail in the shadows. The film averages around 35Mbps on disc.
The Audio
The Cantonese DTS-HD Master Audio 5.1 is lush with atmospherics like the din of the nightclubs and Hong Kong street noise. There is clean dialogue, good thump in the fight scenes, and the score surrounds one and blends well into the mix.
The Supplements
Criterion's collection of bonus features, which includes a number of new interviews and some archival interviews mixed in, from the director and other cast members and crew plus experts is, as per usual, A+ material. The interview with film scholar Caroline Guo is a standout as is the 2004 interview with Johnnie To.
Johnnie To (1080i; 00:40:05) – Filmed in 2004, this interview features director Johnnie To discussing Throw Down.
Filling in Blanks (1080p; 00:11:09) – Conducted in 2021 by the Criterion Collection, this interview features screenwriter Yau Nai-hoi recalling his work on Throw Down.
Finding the Pulse (1080p; 00:11:13) – In this 2021 Criterion Collection interview, composer Peter Kam discusses his score for Throw Down.
Hidden in Plain Sight (1080p; 00:21:04) – This 2021 Criterion Collection interview features film scholar David Bordwell analyzing the cinematic and storytelling techniques found in Throw Down.
Kicking Conventions (1080p; 00:12:37) – Conducted in 2021 by the Criterion Collection, this interview with film scholar Caroline Guo addresses the way genre blending and cultural codes in Throw Down engage and subvert viewer expectations.
Making of Throw Down (1080i; 00:10:57) – This 2004 program features director Johnnie To and cast members Louis Koo, Aaron Kwok, Tony Leung Kar-fai, and Cherrie Ying discussing Throw Down.
Trailer (1080p)
Essay by film critic Sean Gilman
The Final Assessment
Gangsters, judo, and neon – a luxuriant and almost surreal world of cinematic mastery is presented in a brilliant 4K restoration on Blu-ray from the Criterion Collection. Highly recommended.
Throw Down is out on Blu-ray September 21, 2021 from Criterion Collection
---
Rating Certificate: Not Rated
Studios & Distributors: China Star Entertainment | Sil-Metropole Organisation | One Hundred Years of Film Company | Milky Way Image Company | The Criterion Collection
Director: Johnnie To
Written By: Yau Nai-Hoi | Yip Tin-Shing | Au Kin-Yee
Run Time: 95 Mins.
Street Date: 21 September 2021
Aspect Ratio: 2.35:1
Video Format: AVC 1080p
Primary Audio: Cantonese DTS-HD MA 5.1
Subtitles: English