Video Codec: AVC/MPEG-4
Resolution: 1080p/24
Audio Codec: DTS-HD Master Audio 5.1 (48kHz/24-bit)

Subtitles: English; English SDH

Region: A
Discs: 1
Rating: 5.1

Studio: Criterion

Blu-ray Disc Release Date: October 20, 2009
List Price: $39.95

[amazon-product align="right"]B002IVDLG4[/amazon-product]


Best Buy:


Purchase Monsoon Wedding
on Blu-ray at CD Universe

Shop with us for more Blu-ray
titles at Amazon.com

Overall

The Film

Video Quality

Audio Quality

Supplemental Materials


Click thumbnails for high-resolution 1920X1080p screen captures
More screen captures (23 Total)

(Screen captures are lightly compressed with lossy JPEG and thus are meant as a general representation of the content and do not fully reveal the capabilities of the Blu-ray format)
The Film

Indian director Mira Nair had made a name for herself as a documentary filmmaker for the better part of two decades making films that shed light on the various social issues of her native land before the 2001 film Monsoon Wedding turned her into a bona fide international success. From the poverty of the lower classes driving the forced separation of families through emigration, to seek better lives in the United States and Europe, to films dealing with strippers who had become outcasts in their families and the mainstream of Indian society, Nair had been quietly and profoundly honing her craft.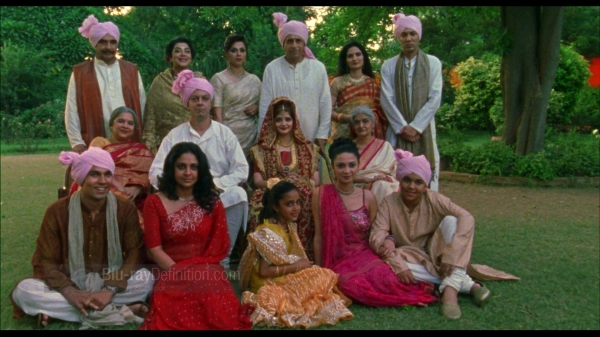 She would enter the world of fiction in 1985 with Salaam Bombay!, a film that would follow poor children on the streets of Mumbai and bring her first taste of international acclaim, winning her an Academy Award for Best Foreign Language Film and a Golden Camera at Cannes. 1991's Mississippi Masala starred Denzel Washington and Sarita Choudry and told the tale of Ugandan-Indians in Mississippi ousted from the only country they'd ever known when Idi Amin came into power. Kama Sutra: A Tale of Love, an erotic journey of a film, also starring Choudry would bring her further international success and show that she was not limited to producing only films that dealt with social-political issues.
But Monsoon Wedding would be her greatest success to date when it hit theatres in 2001. Filmed on a meager budget of $1.5 million and using a script from one of her students at Columbia, Monsoon Wedding would be the culmination of everything Nair had learnt in her two decades of filmmaking. All of the strands in Nair's decades of work converged in Monsoon Wedding. Her work in shorts and documentaries made on shoestring budgets with handheld cameras, the lens turned upon the native India she loved so much, unearthing its peccadilloes, its charms, its history and her big-budget endeavors would all guide her path in this celebration of all that is the modern India.
In Monsoon Wedding, its monsoon season in New Delhi as family and friends gather to celebrate the arranged marriage of Aditi (Vasundhara Das) and Hermant (Parvin Dabas). As Aditi's father Lalit (Naseeruddin Shah) fusses over the wedding arrangements, family and friends arrive from around the globe; Australia, The United States, Dubai. Modern India and its ancient customs collide and the humid temperatures of New Delhi during the monsoons aren't the only things on the rise. Passions heat up, but all is not as it seems in this celebratory scene. Just as the monsoons excavate sediments, so does this gathering stir up secrets of the past and surprising passions.
Nair effortlessly blends together the new and the old; a documentary style and big budget film that joyfully nods at the playful style of Bollywood films, without ever tipping the scales into full-blown cheesy musical numbers. Her social conscience remains an undercurrent in Monsoon but the film is never overwhelmed with social commentary. It remains a mere slice of life look at the unavoidable and inevitable push forward into the developing world that India continues to make. Just as one scene in the film shows a billboard going by with the slogan "The Good Life," this is juxtaposed with beautifully sullen images of a much more dour and dingy New Delhi during the downpour of the monsoons and, of course, the middle class family and their wedding, lapsing in and out of English and Hindi, dealing with their own brand of problems universal to all mankind.
Video Quality

Originally shot on Super 16 16mm film, Monsoon Wedding arrives on Blu-ray from the Criterion Collection in a 1080p/24 AVC/MPEG-4 encoding of its original 1.85:1 aspect ratio. Its low budget of just over $1 million and the 16mm format obviously mean that Monsoon Wedding will never look absolutely spectacular in comparison to some other films, but you will be amazed at just how good it and the Super 16 format can look, especially when handled so well. The film grain looks natural and consistent. Detail is as strong as it can get, particularly in close-ups. The beautiful, lively palette of oranges, reds, and yellows is superbly saturated and pops from the screen in this release. There are no issues with color bleeding, contrast never clips, black levels are deep and shadow delineation is strong.
Audio Quality

The English/Hindi DTS-HD Master Audio 5.1 048kHz/24-bit) soundtrack for Monsoon Wedding is lively and dynamic. The constant chatter of dialogue is clean and intelligible with no signs of audible clipping. The wonderful score and musical numbers have extended low frequencies, smooth high frequencies and a solid midrange. The surround channels are filled with a wonderful array of ambience, low-level atmospheric sound effects and the occasional discrete effect.
Supplemental Materials

Typical for a Criterion Collection release, Monsoon Wedding has been given the royal treatment. The booklet as an in-depth essay on the film by author Pico Iyer. Additional supplements include:
The Laughing Club of India w/ optional introduction by Mira Nair (1.78:1. 1080p/24 (introduction); 1.33:1; 480i/60 (the film)) — A short film by Mira Nair about the growing popularity of clubs in India where people gather specifically to laugh.
Naseeruddin Shah (1.78:1; 1080p/24; 0:21.24) — An interview shot exclusively for the Criterion Collection in 2009 in which director Mira Nair talks to her lead actor about his experiences onstage and in film.
Declan Quinn and Stephanie Carroll (1.78:1; 1080p/24; 0:10.35) — In an exclusive 2009 interview for Criterion Collection, cinematographer Declan Quinn and production designer Stephanie Carroll discuss creating the look of Monsoon Wedding.
Theatrical Trailer (1.85:1; 1080p/24)
Commentary — 2002 audio commentary with director Mira Nair
Short Films:
Documentary Shorts:

So Far From India (1.33:1; 1080p/24) — A 1982 short film following Indian immigrant and New York City subway newsstand worker Ashok Sheth's first journey back home to Ahmedabad.
India Cabaret (1.33:1; 1080p/24) — This documentary examines the line separating "good" and "bad" women in Indian society, specifically focusing on the dancers at a Bombay strip club. A frequent patron and his stay-at-home wife.
Fiction Shorts:

The Day the Mercedes Became a Hat (1.33:1;  1080p/24) — The tale of a white South African family that decides to leave the country after the assassination of Chris Hani, South Africa's Communist Party Leader in 1993 and the eminent changeover of power to the country's black majority.
11'09″01 — September 11 (Segment: "India") (1.78:1; 1080p/24) — Based on true events surrounding the September 11, 2001 disappearance of Salman Hamdani; a young Pakistani American man from Queens and his mother's struggle with allegations of terrorism.
Migration (2.39:1; 1080p/24) — Part of a four-film series on the AIDS epidemic in India, the film examines the virus as Indian Society's great class leveler.
How Can it Be? (1.85:1; 1080p/24) — One of eight shorts commissioned by the United Nations on themes concerning global society this film explores gender equality.
The Definitive Word
Overall:

Mira Nair's Monsoon Wedding is a thoroughly enjoyable film that stretches across genres. It easily melds together her styles and the concerns facing India in the new century. The Criterion Blu-ray captures the film perfectly and it is highly recommended.



Best Buy:


Purchase Monsoon Wedding
on Blu-ray at CD Universe

Shop with us for more Blu-ray
titles at Amazon.com