– –
The Film
[Rating:3.5/5]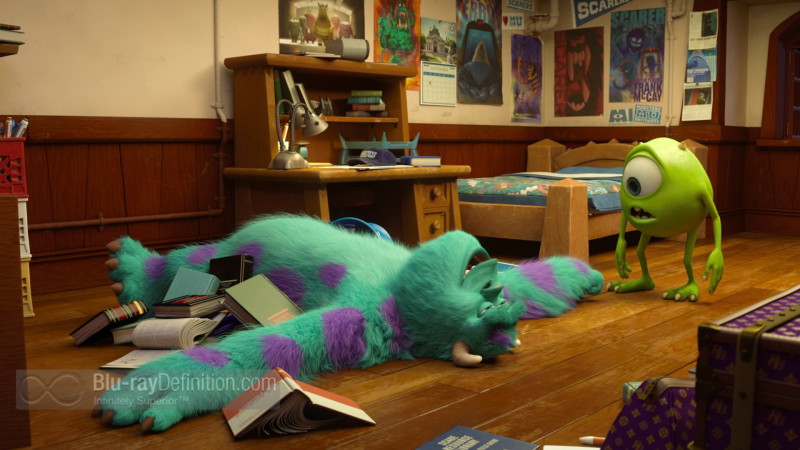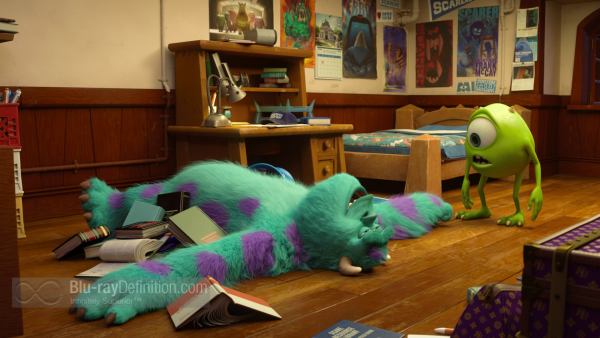 Pixar's Monsters Inc. prequel, Monsters University may the lacking the emotional connection that makes Pixar films like Toy Story, Wall•E, and Brave so great, but that doesn't mean it isn't a fun experience in the same way that films from rival studio DreamWorks usually are. There's plenty of eye candy, lots of wonderful characters, and a reasonably enjoyable story for family members of all ages.
Billy Crystal and John Goodman return to voice the characters of Mike and Sulley. Mike, a short, lime green monster with one large eye dreams of graduating from Monsters University and becoming a professional "scarer". Sulley, meanwhile, has an innate advantage. He's big, he's furry, and he has a ferocious roar. Oh, and his father is a famous scarer already. With both of them signed up in the Monsters University prestigious scaring program, you'd think they'd be friends, but they get off to a bad start and sort of don't like each other.
When the two of them manage to get kicked out of the scaring program by the university's spine-chilling Dean Hardscrabble (Helen Mirren) after the two get into a squabble and knock over her prized scream canister, they find themselves scrambling to save their academic lives. Suddenly, they must work together along with a group of oddball – and very unscary – friends to try to win the school's annual Scare Fest tournament and get reinstated to the scaring program.
It may partly be because Monsters University is a prequel and we already know the ultimate outcome will be that Mike and Sulley will be a great team working for Monsters, Inc., but it may also be because the film falls flat in its attempts at humor, but Monsters University feels at times like a pale comparison to its predecessor. Without the wit of writing, the film relies on site gags and physical humor far too often, and feels like it is pandering to the younger kids it knows will be the primary demographic.
No one can deny the technical achievements in the animation of Monsters University, it looks fantastic. That said, perhaps Pixar has begun to rely a little too heavily on its technical wizardry with some of these sequels (or prequels) rather than giving us truly heartfelt films. Toy Story 3 was a perfect example of a Pixar sequel at its best – emotionally gripping, perfect characters, and a story you could really care about. With MU, from the very beginning, there's a quirky feel with little to connect us to these characters outside of what we already know will happen, lots of dazzling effects and action sequences, and a few jokes that make us chuckle. At least it's not as bad as the infamous Cars 2, which should never have made it out the door, despite its awesome technical achievements.
Video Quality
2D HD: [Rating:5/5]
3D Effect: [Rating:5/5]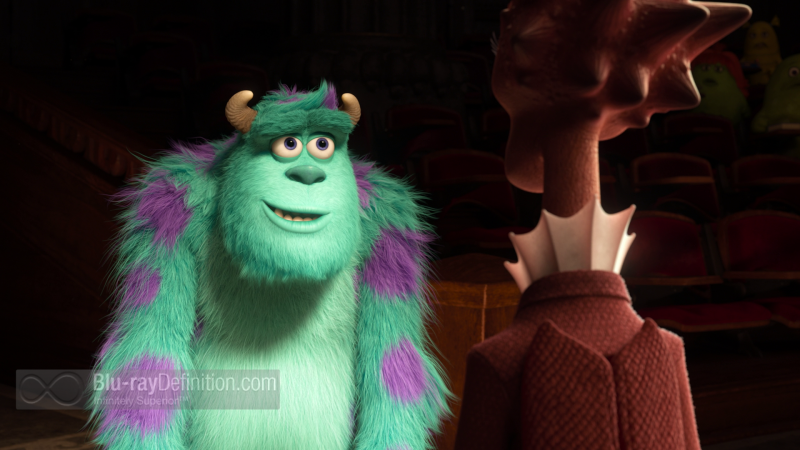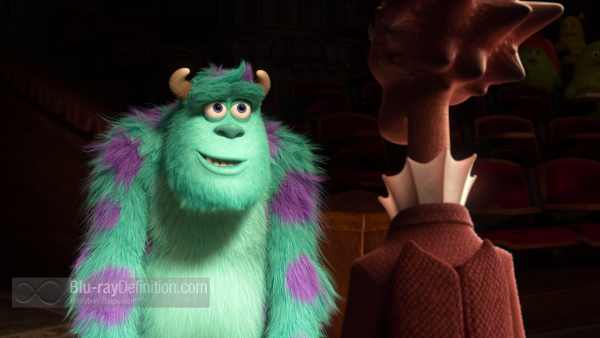 As one might imagine, coming from Pixar, this gorgeous CG animated feature with its colorful creatures is pure eye candy on Blu-ray, with no flaws, no aliasing, no macroblocking, perfect contrast, and sharp textures. The 3D presentation is one of the better ones you'll see for an animated effort as well. Plenty of moments from the Scare Games tournament offer a lot of opportunities to really take advantage of the 3D, like the first challenge with the glowing prickly balls, or the capture the flag challenge with the giant librarian, where the imagery takes major advantage of depth of field. The 3D version of the film also doesn't sacrifice too much in the way of vibrancy of color or detail.
Audio Quality
[Rating:5/5]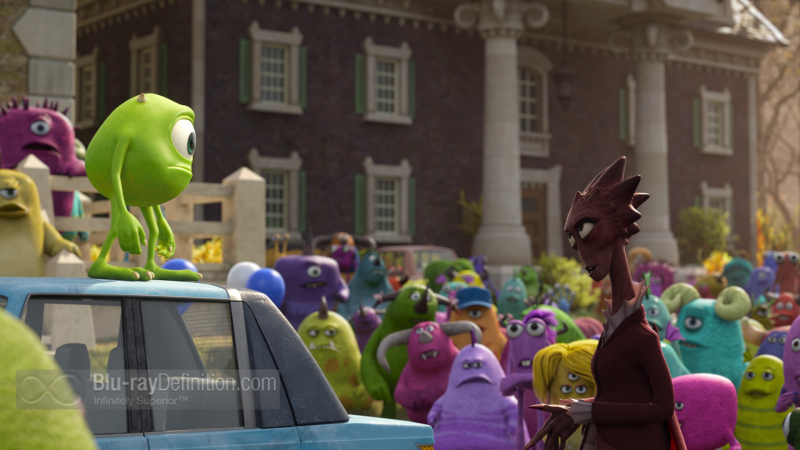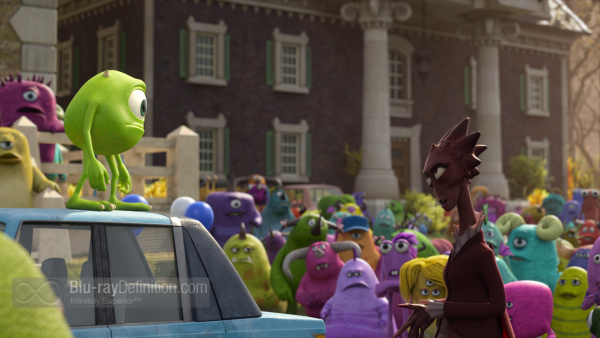 Disney/Pixar sure do know how to sculpt wonderful soundscapes to go along perfectly with their flawless visuals. The lossless Dolby TrueHD 7.1 (48kHz/24-bit) soundtrack for Monsters University, included on both the 2D and 3D Blu-ray Discs is sublime in every way. Tightly balanced, clean, atmospheric, with nuanced discrete sound effects through the surround and back channels and the perfect amount of low frequency extension, this is one of the finest sound efforts to reach Blu-ray for the year.
Supplemental Materials
[Rating:4.5/5]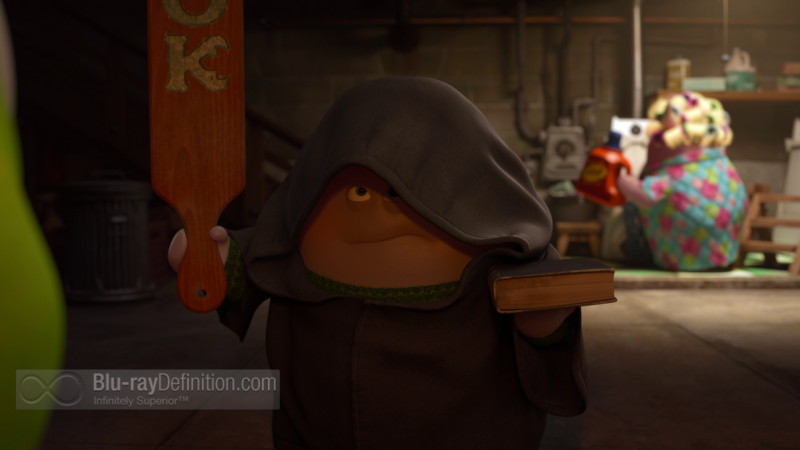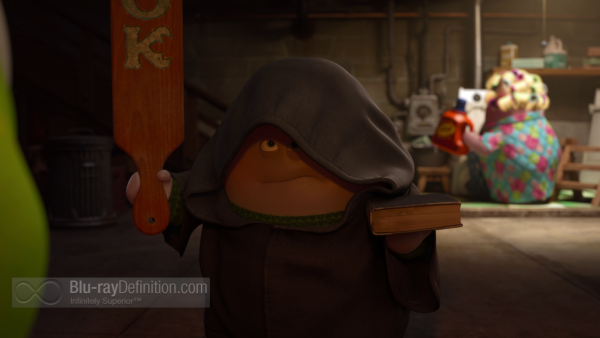 This set is packed to the gills with extras, from production featurettes to the animated short The Blue Umbrella.
The supplements:
Blu-ray 3D:
The Blue Umbrella (1.78:1; 3D; 1080p/24; 00:06:46) – Animated short
Blu-ray 2D:
Audio commentary by director Dan Scanlon, producer Kori Rae, and story supervisor Kelsey Mann
The Blue Umbrella (1.78:1; 1080p/24; 00:06:46) – Animated short
Bonus Blu-ray – This bonus features disc includes a set of behind-the-scenes production featurettes on the making of the film, with interviews with the Pixar crew, a look at the animation coming together, the music of the film, and much more.:
Campus Life (1.78:1; 1080p/24; 00:15:14)
Story School (1.78:1; 1080p/24; 00:08:38)
Scare Games (1.78:1; 1080p/24; 00:04:30)
Monthropology (1.78:1; 1080p/24; 00:05:47)
Welcome to MU (1.78:1; 1080p/24; 00:06:09)
Music Appreciation (1.78:1; 1080p/24; 00:07:29)
Scare Tactics (1.78:1; 1080p/24; 00:05:16)
Color and Light (1.78:1; 1080p/24; 00:05:16)
Paths to Pixar: MU Edition (1.78:1; 1080p/24; 00:07:40)
Furry Monsters: A Technical Retrospective (1.78:1; 1080p/24; 00:05:02)
Deleted Scenes (1.78:1; 1080p/24; 00:22:04):

Director Intro
Rivalry
Recon
Movie Night
Drama Class

Promo Picks:

Monsters Mash Up (1.78:1; 1080p/24; 00:04:01)

College Campaign:

College Commercial (1.78:1; 1080p/24; 00:00:32)
March Madness (1.78:1; 1080p/24; 00:00:27)
Admissions (1.78:1; 1080p/24; 00:01:33)

Theatrical Campaign:

Teaser Trailer (1.78:1; 1080p/24; 00:01:10)
Back Then (1.78:1; 1080p/24; 00:02:25)
One Night (1.78:1; 1080p/24; 00:01:10)
Japan Trailer (1.78:1; 1080p/24; 00:02:23)

Set Flythroughs (1.78:1; 1080p/24; 00:06:25):

The Campus
The Scare School
Frat Row
The OK House

Interactive Art Gallery
The Definitive Word
Overall:
[Rating:4.5/5]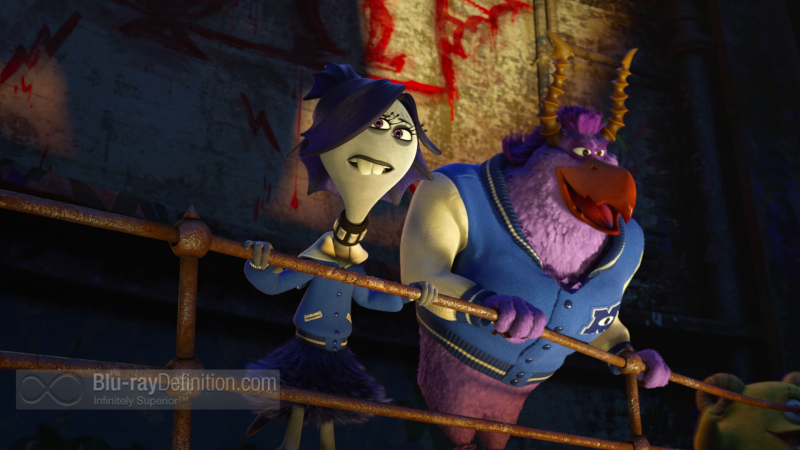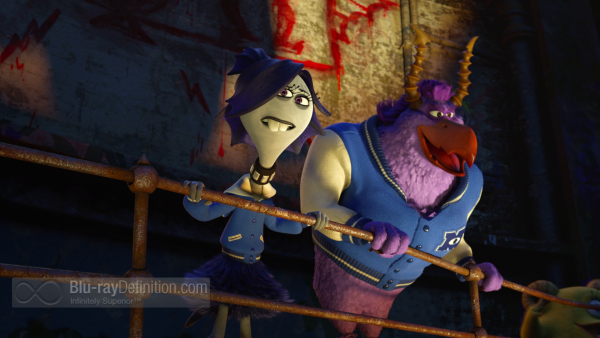 Monsters University isn't all bad. The kids will surely love the lighthearted atmosphere, the numerous physical gags, and the colorful palette. Parents and everyone old enough to remember Monsters, Inc., on the other hand, will feel a little let down by this effort. It doesn't live up to expectations. Let's hope this isn't indicative of what's to come with Finding Dory.
Additional Screen Captures
[amazon-product]B008JFUPOY[/amazon-product]
[amazon-product]B00DMK6WN4[/amazon-product]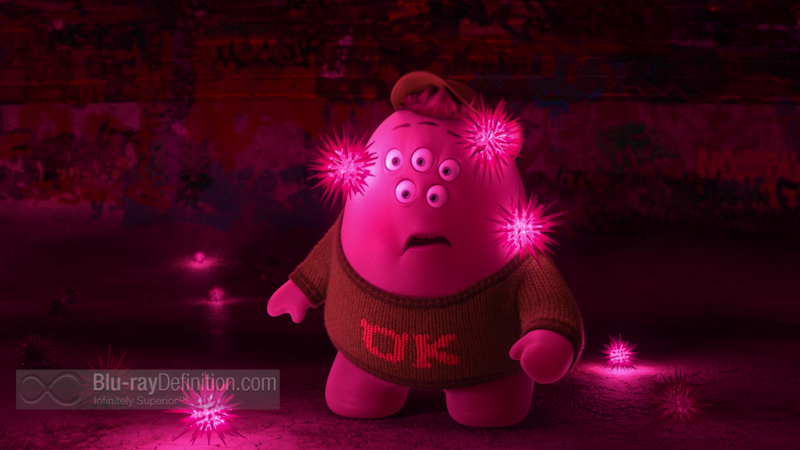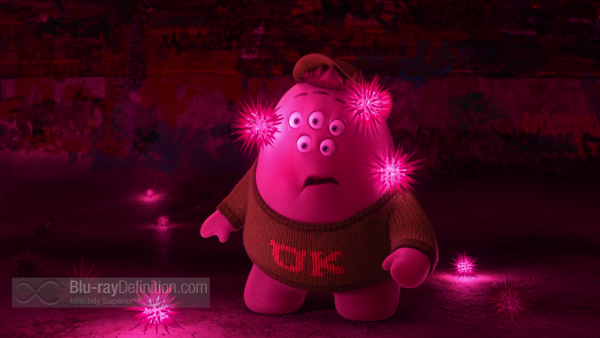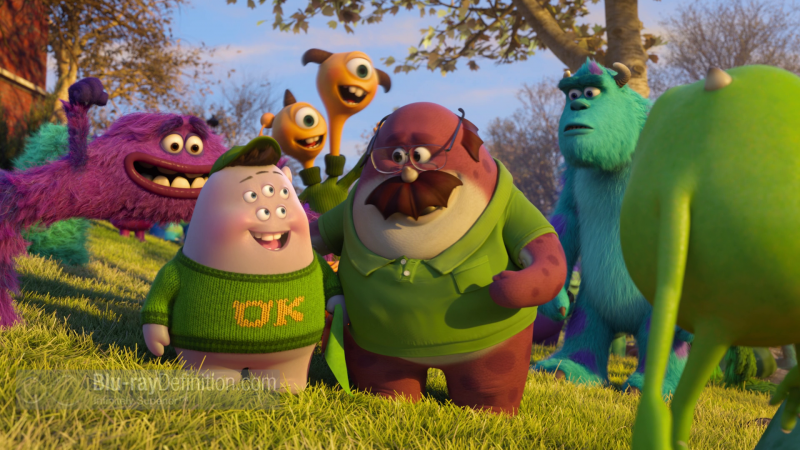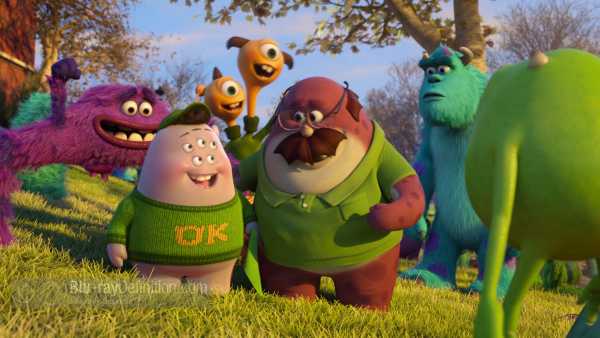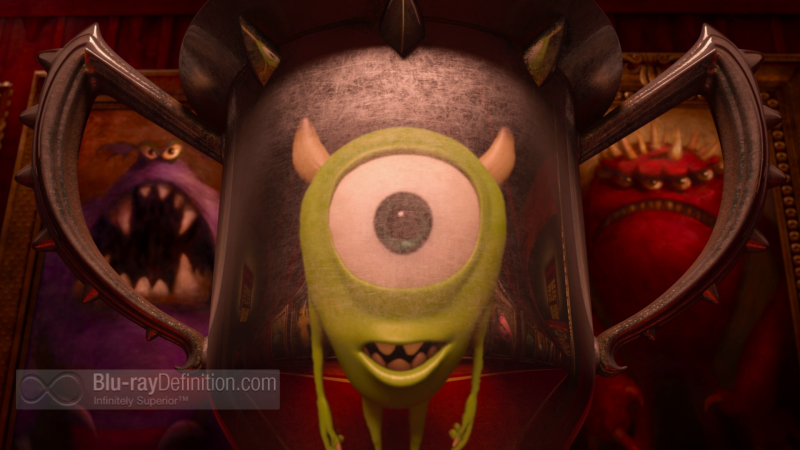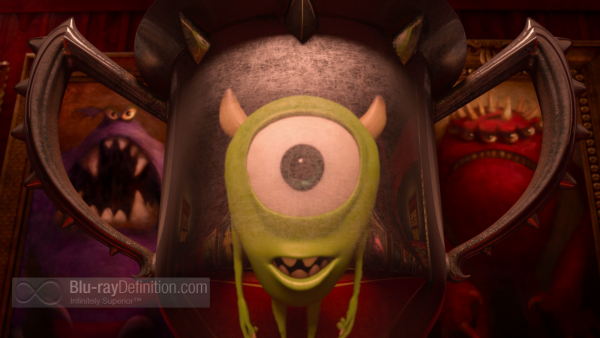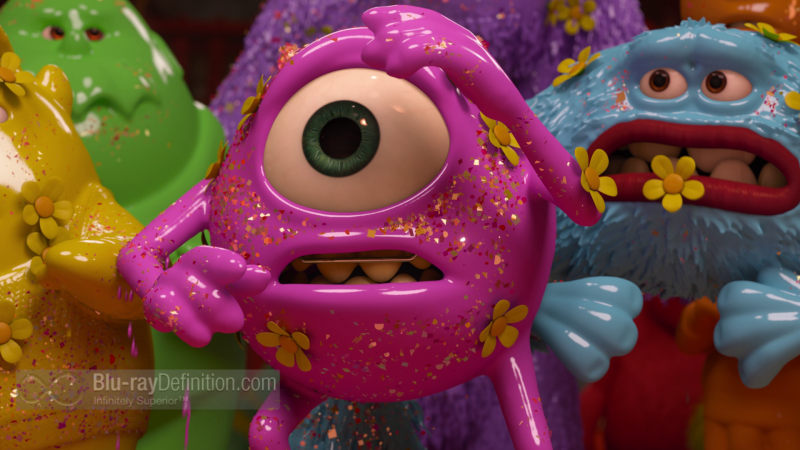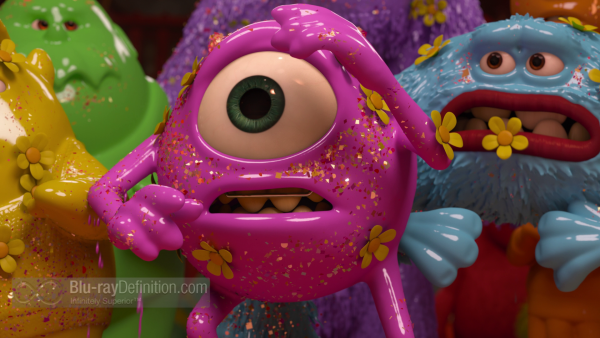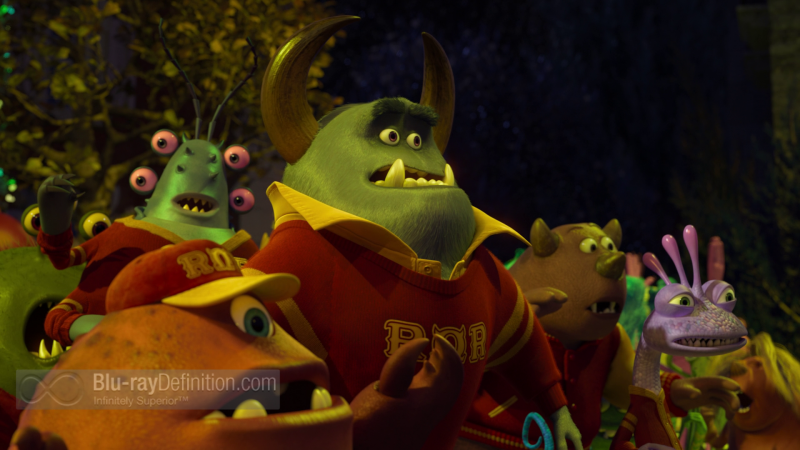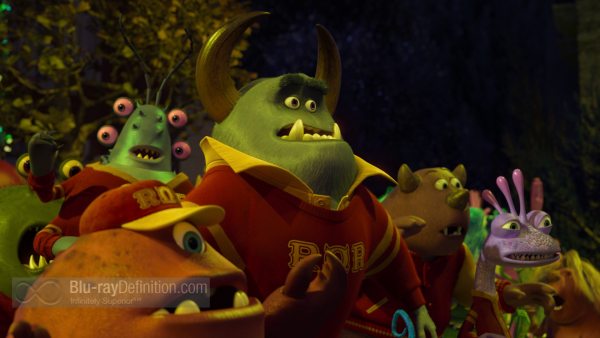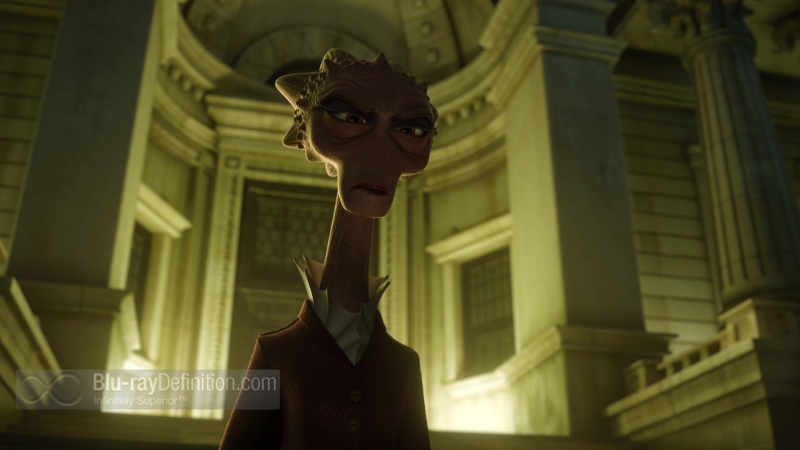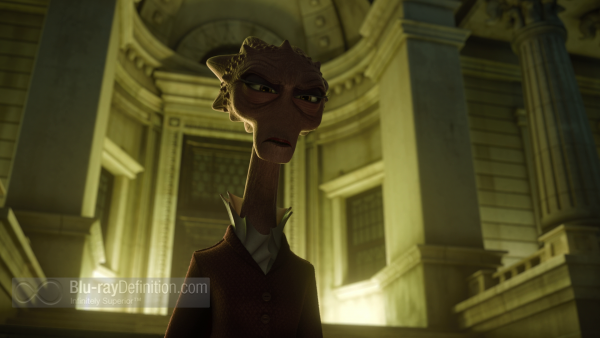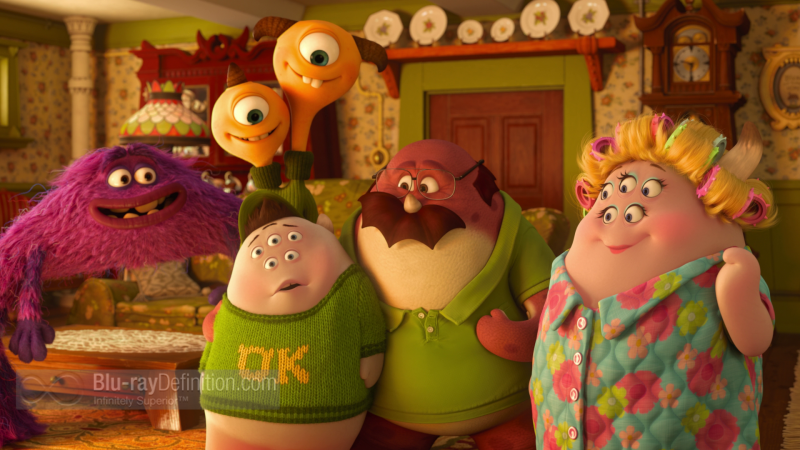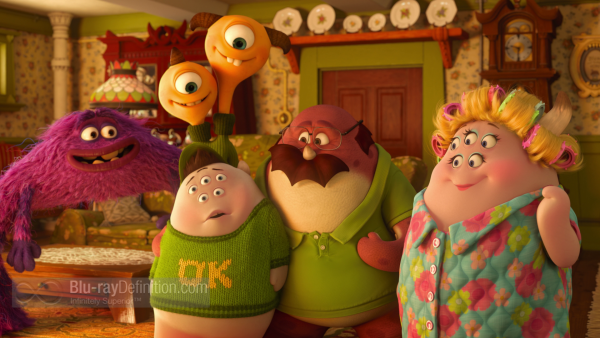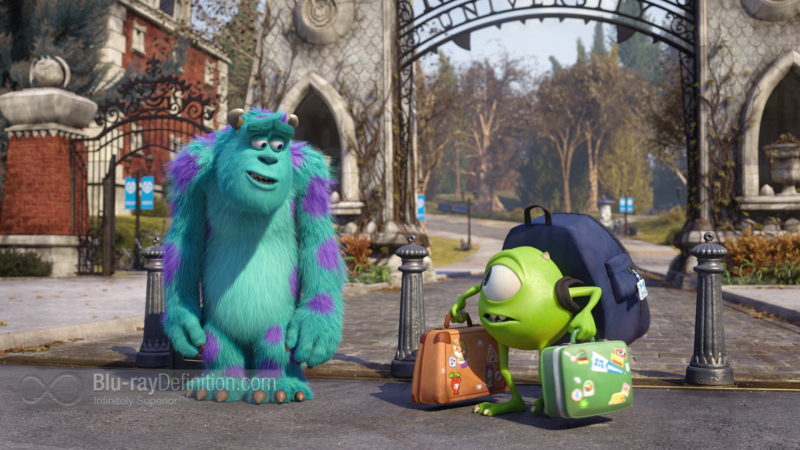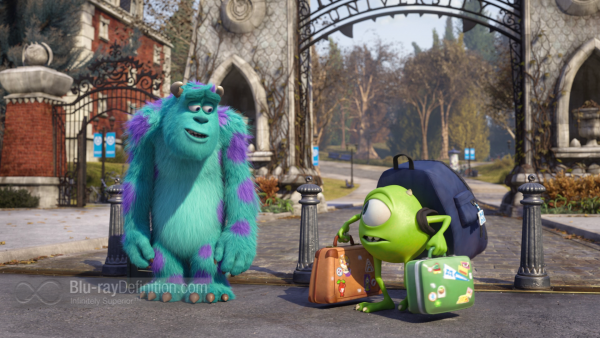 [amazon-product]B008JFUPOY[/amazon-product]
[amazon-product]B00DMK6WN4[/amazon-product]