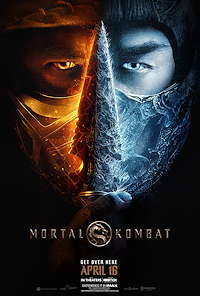 By way of full disclosure, I am not a video gamer, but I have seen my share of films based on video games like Tomb Raider and Resident Evil. Such movies typically deliver fast-paced entertainment making a couple of hours race by at the literal speed of light. A venerated entry in this already crowded field of video games is Mortal Kombat. MK was an arcade fighting game that debuted in 1992 and has since generated numerous spin-offs. Two earlier film adaptations, a 1995 film version with the same title and the 1997 Mortal Kombat: Annihilation were savaged by the critics. So, two decades later, it took some real guts for screenwriters Greg Russo and Dave Callahan and director Simon McQuoid, in his feature-length film debut, to make another attempt to right the MK ship.
The film opens in 17th century Japan, where the ninja Bi-Han (Joe Taslim) attacks and kills rival ninja Hanzo Hasashi (Hiroyuki Sanada) and all of his family except for an infant daughter rescued by Lord Raiden (Tadanobu Asano).
Returning to the present, the dark Outworld needs only one more "Mortal Kombat" tournament victory to conquer Earthrealm. Soul-eating sorcerer Shang Tsunag (Chin Han) discovers that Raiden is assembling a group of Earthrealm champions to replace those lost in previous tournaments. One of the replacement is a descendant of Hasashi, former  MMA champion Cole Young (Lewis Tan).Shang Tsung sends Bi-Han, now known as Sub-Zero, after Cole, his wife Alison (Laura Brent) and daughter Emily (Matilda Kimber). Special Forces Major Jackson "Jax" Briggs (Mechad Brooks) drives the Young family to shelter with his Special Forces buddy Sonya Blade (Jessica McNamee) but loses his arms to Bi-Han's frostbite.  Sonya is interrogating the mercenary Kano (Josh Lawson) who gets freed from his chains and saves them all by carving out the heart of fire-breathing Reptile, another Shang Tsung assassin.
Next, Cole, Sanyo, and Kano leave for Raiden's temple that is protected by an invisible shield where they meet Earthrealm champions Liu Kang (Ludi Lin) and Kung Lao (Max Huang). Jax has been revived and received a pair of new metallic arms. All, except for Sonya and Jax, have dragon tattoos associated with special powers or "arcanas" waiting to be awakened. Despite training hard, Cole cannot unlock his arcana and is returned to his family.  Kano defects to Shang Tsung's team of champions and Goro (Angus Sampson), a Tsung assassin, is sent to take out Cole and his family. Fortunately, Cole finds his arcana and kills the monster.  During a subsequent fight at the temple, Kung Lao sacrifices himself to Shang Tsung to save his companions. The makeshift Earthrealm crew now prepares to take on the Outworld champions as the fate of their world hangs in the balance.
I am happy to report that this new installment in the Mortal Kombat franchise is a cut above its predecessors. My more positive take on the 2021 version stems, in part, from  greatly improved CGI effects,  the more intense fight scenes, and the considerable contribution of a stunning Dolby Atmos soundtrack. But there is also a substantially better storyline and dialogue that actually makes some sense. This Mortal Kombat is fundamentally still a fight-fest, but the insertion of Cole's loving wife and daughter gamely tries to make Lewis Tan's character more sympathetic and human as he struggles to become the champion that he was destined to be. Josh Lawson's Kano is a boo-hiss worthy villain. The women in the cast are pretty one-dimensional except during their combat scenes but this is typical of Mortal Kombat the game. Pacing is taut and there are few pauses in the action that hurtles ahead and keeps us on edge until it reaches a predictable but satisfying conclusion. Benjamin Wallfisch's quirky score never lets you forget that this show began its life as a video game. So be it. As was the case for the previous MK films, fans of this franchise will surely enjoy what they see on the big screen or at home via HBO Max's streaming network.  The very last scene leaves room for a sequel which I hope we get because such entertainment provides the very diversion we need in these troubled times.
---
If you found this article useful please consider clicking the button below and donating to help keep TheaterByte funded, which will allow us to continue posting great content.
---
Mortal Kombat  is now in theaters and streaming through May 23 on HBO Max
---
Rating Certificate: R (strong bloody violence and language throughout, some crude references)
Studios & Distributors: New Line Cinema | Atomic Monster Productions | Broken Road Productions | Warner Bros. Pictures
Country: Australia | USA
Language: English
Run Time: 110 Mins.
Aspect Ratio: 2.39:1
Director: Simon McQuoid
Written By: Greg Russo | Dave Callahan
Release Date: 23 April 2021