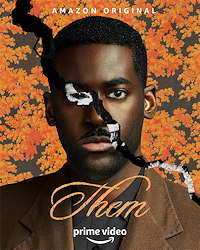 Jordan Peele (Get Out, Us) opened new doors for the Black horror/supernatural cinematic genre by putting ordinary Black characters into some extraordinary life-threatening situations. HBO's Lovecraft Country series went one step further by inserting a host of supernatural creatures into the Black protagonist's  search for the truth about his ancestors. Show creator Little Marvin has now given viewers yet another picture of the 1950s Jim Crow era racism, Them, that forces the Emory family to leave their home in North Carolina where a bunch of racist whites murdered their baby boy Chester. The Emorys now drive cross-country to make a new start in Compton, California.
Trouble begins almost immediately for Livia "Lucky" Emory (Deborah Ayorinde), her husband Henry (Ashley Thomas), and their daughters Ruby Lee (Shahadi Wright Joseph) and Gracie (Melody Heard) when they move into an all-white West Compton neighborhood.  One of their new neighbors, Elizabeth "Betty" Wendell (Alison Pill) is absolutely determined to drive the Emory family, the "Them" of the title, out of their new home as she has done for other Black families that moved into her neighborhood. The nine subsequent episodes occupy a  ten-day stretch during which other neighbors like Clarke, Betty's husband (Liam McIntyre) and Marty Dixon (Pat Healy) begin to harass the Emorys on a daily basis. Even at his new job as a design engineer for a large aircraft company, Henry feels the sting of discrimination when his immediate supervisor Stuart Berks (P.J. Byrne) removes him from a major project that would have earned him a promotion and raise.

The supernatural world intrudes early on when it becomes apparent that the Emorys' basement is haunted by a mysterious tall stranger with a badly burned face known as The Black Hat Man (Christopher Heyerdahl). Henry has his own personal black-faced daemon in Da Tap Dance Man (Jeremiah Birkett) who pops up as his self-critical alter ego. There is also the evil schoolteacher Miss Vera (Dirk Rogers) who springs to life from the pages of an old book that Gracie is reading. Doris (Sophie Guest), the only white high school student to befriend Ruby Lee, turns out to be the embodiment of an ancient evil spirit in league with The Black Hat Man.
Nearing the end of the series, if you have been paying close attention, the dots finally get connected between The Black Hat Man, this West Compton neighborhood and the Emory house. With Henry still recovering from a failed lynching, Lucky alone must contend with The Black Hat Man, the Compton police and her hostile neighbors and keep her family together.
Against a backdrop of period music, Little Marvin gives us an overly ambitious attempt to show how a determined Black family resists the efforts of their white neighbors and the resident evil spirits to force them out of their home. Had the script stuck more strictly to the hostile neighbors storyline, it would have been more coherent and easier to follow. It would have been better to have placed the ninth episode in which The Black Hat Man's backstory is revealed much closer to the beginning. The various supernatural elements, as noted above, provide occasional annoying distractions, particularly Da Tap Dance Man who overstays his welcome with some lengthy monologues. In this respect, Lovecraft Country does a far better job of integrating the world of the supernatural into the world of its main characters. By word of caution, this series has plenty of gruesome violence like the blinding and immolation of a Black couple by members of The Black Hat Man's immigrant community.
There was some criticism that the white directors who led nine of the ten episodes did not  adequately identify with their Black characters. I beg to differ. As noted above, a stronger script would have given them and their talented cast much better material to work with. I was also disappointed in the fiery ending that leaves things hanging and compels viewers to draw their own conclusions. A Season 2 is rumored to be in the offing but there are rumors that it will feature an entirely different cast of characters so we will probably never know what finally happened to "Them."
---
If you found this article useful please consider clicking the button below and donating to help keep TheaterByte funded, which will allow us to continue posting great content.
---
Them is streaming now in its entirety on Amazon Prime Video
---
Rating Certificate: TV-MA
Show Creator: Little Marvin
Original Release Date: 9 April 2021
Streaming Service: Amazon Prime Video
Ep. Run Time: 33-55 Mins.
No. Eps.: 10
Studios & Distributors: Sony Pictures Television | Amazon Studios | Vertigo Entertainment | Hillman Grad Productions | Odd Man Out