MPI will be bringing the indie film Paper Man starring Jeff Daniels, Emma Stone, and Ryan Reynolds to Blu-ray and DVD on January 18, 2011 at a suggested retail price of $34.98 (Blu-ray), $27.98 (DVD) respectively. Bonus Features will include:Making Of, Deleted scenes, Alternate scenes, Extended scenes, Trailer. No further technical details are known at this time.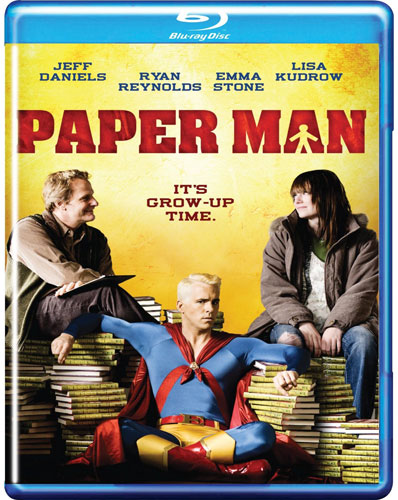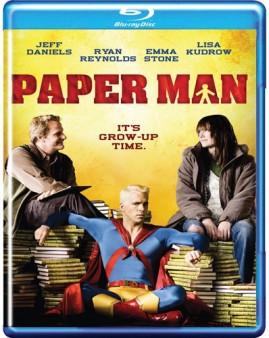 Film synopsis:
PAPER MAN is a wonderfully quirky drama about creative people trying desperately to find the same joy in real life as they do in their imagination. Golden Globe and Tony nominee Jeff Daniels (Dumb and Dumber, The Purple Rose of Cairo, Terms of Endearment) stars as Richard Dunn, a no-hit wonder of a novelist who has been squirreled away in Montauk, Long Island, by his sensible surgeon wife (Emmy winner Lisa Kudrow of Friends) so that he'll get cracking on his second book.
But Richard isn't exactly alone out on the edge of the world: Along for the ride is a lonely local teen, Abby (a breakout performance by hot new star Emma Stone, soon to play the romantic lead in the reboot of Spider-Man), who befriends Richard after he hires her to be a babysitter … his babysitter. Plus, there's Richard's imaginary best friend from childhood, Captain Excellent (People magazine's new "Sexiest Man Alive" Ryan Reynolds of The Proposal and the upcoming Green Lantern), a confidant always ready to prod him along toward adulthood, whether Richard wants it or not.
Aching, funny and true, PAPER MAN is a genuinely offbeat gem that marks the promising debut of writing and directing team Kieran and Michele Mulroney, the screenwriters of Guy Ritchie's upcoming sequel to his blockbuster Sherlock Holmes.
[amazon-product]B003U6SJYK[/amazon-product]