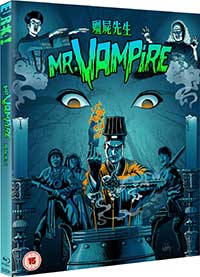 The genre-bending Hong Kong film Mr. Vampire, produced by legendary Sammo Hung and directed by Ricky Lau, was such a smash hit in its native land and abroad that it spawned a number of sequels and kicked off a boom in jiangshi (literally 'stiff corpse') vampire films. It's a clever mixture of horror, martial arts and comedy that, although different in its supernatural lore and comic sensibilities from what Western audiences were used to, was still universal enough to grow into a cult favorite outside of the East.
The late Lam Ching-ying plays Master Kau, a Taoist expert in the supernatural. When Kau and his two bumbling students, Man Choi (famous comedian Ricky Hui) and Chou (Chin Siu-ho, Fist of Legend), exhume a corpse for reburial, things quickly go sideways when they realize the corpse a hopping vampire. Kau and his two students are soon at the center of a horde of rising undead that threatens the world, including the vampire's granddaughter Ting-Ting (Hong Kong action icon Moon Lee) and Man Choi, who finds himself bitten and turning into a vampire.
There had long been rumours that Sammo Hung himself directed portions of this film himself and not Ricky Lau, rumours that have been vehemently denied by everyone involved with the film. I tend to lean towards the false rumour side. Lau did a magnificent job here blending some rather classic and distinct Hong Kong styles into a palatable film. Visually, the film can also be striking, the low-budget makeup notwithstanding. Just look at the framing in the restaurant or the various stagings with the beautiful ghost, which isn't so far off from what one would see in later films like Crouching Tiger, Hidden Dragon.
[envira-album id="124109″]
The Video
Mr. Vampire features a new 2K restoration on Blu-ray in an AVC 1080p encodement framed at 1.85:1. Grain haters may not like this transfer because this is certainly a grainy film, but the grain is organic, crisp, there's good detail in the imagery, natural, rich colors, and no noise.
The Audio
The original Cantonese monaural track is included in LPCM 1.0. There are also a number of English dubs are also included – an English (European) dub and English (American) dub in LPCM 2.0 and an English (American) dub in DTS-HD Master Audio 5.1. Personally, I would avoid any of the buds as they sound rather silly and aurally sanitized in comparison to the original mix. The original Cantonese does sound a little muddled but is in keeping with the quality of the genre films of this era.
The Supplements
This Eureka Classics release of Mr. Vampire is one of the stronger releases from the imprint as far as bonus features go. We get three interviews, a booklet with essays (collector's edition) and a top-notch audio commentary that shouldn't be missed.
Audio commentary by Frank Djeng – Djeng's commentary is both culturally fantastic as far as the insight it brings and very informative as far as the film goes.
Interview with Chin Siu-ho (720p; 00:42:16)
Interview with Moon Lee (720p; 00:17:39)
Interview with Director Ricky Lau (720p; 00:12:42)
Textless End Credits (1080p)
Original Hong Kong Trailer (1080p)
First-run limited edition features collector's booklet with essays on the film and O-Card slipcase with special artwork.
The Final Assessment
Another fantastic release of a Hong Kong cinema classic from Eureka with superb picture quality and a strong collection of bonus features.
Mr. Vampire is out 20 July 2020 in the UK from Eureka Classics
---
The Creative Content: 3.5/5
The Video: 4.5/5
The Audio: 3.5/5
The Supplements: 3.5/5
Rating Certificate: UK:15
Studios & Distributors: Bo Ho Film Company Ltd. | Golden Harvest Company | Paragon Films Ltd. | Toho-Towa | Eureka Entertainment
Director: Ricky Lau
Writers: Ricky Lau | Szeto Cheuk-Hon | Barry Wong | Ying Wong (story)
Run Time: 96 Mins.
Original MSRP: £19.99
Street Date: 20 July 2020
Aspect Ratio: 1.85:1
Video Format: AVC 1080p
Primary Audio: Cantonese LPCM 1.0
Secondary Audio: English Dub (European) LPCM 2.0 | English Dub (American) LPCM 2.0 | English Dub (American) DTS-HD MA 5.1
Subtitles: English