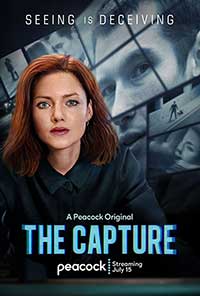 If the Brits are not the world's best creators of the complex crime thrillers, then I would like to know who are. The current case in point is the BBC mini-series, The Capture that has been picked up by Peacock. The title refers to the use of CCTV cameras to "capture" the actions of people who enter their fields of vision. London (where this show is set) has one of the world's highest numbers of CCTV installations and, when used properly (not the case in this storyline), these devices have proved a boon to police investigations of crime scenes.
As the curtain rises, a video involving a man and a woman at a bus stop catches the eye of CCTV monitor Becky (Sharon Rooney). The man is former Lance Corporal Shaun Emery, an Afghanistan war veteran (Callum Turner). The woman is Hannah Roberts (Laura Haddock), the pretty barrister that got Emery off the hook for war crimes due to a technical flaw in his helmet camera (although he was probably guilty).   After apparently boarding her bus for home, Hannah is now missing and foul play is suspected. Another CCTV video appears showing Shaun forcibly grabbing Hannah's arm and throwing her to the pavement, leads to his being detained by DI Rachel Carey (Holliday Grainger). As will be revealed much later, this is this first step in a complex plot to discredit SO15, the British counter-terrorist organization. The case against him folds due to apparent tampering with the CCTV feed, a process known as "correction" or altering video images to suit the purposes of governmental agencies.
Carey received a fast-track in the London Homicide Command after her transfer from SO15, when her Operation Sycamore succeeded in catching and convicting three suspected ISIS members who were caught on video with a known arms dealer.  This career boost was aided by her married lover SO15 Commander Danny Hart (Ben Miles) but Rachel has decided to end their affair. Shaun is temporarily kidnapped and questioned during a covert CIA operation headed by Frank Napier (Ron Perlman). He manages to escape when his old buddy Mat Forrester (Tommy McDonnell) gives him a car with Hannah's dead body in the boot.
Shaun continues his flight, unaware that Napier put a tracer in his shoe, making his pursuit by the police quite easy.  Meanwhile, Rachel has received some unwanted "assistance" when SO15 DSU Gemma Garland (Lia Williams) gets assigned to her team of Nadia Latif (Ginny Holder) and Patrick Flynn (Cavan Clerkin). Rachel breaches Gemma's explicit orders when she tries to get Hannah's corpse relocated by the coroner and is suspended from the case pending an investigation.
[envira-album id="124126″]
What follows is a tension-packed race to uncover a complex dark ops mission involving both the CIA and SO15 with numerous plot twists that include not only the real motive for Hannah's murder but also attempts to conceal other so-called "corrections" that have put innocent people in prison.  Charlie Hall (Barry Word), Hannah's former solicitor colleague, lets Shaun in on what happened to his bus stop video and the ex-soldier must now stay clear of the long arm of the law at least long enough to see his beloved young daughter Jaycee (Tiana Ellie Gregory) one more time.
Much in the same vein as BBC's Collateral and Bodyguard, writer-director Ben Chanan (The Missing) has crafted a compelling drama in which its many intricate and diverse parts mesh seamlessly. The subject of digital data manipulation for illicit purposes is quite timely as the software's sophistication continues to improve making this process increasingly difficult to detect.  The Capture's large cast goes from strength to strength with Holliday Grainger and Callum Turner providing perfectly pitted young leads while screen veterans Ben Miles, Ron Perlman, and Lia Williams deliver great supporting roles. Although I suspected early on that there was secret inter-agency collusion, it still came as a shock when the proverbial cat got let out of the bag.  The good news is that the BBC has already committed to a second season that, given the current pandemic, will probably not air until sometime next year. Highly recommended.
The Capture is now available for streaming in its entirety on Peacock

[youtube https://www.youtube.com/watch?v=b-D2I5tE898&w=864&h=486]
---
The Creative Content: 4.0/5
Show Creator: Ben Chanan
Original Release Date: 15 July 2020
Streaming Service: Peacock
Ep. Run Time: 56-60 Mins.
No. Eps.: 6
Studios & Distributors: British Broadcasting Corporation | Heyday Television | NBCUniversal International Studios | Peacock Network
Rating Certificate: TV-MA