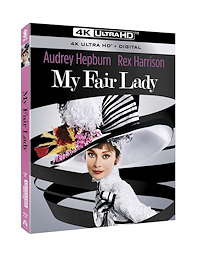 Based on the George Bernard Shaw comedy Pygmalion, My Fair Lady as a musical began life on Broadway in an adaptation by adapted by Alan Jay Lerner and Frederick Loewe, becoming one of the longest-running musicals in Broadway history. Julie Andrews was the lead when the show ran on Broadway, but not having the star status beyond the stage, producer Jack Warner decided to pass her up when time came to do the film and instead went for the "loverly" Audrey Hepburn instead, who had her vocals dubbed by Marni Nixon, the voice behind Natalie Wood in West Side Story.
Director George Cukor (A Star is Born) brought the glamour to this joyous musical about a fish out of water. Rex Harrison stars alongside Hepburn as elitist linguist Professor Henry Higgins who places a wager with his friend Colonel Hugh Pickering (Wilfrid Hyde-White) that he can take the cockney flower girl Eliza Doolittle (Hepburn) and turn her into a well-spoken, glamorous lady that can take tea with the upper crust of society. Eliza moves in with the Professor and endures his harrowing lessons in speech and manners, in the meantime attraction ensues between the two without them even knowing it. When Eliza is able to impress the high-class crowds and Henry all but ignores her achievements to do nothing but pat himself and the Colonel on the back, she runs away to his mother and into the arms of a willing young suitor. It is then that Henry realizes just what he had and how much he misses her face and her unusual outlook on life.
The production is impeccable in My Fair Lady, from the luxuriant costume designs of Cecil Beaton to the, of course, memorable music of Frederick Loewe, Alan Jay Lerner, and Andre Previn. You'll be humming along to timeless songs like "Wouldn't it Be Loverly?," "The Rain in Spain," and "I Could Have Danced All Night".
Despite being passed over for an Oscar® nomination (ironically in favor of Julie Andrews, who took home the trophy for Mary Poppins), Hepburn was perfectly cast and there was great chemistry between the two leads. Rex Harrison, who deservedly won a Best Actor Oscar® for his role, was believably snooty yet approachable as Henry Higgins. My Fair Lady also won Best Picture, Best Director, and five other Oscars®.

The Video
This new 4K Ultra HD Blu-ray release of My Fair Lady comes from the 8K scan and 4K restoration of the film that was taken from the original 65mm camera negative and some other 65mm sources and used for the 2015 50th anniversary Blu-ray release from Paramount. This 4K disc also adds Dolby Vision HDR, which adds another layer to that already gorgeous transfer. Now, the colors 'pop' just a bit more and there's just a little more nuance in shadows. Look at the scene where we see the appearance of the flower nursery and how the sunlight glistens a bit more and the colors of the flowers are a little more vibrant than on the 2015 Blu-ray. The thin, crisp, and consistent natural layer of grain is still there, but we get just a tinge more detail and depth now, but the limited number of frames taken from sources other than the original negative do stand out a little more, showing their graininess and more limited dynamic range. The film appears in a 2.20:1 HEVC 2160p (4K UHD) encodement.
The Audio
Paramount has opted to keep the same Dolby TrueHD 7.1 remix from the 50th Anniversary release for this 4K Ultra HD disc rather than do a new Atmos mix. Never fear, the 7.1 mix is fantastic and may even be overkill anyway for this material. The surround channels carry mainly some lush atmospherics, but the dynamic range and EQ on the sound are superb, so the music sounds airy and easy on the ears. There is also a little bit of LFE, this can be noticed most in a spot like when we get to the races and the horses run by. I wouldn't call it thunderous, but there is certainly good depth to the sound at this point.
The Supplements
The supplements included on the separate Blu-ray (no copy of the feature film on Blu-ray is included) are all the same that accompanied the 2015 50th anniversary Blu-ray. There is a lot here for anyone who doesn't own the previous release, but if you do, it's disappointing that nothing new at all beyond a digital copy code has been included.
Blu-ray Supplements Disc:
More Loverly Than Ever: The Making of My Fair Lady Then & Now (1.33:1; upscaled 1080i; 00:57:58)
1963 Production Kick-Off Dinner (1.33:1; 1080p/24; 00:23:20)
Los Angeles Premiere 10/128/1964 (1.33:1; SD; 00:04:53)
British Premiere (1.33:1; 1080p/24; 00:02:17)
George Cukor Directs Baroness Bina Rothschild (1.33:1; SD; 00:02:39)
Rex Harrison Radio Interview (1080p/24; 00:01:06)
Production Tests (1080p/24; 00:07:04)

Lighting
Wilfrid Hyde-White Make-Up
Rain/Set
Covent Garden Lighting Test
Alt. Higgins/Pickering Screen Test

Alternative Audrey Hepburn Vocals:

Show Me (1080p/24; 00:02:48)
Wouldn't It Be Loverly (1080p/24; 00:04:32)

Comments on A Lady:

Andrew Lloyd Webber (1.33:1; SD; 00:01:04)
Martin Scorsese (1.33:1; SD; 00:01:19)

Galleries (1080p):

Cecil Beaton Sketches:
B&W Stills:

Production Stills
Wardrobe
Color Production Stills
Documents and Publicity

Trailers:

Teaser Trailer with City Tags (1080p/24):

Hollywood
New York City
Boston
Philadelphia
Washington, D.C.
San Francisco
Chicago

With Pride Trailer (1.33:1; 1080p/24; 00:01:11)
Awards Trailer (2.40:1; 1080p/24; 00:01:04)
Theatrical Reissue: Poster Illustration (1.33:1; 1080p/24; 00:00:58)
Theatrical Reissue: Poster Illustration Reserved Seats Trailer (2.40:1; 1080p/24; 00:01:25)
Theatrical Reissue: Poster Illustration Awards (1.33:1; 1080p/24; 00:01:25)
Theatrical Reissue (2.40:1; 1080p/24; 00:03:48)

Theatrical Featurettes:

The Story of a Lady (1.33:1; 1080p/24; 00:05:05)
Design for a Lady (1.33:1; 1080p/24; 00:08:22)
The Fairest Fair Lady (1.33:1; 1080p/24; 00:09:31)

Awards:

Rex Harrison BFI Honor (1.33:1; 1080p/24; 00:02:08)
Rex Harrison Golden Globe Acceptance Speech (1.33:1; 1080p/24; 00:00:47)
Academy Awards Ceremony Highlights 4/5/65 (1.33;1; SD; 00:02:09)
The Final Assessment
This is a sparkling release of this classic and delightful gem from the tail-end of the Golden Age of Hollywood. The Blu-ray of this restoration was fantastic, but this 4K Ultra HD Blu-ray is spectacular and definitely worth the upgrade. This makes a strong showing for best 4K release of the year or at the very least best 4K catalogue release of the year – or both!
---
If you found this article useful please consider clicking the button below and donating to help keep TheaterByte funded, which will allow us to continue posting great content.
---
My Fair Lady is out on 4K Ultra HD + Digital May 25th, 2021 from Paramount
---
Rating Certificate: G
Studios & Distributors: Warner Bros. | Paramount Home Media Entertainment
Director: George Cukor
Written By: Alan Jay Lerner (book) | George Bernard Shaw (from a play by) | Alan Jay Lerner (screenplay)
Run Time: 172 Mins.
Street Date: 25 May 2021
Aspect Ratio: 2.20:1
Video Format: HEVC 2160p (4K UHD)
HDR Format: Dolby Vision (HDR10 Compatible)
Primary Audio: English Dolby TrueHD 7.1
Secondary Audio: French Dolby Digital Mono
Subtitles: English | English SDH | French