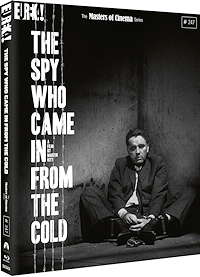 This adaptation of the John Le Carre novel The Spy Who Came in from the Cold by director Martin Ritt (The Great White Hope, The Molly Maguires) stars Richard Burton as end-of-career British agent Alec Leamas who is brought in from the cold (meaning, he is called in from the field). Rather than go into retirement, Lemas accepts one last assignment undercover in East Germany. To make his undercover assignment work, he has to spend time going on an alcoholic bender, getting himself arrested, spending time in prison, disgraced, and ingratiating himself with communists in Britain, including a beautiful librarian (Claire Bloom). Leamas is finally accepted into the world of East German espionage, but as he is he realizes the assignment is not what he was told it was.
The film is cold, calculating, and filled with double-crosses. This is not the 007 action thriller that people were perhaps expecting at the time. Spy is much more layered with depth of character and almost noir cinematography. Although it was not filmed in East Germany at all, the locations of Ireland and England fill in brilliantly thanks to the superb camera work, lighting, and set design. The performances by Burton and Bloom, who had previously in their lives been romantically involved, are also excellent.
The Spy Who Came in from the Cold (1965)
The Video
Eureka's presentation of The Spy Who Came in from the Cold is from a restored high-definition digital transfer in 1.66:1 AVC 1080p. The black and white cinematography looks beautiful even if the blacks don't get inky, there is wide detail extension in shadows and good contrast. Nothing looks blown out in the whites. There are some visible scratches and tramlines that one can see still in this restoration. The upper right corner shows a lot of faint diagonal scratching nearly straight through the film.
The Audio
The Spy Who Came in From the Cold comes with a LPCM 2.0 stereo mix that is very good and presenting the jazz score by Sol Kaplan and the dialogue. Everything sounds clean, full, well-balanced, and there are good dynamics.
The Supplements
There's a well-rounded collection of bonus features including a good, detailed audio commentary and video essay plus a collector's booklet with essay.
Commentary by Adrian Martin
Cold Light, Video Essay by David Cairns (1080p; 00:22:21)
Trailer (1080p)
48-page collector's booklet featuring essay, Circus Squared: The Spy Who Came in from the Cold, by Richard Combs; a number of archival pieces and imagery.
The Final Assessment
This is a great film with a solid transfer from the Masters of Cinema series.
---
If you found this article useful please consider clicking the button below and donating to help keep TheaterByte funded, which will allow us to continue posting great content.
---
Salem Films Limited | Eureka Entertainment
Director: Martin Ritt
Written By: John le Carré (novel) | Paul Dehn (screenplay) | Guy Trosper (screenplay)
Run Time: 112 Mins.
Street Date: 17 May 2021
Aspect Ratio: 1.66:1
Video Format: AVC 1080p
Primary Audio: English LPCM 2.0 Stereo
Subtitles: English SDH