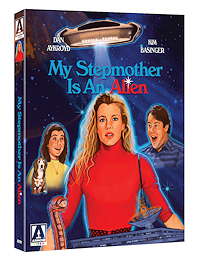 In this sci-fi comedy from 1988, My Stepmother is an Alien, Dan Aykroyd plays an astrophysicist who falls in love with a beautiful blonde bombshell named Celeste (Kim Basinger) who is really an alien in disguise.
The film begins with a Frankenstein-esque scene of Aykroyd carrying out a scientific experiment trying to send a boosted radio signal into space, which works much better than he expects. This signal reaches an alien in need of help, Celeste (Basinger), who we are introduced to in a seductive, zero-gravity lingerie dressing scene that echoes the opening of Barbarella. This is just one of numerous allusions to classic sci-fi that permeate the film.
Basinger's arrival in the film as the hyper-intelligent yet naïve to Earth culture alien, basically a sexpot who acts like a child at various times, opens the opportunities for slapstick set pieces. A then 13-year-old Alyson Hannigan plays Aykroyd's daughter Jessie who uncovers the secret to Celeste being an alien by observing her doing many weird things like eating batteries.  Jon Lovitz also stars in a typical role as the self-centered wise guy brother to Dan Aykroyd.
This is a film that has a lot of potential, but it comes across as a grownup version of Weird Science and given the misogyny and pubescent silliness of the former, it just doesn't play as well with an entire cast of adults. Hannigan is the only one who comes across as charming and not sort of cringey in this this film.

The Video
My Stepmother is an Alien is a taken from a brand new 2K restoration from the original camera negative. It arrives on Blu-ray in a 1.85:1 AVC 1080p encodement. The image looks clean with very little dirt or scratches present, yet there is still nice thin layer of film grain over that looks organic with no noise. The detail can be crisp in closeups, but some film softness is present, and crispness varies a bit based on lighting or whether objects are in the foreground or background, and due to the many composite visual effects shots. This is not a fault of the transfer but is inherent in the filmmaking processes of the time, which is presented very well here.
The Audio
The original stereo mix is supplied in LPCM 2.0. This mix provides wide stereo imaging and sounds dynamic even if it needs to be turned up rather high to get a comfortable listening level.
The Supplements
Bryan Reesman gives a very conversational audio commentary that includes lots of tidbits on the film and its cast.
Audio Commentary by Bryan Reesman
Cosmetic Encounters: Directing My Stepmother is an Alien (1080p; 00:14:08) – A new interview with director Richard Benjamin
Trailer (1080p)
Image Gallery (1080p)
Reversible sleeve featuring original and newly commissioned artwork by Colin Murdoch
FIRST PRESSING ONLY: Illustrated collector's booklet featuring new writing on the film by Amanda Reyes
The Final Assessment
There are some funny moments in this 1980s film that make it a fun if forgettable film. Arrow presents the film in a wonderful new transfer that reveals so many new details and colors. If you're feeling nostalgic for the '80s then this is a good film to watch.
My Stepmother is an Alien (Special Edition) is out on Blu-ray December 13 (UK) and December 14 (US) from Arrow Video.
---
Rating Certificate: PG-13
Studios & Distributors: Weintraub Entertainment Group | Catalina Production Group | Arrow Video
Director: Richard Benjamin
Written By: Jerico Stone | Herschel Weingrod | Timothy Harris
Run Time: 105 Mins.
Street Date: 14 December 2021
Aspect Ratio: 1.85:1
Video Format: AVC 1080p
Primary Audio: English LPCM 2.0 Stereo
Subtitles: English SDH